University of Toronto Courses 2022: The University of Toronto courses admission 2022 is open for international students. The University of Toronto founded in 1827, is one of the top Universities in Canada. The University is also one of the world's research-intensive Universities, bringing top minds from all over the world and in each discipline to bring out the best from them. The university aims to prepare students for success rooted in outstanding global standards.
The university aims to enhance and strengthen its global rank in research and intensive education by 2030. The U of T ranked First in Canada across all five categories in 2022 QS World University Ranking by Subject. In this article, we are sharing about University of Toronto courses, Fees, and UoT Admission 2022.
Overview of University of Toronto Courses
Name of the University
University of Toronto
Location
Canada
Website
www.utoronto.ca
Phone No.
416-978-2011
Address
St.George Campus, University of Toronto

27 King's College Circle, Toronto, Ontario, M5S 1A1, Canada
University of Toronto Courses List
The University of Toronto offers over 700 undergraduate and 200 graduate programs across three campuses in greater Toronto, St. George Campus, University of Toronto Mississauga, and Scarborough Campus. Here we are sharing the list of programs you can study at the University of Toronto.
You can choose any undergraduate/ graduate course at the University of Toronto in the following fields like:
Chemical and physical sciences
Commerce
Communication
Culture and Information Technology
Forensic sciences
Humanities
Life Sciences
Management
Psychology
Social Sciences
Theater & Drama
Visual Studies
University of Toronto Courses Undergraduate
Here are the list of some undergraduate courses & course details offered at the University of Toronto:
Bachelor of Commerce (Accounting/Economics/ finance)
Bachelor of Arts/ Science (Hons.)( Anthropology)
Honors B.Sc. Applied Statistics
Honors Bachelor of Arts (Arts & Art History)
Honors Bachelor of Sciences (Astronomical Sciences/ Astronomy)
Honors B.Sc. (Bioinformatics/ CS)
Honors B.Sc.(Biological Chemistry/Chemistry/ Comparative Physiology/ Earth Science).
B.Sc Hons. (Biology/ Biology for Health Sciences/ Biomedical communication/ Life Sciences/ Ecology and Evolution, Molecular Biology/ Paleontology)
B.Sc Hons. (Biomedical Physics)
Honors Bachelor of Science (Business/ Science/ Entrepreneurship)
B.A Hons. (Canadian Studies/ Chinese Language and Culture/ Classical Civilization)
HBA (Honors of Bachelor of Arts Cinema Studies
Combined Bachelor of Arts (HBA) environmental Management & MSc Sustainability Management.
Combined HBSc Exceptionality in Human Learning + MA Child Study and Education.
HBA (Communication, Culture & IT)/ Digital enterprise Management
HBA (Diaspora & Transnational Studies)/ Dramaturgy & Drama Studies
HBA (Economics & Political Science/ English/ English & Linguistics/ Education Studies)
HBSc (Environmental Geoscience/ environmental Science).
HBA (Ethics, Law and Society)
HBA (Environmental Law and Policy/ Environmental Management)
HBSc (Financial Economics)
HBSc (Forensic Science/ Forensic Biology/ Forensic Psychology )
HBA (French Studies/ Functional French)
HBSc (Geographical Information System/ Geology/ Geography)
HBA (Geography/ History/ History & Political science/ International affairs/ Italian/ French/ Caribbean studies)
BBA Human Resource Management
BBA Management
B.Com (Marketing)
HB.Sc. Mathematical Sciences/ Physics
HB.Sc. Neuroscience/ Psychology
HBA Philosophy, Philosophy of Science/ Political Science/ Sustainability/ Sociology
HBA South Asian Humanities
HBA Visual Culture/ Visual and culture Communication
HBA women, Gender and sexuality studies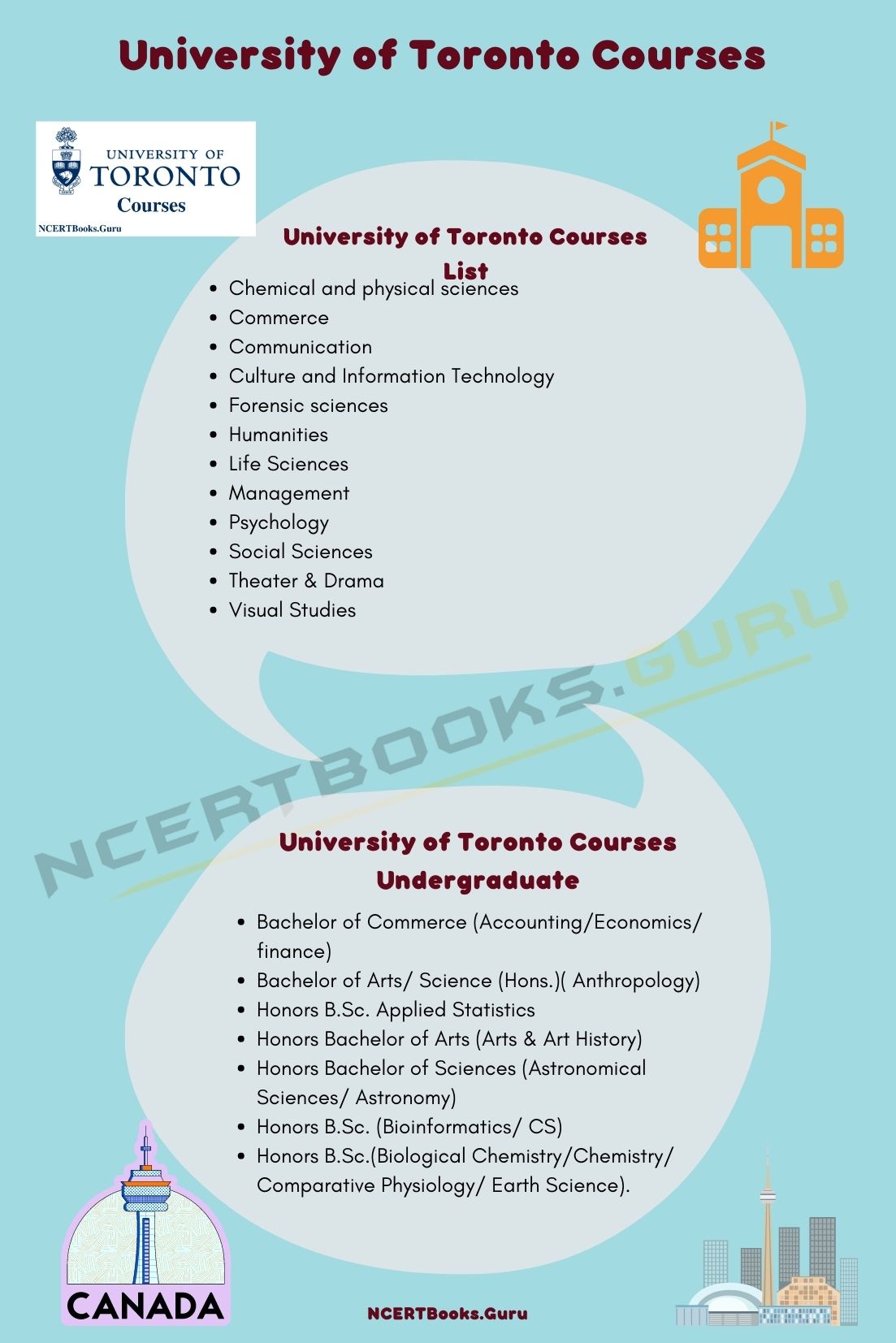 University of Toronto Courses for Graduates
Professional Programme
Master of Biotechnology (MBiotech)
Master of Management and Professional Accounting (MMPA)
Master of Management of Innovation (MMI)
Master of Science in Biomedical Communication (MSc BMC).
Master of Science in Sustainability Management
Master of Forensic Accounting (MFAcc)
Graduate Program and PhD Program
Adult Education and Community development: MA/ M.Ed/ PhD
Master in Accounting & Finance
Aerospace Science & Engineering: MSc/ MEng/ PhD
Anthropology: MA/ MSc/ PhD
Master in Applied Computing
M.Arch (Architecture, Landscape & Design)
Art History: MA/ PhD
Astronomy/ Astrophysics: MSc/ PhD
BioChemistry/ Bioethics/ Biomedical (Communication/Engineering): MSc/ PhD
Biotechnology/ Cell and System Biology: MSc/ PhD
Applied Chemistry/ Chemical Engineering: MSc/ MEng/ PhD
Child Study and Education: Ed/ PhD
Civil Engineering/ cities Engineering & Management: MEng
Comparative Literature: MA/ Phd
Computer science MSc/ Phd
Psychology: MA/ MEd/ PhD
Drama, theater, and Performance Studies: MA/ PhD
Earth Science: MASc/ MSc/ PhD
East Asian Studies: MA/ PhD
Economics/ English: MA/ PhD
Electrical and Computer Engineering: MSc/ MEng/ PhD
Environmental Science/ Sustainability: MESc/ PhD
Germanic Language: MA/ PhD
History/ Geography/ Political science: MA/ PhD
Management & Innovation/ MBA
Mathematics/ Mathematical Finance: MSc/ PhD
Medical Science/ Medical Biophysics/ Molecular Genetics: MSc/ PhD
Urban Design: MUD
Women and Gender Studies (MA / Ph.D.)
Also, Check
Minimum Eligibility for U of T | University of Toronto Eligibility Criteria
For applying in any Undergraduate or postgraduate course you have to fulfil minimum academic criteria according to the course. And apart from minimum academic criteria, you have some minimum admission requirements. These are mentioned below:
Secondary School Diploma
Completion of senior grade/12th grade English or equivalent with a minimum 70%.
Minimum overall average of recent study is 75%
English Proficiency Certificate.
For University of Toronto graduate course admission apart from minimum eligibility you have to qualify Graduate Records Examination (GRE). for more details visit: https://www.sgs.utoronto.ca/ future student section.
Minimum eligibility requirement fulfilment for any course does not guarantee admission to the course. It depends upon the number of applications and seats.
University of Toronto Admission Requirements
Admission in the University of Toronto Courses for the September 2022 session starts from January to March. The University releases a list of selected students through different rounds as per availability of seats and competition. For a few courses, they will release a list by June 2022.
How to Apply for the University of Toronto Online?
For applying to Toronto University you have to follow these instructions:
First, check the date and deadline of the course you want to join.
Apply online through the UoT website, and check the minimum academic and general minimum eligibility before applying.
Submit the documents required and book your audition.
Apply for residence and scholarship
Check your emails for more information.
Accept your offer.
University of Toronto Courses and Fees
The fee structure of University of Toronto Courses is different for different courses. Some courses fee is mentioned below:
MBA : $50,000/ yr
B.Sc courses: approx $ 45,000 /yr
M.Sc: $ 20,000 /yr
M.D: $ 80,000 to 90,000 /yr
PhD: $ 80,000 to 90,000 /yr
FAQs on University of Toronto(U of T) Courses
1. When can I join the University of Toronto course?
You can join the University of Toronto Course after 12th grade for undergraduate courses and after graduation at the graduate-level courses, or you can also join UoT for MS, MD, and PhD programs.
2. Where do I have to apply for a graduate-level course as an international student?
You have to visit the Toronto University Website: https://www.sgs.utoronto.ca/. School for graduate studies for graduate-level courses and go to the section of future students.
3. What is the application fee for admission to the University of Toronto?
The application for admission in Toronto University is CDN$ 125, which is a non-refundable fund.
4. Is there any entrance test for graduate-level courses at the University of Toronto?
Yes, you have to qualify Graduate Records Examination(GRE) for graduate-level courses.
5. Is an English Proficiency Test Certificate necessary for International Students for admission to the University of Toronto?
Yes, for admission of International Students a certificate in English Proficiency is necessary for admission at UoT.