Diploma Mechanical Course: Mechanical Engineering is the skill that is used to create a wide range of products, from automobiles to airplanes to microwaves. It allows you to carry out a variety of daily tasks with convenience, as it introduces useful technology to our current civilization. It is the most essential branch of engineering since most of the innovations we use daily might not be possible without the Diploma Mechanical Course.
Do you want to know the intricacies of this course? This website provides you with top-notch information regarding the diploma in mechanical Engineering courses and many others. Read through to know more and do not forget to check other course details!
What is a Diploma Mechanical Course?
Diploma Mechanical Course is the branch that is considered as one of the most important in the field of engineering. It is the field in engineering that has led to the innovation and development of several technologies that have made the life of people easier and simpler.
The analysis of mechanical components and equipment is the core of a Diploma Mechanical Course. Students will have the skills and competence to manage, maintain, and develop automobile engines, motor or boats, and airplanes upon passing the program. Students will gain knowledge about industrial machinery, thermodynamics, kinematic, etc. in this course.
Diploma in Mechanical Course Details
Students can pursue a three years Diploma Mechanical Course after 10th. It is a 3 years polytechnic course that focus on designing, construction, and maintenance or repair of mechanical apparatus utilizing a basic understanding of mechanics
The majority of the courses in the Diploma Mechanical Course are Arithmetic, Classical Mechanics, Mathematics-I, Engineering Graphics, Production Technology, Computer Programming Lab, etc. are subjects in Mechanical Engineering. Students pursuing a Diploma Mechanical Course have job opportunities in almost every private and public sector of various renowned companies.
Also Check:
Eligibility Criteria for 1 year diploma in mechanical engineering
Eligibility Criteria specify traits that all applicants must have in common. The eligibility criteria required for a Mechanical Engineer are listed below:
Applicants must have completed their tenth grade with a minimum of 55 percent in Maths and English as their basic subjects. Although, in certain regions, a minimum of 35 percent on the 10th or comparable exam is necessary.
Applicants enrolled in vocational or ITI programs are entitled to enroll in the second year of their Programme.
To be admitted, applicants must complete a variety of state entrance exams.
With this eligibility you can also pursue Diploma in Computer Science Courses.
Skill Set Required for Diploma Mechanical Course Aspirants
Mechanical engineering is an everlasting technology field that makes engineering a strong and popular discipline all around the world. To become a successful and prominent Mechanical Engineer, a student should cultivate the following skills:
Issues- Resolving
Creativity
Clear communication abilities
Ability to lead
Mathematics
Admission Procedure for Polytechnique Mechanical Engineering Course in India
Applicants can opt for a public or private institution to pursue the Diploma Mechanical Course course. If you take the course at a public university or college it will help you advance in your job because they have a superior track record and reduced entrance fees.
The Engineering Diploma Admission Exam is held in all the provinces in India.
In a private institution admission depends on your 10th-grade marks, however, many private colleges set their own admissions exam.
Once you have cleared the admission or entrance exam, all you have to do is follow the admission guideline for Diploma Mechanical Engineering Course, the guidelines are as follows:
Once you have selected the college or institution to join, visit their website and submit the application form along with all the required details.
The College's Admission department will short-list the applicant's and a counseling session will be held for them.
Once you are shortlisted it's a must that you should be available on the date of the counseling session.
List of Diploma in mechanical engineering colleges Offline and Online with Diploma Mechanical Course Fees
There are many Government and Private colleges or universities that provide courses for Mechanical Engineering. You can opt for the one you like according to your preference. However, to make your work easy we have a list of some colleges which include both private and public universities along with their fee structure.
| | | |
| --- | --- | --- |
| Name of College | Public/ Private | Total Fees |
| Lovely Professional University | Private | INR 2.28 L |
| Dev Bhoomi Institute of polytechnic | Private | INR 37.8 K – 1.16 L |
| College of Engineering, Pune Shivaji Nagar, Pune | Public | INR 1.75 L |
| Veermata Jijabai Technological Institute – VJTI Mumbai | Public | INR 22.85 K – 23.36 K |
| SPSU – Sir Padampat Singhania University | Private | INR 5.23 L |
| Government Polytechnic, Mumbai Bandra East | Public | INR 22.85 K |
| Parul University | Private | INR 1.29 L |
| Teerthanker Mahaveer University Moradabad | Private | INR 1.13 L – 1.97 L |
| Ganga Institute of Technology and Management | Private | INR 1.01 L |
| Quantum School of Technology | Private | INR 1.94 L |
Diploma in mechanical engineering syllabus pdf
The following are the disciplines covered in the Diploma Mechanical Course Programme
Mechanical diploma subjects 1st year
| | |
| --- | --- |
| S/N | Subjects/Courses |
| 1 | Communication Skills in English |
| 2 | Basic workShop -I |
| 3 | Engineering Graphics-I |
| 4 | Basic Computer Skills Lab |
| 5 | Engineering Mathematics-I |
| 6 | WorkShop Technology |
Second Semester
| | |
| --- | --- |
| S/N | Subjects/Courses |
| 1 | Applied Science Lab |
| 2 | Engineering Graphics-II |
| 3 | Basic Electrical & Electronics Engineering |
| 4 | Applied science |
| 5 | Engineering Mathematics-I |
| 6 | Basic Electrical & Electronics Lab |
Third Semester
| | |
| --- | --- |
| S/N | Subjects/Courses |
| 1 | Machine shop-I |
| 2 | Basic workshop practice-II |
| 3 | Mechanical Testing & Quality control Lab |
| 4 | Mechanical Measurements & Metrology |
| 5 | Manufacturing Technology-I |
| 6 | Fluid Mechanics & Machinery |
| 7 | Engineering Mechanics & Strength of Materials |
Fourth Semester
| | |
| --- | --- |
| S/N | Subjects/Courses |
| 1 | Parametric Solid Modeling Lab |
| 2 | Machine Shop-II |
| 3 | Fluid Power Lab |
| 4 | Fluid Power Engineering |
| 5 | Manufacturing Technology-II |
| 6 | Thermal Engineering-I |
| 7 | Theory of Machines |
Fifth Semester
| | |
| --- | --- |
| S/N | Subjects/Courses |
| 1 | Project Work and Industrial visit |
| 2 | CASP |
| 3 | C-Programming and MAT lab |
| 4 | Mechatronics lab |
| 5 | Mechatronics |
| 6 | Design of machine elements |
| 7 | Thermal Engineering-II |
| 8 | Basic Management Skills and Indian Constitution |
Sixth Semester
S/N
Subjects/Courses
1
CNC and Casting Simulation lab
2
Thermal Engineering lab
3
Elective:

Metal Casting Science and Engineering

Refrigeration and Air-conditioning
Power plant engineering
Non-conventional Energy resources

4
Computer integrated manufacturing
5
Automobile Engineering
6
Estimating and costing
7
Project work
Career Options after Completion Diploma in Mechanical Engineering
The list of future opportunities that are offered for the candidates of diploma mechanical engineering course is discussed here for a better choice:
Aerospace sector: This sector has seen a lot of advancements and breakthroughs over the years. The demand for highly trained Mechanical engineers with immense knowledge is increasing all the time in this sector.
Auto Manufacturing: As one of the quickest expanding industries, it has created countless career opportunities. A Mechanical Engineer is highly in demand in this sector.
Chemical industry: Mechanical engineers are in demand in this field as they provide technical assistance, responsible for the improvements and efficiency of the tools, etc.
Railway Industry: Overhead line networks require guidelines to be created, layouts to be examined, and technical questions to be solved, all of which fall under the domain of Mechanical Engineers.
Students who wants to study higher studies can check Courses After Diploma in Mechanical Engineering to select the best course.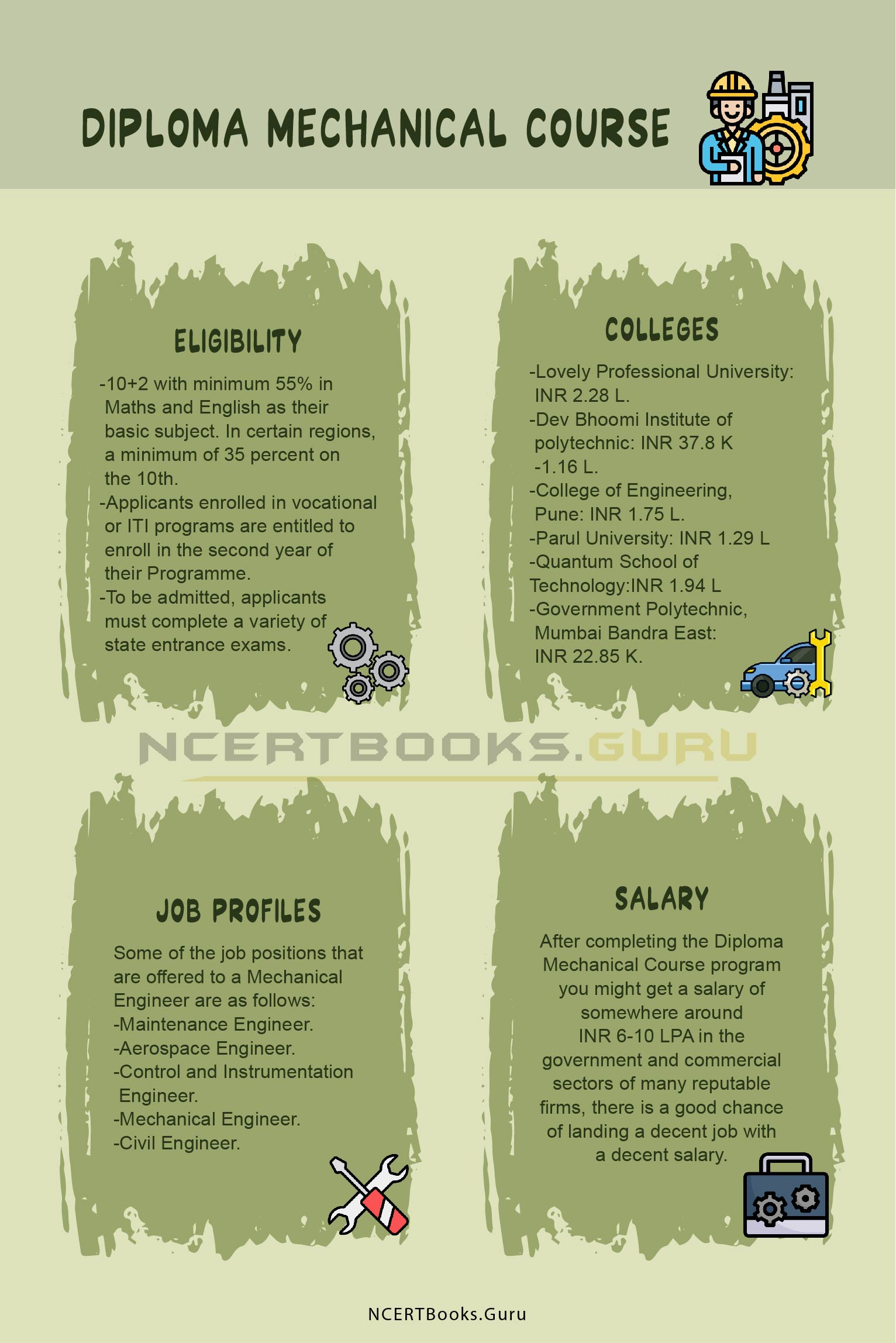 Job Profiles Under Diploma Courses in Mechanical
A Mechanical Engineer knows how to design and construct a machine, their skills have made them highly demandable in most companies and industries. Some of the job positions that are offered to a Mechanical Engineer are as follows:
Maintenance Engineer
Aerospace Engineer
Control and Instrumentation Engineer
Mechanical Engineer
Civil Engineer
Expected Salary in Diploma Mechanical Engineering Course
After completing the Diploma Mechanical Course program you might get a salary of somewhere around INR 6 – 10 LPA in the government and commercial sectors of many reputable firms, there is a good chance of landing a decent job with a decent salary. You can also be an entrepreneur and start a manufacturing or repairing business.
FAQs on List of courses after diploma in mechanical engineering
1. What digital programs are available to Mechanical Engineering grads once they complete their diploma?
Following a diploma in engineering, there are a variety of online courses offered that can help you get additional skills in addition to engineering. Industrial Sketching, Drafting, Advanced MS Excel, etc are some of the short-term courses that are available.
2. Is A Diploma Mechanical Course a good choice?
A Diploma Mechanical Course is an excellent choice. Having stated that, students must have a keen interest in Mechanical Engineering.
3. In a Mechanical Engineering diploma, how many subjects are there?
There are 6 semesters in Mechanical Diploma and each semester has six to eight subjects.
Final Words
If you have a passion for learning and the curiosity of an individual thus makes you a great Mechanical Engineer, if you're a person of this kind then it's time for you to explore the world of engineering and showcase your inner potential. You can also visit other links on our website @ncertbooks.guru to get your academic queries solved on diploma mechanical course & others! Do not forget to go through them!