Mechanical Engineering Courses: Are you contemplating a career in engineering post 12th? For students in the science field who aspire to a career in engineering, Mechanical engineering is one of the most in-demand branches that you can consider. Learn more about Mechanical Engineering Courses like Eligibility, Course Duration, Entrance Exams, Colleges, Course Structure, Subjects List, and other details in this article.
What is Mechanical Engineering?
One of the oldest branches of engineering, Mechanical engineering expressly deals in and specializes in machines. Mechanical engineering pertains to the study, design, development, construction, and testing of mechanical and thermal sensors and devices including tools, engines, and machines.
As a field of study, mechanical engineering combines the principles of physics and mathematics with material science to engineer mechanical systems and produce modern technologies that aid processes for support in a variety of fields. It is a broad field of interdisciplinary studies that includes various aspects such as aerospace technology, power generation, etc that find its use and application in almost every industry.
Mechanical engineers produce anything from batteries, medical equipment, computers, engines and automobiles, and electrical power plants as well as technologies and machinery that produces these.
How to become a Mechanical Engineer?
To become a mechanical engineer in India, here are the Mechanical Engineering Courses you can choose–
You can either pursue a Diploma in Mechanical engineering from a polytechnic college or undertake a Bachelor's degree (B.Tech./BE) in Mechanical engineering from any recognized university. One can also pursue a postgraduate M.Tech Degree post-B. Tech or B.E
Mechanical Engineering Eligibility Criteria
Various courses such as diplomas, certification, and graduate programs are available to pursue mechanical engineering.
Diploma
A diploma course in mechanical engineering is a three-year course that you can pursue post-class 10th.
The eligibility for the course includes-
A minimum aggregate of 55% in 10th standard from a recognized board
A Minimum aggregate of 50% in 12th standard from a recognized board with Physics, Chemistry, and Maths as main subjects.
Study about Course after Diploma in Mechanical Engineering and get to know if you want to do it or not.
Graduate
A Bachelor's degree (B.Tech./BE) in Mechanical engineering is a full-time four years course that you can pursue post-class XII. The eligibility for the course includes-
A minimum of 55% in class XIIth from a recognized board with Physics, Chemistry, Maths subjects
Having appeared in one of the entrance exams: AIEEE (All India Engineering Entrance Exams), JEE Main (Joint Entrance Exam Main), AICET (All India Common Entrance Test), etc.
Usually, both the marks in class 12th plus the entrance score are considered during admissions into the mechanical engineering courses in India. However, some private universities also take direct admission on the basis of a cut-off of marks in Class 12th.
Mechanical Engineering Entrance Exams
Popular Engineering Entrance Exams can appear to get admission into mechanical engineering colleges are as beneath. Some of them are outlined for your reference. They are as mentioned below
JEE Main
JEE Advanced
SRMJEEE
BITSAT
VITEEE
KIITEEE
Top Colleges for Mechanical Engineering
Popular colleges in the country to pursue mechanical engineering is as follows. You can join any of them as per your interest and study accordingly.
Indian Institute of Technology, Madras
Indian Institute of Technology, Kanpur
Lovely Professional University
Indian Institute of Technology, Bombay
Indian Institute of Technology, Delhi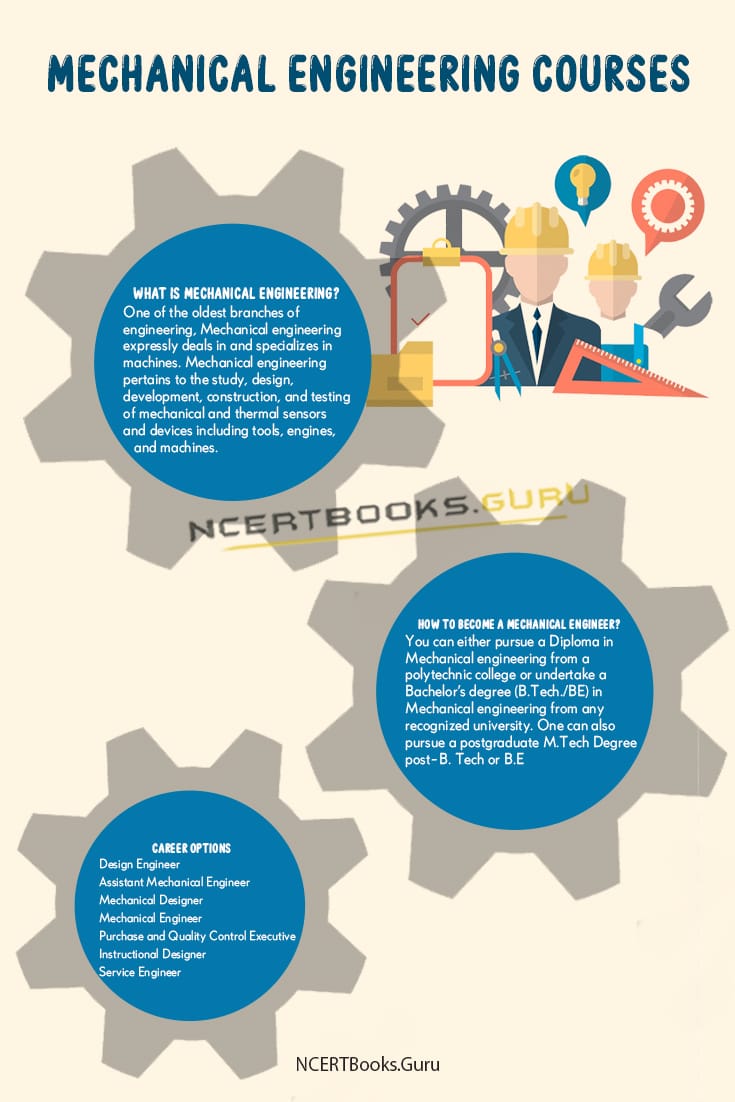 Mechanical Engineering Course Syllabus
Students have to study the following subjects in order to gain theoretical knowledge of the mechanical engineering course.  Semesterwise Subjects of the Mechanical Engineering Course Programme are mentioned for your knowledge. They are as such
Semester 1
Semester 2
Chemistry
Modern Biology
Electrical Sciences
Introduction to Computing
Physics – I
Engineering Mechanics
Mathematics – I
Mathematics – II
Workshop /Physics Laboratory
Physics – II
Chemistry Laboratory
Basic Electronics Laboratory
Engineering Drawing
Computing Laboratory
Physical Training – I
Physics Laboratory/Workshop
[NCC/NSO/NSS]
Physical Training – II
[NCC/NSO/NSS]
Semester 3
Semester 4
Mathematics-III
Solid Mechanics – II
Thermodynamics
Manufacturing Technology – I
Solid Mechanics – I
Fluid Mechanics – I
Engineering Materials
Kinematics of Machinery
HSS Elective – I
Workshop  – II
Physical Training – III
HSS Elective  – II
Machine Drawing
Mechanical Lab – I
NCC/NSO/NSS
Physical Training – IV
NCC/NSO/NSS
Semester 5
Semester 6
Manufacturing Technology – II
Applied Thermodynamics – I
Fluid Mechanics – II
Machine Design
Design of Machine Elements
Mechanical Measurements
Dynamics of Machinery
Heat and Mass Transfer
Electrical Machines
Control Systems
Mechanical Lab –  II
Mechanical Lab – III
HSS Elective – III
Semester 7
Semester 8
Applied Thermodynamics – II
Industrial Engineering and Operation Research
Summer Training (PP/NP)
Dept Elective –  III
Dept Elective – I
Dept Elective – IV
Dept Elective – II
HSS Elective – IV
Open Elective – I
Project- II
Mechanical Lab IV
Project- I
Mechanical Engineering Subjects List
Following are some of the subjects taught in mechanical engineering. Refer to them and study during your course and become proficient in the subject. They are as follows
Material Science and Engineering
Engineering Mechanics
Fluid Machinery
Kinematic Analysis and Synthesis
Heat Transfer
Fluid Mechanics
Machine Drawing
Electrohydraulic Control Systems
Measurement and Instrumentation
Steam Power Plant
Dynamics of Machines
Metrology and Metallography Lab
Workshop Practice
Manufacturing Processes
Applied Mechanics Lab
Machining Technology and Metrology
Get a comprehensive list of Course Details all in one place and study various courses information such as eligibility to pursue one, course duration, fees, colleges, etc.
Skillset Required for Mechanical Engineering
Below is a glimpse of some of the best skills one needs to have in them if he/she wants to become a mechanical engineer. These are vital to becoming a mechanical engineer. They are along the lines
Excellent technical skills/knowledge
Budgeting skills
Commercial awareness
Creativity
Ability to work under pressure
Project management
Interpersonal skills
Excellent communication skills
Career Options after Mechanical Engineering Course
Mechanical Engineering is a specialization that is in great demand. Students after finishing the Mechanical Engineering Course can choose from any of the job profiles and join government/private sectors. Common Job Profiles for Mechanical Engineering is as under
Design Engineer
Assistant Mechanical Engineer
Mechanical Designer
Mechanical Engineer
Purchase and Quality Control Executive
Instructional Designer
Service Engineer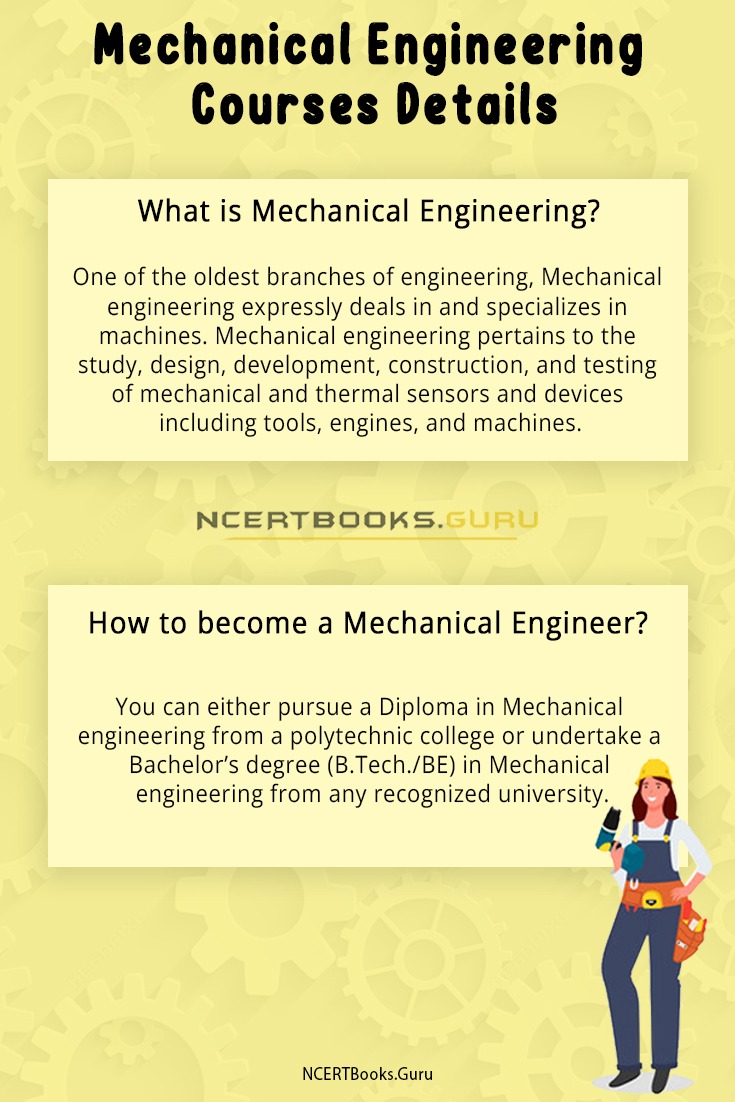 Top Recruiters that hire Mechanical Engineering Candidates
Here is a quick glimpse of some of the top recruiters that hire Mechanical Engineering Candidates. They are as follows
BMW
Larsen and Toubro Ltd
Mahindra & Mahindra Ltd
Reliance Industries
GE Global Research
Hindustan Petroleum Corporation Limited
Tata Motors
Toshiba
Siemens
Maruti Suzuki
FAQs on Mechanical Engineering Courses
1. What is the future of the Mechanical engineering field in India?
The modern world runs on machines, from simple tools to complex types of machinery, from building to maintaining these modern structures require the expertise and skills of an engineer. Mechanical engineering touches our lives in some way or another.
Mechanical engineering has immense scope in India as well as outside the country. Apart from being employed in almost every industry of the world, Mechanical engineers play a vital role in industries such as energy conservation, biotechnology, aerospace, computers, and electronics as well. This makes mechanical engineers a highly demanded and valued job.
2. What are some Top colleges for pursuing Mechanical Engineering in India?
Here's a list of the top colleges in India that offer the best Mechanical Engineering Courses
Indian Institute of Technology, Madras, Chennai
Indian Institute of Technology, Bombay, Mumbai
Indian Institute of Technology, Kharagpur
Indian Institute of Technology, Delhi, New Delhi
Indian Institute of Technology, Kanpur
Indian Institute of Technology, Roorkee
Indian Institute of Technology, Hyderabad
Indian Institute of Technology, Gandhinagar, Ahmedabad
Indian Institute of Technology, Ropar-Rupnagar
Indian Institute of Technology, Patna
Indian Institute of Technology, North Guwahati
National Institute of Technology, Tiruchirappalli
Vellore Institute of Technology, Vellore
3. What are some of the top skills that are needed for this profession?
Critical thinking ability and analytical skills, and problem-solving ability with a design sense are some of the key skills that engineers are required to apply to their work.
Mechanical engineers engage in teams with the objective of analyzing, designing, simulating, and testing machines, therefore good interpersonal and communication skills, ability to work under pressure, leadership skills, and team working ability are also relevant.
Conclusion
Mechanical engineering is one of the most preferred career choices among Indians because of its immense potential and the ever-increasing demand for professionals. If you are planning to opt for engineering, this branch is definitely worth serious consideration. You can try out our other article as well to know more about How to become a Mechanical Engineer in India.
Becoming an engineer requires many years of dedicated study that begins even before you actually undertake the course. Since you are required to appear for entrance exams as well as class 12th boards, one must prepare to build a strong foundational base early on which can be achieved with NCERT books and competitive preparation books.
Accessing NCERT books and solutions along with entrance preparation is made easy with NCERTBooks.Guru where you can access everything online free of cost, anytime and anywhere. Try our website for your school as well as competitive study.