BA English Literature Course Details: BA English Literature Course remains one of the top choices among the Candidates. English remains the most popular language globally, which means gaining a degree in this Language not just opens career prospects just limited to the linguistic arena but also in several other spheres.
Students pursuing this course are introduced to various issues and pieces of the Language. The range of topics that are covered again is very diverse-from Victorian Age Literature, to Contemporary Period as well as Modern Contemporary Writings. Students here are also taught the various techniques of advanced writing procedures in this undergraduate program. A career in English Literature opens a plethora of career options from copywriting- to journalism to scriptwriters, which is why it remains a top choice among candidates.
Get to Know More about other types of Course Details in Stream wise, and Category wise.
In this article, we would be discussing what essentially is the course of BA English Literature Course is, the course structure, the possible career options, the average salary structure, the best colleges/universities offering this course, with their fee structure  and their respective admission procedure.
BA English Literature Full Form is Bachelor of Arts in English Literature.
BA English Literature Course Overview
BA English Literature Course is one of the most coveted courses, because of the popularity and dominance of the language globally. The vast range of topics covered here are not just very comprehensive but also develop the necessary critical thinking ability. A degree in English Literature opens a host of opportunities for students thereby.
BA English Literature Course Eligibility Criteria
Candidates who clear the following criteria are eligible to apply for the admission procedure of BA English Literature Course, for Universities and colleges in India.
Candidates who have cleared 10+2 in any stream from a recognized board with aggregate marks of at least 50%.
BA English Literature Course Structure
BA English Literature Course is a three-year undergraduate program offered by Colleges and Universities registered and recognized by the University Grant Commission, UGC in India. The specific BA in English Literature syllabus and course structure vary across Universities, but if we have to state the basic topics covered, then they are very diverse- from Victorian age literature to Contemporary writings and poems.
Along with that students are also taught advanced writing procedures and techniques, and required finesse to excel in the various industry domains. The wide range of topics covered gives the students the requisite necessary critical thinking abilities and knowledge on pressing social, economic, and political issues.
Do Refer
>BA English Literature Syllabus PDF
BA in English Literature First Year Subjects
Indian Classical Literature
British Poetry and Drama: 14th to 17th centuries
Indian Writing in English
European Classical Literature
Second Year Subjects
American Literature
Popular Literature
British Poetry and Drama: 17th to 18th centuries
British Romantic Literature
British Literature: 18th Century
British Literature: 18th Century
Third Year
Postcolonial Literatures
Modern European Drama
Women's Writing
British Literature: The Early 20th Century
BA English Literature Course Scope/ Career Opportunities
As mentioned earlier, because of the global dominance of English, the career prospects in it are also immense. There are plenty of options that one can pursue after completing their graduation in English Literature. This can range from being a Copywriter to being an Editor of Prominent Media Houses, Magazines, Publishing Houses. One can also base a career in Scriptwriting, Content Writing or base a Career in Media Studies or Journalism. Gaining Higher Education, like a Post-graduation in English Literature or in Journalism or Mass Media further opens more opportunities in these lines. One can also go to the field of Research and Academia, as there are a plethora of opportunities there as well.
Here are BA English Literature Jobs.
Academia
Research
Journalism/Mass Media
Advertising and Marketing
Hospitality Industry
Editor in Newspaper, Magazines and Publishing Houses
Content Writing
Scriptwriting
Copywriting
PR Officer etc.
The average BA in English Literature salary structure in these professions again varies across companies and organizations. But if we are to estimate an average, it would be somewhere around INR 4.2 LPA. Also, check BA Course Details that offer similar career options.
BA in English Literature Colleges
Almost Every Major Established University and College in India will have an Undergraduate Programme in English Literature, given that it's one of the most sought after course for the students. The Universities and Colleges that have a high rank in the Annual NIRF Rankings are highly coveted by students, resulting in high cut-offs.
The fee structure again differs across colleges and universities, with the minimum being 8,000 per annum to INR 1.3 Lakhs. These colleges also offer BA English Hons Course.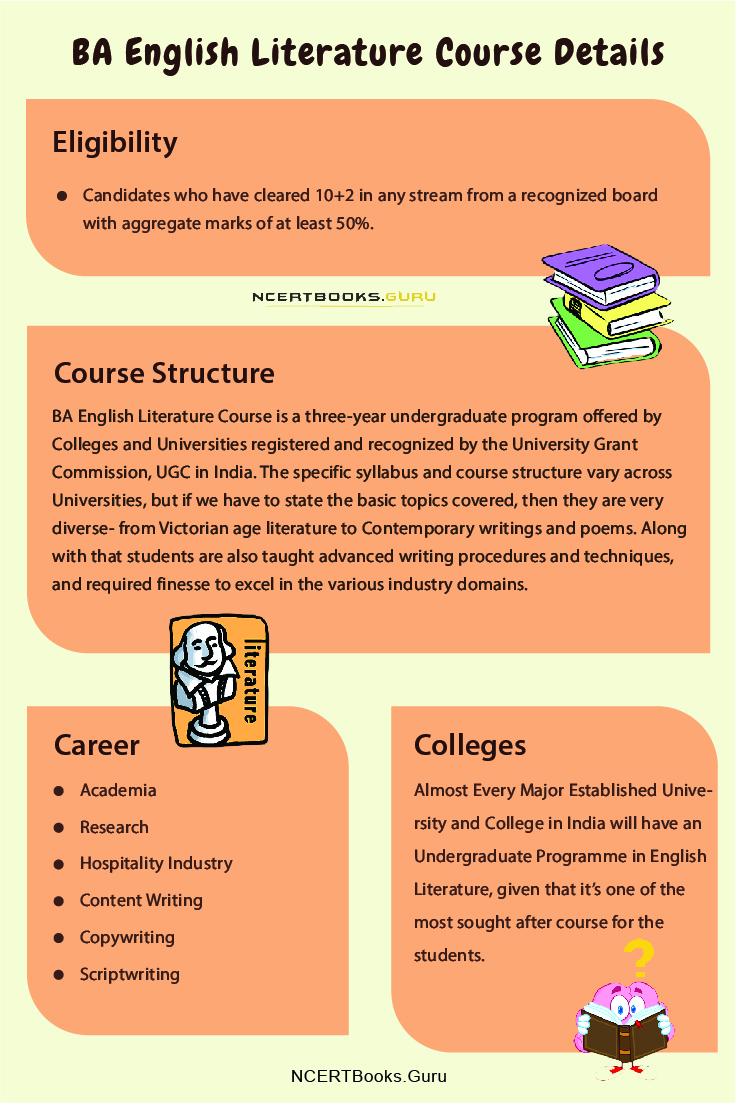 FAQ's on BA English Literature Courses
Question 1.
What is the Eligibility Criteria if I wish to apply for the BA English Literature Course?
Answer:
The eligibility criteria differ across colleges and universities. While some colleges admit students on a Merit basis, taking into account your +2 marks, some Universities conduct respective entrances to admit into their programs. The minimum Eligibility Criteria for both Merit and Entrance Based Procedures is, however, to secure a minimum of 50% from a recognized college or University.
Please visit the website or contact the help desk of the College and University of your choice to know more about their procedures.
Question 2.
Which is the best college for pursuing a BA in English Literature?
Answer:
While every Major Universities and College registered under them will definitely have a Programme on BA in English Literature- the top six colleges to pursue a BA in English Literature are:
St. Stephens College, New Delhi
Lady Shri Ram College for Women, New Delhi
Miranda House, New Delhi
St. Xavier's College, Mumbai
St. Xavier's College, Kolkata
Christ University, Bangalore
Question 3.
What can be done after a BA in English Literature?
Answer:
While as mentioned above, there are several career options that one can choose to pursue like Editor, in Media houses, in Advertising, in Publishing Houses.
One can also choose to do Freelancing like that of Content Writing, Copywriting, etc. Apart from that, one can even choose to go for higher studies in English or in any other particular field of study.