Harvard University Courses: Harvard is one of the oldest and most renowned universities in the United States. The university has a lot to offer when it comes to curricular and co-curricular activities. Harvard offers courses at both graduate and undergraduate levels. But getting into college is not a piece of cake.
Students need to work really hard and score a high percentage in class 10th and 12th to be eligible for this university. There is a proper process for admission followed by eligibility criteria, and fee structure at Harvard.
If you are looking for the Harvard University Course details and its related topics then you are at the right place. We are proving the complete details for you in this below article. So, you can have a look!
About Harvard University
For those students who want to learn, earn, research, teach, work, and grow in various domains at different levels of education then Harvard is the right place. It is one of the oldest and best universities in the world. It offers around 50 undergraduate majors,134 graduate degrees, and 32 professional degrees.
After getting admission here you will get to know a lot about new techniques used while studying. The faculty is also highly educated. Its infrastructure, library, and halls offer a breathtaking view. If you are planning to get here then you really need to study a lot and score a high percentage.
List of Undergraduate Harvard University Courses
You can pursue any of these domains according to your eligibility criteria for undergraduate courses. The topic list for the available courses at Harvard University is:
Electrical Engineering
History
African and African American Studies
Economics
Government
Near Eastern Languages and Civilizations
Philosophy
Biology
Applied Mathematics
Anthropology
Chemical and Physical Biology
Germanic Languages and Literature
Environmental Studies
Environmental Science and Engineering
Physics
Chemistry
History of Art and Architecture
Environmental Science and Public Policy
Literature
Business Administration and Management
Music
Engineering Sciences
Romance Languages and Literature
Earth and Planetary Sciences
Comparative Literature
Astrophysics
Religion
South Asian Studies
Psychology
Comparative Study of Religion
International Relations
Slavic Languages and Literatures
Bioengineering
Computer Science
Chemistry and Physics
Government
Statistics
Human Developmental and Regenerative Biology
Social Studies
Integrative Biology
Art, Film, and Visual Studies
Molecular and Cellular Biology
Special Concentrations
English
Materials Science and Mechanical Engineering
Linguistics
Biomedical Engineering
Neuroscience
History and Literature
Mathematics
Mechanical Engineering
Women, Gender, and Sexuality, Study of
East Asian Studies
Folklore and Mythology
History and Science
Sociology
Classics
Theater, Dance, & Media
Harvard Master's Programs Online
Students must take 32 credit courses if they are enrolling for a master's degree at Harvard. Also, they must take up the full-time master's degree courses. These courses are offered in the following domains. Some of these Harvard university postgraduate courses are defined here:
Master of Arts
Creative Writing and Literature Graduate Program
Master of Public Policy candidate (MPP)
Master of Public Health
Management Graduate Program
Master of Science
Master of Engineering
The Cybersecurity Master of Liberal Arts degree
Master of Business Administration
You can take up the master's degree in the following topics:
Mathematics for Teaching Graduate Program
Data Science Graduate Program
English Graduate Program
Global Development Practice Graduate Program
Cybersecurity Graduate Program
Biology Graduate Program
Creative Writing and Literature Graduate Program
History Graduate Program
Software Engineering Graduate Program
International Relations Graduate Program
Industrial-Organizational Psychology Graduate Program
Finance Graduate Program
Psychology Graduate Program
Management Graduate Program
Bioengineering and Nanotechnology Graduate Program
Museum Studies Graduate Program
Biotechnology Graduate Program
Digital Media Design Graduate Program
Religion Graduate Program
Information Management Systems Graduate Program
Journalism Graduate Program
Anthropology and Archaeology Graduate Program
Dramatic Arts Graduate Program
Sustainability Graduate Program
On the other hand, an integrated Ph.D. program in education is also offered by the Harvard Graduate School of Education and the Harvard Graduate School of Arts and Sciences. Doctor of Education Leadership (Ed.L.D.), Doctor of Philosophy in Education (Ph.D.), and Doctor of Education (Ed.D.) is the following domains in which you can look for Harvard Ph.D. programs.
Neuroscience
Health Policy
Division of Medical Sciences
American Studies
Quantum Science and Engineering
Immunology DMS
Biological Sciences in Public Health
Chemical Biology
Chemical Physics
Biological Sciences in Dental Medicine
Education
East Asian Languages and Civilizations
Economics
Business Economics
South Asian Studies
Earth and Planetary Sciences
The Classics
Romance Languages and Literature
Population Health Sciences
Architecture, Landscape Architecture, and Urban Planning
Psychology
Sociology
Inner Asian and Altaic Studies
Film and Visual Studies
Molecular and Cellular Biology
Slavic Languages and Literatures
History of Science
Linguistics
Middle Eastern Studies
English
Statistics
Near Eastern Languages and Civilizations
Astronomy
Systems, Synthetic, and Quantitative Biology​
Business Administration
Anthropology
Music
Biophysics
History
Germanic Languages and Literature
Religion
Biostatistics
Chemistry and Chemical Biology
Virology DMS
Physics
Comparative Literature
Biological and Biomedical Sciences
Organismic and Evolutionary Biology
Human Evolutionary Biology
Celtic Languages and Literature
Social Policy
Government
African and African American Studies
History of Art and Architecture
Public Policy
Mathematics
Bioinformatics and Integrative Genomics
Organizational Behavior
Philosophy
Must Refer:
Harvard University Certificate Courses
The university also offers graduate certificate courses which you can complete easily. With the help of these courses, you can update your professional life and it also helps you in building your resume. The list of certification Harvard university courses for working professionals is as follows:
Programming Graduate Certificate
Sustainability Graduate Certificate
Health and Society Graduate Certificate
Organizational Behavior Graduate Certificate
Marketing Management and Digital Strategy Graduate Certificate
Religions of the World Graduate Certificate
Sustainable Food Systems Graduate Certificate
Museum Studies Graduate Certificate
Data Analytics Graduate Certificate
Data Science Graduate Certificate
American Literature and Culture Graduate Certificate
Front End Web Development Graduate Certificate
Real Estate Investment Graduate Certificate
Sustainable Cities and Communities Graduate Certificate
Biotechnology Management Graduate Certificate
Math Leadership Graduate Certificate
Social Justice Graduate Certificate
Web Technologies Graduate Certificate
Visual Arts Graduate Certificate
Corporate Finance Graduate Certificate
Corporate Sustainability and Innovation Graduate Certificate
Learning Design and Technology Graduate Certificate
Philosophy and Ethics Graduate Certificate
Topics in Human Behavior Graduate Certificate
Digital Storytelling Graduate Certificate
Strategic Management Graduate Certificate
Business Communication Graduate Certificate
Nonprofit Management Graduate Certificate
Innovation and Entrepreneurship Graduate Certificate
Religious Studies and Education Graduate Certificate
International Security Graduate Certificate
Back End Web Development Graduate Certificate
Bioinformatics Graduate Certificate
Cybersecurity Graduate Certificate
Principles of Finance Graduate Certificate
Business Economics Graduate Certificate
Project Management Graduate Certificate
International Relations Graduate Certificate
Environmental Policy and International Development Graduate Certificate
Nuclear Deterrence Graduate Certificate
Topics in Biology Graduate Certificate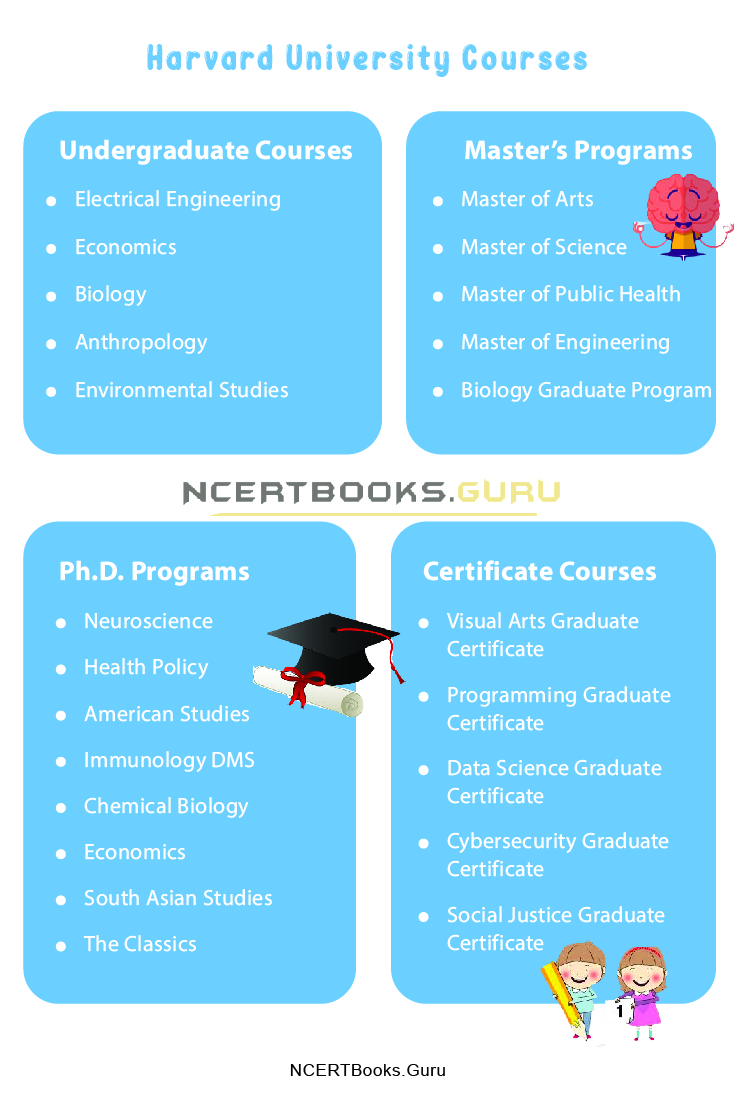 Combined Degree at Harvard University
You can pursue the combined degree courses at Harvard University. Students have an option to combine the following domains:
Ph.D. with an MD
Ph.D. with a JD
MBA with a master of science
AB with an AM or SM
However, these combined degrees are eligible for a few programs such as
Chemistry and Chemical Biology
Engineering and Applied Sciences (SEAS)

Applied Math
Applied Physics
Computational Science & Engineering
Computer Science
Engineering Sciences (Bioengineering, Electrical, Environmental Science, Materials Science, Mechanical Engineering)

Germanic Languages and Literature
Linguistics*
Mathematics
Near Eastern Languages and Civilizations
Physics
Regional Studies—East Asia
Statistics
Students need to be focused if they want to get into Harvard. To get admission into Harvard you need to clear a few entrance exams such as IELTS or TOEFL scores and if you want to pursue Harvard master's programs online then GATE or GRE are required and for bachelor's SAT or ACT entrance exams are considered. The average mark for ACT is 34 and SAT is 1520. You need to score at least a 4.18 GPA but more than is preferred.
Harvard University Courses Fees
The fee structure available here is year-wise and is for the tuition. If you are willing to take up a hostel and other facilities at the campus then you must pay in addition to the Harvard university fees (tuition fee). The room and board expenses will cost you around Rs 15 lakhs.
| | | |
| --- | --- | --- |
| Courses | Duration | 1st Year Tuition Fees |
| B.E. / B.Tech | (4 years) | Rs 36.94 L |
| B.Sc. | (4 years) | Rs 38.05 L |
| BBA | (4 years) | Rs 38.05 L |
| M.A. | (12 months-2 years) | Rs 36.78 L |
| M.Arch | (2 years-42 months) | Rs 37.28 L – 39.75 L |
| MASc | (18 months) | Rs 43.31 L |
| MBA/PGDM | (2 years) | Rs 54.63 L |
| MIM | (18 months-2 years) | Rs 14.79 L – 39.33 L |
| MS | (1 year-3 year) | Rs 14.79 L – 48.34 L |
Harvard University Courses Admission Process
To get into Harvard you need to follow a specific admission process. You can apply through the Common Application or Coalition Application.
Students can get the Harvard university application from the official site and need to follow up on these few steps for successful admission:
Step 1: Open your account on the application portal.
Step 2: Fill in the required details such as academic details, financial details, English proficiency scores, and more.
Step 3: Now upload the required documents.
Documents Required
Academic transcripts
Letters of recommendation (LORs)
Financial documents
Essays/SOP
Scholarship letters if any
Writing, video, or audio samples (as per course)
Resume/CV
FAQs on Harvard University Free Online Courses
1. What are the Harvard University Courses For International students?
Ans. International students can apply to all the courses but they need to submit their GRE/GMAT/SAT and IELTS/TOEFL scores to be eligible for the programs. There are various courses in master's, bachelor's, doctoral, and certificate levels available at Harvard.
2. What is the Harvard University Acceptance rate for the UG Courses? 
Ans. The acceptance rate at Harvard University for the undergraduate courses is around 4.6%. Thus, you need to score good marks to get into Harvard easily in your class 12th, 10th, graduation (if applying for masters), and in English proficiency tests.
3. Can I apply to Harvard after the 12th? 
Ans. Yes, there are several courses available at Harvard University for the undergraduate level. You need to score at least 85% marks in class 12th to get into the UG courses offered at Harvard.
Summing Up
Choosing Harvard University for your degree is a great choice. With the latest and most detailed information about Harvard university courses online in the above article, we hope we have helped you in all possible manner.
Also, if you have any questions or need counseling NCERTBooks.Guru is always there to help you. You can ask your doubts and give suggestions in the comment section below