Diploma Courses in Medical Field: Medical aspirations usually prefer getting a straight degree from a university. Medical courses pertain to a variety of specializations, namely medical, pharmacy, biomedical sciences, nursing, allied health, fitness, etc. There are many Diploma Courses for various specializations in the medical field which prepare students for practical coursework like patient care, teaching, research, etc.
Check out the complete guide on Diploma in Medical Courses & choose the best course in the medical field for your career.
About Diploma in Medical Field
Diploma courses are basically focus-based studies in respective specialization fields, meant to prepare any medical aspirant with the utmost knowledge and practical experience. The main intention is to either provide them with prerequisite up-to-date practical knowledge or an additional specialized qualification to help them get better and higher-paid jobs not only in India but globally.
Diploma In Medical Courses are provided at various levels in various universities under separate 1 year and 2-year programs based on the particular course you choose to specialize in. Diploma courses in medical are not only available after class 10 but also after class 12 or post-graduation levels. They basically emphasize subjects related to cell biology, anatomy, foundation clinical skills, health care, etc.
Why should you opt for diploma courses in the medical field?
Students with a diploma degree in medical and health science only or along with an MBBS are eligible to get more career opportunities from hospitals, private healthcare clinics, nursing homes, etc. because they have better practical knowledge which helps them get into higher-paid jobs in medical fields because they work more efficiently with research bureaus, laboratories, pharmacies, etc.
Diploma in Medical Courses After 10th and 12th | 1 & 2 Year Diploma Medical Courses Duration
The Medical field is one of the world's most prestigious professions available with a wide range of specializations to help people build their desired career. Hence, it is an extremely desired stream of study for students in their Class 12ths. But did you know medical courses can be done without NEET too and can be pursued after your 10th too?
Here is a list of the best diploma certification courses that can be done after 10th –
Medical Lab Technicality
E.E.G and E.M.G Technician
Operation Theater Technology
Biomedical Equipment Technicality
Yoga & Naturopathy Sciences.
Here is a list of the best diploma certification courses that can be done after the 12th –
Audiology & Speech Therapy
Anesthesia
DMLT
Nutrition & Diatrics
Child & PublicHealth
Best Diploma Courses in Medical Field List
Diploma Medical Courses are of 3 major categories:-
| | | |
| --- | --- | --- |
| BIOMEDICAL | MEDICAL TRANSCRIPTION | MEDICAL CODING |
| This basically deals with the scientific aspect of the medical industry which includes proper function and maintenance of the equipment with which the patients are treated. | This is a sub-genre of the healthcare field that deals with the patient's medical history to ease and fuel the recovery process. | This is associated with proper entry of codes in the medical billing process which includes abstracting report details to make a claim payable by insurance providers. |
Diploma in Medical Field Courses Duration
Diploma courses in the medical field generally range from 6 months to a year, when we consider short-term courses and up to 2 to 3 years for long diploma courses. For more information about the course duration of the various one year & two-year diploma courses, let us have a look at the diploma medical course duration chart below:
| | | |
| --- | --- | --- |
| S.No. | 1 year diploma courses in Medical field | 2 year courses medical field in diploma |
| 1 | Diploma in Biomedical Equipment | Diploma in Orthopedics |
| 2 | Diploma in Yoga & Naturopathy Science | Diploma in Operation Theatre (DOTT) |
| 3 | Diploma in Dialysis | Diploma in Drug Store Management |
| 4 | Diploma in Geriatric Medicine | Diploma in Medical Lab Technology (DMLT) |
| 5 | Diploma in Medical Transcription | Diploma in Medical Imaging Technology (DMIT) |
| 6 | Diploma in First Aid | Diploma in Hospital Administration (DHA) |
| 7 | Diploma in Medical assistance | Diploma in Diabetology |
| 8 | Diploma in Pharmacy technicality | Diploma in Physiotherapy |
| 9 | Diploma in Radio Diagnosis | Diploma in E.E.G. and E.M.G. Technician |
| 10 | Diploma in Surgical technology | Diploma in Otorhinolaryngology |
| 11 | Diploma in Medical Care and Emergency | Diploma in Radiotherapy |
| 12 | Diploma in Emergency Medicine | Diploma in Anesthesia |
| 13 | Diploma in Medical billing and coding Speciality | Diploma in Tuberculosis and Chest Diseases |
| 14 | Diploma in Clinical Research | Diploma in Obstetrics and Gynaecology |
| 15 | Diploma of Medical Lab Technicians | Diploma in Psychology |
| 16 | Diploma in Audiology & Speech Therapy | Diploma in Physical Medicine and Rehabilitation |
| 17 | Diploma in Rural Healthcare | Diploma in Public Health |
| 18 | Diploma in Anaesthesia | Diploma in Dermatology, Venereology, and Leprosy |
| 19 | Diploma in Health Inspection | Diploma in Child Health |
List of Best Post Graduate PG Diploma Course in Medical Field
Candidates who are aspiring to make a career in Medical after their graduation but opt for PG Diploma courses after their MBBS or MS since it is more practical-based and has higher job opportunities.
P.G. diploma courses in the medical field help graduates diversify into a specialized area of study after MBBS or M.S. completion.
Some of the best PG Diploma courses are:
Post Graduate Diploma in Obstetrics and Gynaecology
PG Diploma in Radio-diagnosis
Post Graduate Diploma in Medical Transcription
PG Diploma in Drug Store Management
Post Graduate Diploma in Clinical Research
 Diploma in Geriatric Medicine
Post Graduate Diploma in Dermatology
Post Graduate Diploma in Diabetics.
Eligibility Criteria for Diploma Courses in the Medical Field
Medical Diploma aspirants should pass Class 10 + 2 or Higher Secondary or intermediate qualification exam with a total aggregate of 60% and above along with a subject background of PCB, i.e. Physics, Chemistry, and Botany / Zoology and English as their key subjects for the Medical qualification test.
In addition, the aspirants have to fulfill the age criteria of 17 or above at the time of admission. There are other respective eligibility criteria as prescribed by the Medical Council of India (MCI), Indian Dental Council, Pharmacy Council of India, Physiotherapist Association of India, and association/council to apply in other medical and health science courses subjectively.
The other Medical Qualification tests include NEET-PG, NEET-UG, JIPMER-MBBS, NIPER-JEE, KIITEE, CENTRAL-UCET, BITSAT, etc.
Skills Required To Do Diploma in Medical Science
Every medical practitioner must have the following set of skills listed below:
Mentally stable and confident to be able to perform his/her duty in a crucial and vulnerable environment.
Desire for knowledge and urge to learn and research new technologies.
Dedication, sincerity, and commitment towards medical ethics and fellowship.
Sharp memory and prompt reasonable approach.
Good communication and interpersonal relation skills.
Up to date with scientific research and development skills.
Approachable, empathic, caring, and counseling skills.
Explanatory medical writing skills.
Patience, Perseverance, and emotion control skills.
Adrenaline rush management skills.
Topics and Subjects Covered in the Diploma Medical Courses
Diploma in Medical Courses has a varied number of categories and specializations, each one having its own set of curriculum and subject structure. Therefore, a wide array of subjects sum up the course curriculum. To name a few,
Human Anatomy (Regional, Systematic, Surface & Microscopic),
Microbiology,
First Aid,
Oncology,
Pediatrics,
Demography,
Cytology,
Research methods,
Global health,
Epidemiology,
Pharma Marketing Management,
Herbals,
Monitoring & Evaluation (including RHIS),
Public health Ethics & Laws,
Public health Nutrition,
Computer aided Drug design,
Pharmacovigilance,
Electronics in Therapeutic & Diagnostic Devices,
Practical field work in PHC and Hospital Management,
Human Physiology,
Hematology & Body fluids,
Biomedical Instrumentation and many more.
Students can specialize in any particular branch according to their choice. Certain major areas of Diploma course under the medical field include DMLT, Physiotherapy, Medical Radio-Diagnosis, Nursing, Clinical Pathology, PGD studies in (Forensic Medicine, Health Administration, Promotion), etc.
Do Check:
Fee Structure of Diploma in Medical Courses
The average fees of the course could approximately range from nineteen thousand rupees (19,000) and may cost up to a maximum of 5 lakh rupees (5,00,000) per year of the course and Diploma courses generally involve 2 years and cost up to a total of INR 31,000 for the entire course.
The fees may differ with universities and subjective specialization courses and may also involve scholarships for selected students.
Basic Fees breakup:
| | | | |
| --- | --- | --- | --- |
| Years | Tuition Fees | Admission | Other fees |
| 1st | 12,000 | 2,000 | 5,000 |
| 2nd | 12,000 | – | – |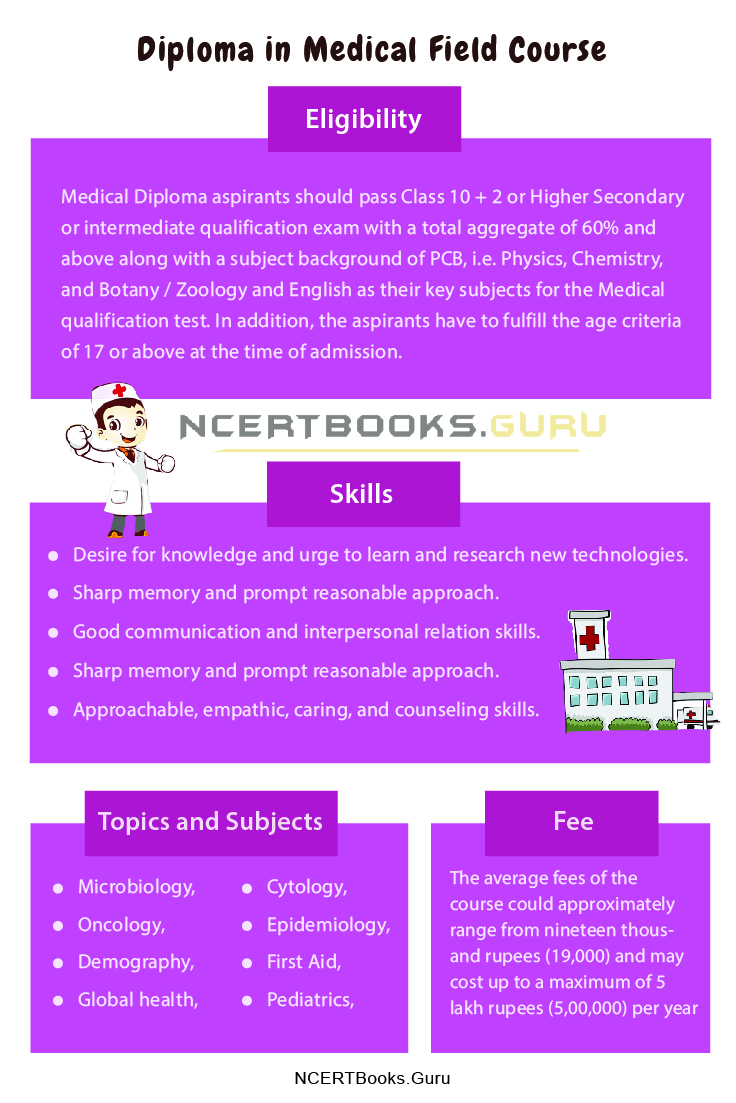 Top Medical Colleges and Educational Institutions for Diploma Aspirants
Below is a list of the top 10 medical diplomas colleges with some of the best Medical Diploma courses for you.
All India Institute of medical sciences (AIIMS), New Delhi
Christian Medical College (CMC), Vellore
RG Kar Medical College, Kolkata
Armed Forces Medical College (AFMC), Pune
Seth GS Medical College, Mumbai
Kasturba Medical College (KMC), Mangalore
School of Tropical Medicine, Kolkata
Maulana Azad Medical College (MAMC), New Delhi
Ranchi Institute of Neuro-Psychiatry and Applied Sciences, Ranchi
Jawaharlal Institute of Postgraduation Medical Education & Research (JIPMER), Pondicherry
Also Refer:
Career Prospects and Job Roles After Diploma Course In Medicine Field
The jobs and career prospects for Diploma Courses in the Medical Field are varied. Within the years 2016-2026, the estimated job opportunities in the Diploma Medical field have risen exponentially by approximately 29 percent, as compared to any other occupation.
You have over 200 medical-related courses to choose from after your graduation or post-graduation in India and over 400 short-term medical courses to let you enter into part-time jobs for improving your medical skills.
The other various job roles include Hospital front desk coordinator, Medical, laboratory phlebotomist, Medical Lab Assistant, Health Consultant, Radiology Expert & technologist, X-Ray technician, Operating theatre technician, and many more.
Below is a list of the various work fields you can choose from:
Medical Practice
Research
Industries / Organizations
Teaching/coaching
Defense
Combined Medical Services (CMS) and Civil Services
Content Or Blog Writing
Top Recruiters To Hire Diploma Medical and Health Service Candidates
Hospitals, Medical Research Units, Pharmaceuticals, etc. are renowned recruiters for medical sciences DIploma services and a graduate needs a license to start practicing from their own clinic. Here's the list of the top Medical Diploma and Health Service Recruiters :
Apollo Hospitals Enterprises Ltd.
Indraprastha Apollo Hospitals
Fortis Healthcare Ltd.
Lilavati Hospital and Research Center
Medanta Hospitals
Wockhardt Ltd.
Sun Pharmaceutical Industries Ltd.
All India Institute of Medical Sciences
Cipla Ltd.
United Healthcare Group
Sri Ganga Ram Hospital
Max Healthcare
Religare Health Insurance Company Ltd.
Apollo Munich Health Industries Co. Ltd.
Omega Healthcare
Postgraduate Institute of Medical Education and Research
Average Salary Structure for Diploma Courses in Medical Field After Graduation
Medical incomes vary from thousands to lakhs based on a person's place, experience, areas of interest & industry. A graduate needs to invest his time, commitment, sincerity, enthusiasm, dedication, and perseverance to excel in any medical field.
Initial incomes range from INR 20,000 to INR 50,000 range and can raise upto lakhs of rupees with just a little more practice and experience
Below is a list showing roughly the average salaries in various medical Diploma fields:
Registered Nurse: Rs. 2.90 Lakh and above
General Surgeon: Rs. 5 Lakh and above
Physiotherapist: Rs. 3 Lakh and above
Medical Researcher: Rs. 7.20 Lakh and above
Medical Science Liaison: Rs. 7 Lakh and above
Anesthesiologist: Rs. 12 Lakh and above
Healthcare Consultant: Rs. 12.20 Lakh and above
Nurse Educator/Trainer: Rs. 3.50 Lakh and above
Medical Laboratory Technician: Rs. 2 Lakh and above
Medical Officer: Rs. 5.80 Lakh and above
Healthcare Manager: Rs. 6 Lakh and above
Environmental Health and Safety Manager: Rs. 9 Lakh and above
FAQs on Diploma Courses in Medical Field After 12th & 10th
1. Can I study for a diploma in medicine after 10th?
Yes, you can pursue a diploma course in medicine after 10th on both a 2-year and 1-year basis. The fields include radiology, dialysis, physiotherapy, and many more.
2. What is the duration of diploma courses?
Answer: Diploma course duration ranges from 1 year up to a maximum of 3 years depending upon the respective specialization course you are choosing.
3. What kind of courses can I study under Diploma programmes?
Answer: In Diploma students can study subjects like Radiology, Nursing, Dialysis Technology, OTT Technician, DMLT, Physiotherapy, etc.
4. Is DMLT a good career?
Answer: No doubt, the DMLT course is a wonderful career where you get ample opportunities for jobs in labs, clinics, hospitals, etc.
5. What is the benefit of a Diploma in Medical?
Answer: A Diploma in Medical graduate demarcates a person of having more practical knowledge and application course work done. Hence, there is a chance of getting more as well as high-paying job opportunities not only in India but globally.
Conclusion
Any specialization Diploma is a worthy certification that helps you in terms of job selection, scopes, and opportunities. Wrapping things up, In the end, the choice completely depends upon your interests and personal goals. Here in this article, we made sure to provide you with a rough but in-detail summary of the Diploma in Medical Field and other details in association with it.
We hope you liked it and we could be useful to you to help you choose a strategic career decision. For more such in-depth course details & career-related articles, stay tuned with ncertbooks.guru portal.