DMLT Course Details: Diploma in Medical Laboratory Technology (DMLT). It is a two-year Medical laboratory course for students, who is desirable to become a professional Laboratory Technician, Medical Technician, etc. It educates the students about sampling, Testing in the laboratory, Maintaining the record of the patients. The aspirant must complete 10+2 with science stream in any recognized board/ universities. DMLT course can opt from distance mode or correspondence mode of education from institutions like NIOS, MGU, IGNOU, etc. The total expense of studying in a distance course is around Rs 5000 to Rs 30000. Some colleges offered this course after 10th standard students.
About DMLT Course Details
DMLT is a certificate course for Medical Laboratory. It deals with the chemical analysis of blood fluid like saliva, urine culture, blood cultures, and some culture of ions present in our body. It also covers the analysis of invader microorganisms in the body of organisms. The courses impart depth knowledge of the culture of fluids and ions of our body, and truly documentation helps the doctors find specific diseases of the patients. So, the role of technicians is very vital or essential in curing patients. This course includes Clinical Biochemistry, Histopathology, Microbiology, Immunology, Blood Banking, etc.
Those who are pursuing this course are trained in technical skills in classroom lectures, practical sessions, internal assessment, viva voice, and an internship training program of 3-6 months. This course also equipped the students to handle the lab equipment with 100% accuracy in medical laboratory examinations.
DMLT College
There is plenty of college in India offering a DMLT course. Some of them are MCI Accredited, DCI Accredited, UGC Accredited, and some are AICTE Accredited. Some of the first college that offers DMLT course are listed below. You can opt for anyone among the list, which one is better suited to you. Some of them are Government College while remaining owned by private institutions.
Jawaharlal Nehru Medical College [JLNMC], Bhagalpur Bihar.
PES Institute of Medical Science and Research, Kuppam Andhra Pradesh.
Maharaja Krishna Chandra Gajapati Medical College and Hospital, Berhampur Orissa.
King George Medical University.
St John's Medical College, Banglore.
Sharda University, Noida.
Jaipur National University, Jaipur Rajasthan.
Smt. NHL Municipal Medical College, Ahmedabad Gujarat.
Aligarh Muslim University, Aligarh Uttar Pradesh.
Government Medical College, Amritsar Punjab.
DMLT Course Eligibility
The DMLT Course Qualification details are here:
The students must be at least 50% marks in 12 standards with Physics, Chemistry and Biology as an essential subject.
For the students whose desires to opted this course after 10th standard. They must have 50% marks in 10th standard.
Some colleges offer DMLT after 10th standard like Madras Christian College, etc.
DMLT Course Admission Procedure
There is variation in the admission procedure. It changes among Colleges/universities. Some of them select based on the merit list of board examinations. So it would help if you scored better in board examination. At the same time, few of them offered an entrance test like AMU.
Also, Find
DMLT Course Fee Structure
The fee structure for the Diploma in Medical Laboratory Technician program may vary among different colleges/universities. It also depends on the infrastructure development and facilities available in an institution. But the average fee for the course ranges from INR 5,000 to 1,00,000 per Annum.
DMLT Course Course Curriculum / Syllabus
DMLT is a two-year program and consists of 4 semesters. In which it consists of classroom training, seminars, and basic laboratory training. So the students have focus equally among classroom as well as practical training.
The theoretical syllabus of two years is shown below:
First-year
Basics in laboratory equipment and chemistry.
Blood banking & Immune Hematology.
Basic Hematology.
Clinical Pathology and Parasitological.
Second-year
Clinical Biochemistry.
 Microbiology.
 Immunology.
 Histopathology and Cytology
DMLT Course Job Description
The carrier or Job opportunities after completing DMLT courses and their Job description are shown as below. It shows some optimistic institutions avenue with their Job description for doing after DMLT :
Lab Technician: The role of a medical laboratory examiner is to check the samples and perform tests. Candidates must have passed Diploma in Lab Technician Course.
Laboratory Assistant: The role is similar to the lab technician but prefers to collect the sample and not perform the test.
Medical Coder: Generally, the role is to code the articles, prescriptions, and information as prescribed by the doctor.
Phlebotomist: The role to maintain the record of the test.
Clinical Operator: The primary role is to operate the testing machine and help in performing tests.
DMLT Course Salary
The average salary of a student who became a technician after completing DMLT may be approx in India is two lakhs to 4 lakhs. It increases based on the work experience of students.
Also, Those who practice well in that field can operate their medical laboratory businesses. And makes more money in comparison to previous doing jobs.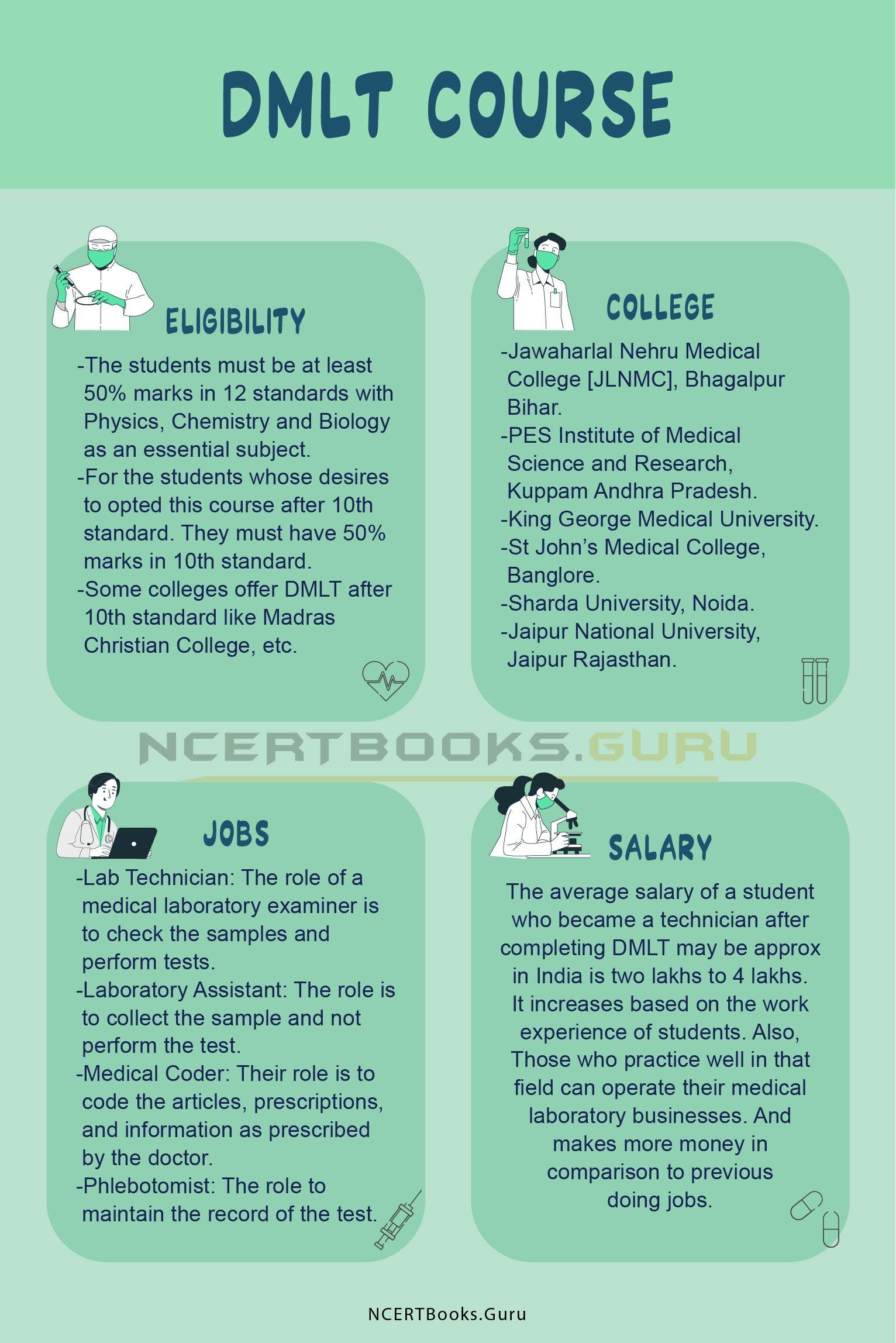 FAQ's on DMLT Course Details
Question 1.
What is DMLT's full form?
Answer:
Diploma in Medical Laboratory Technician is the full form of DMLT.
Question 2.
Can I do DMLT Course after the 10th?
Answer:
Yes, you can do but only from a few colleges.
Question 3.
What is the salary after doing DMLT?
Answer:
In India, it is around 2lakhs to 4lakhs.
Question 4.
What is the eligibility required to pursue DMLT?
Answer:
The interested students must have 50% or more marks in intermediate and must have Biology, Chemistry, and Physics as subjects in 10+2.
Question 5.
What is the sector of employment for DMLT professionals?
Answer:
There is some sector where employment for DMLT professionals is hospitals, clinics, blood testing labs, pharmaceuticals labs, etc.
DMLT courses have a great opportunity in the future. It always is a very appealing option for the students who pursue their carrier in Medical Laboratory. The scope of the technician is always growing from time to time. Because without having a laboratory technician, our Doctors can't find the specific diseases and cured the patients. We believe the above-given information is sufficient to decide and pursue the DMLT course.