Short-term medical courses: Hey, are you on a hunt for short-term medical courses? Well, you must feel lucky because there are a plethora of options available for you. The courses fall under two categories. The first category is for aspirants who are new to the medical field and want to pursue a degree in the same. The second category is for those who want to get a master's or a diploma in the medical field.
Do you need help to know some of the best short-term medical courses? Not to worry. We have added such courses in our article. Search for the program best suited for you.
Why Opt for Short-Term Medical Courses?
Medicine is undoubtedly a broad field of study and research. Until a few years ago, people thought MBBS was the only medical degree they could pursue. But, over the years, medical aspirants started walking on a new path: they started pursuing short-term courses. These short-term courses promise you a better future with job openings or further higher studies. Here is our list of the best short term medical courses:
B.Sc.Operation Theatre Technology (BOTT)
This three-year basic graduation course will provide you with a bachelor's degree in the medical field. It is popularly known as BOTT. Universities offer this program as a full-time degree. BOTT deals with the arrangements and preparations in an operation theater, and the ethics related to it. Students get to know how they should take care of patients before and after surgery. Moreover, they are provided with proper training to assist the doctors and nurses in the OT.
This engaging course promises lots of future scopes. Additionally, it serves as the gateway for a variety of jobs, for instance, OT assistants, OT technologists, Teachers, lecturers, to name a few. Students can also opt for a master's degree to pursue higher education in this field. The average course fee ranges from Rs 50,000 to Rs 10 Lakhs, depending on the college.
Diploma in Medical Laboratory Technology (DMLT)
If you are looking for a two-year medical course right after the higher secondary examination, a Diploma in Medical Laboratory Technology or DMLT is the best choice for you indeed. Though not all colleges accept students after class 12, many colleges do. Some even offer distance learning for this course.
DMLT trains you to perform all kinds of testing that you will require to diagnose a disease. Undoubtedly, it is one of the best entry-level programs. Students are trained thoroughly in pathology, biochemistry, microbiology. Additionally, they perform hands-on training in the laboratories. Thus, if you are interested in pursuing a career in paramedical science, go for this course without giving it a second thought. The course fee for this fast-growing field ranges from Rs 20,000 to Rs 1 Lakh.
Get a comprehensive list of Course Details all in one place and study various courses information such as eligibility to pursue one, course duration, fees, colleges, etc.
Six Months Medical Certification Courses
The demand for these certification courses is surging. The reason behind this is they allow you to pursue these certification courses right after class 12 while training you to meet the crunch of trained medical professionals in the country. You can complete the courses either online or offline mode. Popular certification courses include Geriatric Care Assistance, Lab Technicians, Phlebotomy Assistance, to name a few.
You need to visit the website of the offering institute and apply there. Subsequently, you will get calls based on the merit list. The average fee ranges from Rs 1100 to Rs 25,000. Thus, if you want to earn early in the medical field, opt for this course. It will be the best fit for you.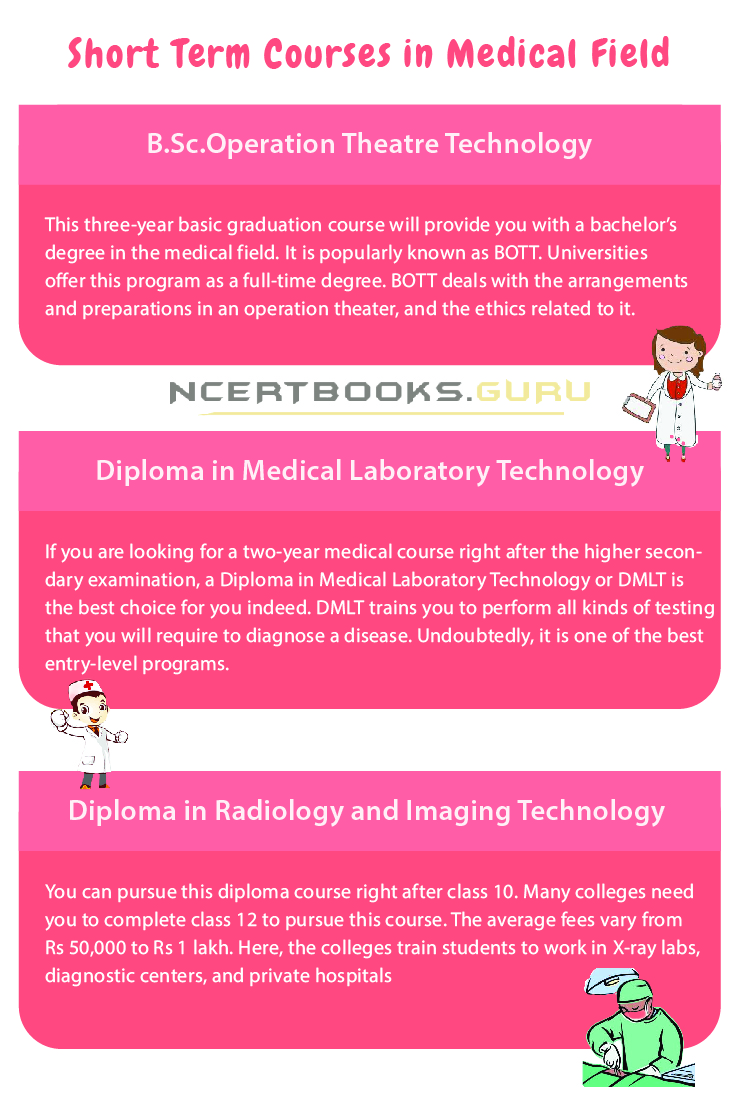 Diploma in Radiology and Imaging Technology (DRIT)
Last but not least, we have a Diploma in Radiology and Imaging Technology (DRIT) in our list. You can pursue this diploma course right after class 10. Many colleges need you to complete class 12 to pursue this course. A diploma in Radiology and Imaging Technology (DRIT) has a course duration of two years. The average fees vary from Rs 50,000 to Rs 1 lakh.
Here, the colleges train students to work in X-ray labs, diagnostic centers, and private hospitals. In this full-time medical course, students get to do hands-on training on practical things, especially basic diagnosis, radiographic equipment, to name a few. Undoubtedly, this course is in high demand.
Read More: Diploma in Medical Imaging Technology Course Details
FAQs on Short Term Medical Field Courses
1. What is the best short-term medical course?
Best short term medical courses include:
B.Sc.Operation Theatre Technology (BOTT)
Diploma in Medical Laboratory Technology (DMLT)
Six-month medical certification courses
Diploma in Medical Laboratory Technology (DMLT)
2. What is the shortest medical course?
Certified Phlebotomy Technician (CPT) Training Course takes time of around 11 weeks. Apart from that, there are other certification courses with a maximum duration of six months.
Final Words
Thus, as you can see, there are lots of available options if you want a career in the medical field. You just need to select the best short-term medical course for you. Now that you know about the best courses, bookmark them and decide which one you want to pursue. Happy reading!