Diploma in Medical Lab Technology (DMLT): With the use of numerous techniques and lab equipment, the DMLT curriculum aims to improve the efficiency of the health service by teaching students how to recognize, examine, and analyze cells, organs, and body fluids, as well as aid in the diagnosis, treating and preventing disease.
The Diploma in Medical Lab Technology is intended to provide students with detailed knowledge and technical skills in biochemistry, pathogenesis, microbiology, and hematology, as well as training on how to operate sophisticated lab equipment, undertake precise clinical laboratory tests, and collaborate as Laboratory Technicians. If you have a keen interest in the medical field and want to pursue DMLT, we have all the information and details that will guide you to enroll in this course.
Table of Contents
About Diploma in Medical Lab Technology Course and Course Duration
Diploma in Medical Lab Technology is a 2-year course with concept-based education, the DMLT program is meant to instill technical skills such as top-notch assurance and regulation, as well as soft abilities such as interaction and team spirit, to establish the preferred workforce to meet the growing requirement for Medical Laboratory Technicians in the healthcare industry.
Diploma in Medical Lab Technology course is designed to motivate and train anyone interested in pursuing a career in lab science, giving them a leg up on the competition. Medical Laboratory Technology (MLT) is a branch of medicine that assists in the diagnosis and treatment of diseases. It plays a crucial role in the healthcare system, even though they operate behind the scenes. It is one of the fastest-growing sectors in the healthcare field around the world, and students who choose this path can discover a variety of career profiles that match their skills.
Skills Required for Diploma in Medical Lab Technology
Skills are one of the important things that help us to learn and adapt things more easily and quickly, there is no special skill required for this diploma course in medical lab technology. However, if you possess the following skills it will be an added advantage.
Logical reasoning
Basic computer knowledge
Discipline while interpreting technical/scientific data
The ability to do research
Time management
Efficiency
Diligence and vigilance
Top DMLT Colleges in India
We have listed some of the best colleges that will help you with the selections of colleges as it contains the College Type, Total Fee, and Location of the College.
Name of the College
Private /Public
Total fees
University of Mumbai, Mumbai

Public
INR 60,000- 90,000
Premlila Vithaldas Polytechnic (PVP)
Public

INR 34,550

Dr. Zakir Hussain Institute, Delhi
Public
INR 90,000
Dinabandhu Andrews Institute of Technology and Management, Kolkata
Private

INR 2,49,000

Bangalore Medical and Research Institute, Banglore
Public
INR 34,270
BVDU- Bharati Vidyapeeth Deemed University, Pune
Private
INR 21,00,000
JIS University
Private
INR 2,47,000

 
DMLT Eligibility Criteria
To enroll for the Diploma in Medical Lab Technology in different colleges and universities some eligibility criteria are required to be fulfilled, you can check the eligibility criteria from the list given below
Candidates must have completed 10+2 with a least of 45% – 50% in total with the compulsory subjects of Physics, Chemistry, and Mathematics/ Biology.
Many colleges also accept students who have completed the 10th (SSC) and have a 50 percent aggregate.
In India, there is no upper age limit for DMLT enrollment.
Students who are awaiting the results of their Higher Secondary Exam, popularly known as the HSC, are eligible to apply for the Diploma in Medical Laboratory Technology.
DMLT Admission 2022
The exam result and the marks earned in 10+2 are used to determine DMLT admission. Several universities admit students solely on their admission exam scores. However, there are preferences for course details entrance exams as well.
Direct enrollment or entrance-based admissions are also options.
Online and offline direct methods are available.
Log in to the university's official site, go to the admissions page, and fill out the relevant paperwork, including your identifying information, a list of your grades, other essential documents, and the number of registration costs requested by the university.
Candidates must contact the college's admissions office and fill out a registration form after visiting the college for the offline procedure.
Applicants must register for the Entrance Exam by going to the institute's official website and paying the processing fee and submitting the required information and documents.
Candidates who pass the admission exam can apply for a counseling session during which they will be assigned to a college.
Read More:
DMLT Entrance Exams 2022
Several entrance exams are held to admit students to DMLT programs. Applicants can choose from a variety of national and state-level entrance tests, depending on their preferences. NEET, MCAT, JIPMER, and other major DMLT entry examinations include NEET, MCAT, JIPMER, AIIMS, etc.
Diploma in Medical Lab Technology Syllabus
The Diploma in Medical Laboratory Technology (DMLT) course is divided into four semesters. Pathology, Biochemistry, Microbiology, Pharmacology, and Immunology are among the subjects covered in the DMLT program.
It also incorporates internships and activities that are tailored to industry needs. The curriculum design, however, may differ from one college to the other. You can refer to the table below for the DMLT syllabus:
| | | | | |
| --- | --- | --- | --- | --- |
| S/No | First Semester | Second Semester | Third Semester | Fourth Semester |
| 1 | Professional Activities | Community Development | Community Development Activities II | Clinical Pathology |
| 2 | English Communication | Information and Communication Technology | Technical Microbiology | Clinical Microbiology |
| 3 | Basic Human Science | Microbial Instrumentation | Metabolic and Technical Biochemistry | Clinical Biochemistry |
| 4 | Basics of clinical Biochemistry | Fundamental Biochemistry | Clinical Hematology | Histopathological Techniques |
| 5 | Fundamentals of MLT | Basic Pathology | Human Physiology II | Pathology Lab |
| 6 | Human Anatomy | Human Physiology | | |
Subjects in DMLT
Below are the details of the subjects that are taken in the First and  Second Year of the DMLT (Diploma in Medical Lab Technology ) program:
| | |
| --- | --- |
| First Year | Second Year |
| Basic Hematology | Clinical Biochemistry |
| Basics in Laboratory Equipment and Chemistry | Microbiology |
| Blood Banking & Immune Hematology | Immunology |
| Clinical Pathology (body fluids) and Parasitological |   |
You can also study about Diploma in Medical Imaging Technology Course Details and get to know how to get into the course, syllabus, admission process, etc.
Areas of Specializations in Medical Diploma Courses
There are numerous areas of specialization in Medical Diploma courses among which you can choose the one that attracts you the most. Some areas of specialization are listed below:
Diploma in Medical Lab Technician
Diploma in E.E.G. and E.M.G. Technician
Diploma in Physiotherapy
Diploma in O. T. Technician
What can I do after Diploma in Medical Lab Technology?
DMLT Scope in India: As there is high demand for paramedics, those who completed the DMLT curriculum can work in a variety of medical settings and laboratories. Students can pursue more in-depth study in a variety of specialties or you can also pursue advanced courses and Degree courses.
To assist you with the further advanced course, below is the list of a few courses after DMLT that you can think of. Also for the Bachelor course, DMLT is not required, students after completing  10+2 with science stream can join the Bachelor program.
Bachelor's Degree: There is numerous Degree level program that you can pursue, below are a list of a few degree courses:
B.Sc. Clinical Laboratory Technology
Bachelor of Medical Lab Technology (BMLT)
B.Sc in Medical Laboratory Technology
B.Sc in Medical Imaging Technology
Certificate Course: Short term certificate courses are also beneficial for starting a career in Medical Lab Technology, below is the list of some certificate programs:
Certificate Course in Anesthesia Technician
Certificate Course in Blood Bank Technician
Certificate Course in Dark Room Assistant
Certificate Course in Radiography & Imaging Technique
Certificate Course in Training of Laboratory Assistants
DMLT Course Scope
Lab technicians and professionals are in high demand as a result of the advent of Covid and other infections. People began to recognize the need for good healthcare systems. The government as well as other commercial sectors have begun to construct health services.
Hence, there will be an ample opportunity for you to get a good job with a decent salary. Below is the list of some areas where you can apply for a job after completing a Diploma in Medical Lab Technology(DMLT):
Hospitals
Centers for Diagnosis
Medical Assistance
Institutes of Paramedicine
Health Institute
Colleges of Paramedicine
Organizations that conduct research and development
Diploma in Medical Lab Technology Jobs
As there is a huge job opportunity for DMLT students, we have listed some of the common fields where a DMLT fresher can apply for a job.
Lab Assistant
Health Care Assistant
Laboratory System Analyst
Health and Safety Assistant
Medical Coder
Medical Laboratory Technician
Health and Safety Analyst
Technical Lab Analyst
Technical Lab Assistant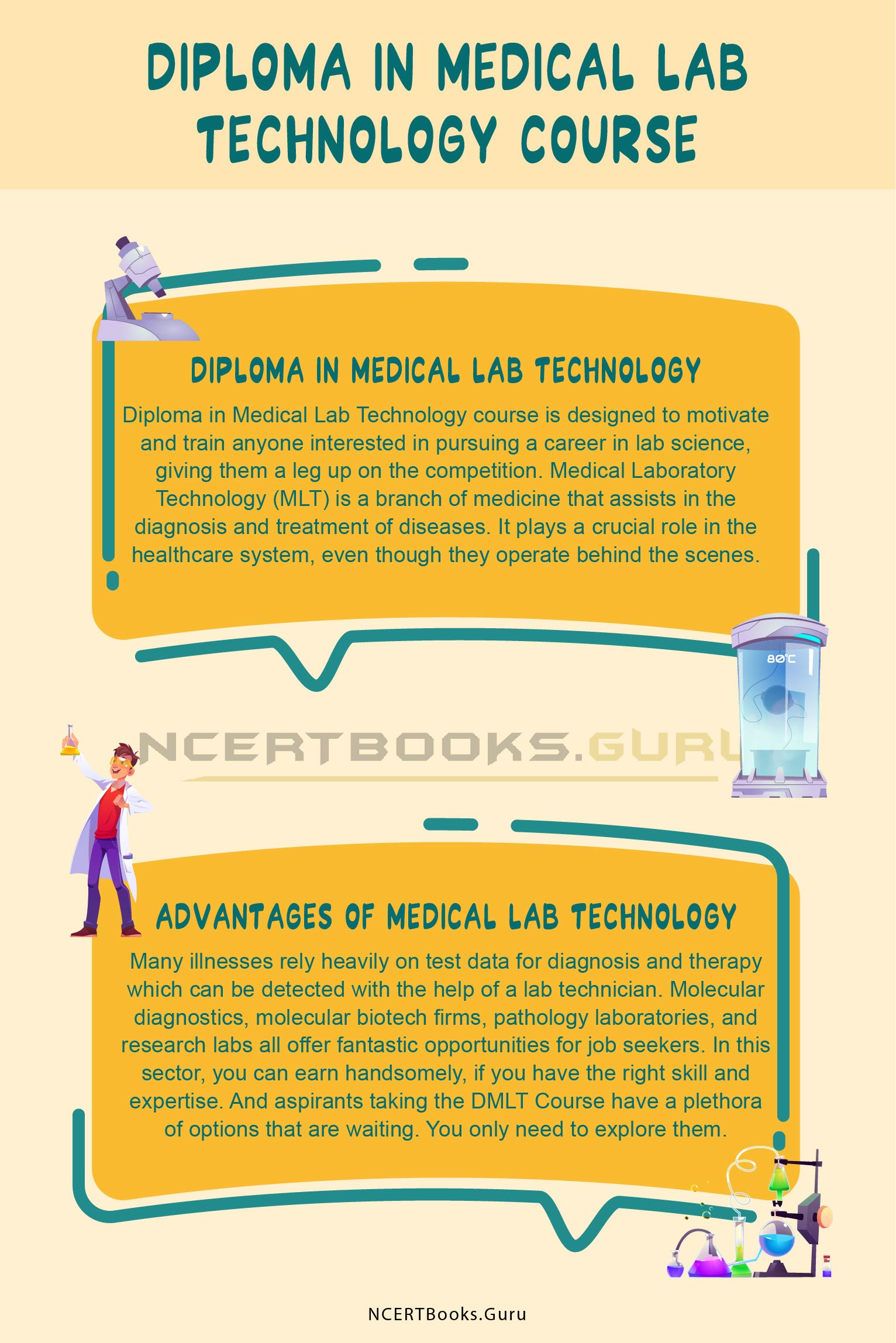 Diploma in Medical Lab Technology Salary
The income of DMLT diploma graduates is determined by their qualities and expertise. Salary varies depending on the company and role. The annual incomes range from 1.5 Lakhs to 5 Lakhs.
Salary rises as a result of work experience or advancement in the sector. If you are a fresher you can start by working with experienced personnel that will help you gain experience as well as prepare you for your big role in the future along with a high salary.
Also, to get an idea of the salary according to the job profile below is the list of some job roles along with their salaries:
Research Technician Salary – INR 21,956 per month
Medical Technologist Salary – INR 17,407 per month
Technologist Salary – NR 21,278 per month
Laboratory Analyst Salary – INR 17,337 per month
Advantages of Medical Lab Technology Diploma Course
People in today's world are more conscious about the disease and wellness of their body, hence health facilities, hospitals, medical laboratories are of great importance in the life of an individual. Being a Diploma holder in DMLT there is ample opportunity for you, not only that it will also give you a chance to help people by detecting their disease and helping the doctors to cure them.
Also, many illnesses rely heavily on test data for diagnosis and therapy which can be detected with the help of a lab technician. Molecular diagnostics, molecular biotech firms, pathology laboratories, and research labs all offer fantastic opportunities for job seekers. In this sector, you can earn handsomely, if you have the right skill and expertise. And aspirants taking the DMLT Course have a plethora of options that are waiting. You only need to explore them.
FAQs on Diploma in Medical Lab Technology Course Details
1. What types of jobs are available in DMLT?
In the realm of medical systems, there have been numerous opportunities in recent years. The current global crisis necessitates development in all aspects of health care, including diagnosis. With the opening of new laboratories and health care facilities, there is a significant demand for lab techs, professionals, and other related positions. MLT students, without a question, have a bright future ahead of them.
2. Is it possible to start a lab of my own after DMLT?
According to the Indian Medical Council's rules, you cannot start a DMLT lab. This would necessitate an MBBS/MD degree.
3. Is DMLT a Medical Specialist?
Medical laboratory technologists use clinical laboratory tests to detect, treat, and reduce the risk of infection. These non-medical healthcare practitioners are included in the field of allied health sciences. Medical lab technicians generally help and assist doctors in verifying a diagnosis and devising a treatment plan. MLT is called "the doctors' doctor".
4. Is it possible for me to work as a nurse after completing DMLT?
No, an MLT qualification will not allow you to work as a nurse. You might work as a lab tech or technologist alternatively. To qualify as a nurse, you must have a nursing degree or diploma.
5. Is it possible to pursue DMLT after 10th grade?
DMLT is usually pursued after 12th grade, but certain institutions do offer it after 10th grade, albeit it is uncommon.
Conclusion
DMLT (Diploma in Medical Lab Technology ) is a career that is related to the field of medical science. The Lab Technician is the person who employs different machines and devices to find the root cause of the ailments and helps the doctors to find the cure. A DMLT course will give you the knowledge and the skills which will make you self-dependent and give you a bright future in the Diploma in Medical Field.
Being a DMLT is not the end of the story. There are many advanced courses that you can take in the future after completing the course. This will allow you to compete for a higher Job profile with higher salaries. Above all, a DMLT will give you the ability to verify the causes of the disease and make you efficient enough so that you can help your fellow members and doctors to find its cure. And by doing so you will be able to save someone's Life! For more career updates and other Paramedical Diploma Courses, visit our comprehensive website @ ncertbooks.guru