Diploma in Dialysis Technician Course: Are you interested in making a career in the medical industry by doing dialysis? For this, you need to read on to understand what all is required for the particular post.
Dialysis is the technique of eliminating impurities, extra fluid, and solutes from the blood in people whose kidneys are unable to do it on their own. And the people who help to carry out these procedures are called Dialysis Technicians, and they gain this skill and knowledge by doing a diploma course in Dialysis Technician. 
What is a Diploma in Dialysis Technician Course?
Dialysis Technician A Dialysis Technician is a trained medical worker who performs dialysis. Dialysis Technicians are supervised by a nurse or physician who is present with the patient throughout the procedure.
For medically trained students, the Diploma in Dialysis Technician is a two-year certification-based skill development course. The Diploma in Dialysis focuses on the overall management, use, discharge, and operation of dialysis machines. The proper use of dialysis devices, as well as the Dialysis Technician as a whole, is explained to the trainees. As a result, they emerge as expert dialysis technicians and are more equipped to work in hospitals and medical facilities, particularly dialysis facilities.
Course Details of Diploma Dialysis Technician
Dialysis Technician Diploma Course is a two-year specialized certification curriculum that teaches trainees how to cleanse and filter blood as well as excess or waste elements from the human kidney. It also allows trainees to undertake dialysis procedures such as renal and Hem dialysis.
An overall score of 60 percent in Physics, Chemistry, Maths, or Biology is required for enrollment in the program. Colleges offering Diploma in Dialysis Technician admit students based on a combination of merit and entrance examinations.
Diploma Course in Dialysis Technician Eligibility Criteria
There are certain eligibility criteria that an applicant must fulfil before applying for a Diploma in Dialysis Technician Course. The Diploma in Dialysis Technician Course qualification are discussed below:
Every applicant must complete 10+2 in science stream from a recognized board
Applicants must have a minimum percentage of 50 marks (general category) or 50 marks (reserved category) in their 10+2 exams.
Applicants are required to have physics and chemistry as the main subjects in their 11th and 12th grades, along with Biology and Math.
The age of an applicant should not be less than 17 years or more than 25 years.
Skills Required for Diploma in Dialysis Technician Course
A Dialysis Technician is like a healthcare provider, so he/ she should be able to handle and care for patients with utmost care and should be able to understand patient's problems, apart from these you should be a team player, critical thinker and should possess a good verbal and written communication skills if you have all these skills it will an advantage for you that will help you to complete Diploma in Dialysis Technician Course swiftly.
Admission Procedure for Diploma in Dialysis Technician Course
Every institution has its admission process. As a result, the applicant should check the institution's official site regularly for admission notifications.
 Institutions that use a merit-based system will publish a minimal cut-off, and applicants who achieve the cut-off can go to the university for certificate verification.
To enter the Diploma in Dialysis Technician program, some universities follow an entrance-based admissions strategy.
Some of the renowned entrance tests for the applicants who are willing to do a Diploma in Dialysis in Technician are DAVV CET, DUCET, ICET, etc.
Check other Paramedical Courses that have the same admission process as the Dialysis Technician Diploma course.
Diploma in Dialysis Technician Course fees With Institutes/ Colleges/ University Names
Following is the list of Dialysis Technician Course Colleges along with their total fee to help you get a brief idea of the course fee.
| | | |
| --- | --- | --- |
| Name of the institution | Private/ Government | Total fees |
| KGMU – King George's Medical University, Lucknow | Government | INR 1.36 Lakh |
| The George Telegraph Training Institute, B B Ganguly Street, Kolkata | Private | INR 96,000 |
| NIMS College of Paramedical Technology, NIMS University, Jaipur | Private | INR 70,000 |
| Institute of Post Graduate Medical Education and Res…, A.J.C. Bose Road, Kolkata | Government | INR 30,000 |
| NIMS College of Paramedical Technology, NIMS University, Jaipur | Private | INR 70,000 |
| Teerthanker Mahaveer University, Moradabad | Private | INR 90,300 |
| MANUU – Maulana Azad National Urdu University, Hyderabad | Government | INR 33,625 |
Diploma in Dialysis Technician Syllabus PDF
Diploma in Dialysis Technician is a 2-year program that is being divided into 4 semesters. But some colleges and institutions offer short-term courses as well which can vary from 6 months to 1 year.
However, the two-year course will enable you to understand the depth of Dialysis Technician. Please refer to the table below to find the details of the Diploma in Dialysis Technician course syllabus.
| | | |
| --- | --- | --- |
| S.No | 1st Semester | 2nd Semester |
| 1 | Communication Language | Functioning of Kidneys |
| 2 | Structure of a cell | The Lymphatic System |
| 3 | Procedure Recording | Endocrine System |
| 4 | Human Anatomy and Physiology | Reproductive System |
| 5 | The Circulatory System | The Respiratory System |
| 6 | The Digestive System | Central Nervous System |
| 7 | Blood | Patient Care Management |
| | | |
| --- | --- | --- |
| S/NO | 3rd Semester | 4th Semester |
| 1 | Anticoagulation | Complication and management of complications during dialysis |
| 2 | Precautions before and after dialysis | Vascular access for dialysis |
| 3 | History of dialysis | Principles and types of dialysis |
| 4 | Pharmacology | Liver Diseases and Causes of Malfunction |
| 5 | Supervising Patient and Machine | Dialysis: Procedure and Result |
| 6 | Renal Diseases | Biochemistry |
Career Options After Diploma Dialysis Technician Course Completion
The Diploma Dialysis Technician Course is a specialist curriculum aimed to assist students to break into the healthcare field. It is designed to equip students for careers in the health care sector. There are several career options in India after earning a Diploma Course in Dialysis Technician. Following are some of the sectors which offer jobs for a candidate who has completed their Diploma in Dialysis Technician.
Hospitals
Medical Centers
Dialysis Centers, Dialysis Training Facilities,
Dialysis Labs
Hospitals with a variety of specialties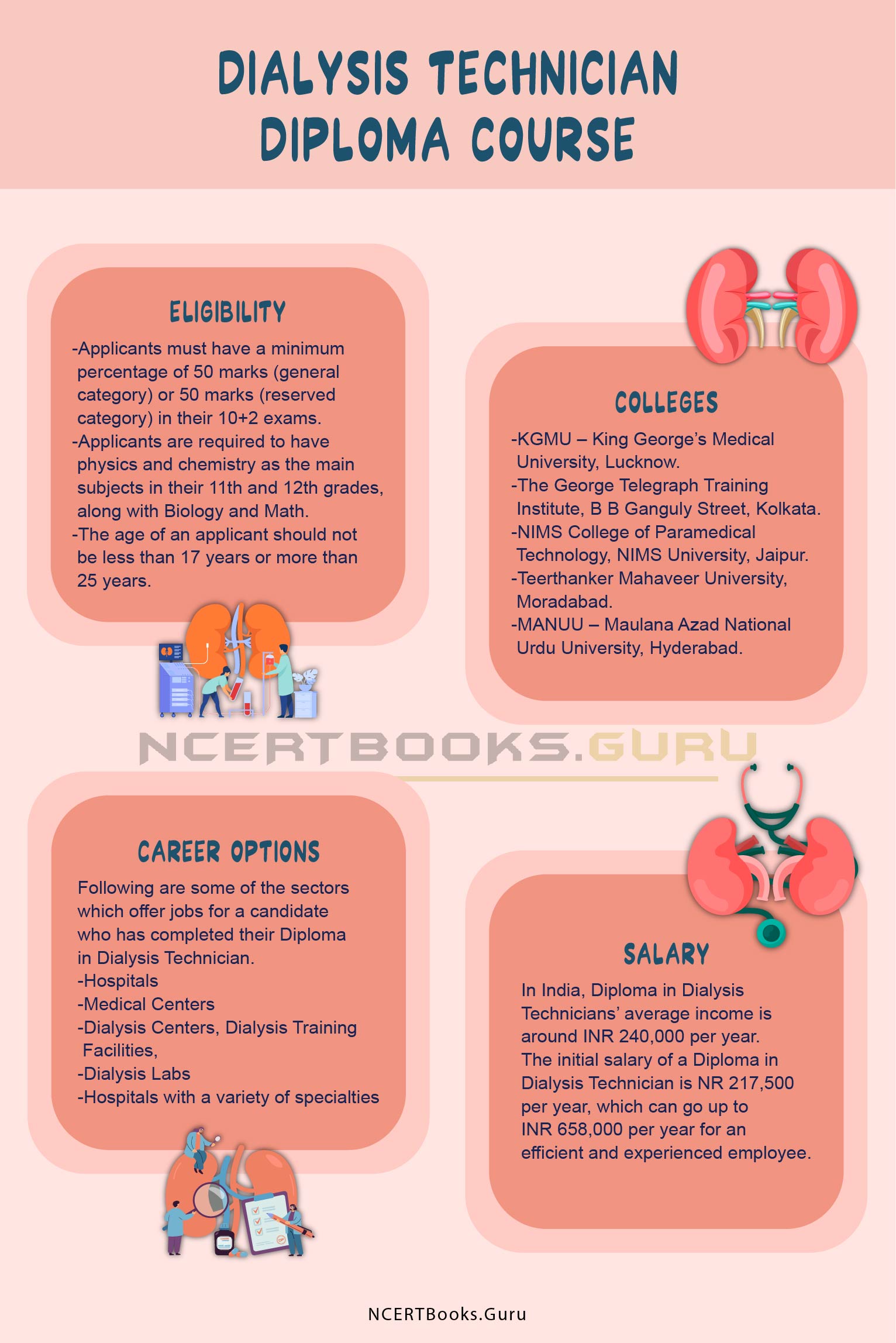 Diploma in Dialysis Technician Salary in India
In India, Diploma in Dialysis Technicians' average income is around INR 240,000 per year. The initial salary of a Diploma in Dialysis Technician is NR 217,500 per year, which can go up to INR 658,000 per year for an efficient and experienced employee.
However, the table below will give you an idea of the salary and job profile of a Diploma in Dialysis Technician.
| | |
| --- | --- |
| Job Profile | Average Salary |
| Unit Supervisor | INR 2.5 LACS I |
| Skill Trainer | INR 2 LACS |
| Medical Assistant | INR 1.72 LACS |
| Lab Assistant | INR 1.40 LACS |
Job description of the above-mentioned Job profile.
1) Unit Supervisor: The unit supervisor's main role is to oversee the dialysis ward's general operation as well as the activities of the younger paramedical employees.
2) Skill Trainer: The dialysis procedure is taught to newly hired personnel by the skill trainer. In other words, he teaches the fresher equivalent skills.
3) Medical Assistant: The medical assistant's job is to help the senior paramedical officers and professionals. They are the people who do not carry out dialysis but look after the management of the administrative procedure.
4) Lab Assistant: A lab assistant checks the dialysis set up to make sure everything is in working order. They are the technician who assists the other medical personnel in the lab's management.
Do Check:
FAQs on 1 Year Certification Diploma Course in Dialysis Technician
1) Which would be better an MSc in dialysis technology, or a PG diploma in dialysis technology after a BSc in dialysis technology?
If the student wishes to pursue a Ph.D. in the future, an MSc in Dialysis Technology is required. If the student does not wish to pursue higher education, he can get a PG Diploma in Dialysis Technology instead. It will both save you time and teach you the required expertise.
2) Is the Dialysis Technician Diploma a decent course to take?
Without a doubt, the Diploma in Dialysis Technology is an excellent paramedical education. It is thought to be the most straightforward field in medical treatments. The course is only a few weeks long. Employed professionals and even homeowners can enroll in this course if they meet the eligibility requirements.
Individuals can work in a variety of settings, such as health facilities, care facilities, clinics, medical laboratories, medical training facilities, dialysis centers, and many others.
3) What kind of training does the Diploma in Dialysis Technician provide?
The trainees are primarily prepared in four major areas, including:
Dialyzer upkeep and usage
Dialyser filter maintenance
Manipulation of the R.O. machine
Dialysis machine operation
4) How much does the Diploma in Dialysis Technician cost?
The Diplom ain Dialysis Technician Course fee is anticipated to be between INR 10,000 and INR 30,000. Although, based on specific aspects such as the university's location, facilities, professors, and prestige, each university's course tuition varies. The average annual fee is estimated to be roughly INR 10,000.
5) What is the average initial salary of a Dialysis Technician with a Diploma?
The average initial salary of a Dialysis Technician with a Diploma is around INR 18000 per month.
Final Words
When we consider the medical field it is considered as one of the most respected and renowned professions. It has a variety of career scopes and a lot of growth options. Not only that, they are the ones who save people's lives by giving them proper treatment and care.
Diploma in Dialysis Technician Course after 10th and subsequent post is one of the fields of the medical profession that is of great importance. They play an important role in treating patients with kidney disorders and also assist in many other medical-related issues. Do browse through our website @ncertbooks.guru for other course details, career-related articles, we've got you covered!