Diploma in Infection Control Course: Nowadays the rate of infectious diseases is increasing. If these diseases are increasing the infection control professionals prevent or stop the spread of these infections. If you are also interested in this profession you can also work with infection control professionals by studying the infection control diploma course.
To protect people from infectious diseases these infection control nurses play an important role. In this article, we are going to discuss the roles and responsibilities, eligibility, career scope, salary, and many more.
Look into the Course Details that are given for any other course details like eligibility, career, salary, recruiters, etc.
What is Infection Control?
Infection control is a practical specialization for preventing infections acquired in healthcare. It is an essential process for a healthcare organization. To control the infection we have some measures to washing, cleaning, disinfecting, sterilizing, and vaccinating. And not only these we are also having other aspects like managing, monitoring, and investigating their causes.
Eligibility Criteria for Diploma Course of Infection Control
GNM/B.sc Nursing Graduates are eligible for a diploma in infection control course.
Infection Control Diploma Course Fee and Duration
Here, if we can see the duration and fee for studying the infection control course, the average fees for this course range from Rs.2500 to Rs.25000, and the duration of this course can be 1 day or 7 days or 3-12 months.
Diploma Course of Infection Control Syllabus
In the diploma course in this infection control, we have different modules to study along with the project work.
Module 1 
Explain the importance of hand hygiene.
Discuss the use of alcohol-based hand sanitizers.
Describe proper hand-washing technique.
List some of the barriers to proper hand hygiene.
Differentiate between standard, airborne, droplet, and contact precautions.
Module 2
Defining Health care
Review treatment options for healthcare-associated infections.
List three health care
Describe methods to prevent or decrease the spread of healthcare-associated infections.
Module 3
Awareness of how infection presents itself
Identifying potential sources of infection
Need to be able to observe patients for signs of infection & use the VIP score
Identify how catheter colonization occurs
Understand how to incorporate the "Saving Lives – care bundles" to prevent infection and promote good practice
Module 4
Define the OSHA Bloodborne Pathogen Standard.
Identifying the bloodborne pathogens.
Differentiating between the Exposure Control Plan and the Post-Exposure Control Plan.
Explain the methods of transmission of bloodborne pathogens.
Discuss the appropriate use of personal protective equipment (PPE).
Module 5 
List three methods for reducing the development of antibiotic resistance.
Describe two methods of reducing the incidence of C. difficile– associated disease.
Name two antibiotics that can be used in patients with methicillin-resistant S. aureus infection.
List three risk factors for the development of infection due to vancomycin-resistant enterococci.
Module 6
List four principles regarding proper bag technique.
By using the boiling and micro-wave methods we will clean the urinary catheter step by step
List four principles regarding proper bag technique.
Differentiate between critical and non-critical equipment.
explain how this affects the storage and cleaning.
Top Institutes for Infection Control Polytechnic Course
Here are some top polytechnic institutes to study infection control courses. Look into them below.
Astron Institute of International Studies, Gurugram.
Symbiosis Institute, Pune.
Care Institute of Medical Science, Ahmedabad.
CAHO, Bangalore.
Rajiv Gandhi Cancer Institute, Delhi.
The Sankara Academy, Chennai.
Roles and Responsibilities of Infection Control Diploma Nurse Course
The role of this infection control nurse is to prevent, study, infectious outbreaks. Infection control nurses not only work with patients, doctors but also work with scientists and government agencies. With some skills and knowledge, we will look into the responsibility that is given below.
To make Decisions wisely, we need to monitor and gather the infection data.
To determine the origin of preventing future outbreaks we need to study the pathogens.
Providing and training for other medical professionals.
Within the facility, we need to reduce the percentage of infections.
Infection control nurses need to develop plans to control the infectious diseases in the hospital.
You need to plan for the patient care facilities throughout the hospital.
To ensure infectious diseases you need to collaborate with government agencies(CDC).
Career Opportunities for After Diploma in Infection Prevention and Control
There are many career opportunities we have after an infection control course are given below.
Hospice programs
Ambulatory Care
Nursing homes
Hospitals
Public Health
Community care centers
Behavioral Health
Residential care facilities
Must Read:
Job Profiles after Studying Infection Control Diploma
There are some job profiles we are having after studying this infection diploma course. Look into them below.
Nurses
Public Health officers
Other health professionals
Lab Technicians
Health officers
Safety Officers
Skills Needed for an Infection Control Job After Diploma Course
For an infection control nurse there will be so much technical knowledge but only having technical knowledge is not sufficient. One should also have some abilities as well. Some of the skills needed for an infection control nurse are given below:
Problem Solving
Critical thinking
Communication skills
Data analysis
Interpretation
Empathy
Project Management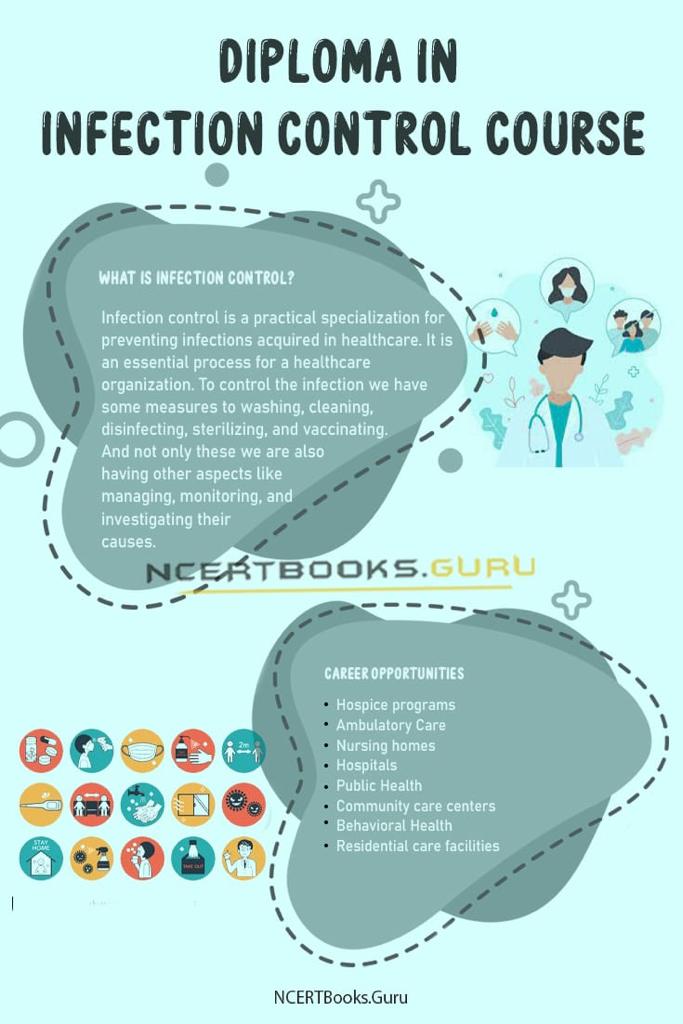 Salary of Infection Control Nurse After Diploma
The salary of the infection control nurse is $77,403 and $92,923 annually and also there is an hourly rate of $271. Salaries will be different from state to state, based on the company, based on the experience you have different salaries. Some of the job profiles with salaries are given below:
Personal care services ($86,470)
Medical and surgical hospitals ($68,610)
Personal care services ($86,470)
Professional Schools and colleges ($74,180)
FAQs on Infection Control Diploma Course in India
1. What is an infection control course?
The infection control diploma online course is all about how you will protect against the spread of infection and what are precautions we need to take.
2. What is the role of an infection prevention nurse?
The role of this infection control nurse is to prevent, study, infectious outbreaks.
3. What makes a good infection control nurse?
The infection control nurse demonstrates excellent attention to detail and best communication skills. And need to perform the duties correctly and efficiently.
Conclusion on Infection Control Certification Online Course Free
Hope the information given above about the Diploma in Infection Control Course is useful to you. I have covered all the topics and still, if you have any doubts about the course you can comment to us in the below comment section by signing in. All the best for your future as an infection control nurse. This job has many opportunities and serving people gives us satisfaction too.