Diploma in Nursing Course: From its inception, Nursing has always been an integral part of the healthcare sector. With the onslaught of COVID-19, the world is now facing a rising demand for skilled and specialized nurses who are now the frontline warriors against the fatal virus strains.
In this digital age, with increased health literacy amidst the masses and with the Government's conscious effort to better the state of the public healthcare industry, a huge number of students are now opting for this flourishing training programme which opens the door to a multitude of career opportunities.
Nursing can be quite challenging as trained nurses are expected to provide extensive care to patients and aid the doctors as well. They are in charge of all the preoperative and postoperative procedures. Their service also involves good communication, compassion, patience, and excellent management skills.
This blog will guide you through the various nuances of this course such as diploma in nursing course details like fees, qualification, admission process, career options, and other relevant info. Read ahead to know more.
Diploma in Nursing Course – Overview
Diploma in Nursing Course duration is usually 3 years. In this span, the study programme trains you in the fundamentals of nursing, hospitality, and subjects under health economics such as understanding the market of medicines, medico-technical equipment etcetera.
A Diploma in Nursing course trains you just for that! It is a three-year diploma-level degree programme that trains students to grasp the basic ropes of nursing. It also introduces them to a plethora of theoretical and practical lessons which form important pillars in nursing science.
Within the programme, the trainees also get to learn about medical operations such as surgeries. Helping with common health problems, administration roles, and seeing to the requirements of various wards included. Several reputed universities in India offer Diploma in Nursing Courses.
Who Should Enrol in a Diploma Nursing Courses?
Any individual who is enthusiastic about helping ailing people and is keenly interested in nursing science can opt for this course. One is eligible for pursuing a Diploma in Nursing course after 12th Grade pass only. Universities conduct the admission process by considering the 12th results and it is mostly merit-based.
After finishing the three-year-long diploma course, the trainee nurses are now qualified for several entry-level career options at clerical and administrative statuses such as Nursing Assistant, Head Nursing Services, and many others which offer a handsome remuneration. Interested individuals can also further pursue B.Sc., M.Sc., or a PGD in the nursing field.
Pros of Opting For Nursing Course in Diploma
Diploma in Nursing course professionals is in high demand in sectors such as Nursing Homes, Health Care Centres, and educational institutes. It is one of the most promising professions in India. Nursing is the foundation of our entire healthcare system.
A Diploma in Nursing course not only makes the individual an important part of the healthcare industry but also helps the individual in self-development as well. The perks of pursuing Diploma in Nursing courses are curated below:
Diploma in Nursing professionals gets easily placed because they fill in the overarching demand of healthcare experts in our country.
The Diploma course imparts in the student's good interpersonal skills and communication skills which are of utmost importance in this field.
Students with a diploma in nursing can also go for the postgraduate programme in this field.
The career options made available through this course have better job security and even better career flexibility.
Salary Packages earned by these professionals range between INR 2 to 5 Lakh per annum.
Do Check
Diploma Nursing Qualification
To prove that the candidate is eligible for joining Diploma in Nursing course, need to satisfy some requirements at first. The eligibility criteria act as the main player in the entire admission procedure and the aspirant must keep in mind these prerequisites. They are as below:
The candidate must have passed the 10+2 examination or any other similar exams from a recognized board in any relevant stream possessing a minimum of 50% marks in aggregate.
Students having at least 2 years of experience in Midwifery and General nursing can also opt for admission to this programme.
Diploma in Nursing Admission Procedure
Before proceeding to Diploma in Nursing Admission 2021-22, students must first clear the eligibility requirements as discussed above. Admissions are conducted both offline and online.
Candidates have to first apply for admission to the Diploma Nursing in Government college from the official websites of respective colleges since it might get inconvenient to visit each college individually to ensure their admission.
Some colleges organize entrance examinations clearing which the students can proceed to the selection process which naturally happens offline.
Diploma in Nursing Course After 10th
Since most diploma courses demand a 10+2 educational qualification, you would only find a handful of courses providing a diploma in nursing after 10th. They are Diploma in Ayurvedic Nursing Course and Diploma in Nursing Care Assistant which spans for 1.5-2 years each. Candidates can also apply for Diploma in Rural Healthcare having a course duration of 1.5 years.
The eligibility criteria of a Diploma in Ayurvedic Nursing after 10th is an aggregate score of 40% or more. The qualifications differ from one college to another. There is no age limit specifically but some colleges may impose special age restrictions. The selection parameters for these Diploma courses are generally done in a merit-based manner but some colleges might prefer to introduce a written entrance test as well.
Do Check:
Diploma in Nursing Syllabus & Course Curriculum
The Diploma in Nursing course curriculum mainly deals with a wide range of topics curated and divided into six semesters over three years.
The diploma in Nursing course syllabus PDF structure focuses on subject matters like Anatomy, Microbiology, First Aid, Immunity, Personal Hygiene, Psychology, etc.
The first-year students are usually taught the basic lessons on Nursing departments and fundamental analogy.
In the second year, they are trained to learn more about patient assessment in Nursing, along with different types of diseases and disorders. Second-year students are also introduced to computer education.
In their final year, students are introduced to the Health System of India, Community health care, Obstetrical Nursing, Midwifery, and Gynaecological nursing of patients.
Students are encouraged to engage in Laboratory practices so that they have a practical approach in their field. Practical Workshops and Research Projects are also an integral part of their training programme. After completion of the course, the students are provided the opportunity to do a 6-month long internship program by their respective colleges.
Diploma in Nursing Course Fees Structure
The course fees structure varies from one college to another depending on available infrastructure and facilities. The Nursing Diploma course fees can be placed within an average range of INR 20,000 to INR 95,000 per annum.
Career options after Nursing Diploma Courses
There is a terrific demand for skilled nurses in our country. Therefore, Diploma in Nursing holders can enjoy the privilege of having a plethora of demanding job options to choose from. Several Health Care Centres, Nursing Homes, Educational Institutes and Medical Writing positions provide ample opportunities to Diploma degree holders.
After the internship, these nursing practitioners can get placed in the following departments-
Nursing In-Charge,
Head Nursing Services,
Emergency Nurses, and
Nursing Assistants.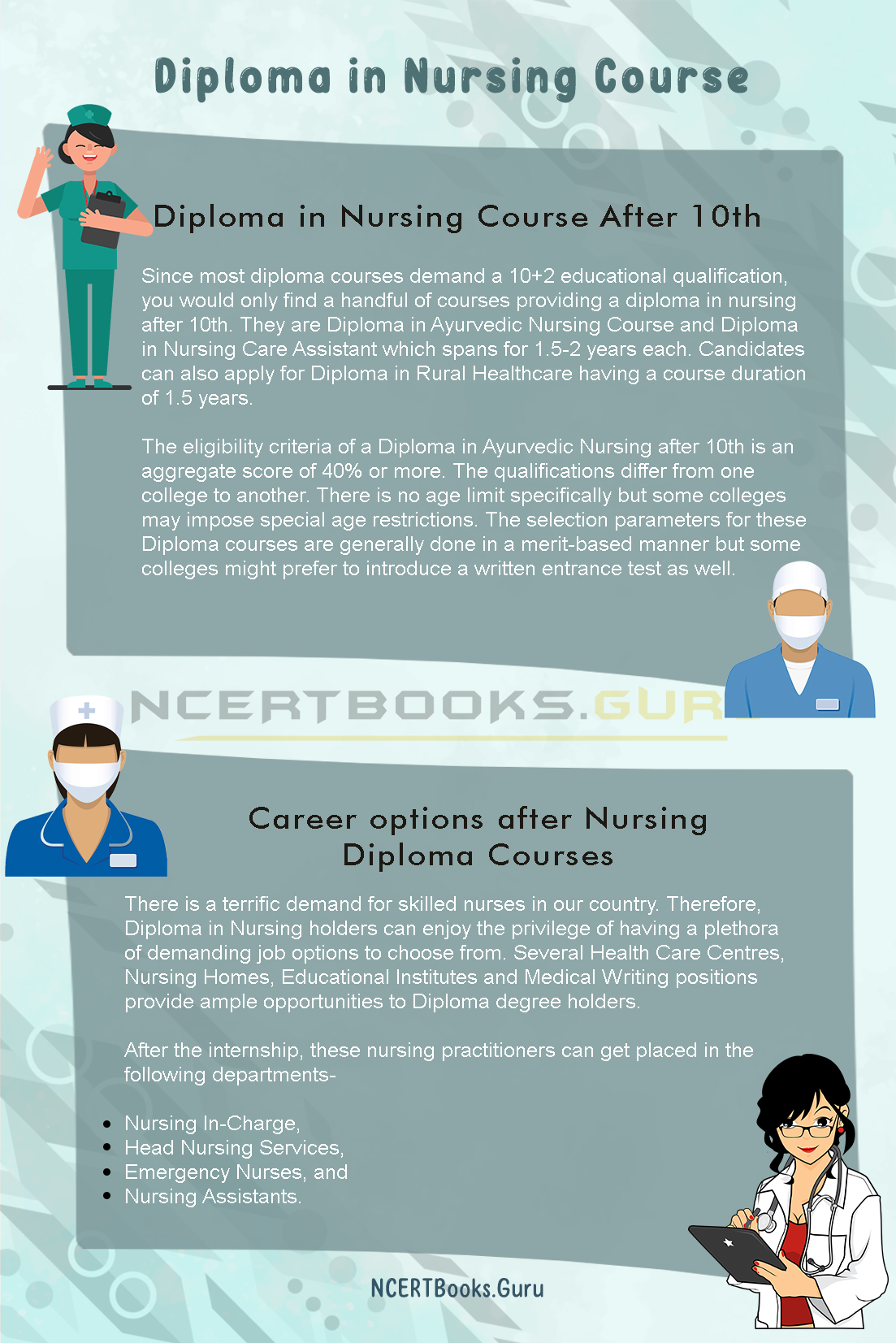 Diploma in Nursing Salary
Diploma nursing salary in India amounts to INR 2 – 5 lakhs annually which is subject to increase based on experience and knowledge. Our Government has been consciously taking initiative to improve the status of health care professionals and the pandemic has pointed to us how important it is to have a well-built health care structure.
FAQs on Diploma in Nursing Course
1. What is the value of a Diploma in Nursing Course?
There are countless benefits to doing a Diploma Nursing Course. One obtains a handful of important skills involving specialization in health care, strong mental frame, mindfulness, dexterity, management and communication skills, etc. Adding to that, Diploma degree holders can get placed in reputed hospitals in clerical or administrative roles. They can also pursue further postgraduate programmes in this field.
2. What is the average fee asked in a Diploma in Nursing course?
The average fee would be around INR 20,000 to 95,000 PS depending on the college or university you are applying to.
3. How to apply for admission to college for a diploma nursing course?
Applications are mostly made online. You can visit the official web pages of your preferred college and fill in your details.
Conclusion on Diploma in Nursing Course after 10th
A Diploma in Nursing course makes you an important asset to the healthcare profession in the form of assisting doctors in their medical procedures. With the rising demand for health care and treatment, the need for nursing practitioners is also on the hike. This, in return, increases the number of job opportunities.
Various Hospitals and medical colleges regulated privately or owned by the Government are the top recruiters of Diploma in Nursing degree holders. The aspirant can even teach in medical colleges or engage in research in this field. Thus, this course unlocks the door to multiple lucrative job offers and successful academic pursuits.
Need to find information on some more Diploma Courses, visit our website Ncertbooks.guru and clear all your doubts about career options.