Dermatology is one of the most fascinating and niche subjects that medical students would have a choice to opt for and a Diploma in dermatology would put a serious aspirant in the right career direction and set their career straight in the field of dermatology for the next few decades to come. If you are one such aspirant who has completed their MBBS and one year of compulsory internship and is wondering what to do next and where or in which direction to take your career, then you have come to the right place.
In this particular article on the diploma in dermatology, we are going to answer some of the fundamental questions that one might have and help the student to get a 360-degree overview of the diploma course in dermatology. At the end of this article on the diploma in dermatology, one should be able to find answers to the following fundamental questions about this course:
1. What is a diploma in dermatology?
2. Who can do a diploma in dermatology?
3. What is the scope and job prospects of a diploma in dermatology?
4. Which are the top colleges to pursue a career in diploma in dermatology in India and around the world?
If any of the above questions have been popping in your head after the completion of your MBBS course, we will help you find the right answers regarding the Dermatology Diploma course details and in turn guide you to make the right career choice.
What is a Diploma in Dermatology?
Firstly let us understand what is dermatology. Dermatology is a field of medical science that is related to the study of skin, hairs, nails, and scalp. This course is specifically for medical students and it is compulsory for a student to have an MBBS degree along with one year of internship at any of the hospitals in the country to pursue a career in diploma in dermatology.
One should not that dermatology is ever fascinating and ever-increasing field in medicine and in the pharmaceutical industry, in case you are worried about the job prospects of this particular industry. After completion of a diploma in dermatology, you can become a specialist who deals with diseases related to skin, nails, hair or any cosmetic problems associated with the human body.
This is a 2-year course for full time and 3 years course for part-time students
While this particular section of this article diploma in dermatology helps students to get a very fundamental idea of what is diploma in dermatology, in the subsequent sections under this article you are going to get a deep analysis and idea about course, eligibility criteria, syllabus, top colleges and other questions that one might have.
Who can do a Diploma in Dermatology?
The primary criteria to do a diploma in dermatology is that a candidate should have an MBBS degree along with the compulsory one-year internship as prescribed by the government of India. Along with this, one should have taken science, mathematics, and English as compulsory subjects in their secondary High school.
While the above describes the criteria set by universities for a candidate to do a diploma in dermatology, only those who are really interested in this field should get into the subject course.
While dermatology is a subject in the MBBS course, it is very rudimentary and students will not be thought enough for them to have a specialization in this field. However, when it comes to a diploma in dermatology, the students, after two years of the course, would become specialists in this particular field and hence the syllabus and pedagogy will be in-depth and thoroughly detailed.
Eligibility Criteria for Diploma in Dermatology
The following points should sum up as the criteria for doing a diploma in dermatology:
1. MBBS degree from a recognized University within India or outside India
2. One-year compulsory internship in any of the hospitals within India as prescribed by all India medical council
3. Students should have cleared medical entrance exams as desired by colleges that they are aiming for
4. The main subjects that students should have opted for during their academic life in school and colleges should be science, mathematics, and English
Dermatology Diploma Course Duration
A diploma in Dermatology is usually a 2 years course for full-time and 3 years for distance education. While this is the norm in India, the course duration varies from country to country. This particular course duration is prescribed by the All India Council for Technical Education and it is religiously followed by both public and private universities alike including deemed Deemed-to-be universities.
Top Colleges for a Diploma in Dermatology in India
After a thorough analysis, we have made below a list of top Dermatology colleges in India based on the following factors Faculty, Campus, Associated Hospitals, Alumni, Medical Equipment, Medical infrastructure, Pedagogy, and Placements.
1. Jawaharlal Institute of Postgraduate Medical Education and Research, Pondicherry
2. University of Pondicherry
2. Dr. BR Ambedkar Medical College, Karnataka
3. JSS Medical College, Bengaluru
4. Government Medical College, Punjab
5. Indira Gandhi Medical College, HP
6. Nathiba Hargovandas Lakshmichand Municipal Medical College, Ahmedabad
7. BJ Medical College, Pune
8. Madras Medical College, Chennai
9. Kasturba Medical College, Manipal Karnataka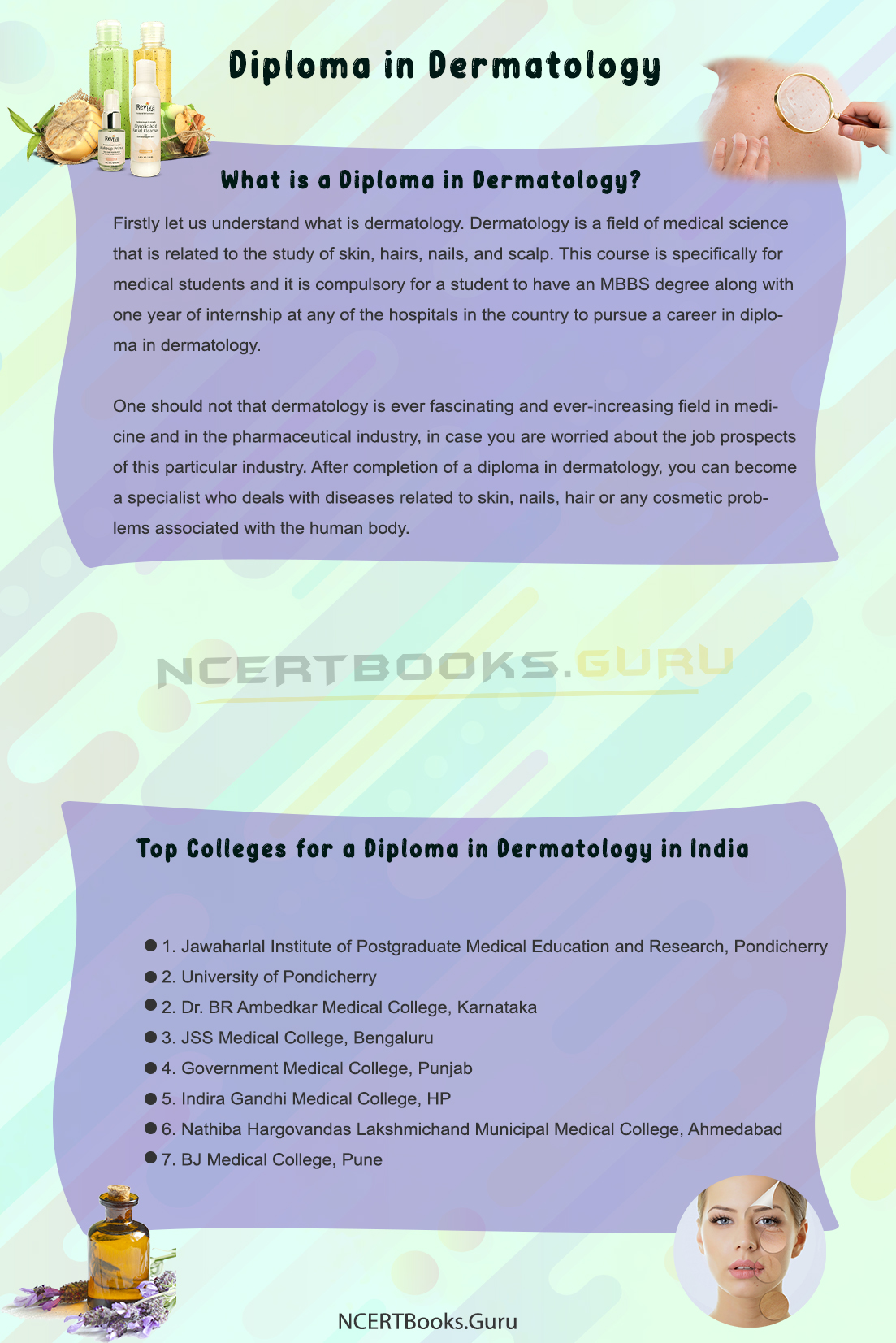 The following are the list of top colleges in the world for pursuing the course and dermatology:
Top Colleges for Dermatology in the World
1. Stanford University Stanford
2. New York University New York
3. University of Pennsylvania Pennsylvania
4. University of Pittsburgh Pittsburgh
5. All India Institute of Medical Sciences, Delhi
6. King's College London
7. Australasian college of dermatologists Sydney
8. Columbia University New York
9. University of Michigan Ann Arbor
10. Harvard University Cambridge
See More:
Diploma in Dermatology Admission Procedure
The admission procedure for Diploma in Dermatology is different in different universities. However, if it is a public university under either Central Government or State government, then the procedure will be as per the one prescribed by the education regulatory body, both in the Central and state.
The following points should sum up the admission procedure for a diploma in dermatology in India under public and private recognized universities:
A written examination is conducted which the candidate has to clear to attend the interview in the university that he or she is aiming to get into
Once the candidate list is finalized for an interview, they are called for an interview at the particular university campus. In certain universities, this interview process will not be there and the candidates are selected directly on the basis of merit.
However, in certain universities, if a candidate fulfills all the eligibility criteria.
Diploma in Dermatology Syllabus
| | |
| --- | --- |
| Moles | Skin Diseases In Pregnancy, Childhood, Adolescence, And Old Age |
| Hair And Nails | Oral Lesions |
| Infections, And Infestations | Skin Cancers |
| Skin Biology And Common Disorders | Skin Systemic Disease |
Top Recruiting Companies that hire Dermatologists
Below is the list of top fields or companies that one can get into once he or she completes:
Pharmaceuticals
Healthcare
Research and development
Governmental sector
Academics
Scope and Job Prospects of Diploma in Dermatology
The following points should give any aspirant an idea about the scope and job prospects of a diploma in dermatology after MBBS:
1. Entrepreneur: If you have entrepreneurial skills then a diploma in dermatology is a perfect course for you because setting up a skin clinic in India includes almost very low to nil capital investments and a few very basic instruments. One can earn more than 2 to 3 lakhs after setting up a clinic and making their presence in the industry and the market
2. Job satisfaction: The kind of job satisfaction that one gets after surgery or clinical diagnosis is unmatched
3. Dermatologist Work-Life Balance: It is common for doctors to get up in the middle of the night to attend to emergencies and exceptional periods. But if you are a dermatologist, such emergencies, that it will take your time away from your family, is very low and the balance between personal and professional life is extremely high for a dermatologist
4. Dermatology Industry: It is no secret that skin problem, hair problems are ever-increasing due to changing environmental and climatic conditions along with worsening of our lifestyles and eating habits. While these things are obviously bad for society as a whole, in terms of prospects for the dermatology industry, this has a very high scope and it provides great business opportunities
Salary after Diploma Dermatology Course
Dermatologist Salary: If one might want to work in hospitals instead of setting up a clinic as a dermatologist one can easily Rs. 100000 and above after very few years of experience
It won't be fair on our part if we mention only the advantages of the Diploma in Dermatology course. An aspirant should also be aware of the disadvantages or the cons of this course in Dermatology to have a proper idea and to make a decision whether or not to do a diploma in dermatology. Hence, you can find below the disadvantages that we could come up with that is associated with the diploma in dermatology:
Cons of Diploma in Dermatology
1. Competition: While the demand for Dermatology seats has increased as well as the number of seats for the same in India, the number of jobs in the government sector as well as in the private sector are not in match with the number of students passing out as Dermatology specialists. Hence, there is an imbalance in the job market for Dermatologists and the competition is extremely high.
2. Salary: As an entrepreneur, you can earn very well once you are in the market as a dermatologist but as a practicing doctor in a hospital, your salary would be much lesser as compared to a gynecologist, radiologist, orthopedic, or general surgeon. While a very senior dermatologist will earn very handsomely (somewhere above 5 lacs a month), for someone who is at the beginning of their career, the salary would be extremely less, especially in the government sector.
3. Market: While skin diseases are ever-increasing along with ailments related to nails and other pigments related problems, there is not a recurring event and as a result, from a business point of view, it is not as promising as other fields such as oncology or orthopedics or gynecology where the disorders and diseases are more often than not recurring in nature.
4. Institutes: Dermatology is a course that is very niche in nature and requires high specialization. While Dermatology institutes are extremely high-tech and equipped around the world, this course has not been given that much importance by the Indian education system and there are not many institutes that offer quality education for Dermatology under the Diploma Course.
FAQs on Dermatology Diploma Course
1. How to become a dermatologist in India?
One has to complete a 5-year MBBS degree and one year of compulsory internship and then give an entrance exam to get into a college that has the course for a diploma in dermatology
2. How much do dermatologists earn?
A practising doctor/dermatologist will earn anywhere between 2 to 3 lacs per month but as a self-employed entrepreneur, dermatologists earn more than 4 lacs per month
3. Which is the top college in India to do a course in dermatology?
All India Institute of Medical Science (AIIMS) and Jawahar Institute of Postgraduate Medical Education and Research (JIPMER) in Puducherry are two of the top institutes in India to pursue a course in dermatology
4. Is Dermatology a good career?
Dermatology as a career option is very good because of good pay, perks, and work-life balance.