How to become a Pediatrician In India: Pediatrics is a branch of medical science that deals with children, their nutrition, and their well-being until they become adults. The field of pediatrics is widely spread between newborns as well as young adults almost until the age of 21 years.
The person studying this stream and taking it up as a profession is known as a pediatrician. The job of a pediatrician is an amalgamation of deep and detailed study about the wants and needs of the children and it creates a spectrum of studying and gaining more knowledge in the world ranging from infants to young adults.
By using this ultimate guide on How to Become Pediatrician in India 2022, you will be going to know about the detailed steps, important requirements, course details, career path, eligibility and duration of the courses, pediatrician courses colleges list, Types of job roles, scope, etc.
About Pediatrician
A pediatrician is someone who masters pediatrics. Pediatrics is the study of all the technicalities related to children. In Latin, pediatrics means "healer of children". Therefore the person involved with this science understands the biology and physiology of the child and helps in advising what is best for them until they attain the age of 21.
This includes taking into consideration the smallest of the details and needs of the child. From understanding the nutritional needs to tracking their growth process, a pediatrician is involved in it all.
Enhancing the strength and knowing the ailment and cure makes it extremely easy to look after a child. Apart from the nutrition needs, they take into consideration the child's organic needs. Right from the time an infant is born to the time they attain adolescence, they provide a scheduled nutrition path for the child and keep their health in check.
Skills needed to become a pediatrician
To become a pediatrician one needs to be sure of the following:
The purpose of choosing pediatrics as a field.
Will be able to dedicate himself/ herself completely?
Do they possess the discipline and patience required for this field?
Are they committed to creating a health-induced community?
Once a candidate is sure of the above traits, then he/she is ready to up pediatrics as a profession and shall continue to work towards it right from the school.
Steps to Become a Pediatrician in India
Being a pediatrician is quite a lucrative career both in India and abroad. It is one of the extremely promising careers that fetch enormous experience and satisfaction. Being a pediatrician helps in helping each and every child and creates a responsive career for oneself.
However, for the ease of students, we have created step-by-step access to the process.
Step 1 :
After their 10th standard, students are required to take science as a subject with a specialization in physics, chemistry, and biology. Acquiring decent marks in their 12th standard boards are implied as it further eases the admissions in reputed colleges,
Step 2:
Once the students are done with their 12th standard exams, then they need to prepare for a common medical entrance test. These can vary from the central level exams to the state medical level exams to private college entrance exams. A few examples of such entrance exams are as follows:
CBSE- PMT (Pre Medical Test)
PMT
Various exams are organized by AIIMS(Delhi), AFMC(Pune), etc.
These exams generally occur between the months of May to July.
Step 3 :
After getting through the exams, students can choose the college of their choice or get selected in the colleges based on their marks, they can then start the MBBS that continues anywhere from 5 years to 5 and a half years.
Step 4:
Once the degree is completed the students are then expected to take a training of one and a half years and improve their medical practices under the supervision of skilled doctors.
Step 5:
After the completion of their training, they are then supposed to take a specialization degree in the field of pediatrics. For this, every student needs to appear for the entrance test. Following are the examples of a few entrance tests held across the country:
All India Post Graduate medical
BHU MD/MS Entrance Test
Delhi University Postgraduate Medical Entrance Test
Jawaharlal Institute of Postgraduate Medical Education and Research Entrance Test
After getting admission to any of the Post Graduation Colleges the students are required to take pediatrics as their specialization and complete their degree.
Step 6:
After completion of their course the students are expected to procure a certificate from the Medical Council of India along with their master's degree in pediatrics. thereafter they can apply in various reputed hospitals in their pediatrics departments like AIIMS, Fortis, Apollo, etc. They can also choose to start their own child wellness centers and start the practice.
Also Check:
Eligibility To Become Pediatrician in India
The eligibility criteria of students willing to choose pediatrics as a career option need to follow the list of requirements below:
Attaining marks above 50% in the boards with subjects like physics, chemistry, biology, and English from a recognized university.
To opt for a career in pediatrics, the students are required to hold an MBBS degree recognized by the Medical Council of India.
To take up pediatrics as a specialization, students are required to procure a minimum of 55% marks in MBBS.
There is also an option of doing another specialization with a Ph.D. in pediatrics. In such a case, the students are required 50% aggregate in masters.
Course Duration for Pediatric Specialization
The duration of the specialization in pediatrics is of two to three years. In this, the students are expected to attain maximum expertise on the subject and start the training and practice thereafter.
List of Colleges To Pursue Pediatrics
There are numerous prestigious colleges that offer courses in pediatrics. They are listed as below:
AIIMS, Delhi
Pt. Bhagwat Dayal Sharma Post Graduate Institute of Medical Sciences, Rohtak
B.J.Medical College, Ahmedabad
CMC Vellore, Vellore
Armed Forces Medical College, Pune
D.Y.Patil University, Navi Mumbai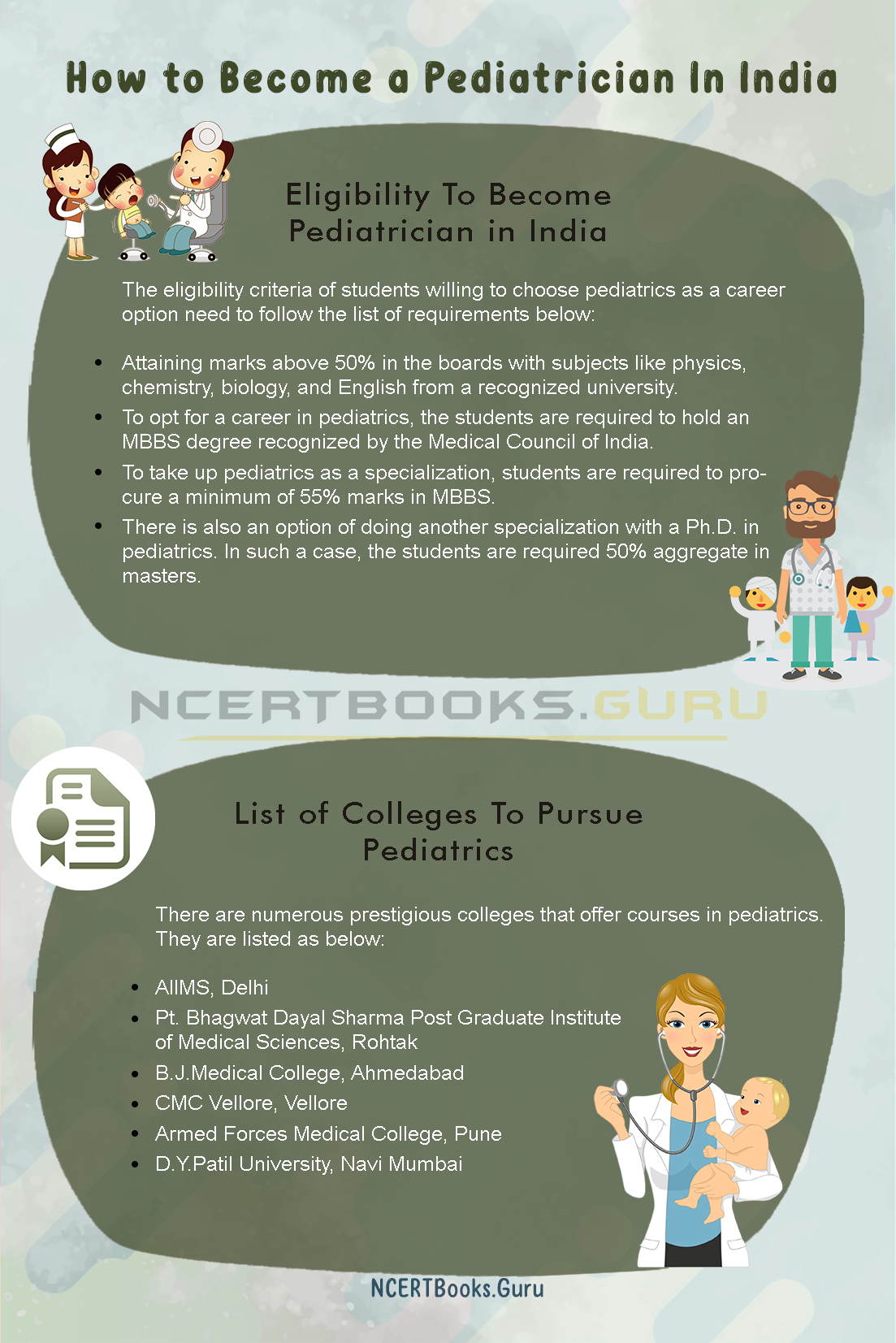 How to Choose a Career Path as a Pediatrician in India?
If you are clear from the beginning that you wish to take pediatrics as a career path, then after completing the boards, the interested students will have to take science as their stream. Once you complete your 12th standard, then the task is to choose a good medical college. It is essential to complete your five years of MBBS and then you can opt for a specialization in pediatrics.
Types of Job Roles in Pediatrics
Pediatrics work closely with a lot of medical health workers and provide a lot of help to any of the required expertise. Some of the various job profiles are as follows :
Pediatric surgeon
Neonatologist
Pediatric cardiologist
Developmental behavioral pediatricians
Pediatric endocrinologists
Pediatric orthopedists
Career As a Pediatrician
A good pediatrician holds a very strong career prospect especially for those who excel in their grades and gather valuable experience. This field of medical science holds extreme importance. As it deals with child psychology and nutritional needs it holds extreme importance in all medical practices.
This career aspect is hardly affected by any of the market rise and fall. Once you complete your master's in pediatrics, you have numerous options of either joining government hospitals or private medical institutes. In addition, you can always set up child specialist centers and work independently.
Salary of a Pediatrician in India per month
The salary aspect of a pediatrician depends on the kind of hospitals they are associated with. Private hospitals in the country are known to pay more salaries to their health professionals.
The senior officials in pediatrics have a base pay ranging from 15 lakhs to 20 lakhs per annum. Although the starting of a career in pediatrics may offer a little less the perks in the process and respect associated with the reputation compensate for it all.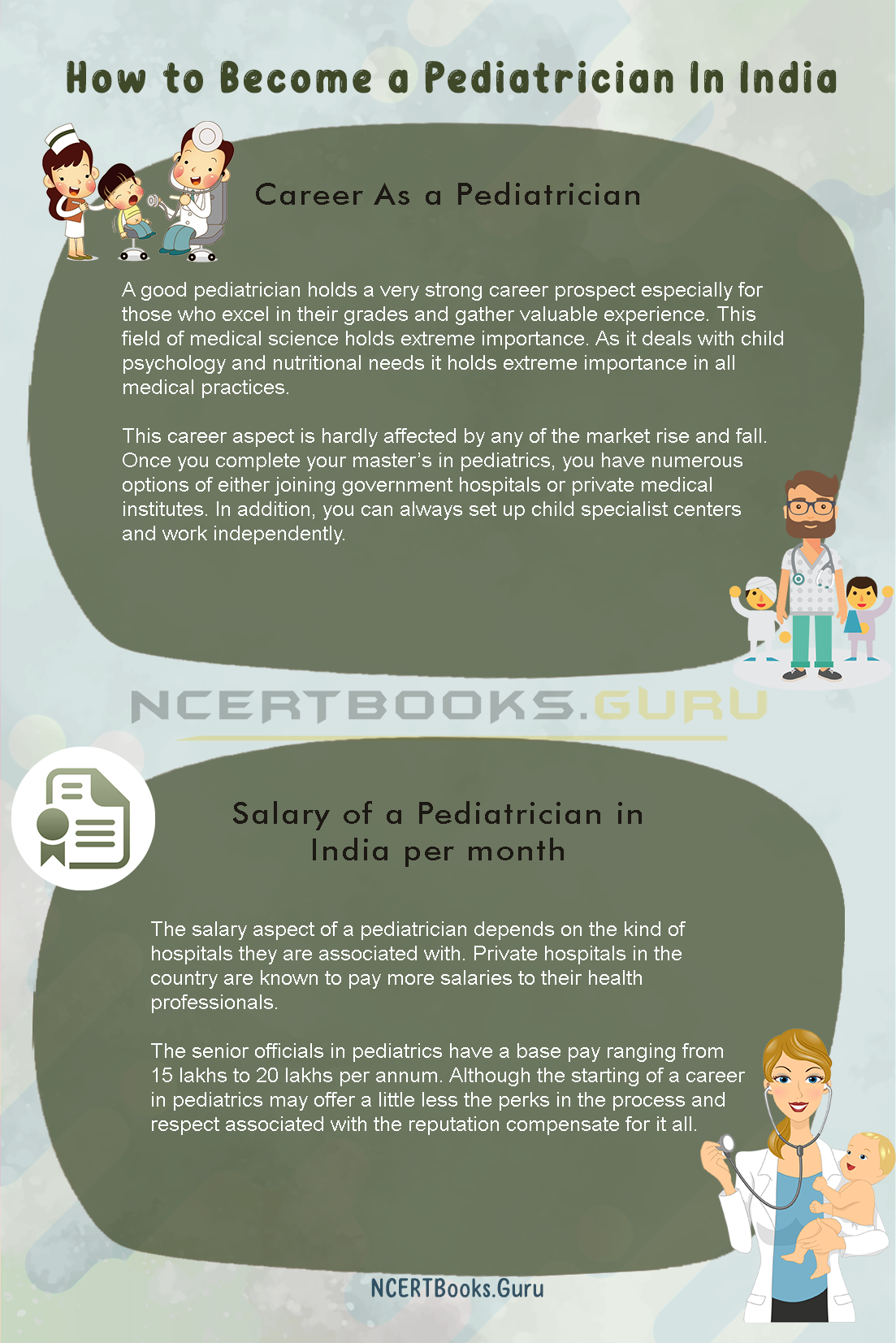 Books and Study Materials To Become A Pediatrician in 2022
The list of books that could get you started with your preparation to be a pediatrician is as follows:
Pediatric Oral pathology by Kavita Kohli
Peadiapeadia: an imaging encyclopedia of pediatric disease by Micheal P.D'Alessandro
Child injury prevention by David c. schewbel
Becoming a pediatrician by Daniel Schumacher
Autism Spectrum Disorder by Micheal Fitsgerald
Baies A to Z by Warwick Carter
Nelson Textbook of Pediatrics by Robert.M. Kliegman, Hal B.Genson, Richard E.Behrman
FAQs on How to become a pediatrician doctor in India
1. What is the scope of a pediatrician as a career?
Pediatrician as a career has a wide scope and it also helps humans to understand and take on their responsibility towards society. Pediatrics as a profession has extensive scope in a lot of institutions both government and private.
2. What are the perks of being a pediatrician? 
The initial practice as a pediatrician may not pay as much but the training under expert professionals can be extremely rewarding. Apart from these, once they gain sizable experience they can have the independent practice that helps them serve a larger community.
3. How many years to become a pediatrician in India?
Should have at least 9 years of schooling which involves 4 years of undergraduate school and four years of medical school along with 3 years of a pediatric residency. Not only the education qualification a lot of skills are also required to become a pediatrician in India check out this page completely.