Hospital Administration Diploma Course: In today's world modern hospitals are not just doctors and nurses alone but a large deputation of administrative support staff. If you have good management skills and leadership qualities and an interest in serving people you can choose to be in hospital management.
For that, you need to start with a diploma course. This hospital management is a new concept in the field of management. In, corporate hospitals 40% of the staff are HR, public relations, support staff comprising Admin, Record maintenance, Accounts, etc.
In this article, we are going to know about the details of the diploma course in hospital management. This course equips students with sufficient knowledge and skills to carry out the administrative operations of clinical and support assistance departments. Also, we are going to discuss eligibility criteria, colleges to choose from, salary, course fees, etc.
If you are looking for any other courses you can check the Course Details so that you can look into the course you need.
Who are Hospital Administrators or Management?
Hospital administrators are the ones who look after the organizational side of health services. In that health care organization, human resources, communication between departments, law, and order, budget, and financial aspects, everything is managed by a hospital management workforce.
Hospital management duties include collaborating with the doctors, nurses and looking for the stock of medicines for the daily requirements, assigning responsibilities to the staff, and assuring that the patients do not face any unwanted problems of mismanagement, and inefficiency.
Hospital Administration Diploma Course Highlights
| | |
| --- | --- |
| Program Full Name | DIPLOMA COURSE IN HOSPITAL ADMINISTRATION |
| Admission Process | Entrance Exam and Merit-Based |
| Eligibility | 10+2 |
| Course Fee | INR 4,000 – INR 12 lakhs |
| Program Level | Diploma |
| Examination Type | Semester wise |
| Duration of the Program | 2 Years |
| Job Position | Professors, health administrators, clinical managers, clinical research managers, teachers, health information managers, nursing home administrators, etc. |
| Average Salary | INR 2 lakhs – INR 10 lakhs |
| Best Recruiting companies | Goa Institute of Management, IMS Health, AMGEN, ICICI Bank, Apollo Hospitals, Duncan's, Tata, Wipro, Infosys, Max, Wockhardt, Fortis Healthcare Limited, AIIMS, Hospital Corporation of America, KPMG, etc. |
Diploma in Hospital Administration Qualification & Eligibility
Candidates must complete 10 +2 with a minimum of 50% of marks in the recognized college.
Students should have a science stream as a compulsion.
For reserved candidates, there is a 5 % restraint.
There is no acceptance of the receptacle.
Must Refer: 
Admission Process for Hospital Administration Diploma Course
If you are eligible for the diploma course then we have an admission process based on merit and also based on entrance exams. Look at them below.
Merit-Based Admission:
To join for a diploma on a merit basis the colleges will announce the cut-off mark.
If there are any exams the online forms will be released by the universities and we need to fill the forms.
Colleges will announce a specific date for the documentation.
Document verification includes provisional certificates, mark sheets, passport size photos, etc.
Entrance Exam Based Admission:
To register students universities/colleges conduct entrance examinations.
They release online forms and examination fee details if any.
And then they release admit cards.
After the competition of the exam, the result will be declared on some date.
Then, they will announce dates for document verification.
Document verification includes provisional certificates, mark sheets, passport size photos, etc.
Documents Required for Diploma Hospital Administration Admission
We will look into the complete document list for the admission in diploma for hospital administration. There will be a few differences between universities. And they will announce a list of documents to carry. Do check before going to college.
Proof of Date of Birth.
Mark sheets of 10th and 12th grade.
Transfer Certificate.
School leaving Certificate.
Residential Certificate.
Caste Certificate.
Character Certificate.
Migration Certificate.
Top Entrance Exams for Hospital Management Diploma Courses 
If you want to get good admission to the hospital management diploma course, you need to write any of these entrance examinations. All these are just for reference.
| | | | | | | |
| --- | --- | --- | --- | --- | --- | --- |
| Entrance Exam | Conducted by | Exam Date  | Application Form | Result date  | Level of Exam | Mode of Exam |
| Xavier Aptitude Test(XAT) | XLRI Jamshedpur | 1st week of January 2022 | 2nd week of September 2021 – last week of November 2021 | Last week of January 2022 | National level | Online test |
| Management aptitude Test(MAT) | AIMA | February 16, 2021, | December 16, 2020 – February 14, 2021. | To be announced | National level | Online and offline test |
| Common Admission Test(CAT) | IIMs | November 2021 | 1st week of August 2021 – 4th week of September 2021 | January 2022 | National level | Online test |
Hospital Administration Diploma Course Syllabus
Look into the syllabus that you need to prepare for the diploma specified by many universities and colleges.
Financial Management.
Managerial Accounting.
Viva Voce on Journal Related to Hospital Training.
Laws Related To Hospital Medical Services.
Organizational Behaviour & Principles and Practices of Management.
Hospital Administration.
Human Resource Management.
Software Related To Hospitals.
Computer Fundamentals.
Project Report.
Viva Voce based on Project Report.
Top Colleges for Diploma in Hospital Management Course
Here are some best colleges where you can choose to study the hospital management course.
Indira Gandhi National Open University, New Delhi.
Faculty of Management Studies (FMS), Delhi University.
All India Institute of Medical Sciences, New Delhi.
Tata Institute of Social Sciences, Mumbai.
Kasturba Medical College, Manipal.
Indian Institute of Health, Jaipur.
Armed Forces Medical College, Pune.
The Apollo Hospitals are all around the country.
Diploma in Hospital Administration Fees
The fee we are providing is just for your reference. It might vary from institute to institute and we are providing the minimum and maximum fee details for private and government Colleges.
Minimum & Maximum Fee for Private: Rs. 16 K – 1.85 lakh.
Minimum & Maximum Fee for Government: Rs. 17.97 k – 1.00 lakh
Recommended Books for Diploma Course in Hospital Administration
Some of the books that every diploma person should read to get a good job in hospital administration. These books are very useful.
How doctors think, by Jerome Groopman.
Leadership is an art, by Max Depree.
Medicaid politics and policy, by Judith D. Moore and David G. Smith.
The checklist Manifesto: How to get things right, by Atul Gawande.
The comfort garden: tales from the trauma unit, by Laurie Barkin.
Who moved my cheese, by Spencer Johnson.
Becoming the best: build a world-class organization through values-based leadership, by Harry M. Kraemer.
Complications: a surgeon's notes on an imperfect science, by Atul Gawande.
Benefits of Diploma Course in Hospital Management
If you are thinking that, what is the use of this diploma course in hospital management. Here is your answer.
If you have good experience in the hospital manager role, you can easily get the job role of chief executive officer and also head of the department in organizations.
You will get high salary packages.
Get free tours.
If you have completed the course in diploma hospital administration, you can find jobs at nursing homes, hospitals, public health departments.
You will have a wide range of opportunities.
You will have proper life and health insurance and you can get paid vacations.
Also See: 
Career Scope for Hospital Administration After Diploma
With ever-increasing popularity in the medical field and the rising of the world population by combining both, we have more opportunities in the medical field. Here are some of the fields that you have opportunities to work on after completion of your diploma course. In this field demand for professionals is very high.
National Healthcare Organizations.
Hospitals.
Health Insurance Companies.
National Healthcare Organizations.
Mental Health Facilities.
Pharmaceuticals and Hospital Supply Firms.
Rehabilitation Centres.
Public Health Centres.
Medical Software Companies and many others.
Basic Skills Required for Hospital Administrators
There are some basic skills needed if you would like to become a hospital administrator.
Technical Skills: You no need to worry about these skills, these you will acquire in the organization you study.
Communication Skills: These skills are important to communicate with the patients to know their problems and to transfer your knowledge in a perfect way to your coworkers.
Critical Thinking Skills: For logical thinking and sharp problem-solving skills are required. This critical thinking helps you reduce damage in an undesirable situation.
Leadership Skills: To maintain a team in a proper positive manner, and to motivate your team and mentorship these skills are important.
Quick Decision-Making capacity: You are responsible for the smooth flowing of the organization. Sometimes you make immediate decisions and perfect decisions.
Diploma in Hospital Administration Salary with Job Profiles
After completion of the diploma course in hospital administration, we have plenty of jobs in demand. And jobs count is increasing day by day in the health care industries. The candidates who completed their diploma can find employment in many hospitals, health care centers, etc…
Here are some best job profiles with the salaries. These are given just for reference purposes. Salaries may vary.
| | |
| --- | --- |
| Job Profiles | Salary |
| Hospital CEO | Rs.50 Lacs – 9 Cr annually. |
| Chief nursing officer | Rs.9 – 10 Lacs on average. |
| Medical affairs manager | Rs.22 lakhs |
| Health Director | Rs.7.8-8 Lacs per annum. |
| Healthcare Finance Managers | Rs.9 Lacs annually. |
| Administrator | Rs.5.5-6 Lacs. |
| Social and Community Service Managers | Rs. 4 – 8 Lakhs p.a. (approx.) |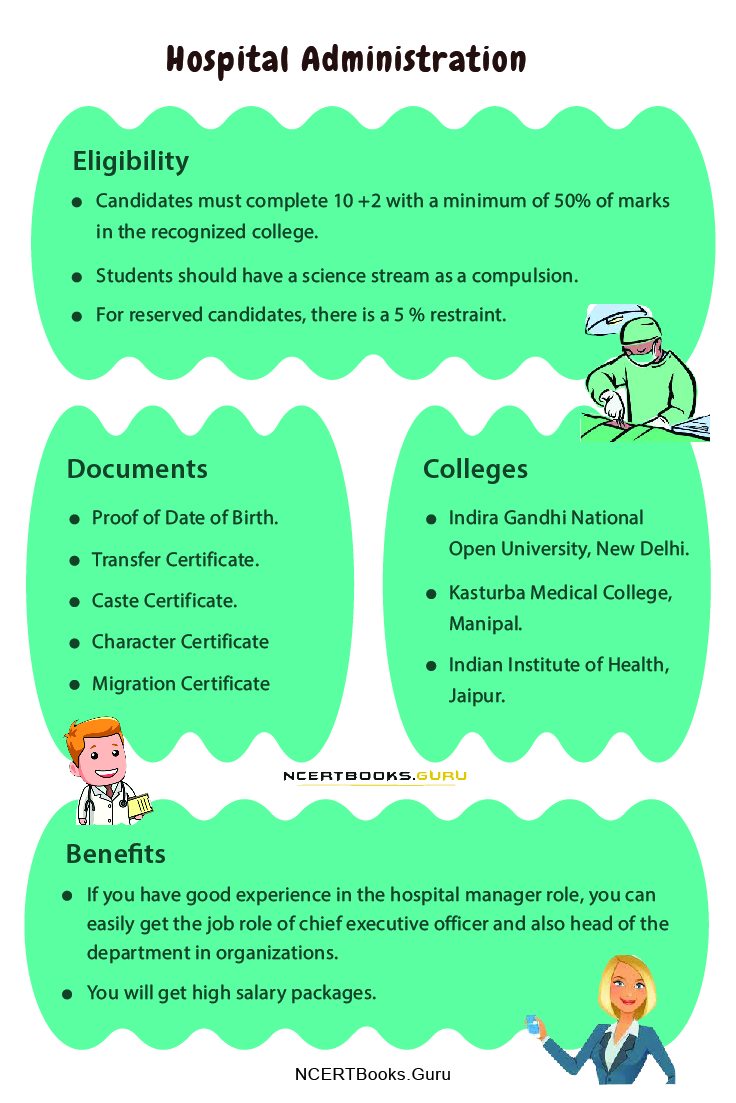 FAQs on Diploma Course of Hospital Administration
1. Is there any scope for Hospital Administration?
After finishing your graduation, you can find job opportunities in areas like medical colleges, hospitals, and health insurance agencies.
2. What is the job role of a hospital administrator?
These hospital administrators are mainly responsible for managing and overlooking the health care centers like budget, managing staff.
3. Is hospital management a good course?
Nowadays these hospital management jobs are full in demand, and people in this field get good salary packages.
4. What are the working hours of a Hospital Administrator?
The normal working hours of a hospital administrator are 8 hours and this hour may vary for every institution. In general, there are 40 hours per week.
Conclusion
I hope the knowledge we have shared on this page regarding Hospital Administration in Diploma Course was useful to you and hope that information cleared all your queries. Still, if you are not satisfied with the info or have any doubts you can contact us through the comment section that is mentioned below. Stay tuned to our site for more articles, books, and study materials.