DHMS Course Details: Diploma in Homeopathic Medicine and Surgery is a course best suited for individuals who are looking to pursue a short term course in homoeopathy. Based on the idea "like cures like," the world of homoeopathy is advancing every single day in many countries including India. Those keen on establishing their career in the field generally go for BHMS (Bachelor's in Homeopathic Medicine and Surgery) or a DHMS. There's a basic difference between the number of years in BHMS and DHMS. BHMS spans for five or five and a half years with an internship of one year while DHMS generally stretches for 4 years. Internship under DHMS lasts for 6 months.
If you are one who has the flair of working with chemicals and solutions to create medicines and study as well as other aspects of medicines and surgery to cure patients, the course is just for you. Stay glued to know the course details of DHMS before you jump into the admission process.
Get to Know More about other types of Course Details in Streamwise, and Category wise.
DHMS Course Overview
Diploma in Homeopathic Medicine and Surgery Course Details deals with medicines, preparation, analysis and surgery. Students are trained in a way that they get complete knowledge about the field in theory and in practice so that they can work as physicians in the future.
Diploma in Homeopathic Medicine and Surgery is a four-year program where students are given profound knowledge about everything under the same sun. The course also includes a mandatory internship program for six months that helps them get practical knowledge about the world of homoeopathy. Have a look at other Medical Courses in India.
DHMS Course Eligibility Criteria
Candidates who had opted for Physics, Chemistry, Biology and English as their core subjects in 10+2 or equivalent qualification can apply.
The aggregate score to get admitted to DHMS college is 50%. However, the qualifying percentage differs from institution to institution.
Students 17 years and above can apply for the same.
DHMS Course Duration
The duration of the Diploma in Homeopathic Medicine and Surgery Course is 4 years.
DHMS Course Fee Structure
The annual fee of a DHMS course depends upon the type of college or institution. Public or government colleges may charge 10,000 to 35,000 while private institutions may charge 1 lakh or more annually.
DHMS Course Admission Process
There are basically two procedures to get admitted into a college to pursue a DHMS course.
Entrance Test: Some colleges conduct entrance exams and personal interviews and then shortlist them as per the entrance results.
Direct Admission: While some colleges consider the aggregate percentage of candidates scored in 10+2 exams. As discussed above, students should score at least 50% to get admitted. However, pass percentage criteria varies from college to college.
DHMS Syllabus
DHMS Course Details subjects are mentioned here.
Communicative English & Computer Fundamentals
Anatomy & Physiology
Forensic Medicine & Toxicology
Homeopathic Material Medica
Homeopathic Pharmacy
Obsterics & Gynecology
Practical – I
Practical – II
Practical – III
Practical – IV
Practical – V
Practical – VI
Also, Check
DHMS Course Benefits
Get a thorough knowledge about homeopathy and surgery
Have a number of options to choose from
Start your own clinic or work at a renowned hospital
Furnish your skills required in surgery and other related areas
High paying job
DHMS Course Scope and Career
There is immense scope for students pursuing the DHMS Course. Homoeopathic medicines are the ones that are widely popular in India and are best suited for people who don't prefer allopathic treatments. Also, these medicines have no side effects. Students after pursuing this course can get placed at government and private hospitals or can start their own clinics.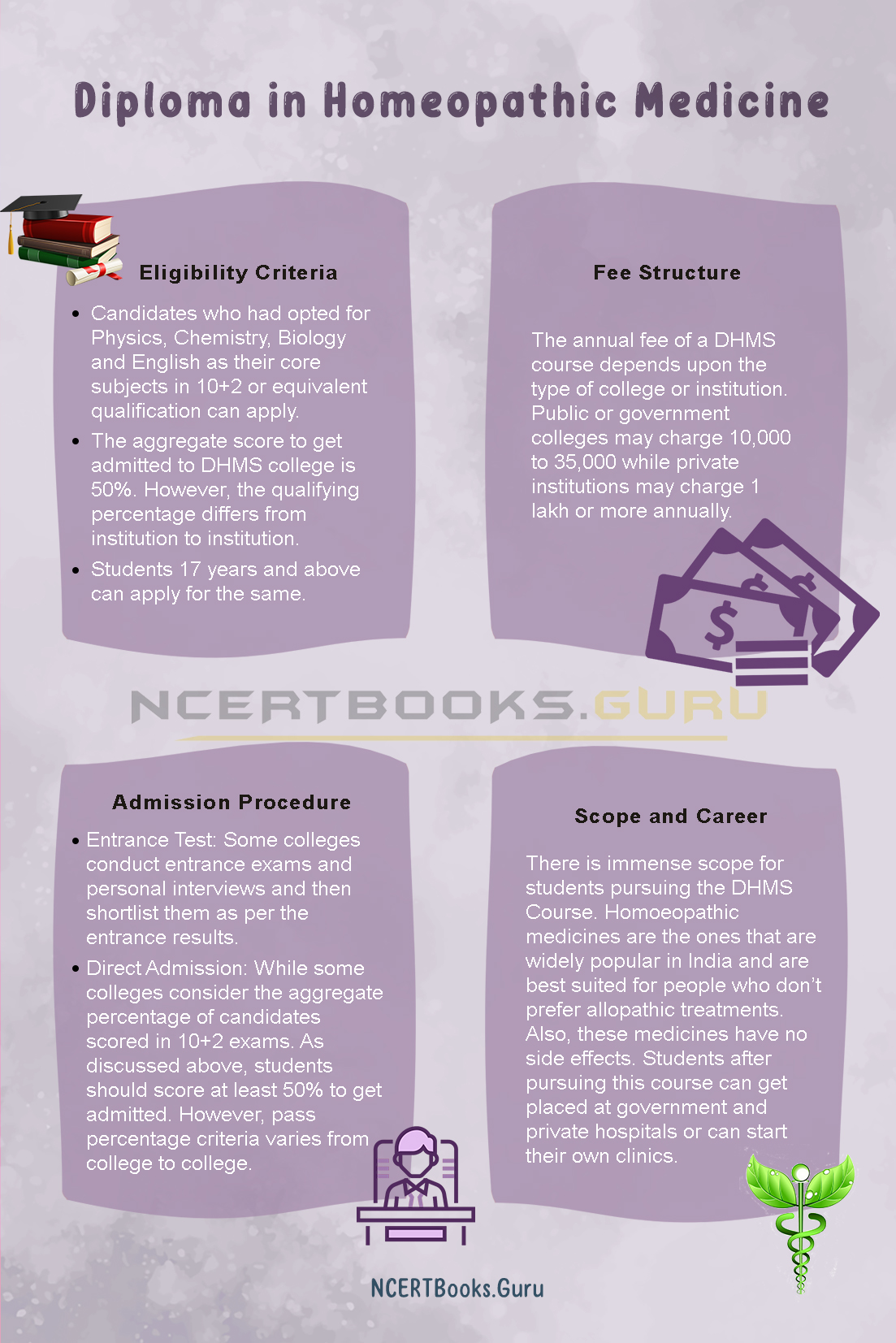 DHMS Course Job Profiles and Salary
Post-DHMS courses, students when entering into the professional world can work as physicians, medical assistants, own a healthcare center or clinics, or work as information clerks.
The salary of a DHMS may vary as per the experience and practice, however, the average salary of professionals engaged in this field ranges from 1 lakh to 3 lakh or more per annum. Those working at private firms may earn even more as the number of years of experience increases. Diploma in Homeopathy Course is similar to DHMS and offers various jobs.
FAQ's on DHMS Course Details
Question 1.
Is it necessary to undergo an internship in DHMS?
Answer:
DHMS courses lasting for four years generally have internship programs for 6 months, wherein it is mandatory for a student to work as an intern.
Question 2.
What is the eligibility criteria for a DHMS course?
Answer:
Candidates opting for a DHMS course must have scored a minimum of 50% in 10+2 in PCB combination.
Question 3.
What is the difference between BHMS and DHMS?
Answer:
BHMS spans for a period of five years with an internship of 1 year. It stands for Bachelors of Homeopathy and Surgery while DHMS stretches for 4 years with an internship of 6 months. DHMS is an acronym for the Diploma of Homeopathy and Surgery.
Question 4.
What is the fee of a DHMS college?
Answer:
Private colleges providing DHMS courses charge 1 lakh or more per annum while college fees of government colleges are comparatively low-level they may charge 10 thousand to 35,000 thousand per annum.
Conclusion
We hope that the data provided above is helpful for many students who have completed their 12th class and looking for courses after 12th with good job options. For any other queries, you can reach us via the comment section. Stay in touch with our website to know complete information of other Diploma Courses.