Arts Courses After 10th, 12th List: Arts is one of the popular streams selected by candidates after completing their 10+2. However, there is a perception among people that Students who are weak take Arts but the reality is far beyond that. There are plenty of opportunities to go with candidates after finishing their Arts Courses.
In this article, we have jotted all about the Courses in Arts Stream like Admission Procedure, Eligibility Criteria, Top Colleges offering the courses, fees structure, jobs, and career opportunities, etc.
Thus, chose the course based on your individual interest and resolve all your queries seeking help from the below modules. We even mentioned the frequently asked questions on the bachelor of art courses and provided them with answers too for better understanding.
List of Courses in Arts Stream | Bachelor of Arts Courses List
Check out the Arts Courses to do after the 12th by having a glance at the below modules. You can access any of the course as per your interest and learn about them completely. To make it easy for you we have compiled the List of Arts Courses at degree, and diploma level.
You will have the entire information such as Admission Procedure, Eligibility Criteria, Duration, Fees Structure, Career Options, Scope, etc. If you have any queries regarding the Arts Courses after the 10th you can resolve them at the moment using this article.
Arts Courses List After 10th
Some of the passionate girls and boys loved to start their career at a young age like after 10th or 12th. For those students, we have listed a set of arts courses list after the 10th that help them to pursue and monetize earlier. For more details about Arts Courses after 10th check the available link without fail.
Technical Courses After Arts Stream
BA (Bachelor of Administration)
Law Courses
Designing Courses
Management Courses After 10th
Fashion Courses
Physical Education Courses
Teaching Courses
After 12 Arts Courses List
Have you finished your 12th standard and wanted to pursue art courses to build your career. Then, here is the best Arts Courses After 12th list, so candidates can choose any of their interested and passionate courses and start their new education life.
Bachelor of Arts (BA)
BA in Animation
Bachelor of Fine Arts (BFA)
BCom in Accounting and Commerce
Bachelor of Design (B.Des)
BDes in Animation
BA Journalism.
BA in Humanities & Social Sciences
BA Psychology.
Bachelor of Social Work (B.SW)
Bachelor of Hotel Management (BHM)
BSc in Hospitality & Travel
Arts Subject List
Here is the list of art subjects that make you develop your analytical and critical thinking skills along with General Knowledge. For other arts stream syllabus or subject queries, check out each course of Arts from the above lists and dig deep to learn about them.
Hindi
Sanskrit
Mathematics
English
History
Economics
Philosophy
Geography
Sociology
Psychology
Home science
Political Science
Computer science
Music
Fine arts
Public administration
Physical education
Arts Courses Eligibility Criteria
The minimum eligibility criteria needed to pursue Arts Courses is you need to finish your higher secondary education from a recognized board or university with a minimum aggregate.
Admission Procedure for Arts Courses
Candidates will be provided Admission to Arts Courses on a merit basis. However, certain colleges will give admission to candidates depending on their scores in Entrance Exams.
Arts Courses Fee Structure vary based on the course and the reputation of the college. However, fees vary on the placements offered, and infrastructure provided. The average fees for Arts Courses lie somewhere in between 1 -3 LPA.
Top Colleges of Arts Courses in India
There are several colleges across the country that offers courses in Arts Stream. You might be confused about which college to choose. To help you clear your ambiguity we have listed the popular colleges for Arts all in one place. Check the list and decide and pursue your favorite course. They are listed as under
Hindu College, University of Delhi
Lady Shri Ram College for Women
MCC – Madras Christian College
Loyola College
Department of Humanities and Social Sciences, Christ University
Gargi College, DU
Ramjas College
Indraprastha College for Women
Mithibai College of Arts, Chauhan Institute of Science & Amrutben Jivanlal College of Commerce and Economics
Stella Maris College
Hansraj College, University of Delhi
St. Stephen's College
Miranda House, University of Delhi
Also, Read:
Arts Courses Jobs/ Career Opportunities
After completing the Arts Courses one can have ample job opportunities before them both in the public and private sectors. We have outlined the popular job profiles for candidates after finishing their Courses in Arts Stream. They are as such
Journalist
Desk Writer
Floor Supervisor
Lawyer
Reporter
Chef
Housekeeping Executive
Front Office Executive
Designer
Flight Steward/ Airhostess
Web Designer
Animator
Salary Offered to Arts Professionals
The Salary paid to Arts Professionals depends on the sector they have joined and the firm. On average, Candidates after completing their Arts Courses can get around 3 -6 LPA. However, this is not a fixed salary and you can earn more than that if you have the required skillset. After gaining experience and seniority you can ask for more and salary will not be constraint then.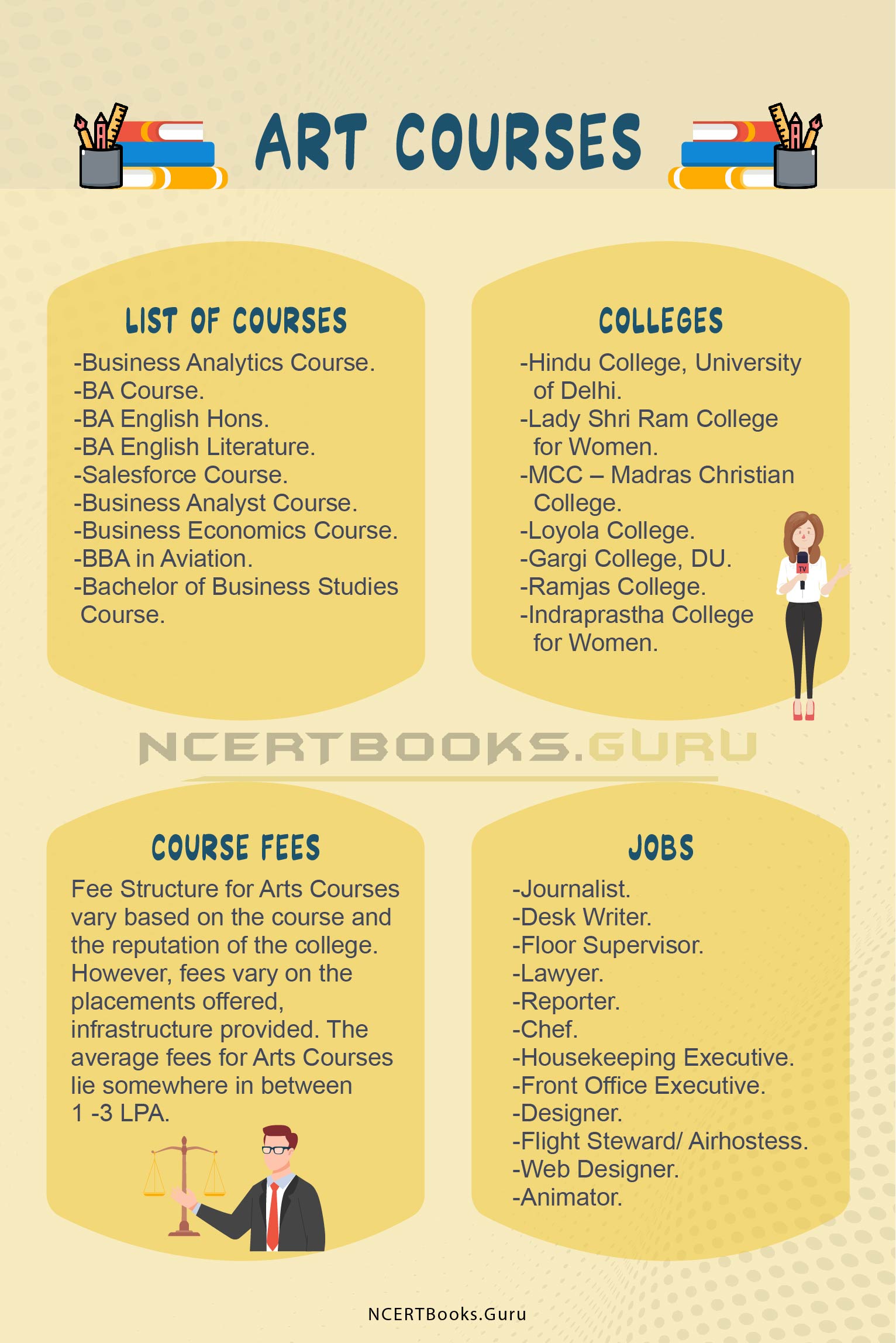 FAQs on Arts Courses
1. What are the Career Options in Arts?
Career Options in Arts Stream are as under
Journalist
Desk Writer
Floor Supervisor
Lawyer
Reporter
Chef
Housekeeping Executive
Front Office Executive
Designer
Flight Steward/ Airhostess
Web Designer
Animator
2. What is the Eligibility Criteria for Arts Courses?
Eligibility Criteria for Arts Courses is that students need to complete their 10+2 or Higher Secondary Examination with a minimum aggregate of 50% from a recognized board or university.
3. Where do I get the Courses List in Arts Stream?
You can get a complete idea of the Courses List in Arts Stream by referring to our page as we have jotted them in an efficient manner.
Summary
We wish the knowledge shared regarding the Bachelor of Arts Courses has helped you to an extent. To know more about Course Details you can always look up to us. Stay connected to our site to avail the latest information on several courses in a matter of seconds.