Business Analytics Course Details: If you have got an instinct to put your witty brain to data analytics, business intelligence, and computer programming, a business analytics course is just right for you. The field is fit for those who nail it when it comes to building strategies for business. The best part of business analytics is that it is helpful for any industry.
Gone are the days when businesses were limited to daily provision stores or clothing materials, today that have massive growth and have developed into a well-organized structure, penetrating deep into any sphere be it technology, fashion, content, website and more. Cutthroat competition and global reach of businesses have paved a way for students to study business analytics and master in the program, which is a burgeoning field in business.
Let's dive deeper into the course details and get acknowledged about the basic details of the business analytics course.
Get to Know More about other types of Course Details in Stream wise, and Category wise
About Business Analytics Course Details
The business analytics course is well suited for those who want to become business analysts. Students can pursue the course after graduation. One can study as a degree course at a Master's level or as a postgraduate diploma course. It will be an added advantage for the students if they are aware of the course and not restricted to the basics of statistics and mathematics as well as commerce.
Business Analytics Course Eligibility Criteria
The course can be pursued after graduation. One need not necessarily hail from commerce stream to study the course however, having basic knowledge about statistics and commerce makes it a little easier to learn. Generally, students need at least 50% in graduation to get admitted to colleges offering the course.
Business Analytics Course Structure
This course is offered under Masters in Business Administration which is a two-year course while one can also study it at PGDM that stretches for a year or two (depending upon the college).
However, there are other short term courses in business analytics:
Executive Program in Business Analytics: 6-12 months
Certificate in Business Analytics: 1-month program
Certificate in Big Data and Analytics: 6 months
Postgraduate Certificate in Predictive Business Analytics:1 year
Executive Program in Business Analytics and Business Intelligence: 6-12 months
Business Analytics Course Details
Students willing to pursue this course must prepare themselves thoroughly for the entrance exam. For this they must crack of the following exams for MBA:
CAT, XAT, CMAT, MAT, GMAT, IBSAT, SNAP and NMAT.
As per MBA Institutes in general, candidates must score 50% in their undergraduate course to get admitted to the college for this course. For pursuing short term courses, one needs to complete a graduation degree course before getting admitted.
Fee Structure of Business Analyst Course
The fees for a Business Analytics Course may differ from institution to institution. The fees are different for government and private colleges. The fees in a government college may range between Rs 1.70 Lakhs and Rs 3.00 Lakhs per annum. Whereas, private college fees can range between Rs 3.5 Lakhs to Rs 9 Lakhs per annum.
Business Analytics Job Opportunities and Scope
The job of business analysts center around deciding on business actions, building and executing strategies for business growth, solving issues in the organization by putting management skills to use like research, marketing, logistics, finance, etc.
Since a large number of businesses are relying on data for business growth, the demand for business analysis and data processing will not come to cease ever soon. As a business analyst, one can happily land good job opportunities at private firms or consultancies who pick them up for their jobs to be done and pay them handsome amounts per project.
Salary and Job Profile of a Business Analyst
The pay package of a business analyst depends upon the company's reputation, employee scale and size. A fresher, in general, earns up to 3 to 5 lakh per annum while good companies and brands may offer 6 to 7 lakhs!
Job profile of a business analyst includes the following
Financial Analyst
IT Business Analyst
Data Business Analyst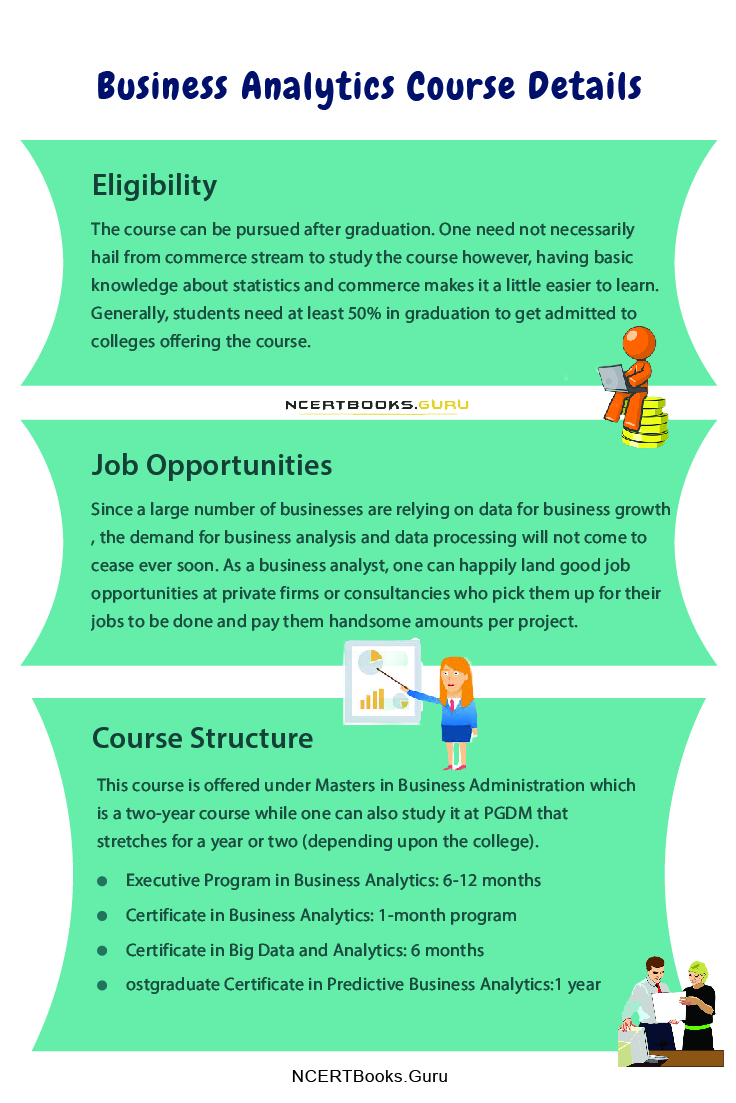 FAQ's on Business Analyst Course
Question 1.
What is the fee of a private college for a Business Analyst Program?
Answer:
The fee in a private college may range from 3 lakh to 9 lakh per annum.
Question 2.
Can only commerce students pursue business analyst courses?
Answer:
The field is open for any student who has a graduate degree in any course.
Question 3.
Is it necessary to be a maths student to study business analytics?
Answer:
Business Analytics course can be pursued by any student from any field although, or the one with a knowledge of mathematics, commerce, and statistics in 11th and 12th it serves to be an added advantage.