Business Analyst Course Details: Business Analyst is the process of using both data analytics and business intelligence together on particular data to decide future business strategy. This is a part of management studies. It is the process of analyzing a set of data to get insight into future business plans and strategies. It helps a business to get insight into the current operation. It provides a way to save the operational cost and give better service to the customers. So, every business needs business analysts to set better plans and strategies. In this article, you will get all the details of the Business Analyst course in India. You can check the Business Analyst course's syllabus, duration, fee structure, admission procedure, job openings, and salary details.
Get to Know More about other types of Course Details in Stream wise, and Category wise.
What is Business Analyst Course?
Business Analyst is one of the booming industries in India as well as globally. The demand for business analysts in India has increased rapidly, but the supply is still lower than the demand. Many research studies say India, along with many other countries, will have a huge demand for business analysts in the coming years. This course is a combination of data analysis, computer programming, and business intelligence. Business analytics is required in everyday business to get proper insights into various aspects of a particular business. Big organizations, small enterprises, and individual entrepreneurs – everyone is using data analytics to get insights on different problems and get a better solution for it.
One first understands the type of business and the problem that needs to be solved. Next, one needs to understand how to use analytics in this problem and which insights will help to solve the problem. Then the outcome is appropriately analyzed, and the analysis report is prepared. If the report helps solve the problems, the formula is validated and used on new data. However, a business analyst needs to check it every day to secure accuracy. There are three types of business analytics.
Descriptive Analytics – As the name suggests, this analysis helps to get insight transparently. It makes the raw data easily understandable by humans.
Predictive Analytics – It uses statistics and forecasting techniques to find out the future trend. This analytics help to know future issues and get better plans to solve these problems.
Prescriptive Analytics – This is comparatively new analytics. These analytics suggest different methods to solve some problems in the future.
Business Analyst Course Details
Course: Business Analytics
Duration: 1 year to 2 years
Admission Process: Entrance-Based/Merit-Based
Top Entrance Exams: CAT, MAT, XAT, CMAT, etc.
Business Analytics Course Fees in India: INR 2- 25 LPA
Salary: INR 4- 25 LPA
Business Analytics Jobs: Data Scientist, Statistician, Quantitative Analyst, Project Manager, Market Research Analyst, etc.
Top Recruiters: HCL, Google, Amazon, Motorola, HP, Indusind Bank, etc.
Business Analyst Course Eligibility Criteria
This course is offered at the management level. So, the minimum requirement is graduation. Most of the institutes require a minimum of 50% marks in graduation. Students from any stream can pursue this course. However, this course is mainly suitable for students from science and commerce background as they've already studied mathematics and statistics. Anyone with an essential analytical skill and interest in data can opt for this course.
Subjects, Concepts of Business Analyst Course
If you have basic knowledge of analytics and data, you can start this course. The basic concepts of Business Analyst course are listed below :
Knowing the job role of a Business Analyst
Professional training and development skills on Descriptive, Predictive, Prescriptive and Cognitive Analytics
Knowledge of using advanced statistical tools to analyze complex business issues and prepare an analysis of the same
Using analytical skills in multiple domains and industries
Preparing business reports analyzing the issue and suggesting methods to solve the problem
Business Analyst Course Fees Structure
The fee of the Business Analyst course varies between 2 lacs to 25 lacs. However, it depends on the type of course, duration, and reputation of the college. However, the fee structure in government and government-aided colleges are lesser than private institutions.
Do Find
Business Analyst Course Syllabus PDF
The details Business Analyst Course Subjects are listed here:
| | |
| --- | --- |
| SEMESTER I | SEMESTER II |
| Quantitative Methods | Financial Management |
| Managerial Economics | Operations Management |
| Management Information Systems | Human Resource Management |
| Financial Accounting | Financial Analytics |
| Marketing Management | Optimization Analytics |
| Organizational Behaviour | Stochastic Modeling |
| Statistical Analysis | Business Intelligence |
| Data Modelling | Research Methods |
|  Managerial Communication | Computational Methods |
| SEMESTER III | SEMESTER IV |
| Predictive Analytics | Strategic Management |
| Risk Management | Operations & Supply Chain Analytics |
| Marketing Analysis | HR Analytics |
| Data Mining | Big Data Analytics |
| Simulation Modeling | Ethical & Legal Aspects of Analytics |
| Analytics, Systems Analysis & Design | Project Management |
| Industry Internship Programme | Professional Development |
|  Analytics Capstone Project | Elective Paper |
List of Institutes Offering Business Analyst Course
There is a various number of institutions offering Business Analyst course. Some of the institutions are listed below :
IIM Calcutta, IIT Kharagpur, ISI Kolkata
IIM Bangalore
Lovely Professional University
Indian School of Business, Hyderabad
SDA Bocconi, Mumbai
Symbiosis Institute for Management and Human Resource Development
Aegis School of Business and Telecommunication (ASBT), Bangalore
Galgotias University, Noida
ISBR Business School, Bangalore
SP Jain Institute of Management and Research, Mumbai
Business Analyst Course Admission Procedure
Most institutions offer MBA/PGDM course on Business Analyst. So, it is a two-year full-time program. Most institutions take standard entrance exams for all kinds of MBA programs such as CAT, XAT, CMAT, MAT, GMAT, SNAP, etc. However, some institutions also offer one year Executive MBA program for working professionals. Some institutions give admission based on merit obtained in graduation or through personal interviews. Do Check Business Analytics Courses Details in India.
Business Analyst Course Duration
The duration of the Business Analyst course is generally of two years if it is a management program. However, Executive MBA or certification courses are for one year. Most of the institutes offer full-time management course on Business Analyst.
Career Prospect of Business Analysts Courses After 12th
Data is now the key to attraction to all the organizations globally. Data can help companies build strategy, spend less, and get success. With data arises the need of professionals who can manage data well and analyze it to get insights. Business Analyst is one of the trending careers expected to have rapid growth soon. There is still a lack of Business Analysts according to the demand. Some of the job positions for Business Analyst professionals are mentioned below:
IT Business Analyst
Data Business Analyst
Financial Analyst
Data Scientist
Candidates who pursue Data Scientist Course Details and Financial Analyst Course can get more job offers easily.
Salary Offered to Business Analysts
After completing the proper certification or management course in Business Analysis, one can earn between 4 lacs to 8 lacs per annum. Experienced professionals can earn up to 25 lacs per annum. However, the salary structure depends on the location and reputation of the company.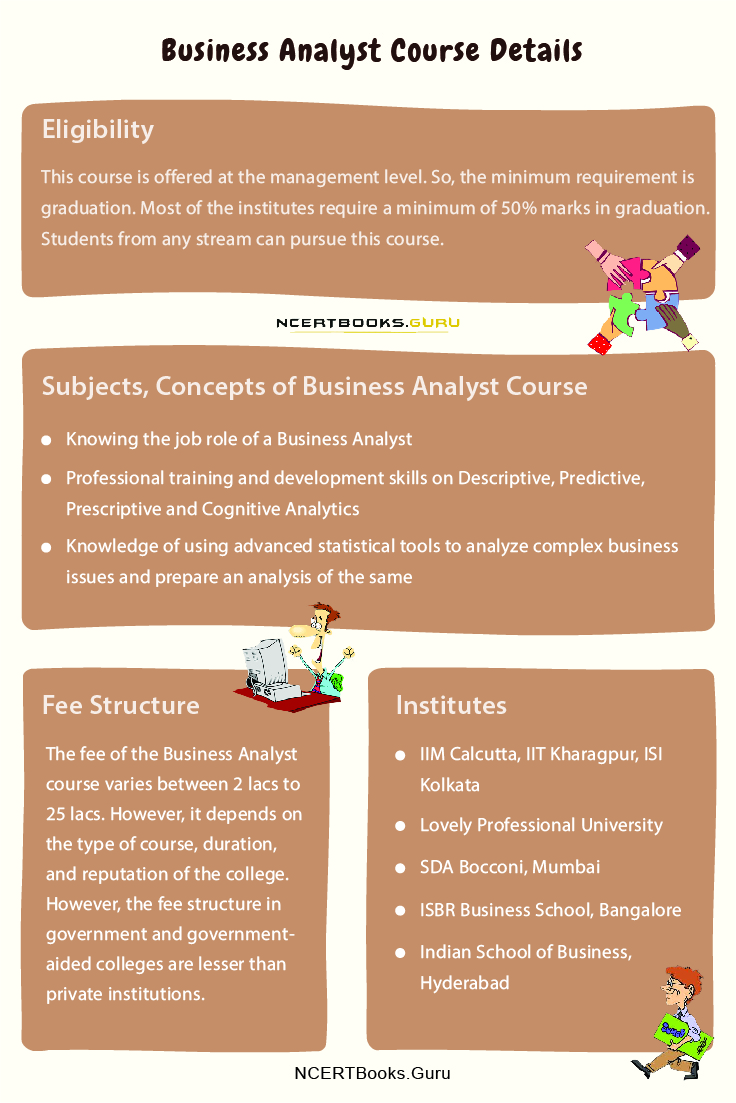 Top Recruiters of Business Analysts
Nowadays, every business is looking out for business analysts to gain insights into their existing or future problems. Business Analysts can help businesses decide to plan and strategy for future problems. Some of the companies that hire for Business Analysts are given below :
| | |
| --- | --- |
| Mu Sigma | Gramener |
| Accenture Analytics | Convergys |
| Fractal Analytics | Cartesian Consulting |
| Crayon Data | Tiger Analytics |
| LatentView | Bridgei2i |
| AbsoluteData | Hansa Cequity |
| Global Analytics | Exl Analytics |
| Manthan | Brillio |
FAQs on Business Analyst Course
Question 1.
Can someone from Arts background do Business Analyst course?
Answer:
Yes, candidates from any stream can do Business Analyst course. This course doesn't need you to know codes. However, having some knowledge of mathematics and statistics can be an added advantage.
Question 2.
Is a Business Analyst a stressful job?
Answer:
Stress is a mental condition that can happen in any profession. Mainly people don't have an interest in their job, feel stressed. If you are interested in problem-solving and data crunching, this job will hopefully not stress.
Question 3.
Is there a demand for Business Analysts?
Answer:
There is an enormous demand for Business Analysts worldwide. Many organizations offer six-figure salary packages to Business Analysts. The need for Business Analysts will increase more by 2022.
Question 4.
How many Business Analysts earn?
Answer:
Fresher Business Analysts can earn between 4 lacs to 8 lacs per annum. Experienced professionals can earn up to 25 lacs per annum. However, the salary structure depends on the location and reputation of the company.
Summary of Business Analyst Course Details
Business Analyst is a trending career-oriented course offered by different institutions in India. Many working professionals are also doing this course to earn a handsome salary package. If anyone has the zeal for solving business problems and essential analytical skills, s/he can opt for a Business Analyst course. Hopefully, the details provided above on the Business Analyst course have helped you to get a basic idea of the course. If you have queries regarding the Business Analyst course, please let us know in the comments section.