Banking Courses Online: Do you wish to build your career in the banking sector? If yes, then this article will be very helpful to you. This article covers topics such as- list of courses, eligibility, and many more. However, you can attend traditional schools or can take online banking courses from the best institutions.
Traditional colleges offer basic concepts in banking courses, whereas online banking institutions offer main banking concepts with assessments. It is because it makes the students get an understanding of the banking sector. Online banking courses include some practice exams and certificates for the people who have passed the exam.
Banking Courses in India
Banking in today's generation is one of the important sectors that deal with bank credits, cash and other transactions. However, the banking courses details help anyone in understanding the management of money. Moreover, banking courses will include an overview of both the national and international banking systems. It offers instruction on financial theory and government regulations. Check out some of the basic concepts in banking courses:
Loans and Investment
Ecommerce
Financial Statement Analysis
Auditing
Commercial and Consumer Lending
National and International Monetary Institutions
Bachelor of Commerce (B.Com)
Bachelor of Economics
Banking and Finance (B.Com)
Banking (B.Com)
Banking and Insurance (B.Com)
Banking and Taxation (B.Com)
BBA in Banking and Finance
BBA in Banking and Insurance Course
BA (Banking)
BBA + MBA (Integrated Course)
B.Sc. in Banking and Finance
Banking Courses After Graduation
Master of Commerce (M.Com)
Master of Economics
M.Com in Banking and Finance
M.Com in Banking
M.Com in Banking and Insurance
M.Com in Banking and Taxation
MBA in Banking and Finance
MBA in Banking and Insurance
MA in Banking
Advanced Diploma Course in Banking Services
Advanced Diploma in Banking and Finance
Diploma in Banking and Finance
Diploma in Banking and Insurance
Diploma in Banking and Insurance Management
Advanced Diploma in Urban Co-operative Banking
Diploma in Banking Laws
Diploma in Banking Management
Diploma in Home Loan Advising
Diploma in Banking Services
Post Graduate Diploma in Bank Management
Post Graduate Diploma in Banking
Post Graduate Diploma in Banking and Financial Management
Post Graduate Diploma in Banking Operations
Post Graduate Diploma in Development and Investment Banking
Post Graduate Diploma in Islamic Banking and Finance
Post Graduate Diploma in Retail Banking
Post Graduate Diploma in Branch Banking
Post Graduate Diploma in Banking and Finance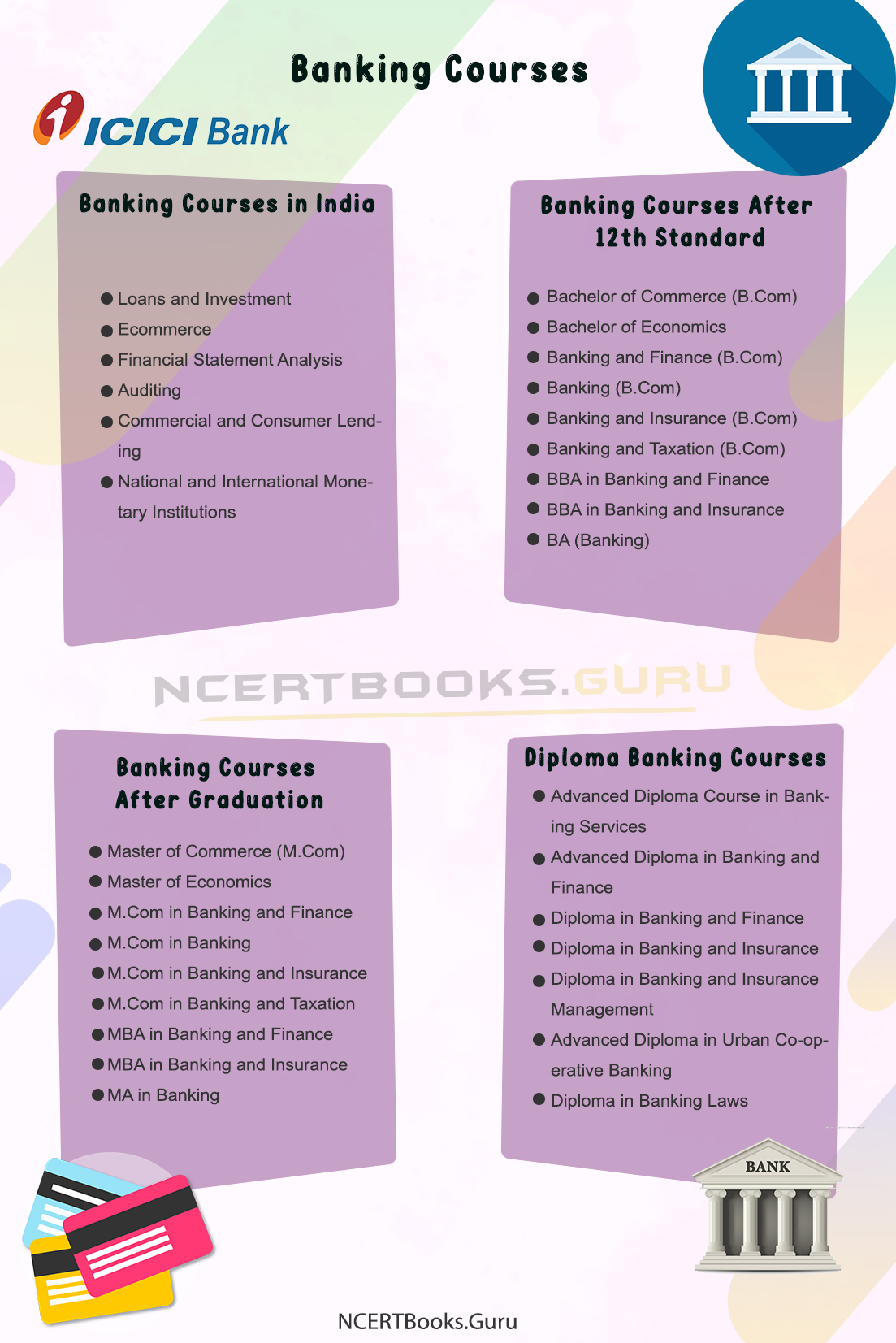 Other Banking Courses
Certificate Banking Courses
Certificate Course in Banking
Certificate Course in Telebanking
Certificate Course in Banking Management
Post Graduate Certificate in Investment Banking
Certificate Course in Patent Search and/ or Drafting
Professional Programme in Commercial Banking
Advanced Certificate in Banking Laws and Loan Management
Certified Information Systems Auditor
Certified Bank Manager Programme
Certified Information Systems Security Professional
Certified Information Security Manager
Financial Risk Management Certification
Certified Ethical Hacker
Professional Risk Management Certification
Banking Courses Eligibility Criteria
MBA and PGDM Courses
Candidates need to secure at least 60 percent marks in graduation.
Admissions to MBA and PGDM courses are made on the basis of entrance exams such as ICET, CAT, MAT.
Candidates who clear the above examinations are then called for the group discussions and interviews for their skill check and personality assessment.
Short-Term PG Courses
Candidates must have secured at least 50 percent marks to apply for these banking courses
Admissions will be done on the basis of aptitude tests that are conducted by the respective institute and personal interviews.
Certificate Programmes
The requirement for these certificate banking programs is degree level. Also, some of the colleges and institutions may ask for a minimum aggregate of 50 percent
Selecting the candidates will be done on the basis of personal interview.
Bank PO Exams
Candidates need to apply for banking PO exams if they have graduation degree with an aggregate of 60 per cent
Candidates who have cleared both the stages that are Prelims and Mains, of the PO exams are selected for the group discussion and personal interview.
Candidates who have passed personal interviews are trained for bank jobs for at least six months and are then given jobs in various banks.
Also, Refer:
Banking Exam Syllabus
Popular Banking Subjects
| | | |
| --- | --- | --- |
| Banking Laws | Foreign Exchange | Management of Financial Services |
| Commercial Bank Management | Business Policy & Strategic Management | International Banking & Finance |
| Financial Markets in India | Principles of Finance | Modern Banking Theory |
| Marketing of Financial Services | Direct & Indirect Taxes | Economics of Global Trade & Finance |
Find Bank Exam Books that are helpful to clear the Bank Exams.
Factors to Consider Before Choosing a Banking Course
Price: Price is one of the important factors to consider when choosing a banking course. Actually, online banking courses are affordable when compared to regular and traditional banking courses. Some of the online banking institutions provide free courses for the basic concepts and then charge a price for the main banking concepts.
Moreover, the institution offers study materials, video lessons, exams, and assignments. One of the best things about online banking courses is that students will be given a certificate of completion at the end of the course.
Instructor's Level of Knowledge: The level of knowledge of the instructors is one of the important factors to consider before choosing the banking course. In online banking courses, instructors have accomplished industry leaders that are affiliated with reputed institutions.
However, it is important to check the instructor's profile which includes skills, qualification, knowledge and many more. Also, you can check out their reputation on the platform. Some of the online institutions will offer some information about the banking course such as the number of students enrolled in the course, the instructor's ratings and the reviews of the already enrolled students, which will be helpful to know the knowledge of the instructor.
Skills: Before enrolling in a specific banking course, consider the skills and knowledge that you will learn on the platform. Therefore, it can impact on your knowledge and can lead to success in the banking course. Some courses focus on the main concepts in banking such as mergers and acquisitions, portfolio management, commercial lending, etc which makes it easier to focus on the skills. Check whether the platform is covering the main concepts that are high in demand in the banking field.
FAQ's on Banking Courses
Question 1.
What are the skills needed for banking jobs?
Answer:
Some of the important skills that are needed are:
Good customer handling skills
Selling skills
Good presentation skills
Teamwork and leadership
Good communication skils
Technical skills
Organization and time management
Numerical ability
Question 2.
What are the phases of bank exams in India?
Answer:
There are three stages in a banking exam. They are:
Prelims (Quantitative Aptitude, Reasoning and English)
Mains (Computer and Reasoning, English, Banking Awareness/ Economic/ General Knowledge, Data Analysis and Interpretation)
Final Interview
Question 3.
Which course is the best for banking after Intermediate?
Answer:
Courses after intermediate for banking jobs are:
B.Com
Bachelor of Economics
CA
CMA
Bachelor of Finance and Accounting