CS Course Details: Candidates seeking lucrative jobs in the corporate world can have a great start with this Company Secretary Course. Here in this article, you will have full information about the CS Course like Fee, Eligibility, Course Duration, Syllabus, and Job Prospects, etc. Turn out into a skilled professional by undergoing this CS Course.
About CS Course
CS Course in the commerce domain is one of the most popular choices amongst commerce students. However, students of all fields can apply to this course. Institute of Company Secretaries of India offers Company Secretary Course. It is a distance learning course that began to regulate the Company Secretary Profession. Also, check Professional Courses in India.
With the right mix of practical training and academic programme, the CS Course opens ample opportunities in the corporate sector. Candidates have to undergo different programmes as a part of this course and they are as such
Foundation Programme
Executive Programme
Professional Programme
Course 
CS
Full form
Company Secretary
Eligibility
Foundation Programme (10+2 pass or equivalent)
Executive Programme (Graduation)
Professional Programme (Executive Programme)
Duration
Foundation Programme (8 Months)
Executive Programme (9 months)
Professional Programme (10Months)
Fee Offered
Foundation Programme= Rs. 3,600
Executive Programme= RS. 7000
Professional Programme= Rs. 12000
Course Type
Certification
Starting salary offered
3 – 5 Lakhs
Similar Course
CA, CMA
Employment opportunities
Assistance to the Board of Directors, Legal Advisor, Corporate Policymaker, Principal Secretary
Eligibility for CS Course
Candidates applying for Company Secretary Course after 10+2(Arts, Science, Commerce) should register for the Foundation Programme. However, Candidates applying for CS courses after graduation(all streams except fine arts) can directly join the Executive Programme and continue with the Professional Programme after completion. Furthermore, candidates failing to clear the foundation programme and executive programme after 10 +2 or executive programme after graduation are not eligible for Professional Programme.
Company Secretary Requirements
One needs to be dedicated and hardworking.
Should have intensive knowledge of accounting, auditing or financial analysis, legal aspects of taxation, etc.
Need to work hard with commitment and honesty.
Should have the agility of mind and adaptability to follow difficult time schedules.
Special kind of knowledge and training needs to be achieved by undergoing course by ICSI.
Company Secretary Skillset
Skillset for Company Secretary Aspirant
Strong communication skills
Expertise in Company Law
Time management & multitasking
 
Command over written and spoken English
Competent with numbers
Meticulous planner
CS Course Fees Structure
Course Fee for each Programme is different and they are as follows
Foundation Programme:
Admission Fee is Rs. 1200
 Tuition Fee is Rs. 2400
Total Fees for CS Foundation Programme is Rs.3600
Executive Programme:
Registration Fee is Rs. 1500
Foundation Examination Exemption Fee is Rs. 500
Tuition Fee is Rs. 5000
Total Fees for CS Executive Programme is RS. 7000
Professional Programme:
Registration Fee is Rs. 1500
Exemption from Foundation Examination Fee = Rs. 500
Exemption from the Executive Programme Examination Fee is Rs. 500
Tuition Fee is Rs. 9500
Total Fees for CS Professional Programme is 12000
Examination Form Fee for all 3 Programmes is as such
Foundation Programme is Rs. 875
Executive Programme Per Module is Rs. 900
Professional Programme Per Module is Rs. 750
Company Secretary Entrance Exams
ICSI's CS Programme is Open all throughout the year and exams will be held twice a year i.e. in June and December. Apply as per your choice of the Exam month.
If you wish to appear for Foundation Programme Exam in December(Same year) enroll on or before 31st March. Enroll before September 30 if you are willing to appear for the exam in June (Next Year).
Those who wish to join Company Secretary from Executive Programme level must get themselves enrolled by February 28th to appear in both modules in the December exam in the same year, or by August 31 for appearing in both modules in the June exam next year.
In case one wants to appear in a single module in June Examination in the next year, they must enroll themselves in the Executive Programme before November 30.
A candidate is declared to have passed the Foundation / Executive / Professional Examination if he/she secures at least a minimum of 40% marks in each paper and 50% marks in the aggregate of all subjects.
Also, Read
CS Course Duration
CS Foundation Course Duration is around 8 months and when it comes to CS Executive Course the duration is of 9 months. However, CS Professional course duration is for 10 months.
The course should be completed within a span of 3 years from the period of admission.
Training for CS Course
| | |
| --- | --- |
| Type of Training | Duration |
| Student Induction Programme (SIP) | 7 days |
| Compulsory computer training program | 70 hours |
| Executive Development Programme (EDP) | 8 days |
| Professional Development Programme (PDP) | 25 hours |
| Management or Professional Training | 15 months |
| Practical Training | 3 months |
| Specialized Agency Training | 15 days |
| Management Skills Orientation Programme (MSOP) | 15 days |
Company Secretary Course Syllabus, Modules and Outline
The detailed subject wise CS Course Syllabus information is included here.
Foundation Programme 
Foundation Programme is divided into 4 Papers and they are as such
English and Business Communication
Financial Accounting
Economics and Statistics
Elements of Business Laws and Management
Executive Programme
Executive Programme is split into 2 Modules and Module 1 constitutes of 4 Papers whereas 2nd Module has 3 Papers.
Module 1:
Company Accounts, Cost and Management
General and Commercial Laws
Tax Laws
Accounting
Module 2:
Company Law
Securities Laws and Compliances
Economic and Labour Laws
Professional Programme
Professional Programme is split into 3 Modules and Papers that fall under each of the modules is listed below. Refer to them and have an idea.
Module 1:
Governance, Risk Management, Compliance & Ethics
Advanced Tax Laws
Drafting, Appearances and Pleadings
Module 2:
Secretarial Audit
Corporate Restructuring
Resolution of Corporate Disputes
Module 3:
Corporate Funding & Listings in Stock Exchanges
Multidisciplinary Case Studies
Elective out of the 8 given below
Banking Law & Practice
Insurance Law & Practice
Intellectual Property Rights-Laws and Practices
Forensic Audit
Direct Tax Law & Practice
Labour Laws & Practice
Valuation & Business Modelling
Insolvency – Law & Practice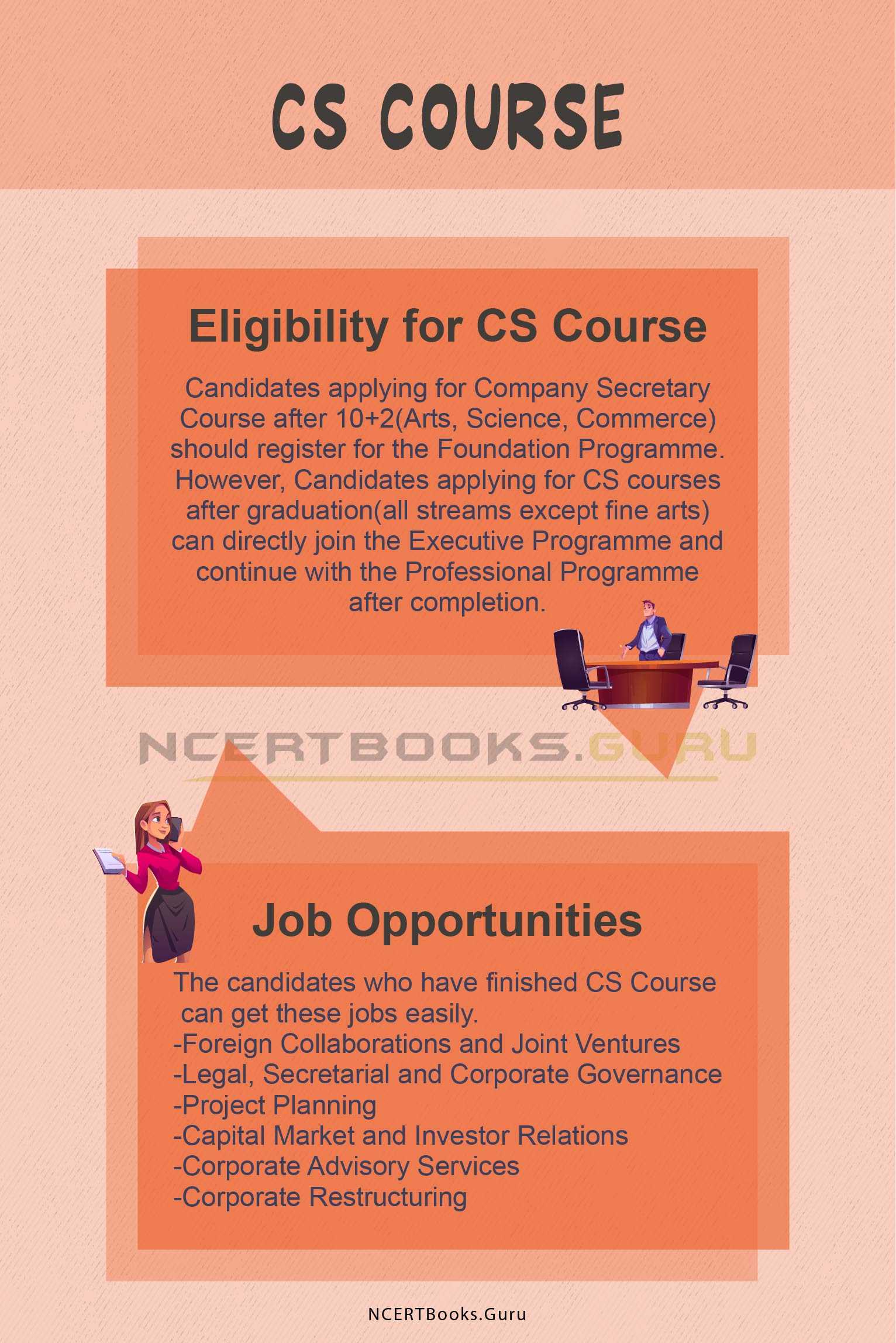 Job Opportunities
It is easy to convert into CS by checking How to Become a Company Secretary CS in India? The candidates who have finished CS Course can get these jobs easily.
Foreign Collaborations and Joint Ventures
Legal, Secretarial and Corporate Governance
Project Planning
Capital Market and Investor Relations
Corporate Advisory Services
Corporate Restructuring
Career Options
Manager
Assistant Manager
Bank and building societies
Employer's cooperatives
Housing Associations
Insurance companies
Investment sectors
Trade bodies
Salary Offered to CS Certificate Holder
Freshers can earn salaries around 28K – 40K in the initial stages. With growing experience, your salary will increase based on your skillset and talent.
FAQs on CS Course
1. Is CS a Good Career Option?
Yes, CS is definitely a good career option for the long term.
CS is a 3 Year Professional Course equivalent to UG degree and is divided into 3 levels namely Foundation, Executive, Professional.
CS Foundation Course is of 8 months and CS Executive Course is for 9 months. However, CS Professional course duration is 10 months.
If you study hard then it is not difficult to crack the exam. Everything in life is hard based on your efforts, passion for study.
Yes, you can pursue CS along with B.Com through distance learning but you need to put more efforts.
6. What is the fees of CS Course?
CS Course Fees varies from one level to another level and you can check out the fee from this page.
7. How many years is Company Secretary Course?
The Course is for 3 years.
Conclusion
We wish the knowledge shared above regarding CS Course Details like Fee, Duration, Eligibility & Requirements is helpful. Hope, you have cleared your doubts regarding the Company Secretary Course by referring to this article. For any further assistance do drop us a comment and we will be of your help within a short notice.