List of Professional Courses in India: India has many professional courses for students with diverse needs. These courses enable the students to pursue top-ranked jobs across the world, thus giving their careers an edge. These professional or vocational courses are beneficial to grab the desired post the students long for their future.
To pursue these professional courses in India, the candidate has to pass an entrance exam in general. There are also other eligibility criteria that a student must undergo in order to be eligible for the admission procedure of the desired professional course in India.
Most of these professional courses can be pursued after successfully passing the 10th and 12th standards in different streams. Here, we are discussing the number of professional courses available in India, how to select a professional course and prepare for it.
Get to Know More about other types of Course Details in Streamwise, and Category wise
How to Choose The Best Professional Course in India?
A student can easily search the web for choosing the best professional course in India as per their interests. The following are the steps to find and select the best professional courses in India for a bright and successful future.
List your Interests And Preferences: In order to pursue any course, it is necessary to first understand your interest and passion. There are many professional courses available in India such as engineering to management; the choice solely depends on the interest of the student. One can take the decision on the basis of factors such as family background, subjects preferred, hobbies and desired job.
Research on the Basis On Your List: Once you have your list ready, it is extremely important to look for other factors on the internet. These include courses available related to the specific course, colleges in India offering the course, duration, fees, scope and eligibility of the course.
Shortlist the Courses: Once your research is done, streamline it to the courses that will suit you the best. For instance, if you are interested in hospitality, your options are event management courses, hotel management courses, wedding planning, travel management, etc. Shortlist the ones you feel will be beneficial to you.
Book a Consultation Session: Now that you have a hint of what you want to pursue ahead, talk to an educational consultant to explore your options and how to pursue them. For help in understanding the admission and enrollment procedure, the consultant will advise you to prepare for certain examinations.
Start Prepping Up: Once all the above-mentioned procedures are fulfilled, it is time to start preparing yourself for admission. Visit the college websites, track the admission dates and start studying entrance examinations if any.
Professional Courses Admission Procedure
Most of the colleges have their own admission procedure for each student to enrol in a specific professional course. Generally, a student must have passed 10th or 12th standard with a minimum or 45 to 50% to be eligible for the entrance examination. One must visit the college or university website or go through the brochure for a better understanding.
Also, Check
List of Professional Courses in India
There are a vast number of top professional courses in India that can be pursued by different streams. The students with diverse interests and pick the course that they prefer from the list given below.
Master of Business Administration
Medicine
Mass communication
Engineering
Fashion Designing
Chartered accountant
Civil services
Accounts & Finance
Law
Hotel management
Computer application
Professional photography
Interior Designing
Nursing
Baking and confectionery
Travel and tourism
Animation
Advertising
Creative writing
Digital marketing
Web Designing
List of Professional Degree Course in India
Apart from the above mentioned professional courses, one can also pursue a professional degree course. The professional degree courses are longer and tougher than professional diplomas or certifications. However, the scope of job and career are abundant once a student completes the degree course.
Management MBA/BBA
Engineering B.Tech and B.Arch, M.Tech, ME, BE
Arts – psychology, history, sociology
Computer Application-BCA/MCA
Fine arts – B.F.A
Education- B.Ed, M.Ed
Designing – Fashion/Interior/Web
Mass-communication/Journalism BJMC
Pharmacy – B.Pharma, M.Pharma
Hospitality – Hotel Management
Medical-BDS and MBBS
Nursing – B.Sc. M.Sc.
Dental- BDS
Finance – B.Com/CA/CFA/ CS
Architecture – B.Arch
The professional degree, diploma and certificate courses need certain preparation to pass the entrance examination. The scope and job profiles range from government organizations to private organizations. The individual can also become an entrepreneur or freelancer after pursuing these courses.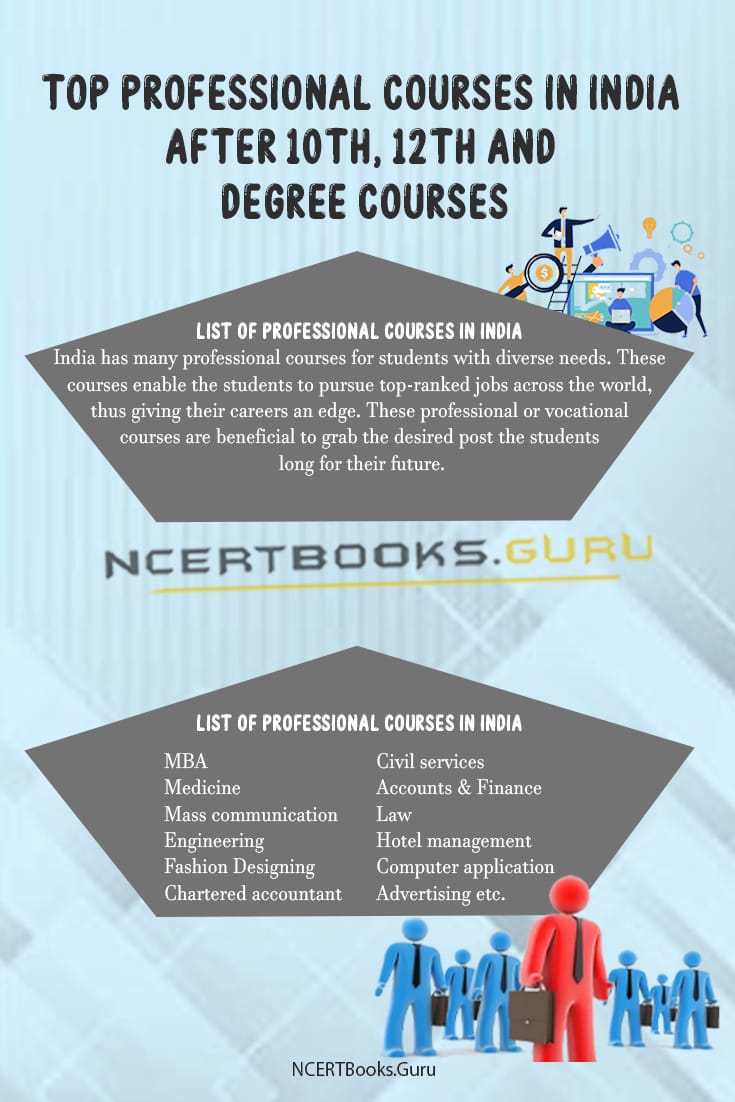 FAQ's on List of Professional Courses in India
Question 1.
How to choose a professional course?
Answer:
To select a professional course, a student should list down his or her interests, research about the topics, talk to a consultant and start tracking the college information.
Question 2.
What is the duration of professional courses?
Answer:
Professional diplomas and courses can last from 1 month to up to 6 months of duration with additional industry exposure.
Question 3.
What is the duration of the professional degree course?
Answer:
Professional degree courses last up to 3 to 5 years of duration including industry exposure, internship and placement opportunities.
Question 4.
What are the eligibility criteria for professional courses?
Answer:
A student needs to pass the 10th or 12th standard with a minimum or 40 to 50% to be considered eligible for any professional courses. Other factors vary depending on the college and course.