Banking Courses after B.Com: Banking is one of the sectors that is never run out of employment opportunities as there is a constant need for the recruitment of candidates who understand the financial process and the innovative ways to run a bank. This is one of the reasons why pursuing banking courses after graduation has become popular culture.
Candidates from various fields including commerce, business, arts and engineering seek bank courses after graduation to enhance their career prospects. There are many banking courses post-graduation, and popular banks themselves give few of them. Masters in business administration colleges offer other courses.
Get to Know More about other types of Course Details Streamwise, and Category wise.
If you want to pursue bank courses after graduation, another way is to prepare for Bank PO examinations. Most government banks hire students through IBPS PO, whereas, SBI and its associate banks recruit candidates through the SBI PO Exam. Find out more about banking courses after graduation below:
Why a Career in Banking?
The benefits of working in this Banking industry are:
Competitive salaries and excellent benefits
Wide range of jobs and experiences in a thriving industry
Numerous opportunities for advancement for ambitious professionals
Continuing education and community service is highly encouraged
Excellent working conditions and hours
While you may be most familiar with the tellers and customer service representatives at your financial institution, many other employees work in key areas of a bank. For example:
Bank Administration/Accounting: They handle the bank's internal operations or matter, sets policies and provides oversight
Consumer Banking: they deliver/give financial services to individual customers of the bank.
Commercial Banking: they deliver financial services to businesses, schools, colleges, churches and other organizations
Compliance: provides strategic direction, ensures bank abides by industry laws and regulations
Human Resources: they manage employee placement, salaries, working conditions, benefits and training
Operations/Accounting: they give record keeping, bookkeeping and financial analysis to the employees or customers as per the rule and need
Technology/Information Systems/Security: ensures availability of information, maintains computer systems and software and protects data
Public Relations/Marketing: promotes the bank's products and services, coordinates advertising, and improves relationships with the community and media
Trust and Investment Banking: manages money or property for others
Also, Find
List of Banking Courses after Graduation
You can find below a list of banking courses that you can pursue after completing your graduation.
MBA in Banking and Finance: It is a Master's Degree. The duration of the course is two years.
M.Com in Banking and Finance: It is a Master's Degree. The duration of the course is two years.
M.Voc in Banking, Stocks and Insurance: It is a Master's Degree. The duration of the course is two years.
PGDM in Banking Management: It is a PG Diploma Course. The duration of the course is two years.
PGDM in Banking & Financial Services: It is a PG Diploma Course. The duration of the course is two years.
Short-term Post Graduate Diploma in Retail Banking (PGDRB): It is a PG Diploma Course. It is for three months of classwork.
Short-term Post Graduate Diploma in Banking Operations: It is a PG Diploma Course. It is three months of classwork/internship.
Short-term Post Graduate Diploma in Banking: It is a PG Diploma Course. It is three months of classwork/internship.
Professional Programme in Commercial Banking (PPCB): It is an advanced Certificate Course. The duration of the course is two months.
Advanced Certificate in Banking Laws and Loan Management: It is an advanced Certificate Course. The duration of the course is three months.
Eligibility Criteria for Banking Courses after B.Com
From Diploma to Certificate to fully-fledged Master Degree courses, you can find a plethora of banking courses after graduation. Since there is so much variation in the courses offered, pinning down similar criteria for all the different levels would not be good. So we have given below the eligibility criteria for different types of banking courses that you can pursue after graduation.
Eligibility Criteria for MBA and 2-year PGDM Banking Courses:
To apply for these programmes, you need to secure at least 60% marks or above in graduation along with a good academic record.
Admission to MBA, PGDM and PGPM courses are done based on management entrance exams such as CAT, XAT, MAT etc.
Candidates who clear the above exams are then called for group exercises LIKE Written Ability Test or Group Discussions and personal interview for their personality assessment and skill check.
Eligibility Criteria for Short-term PG Diploma Banking Courses:
You must have got a minimum of 50% marks to pursue these courses.
Admissions are done based on aptitude tests conducted by the respective institute and personal interviews.
Eligibility criteria for Certificate Banking Programmes:
The minimum requirement for these programmes is a graduation degree. However, some colleges may ask for a minimum aggregate of 50% in the 10th and 12th board exams.
Selection is done based on activities like personal interview, group discussions etc. Few institutes also select students based on entrance tests.
Recruitment in Banking Job
To get a job in a reputed bank, one needs to crack certain competitive exams.
Based on these exams, candidates are selected at different positions.
From Bank PO to Clerk to Specialist Officer, several reputed banks conduct their examinations.
The eligibility criteria or these different exams vary.
Most of the Banking exams are conducted in two stages: Prelims and Mains.
Candidates selected after both of these stages are then called for group discussion and personal interview rounds.
After being shortlisted, candidates are trained for their jobs for about three months to one year.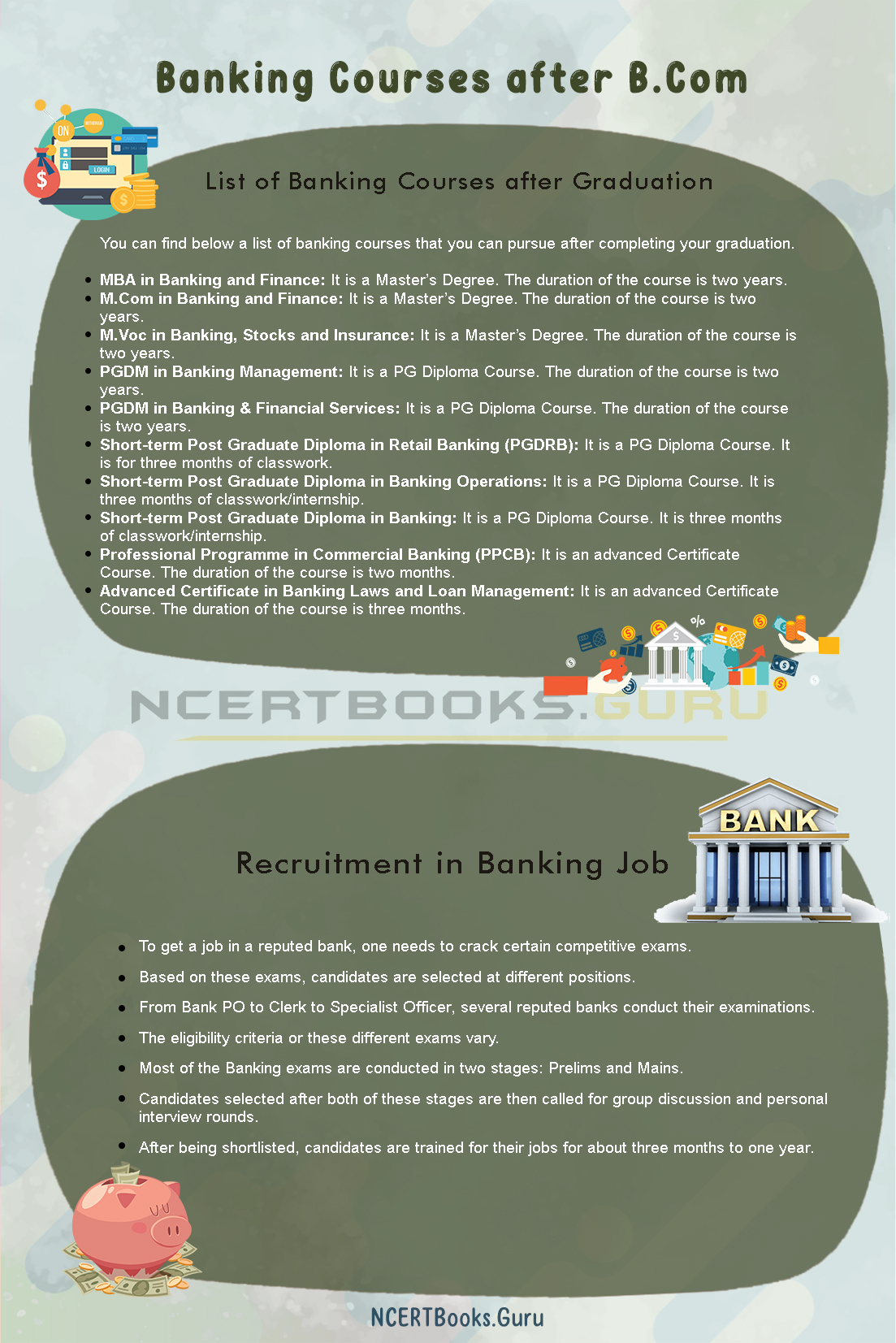 Banking Exams
Here is a list of Banking Exams that will help you.
IBPS PO Exam
RBI Grade B Examination
SBI PO Exam
SBI Clerk Exam
IBPS Clerk Exam
IBPS SO Exam
Candidates have to refer Bank Exam Books PDF to get qualified in the Banking Exams.
Banking Courses after B.Com Jobs, Salary
Salary options after pursuing MBA or 2-year PGDM courses are very bright as these are globally recognized courses. Fresh graduates can expect salary packages between Rs. 5 lakh to Rs. 12 lakh per annum depending on the skills of the individuals.
The salaries rolled out for Bank POs are also quite high. A bank PO can expect a starting salary package varying from Rs. 3.6 lakh to Rs. 4 lakh per annum. Banks like SBI may also offer salaries up to Rs. 5 lakh per annum.
The certificate and short-term diploma courses also offer good job opportunities if combined with well-paid internships. Candidates who pursue these courses along with internships can get packages varying from Rs. 2.5 lakh to Rs. 3.5 lakh per annum.
The various jobs opportunities after bank courses are listed here:
PO
Clerk
Bank Manager
Accountant
Specialist Offer
Skillset Required for Banking Courses after B.Com
The top skills needed for banking and insurance courses are here:
Problem Solving and Analytical Skills: Whether you work on any post in any bank, the above skills are the most important to you. Almost all the activities of the banking sector depend on numbers and calculations. So you have to be confident about numbers, mastery of basic calculations, calculating margins and percentage and should be analyzed. You should be proficient in Multiplications, Fastest Basic Calculations and Fractions, Ratios. Recruiters of the banking sector see how good you are with numbers, how to analyze the information, how to solve problems, and how to get the best case related to your job profile?
Communication Skills: Now, because the officers and employees of the bank have to deal with transactions and performances daily and every kind of person in every bank – techno-friendly or unaware of modern techniques rich-poor educated or illiterate, etc. – Come on, so all the bank employees should have good communication skills.
Time Management and Multi-Tasking Skills: Every bank often has a lot of customers at a time, which have to deal with money or other money-related work. Hence time management and multi-tasking skills are very important for every bank job profile so that every time the bank completes its work.
Leadership: A special reason for this is that, sometimes, if you need to, you have to make reasonable decisions about your duties as a leader. As you will be promoted to seniors posts in banks, you need to know how to guide your team.
Positive Attitude towards Customers: Sometimes customers can get agitated because of some query because you are related to their money and thus you have to keep calm and solve their problem with utmost sincerity. Sometimes things can go topsy-turvy, and you need to keep a positive attitude towards everything, and you have to solve it on your own.
Candidate Outlook
Every bank's success is due in large part to the dedication and skill of its people. Working in any aspect of banking can be very rewarding and fulfilling. It can also provide interesting new challenges every single day.
There will always be a need for banks to hire and train talented, motivated, resourceful and customer-oriented people. Your success will depend on your commitment to the bank, your aptitude for developing knowledge and skills, your positive attitude, and your ability to work well with others and adapt to change.
After completing any of the banking as mentioned above courses, graduates may appear for the relevant entrance exam and land a bank job! Some of the prime recruiters are:
SBI
Bank of India
Indian Bank
Canara Bank
Dena Bank
RBI
Kotak Mahindra Bank
ICICI Bank
HDFC Bank
Central Bank of India
Finance Firms
Bank of Baroda
Investment Banking firms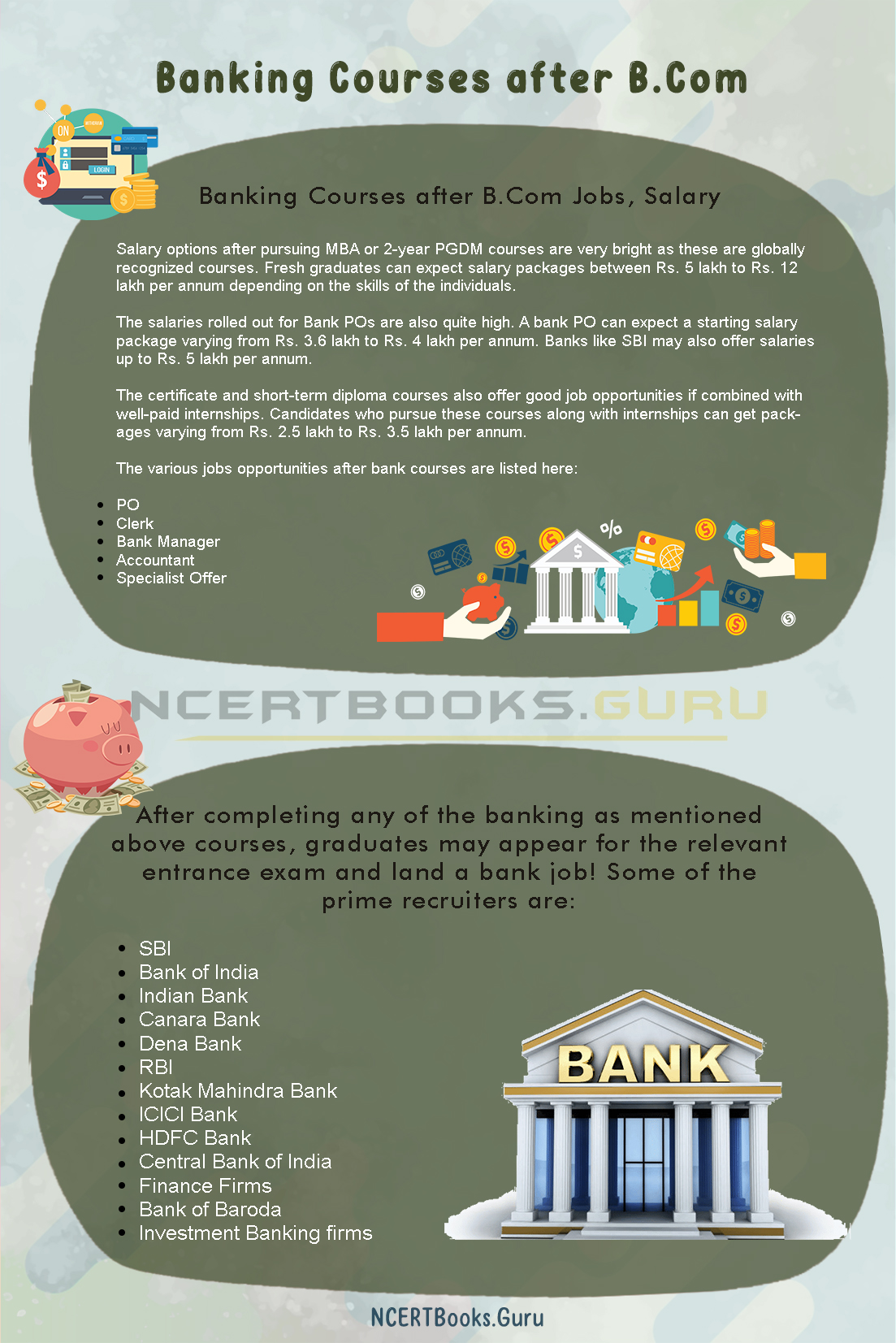 FAQ's on Banking courses after B.Com
Question 1.
Can I switch from one bank to another bank post during my job?
Answer:
Yes, with prior notice to your current employer as per their conditions, you can join the other bank.
Question 2.
Can I get hired by Investment Banks after working in retail banking?
Answer:
Yes, after completing courses like CFA, you can join Investment banks.
Question 3.
Is corporate banking better or retail banking from the job perspective?
Answer:
Both have their challenges, pros or cons. It will depend on you to handle the situation.
Conclusion on Banking Courses After B.Com
In a nutshell, banking is one of the most popular jobs seeking career choices among students. It is an entry into a well-paid, secure and status career.
Job opportunities in banking are coming up mainly for bank tellers, financial managers, bookkeeping bill and account collectors, and auditing clerks, financial service representatives, etc.
You may work in various departments like account opening, customer service, cash handling, front desk banking officer, assessor, accountant, mortgage loan underwriter, loan manager, product marketing and sales executive, retail asset manager, recovery officer, property appraiser, etc.