Banking Diploma Courses After 12th: A diploma in banking is a one-year diploma course that you can pursue after completing your 10+2. This course trains students in the fields of finance, banking, investment, computer application, insurance, IT, risk management, etc. It deals with all the fundamental aspects of banking. You can pursue a diploma in banking after completing your class 12th or even after your graduation.
We have covered all the points regarding the course details, eligibility criteria, admission process, top colleges, fee, salary, job options, top recruiters, advantages, and disadvantages of doing a banking diploma course so that you can make up your mind regarding the course.
About Banking Diploma Courses in India – Overview
Banking Diploma Course is one of the best courses for banking professionals in India. The duration of the courses is one year for students who enroll in the scores right after class 12th, and less than one year for those who take admission after completing their graduation. The admission is done on the basis of the merit of the student which is followed by an interview in some colleges.
The course can be pursued in a regular manner, online or via correspondence. The fee of a banking diploma course varies according to different colleges but the average fee is about INR 25,000 for the full 1-year course. There are various job opportunities in multiple sectors for diploma holders in banking as they can enter and work in the field of corporate banking, consultancies, auditing departments, etc.
The job profiles for students after completing a banking diploma course are internal auditor, store manager, credit manager, risk manager, financial analyst, etc. The salary that a banking diploma holder can expect is somewhere between INR 2 to 8 LPA.
Why You Should Do a Banking Diploma Course?
If you are someone who is interested in working in fields such as treasury services, credit processing, mortgage sales, customer relations, etc you can definitely opt for a diploma in banking course. This course will comprehensively lead you to the banking field which will deal with the constantly changing finance sector and will provide you with an in-depth knowledge of financial matters.
You can also Polish your banking skills after completing your graduation via a banking diploma course. In this case, you will be enrolling for a post-graduate diploma in banking. When it comes to job opportunities, the rapid growth in the financial sector of the country and worldwide has led to the growth in the job opportunities in this sector. This course will help you develop advanced quantitative skills, techniques, and soft skills which will help you skyrocket your career.
Course Details of Banking Diploma Course
A diploma in banking course has the duration of one year. In this time duration, the course focuses on providing in-depth knowledge in fields such as accounting, finance, banking, etc. The theoretical and practical knowledge will make sure that you have a complete idea about the domestic and international banking fields.
Various case studies are presented which help the students to develop their cognitive skills, Interpersonal, communication skills, and critical thinking skills are also developed which are required to work in the field of banking and finance.
There are different types of diploma courses related to banking such as Diploma in Banking and Finance, Diploma in Accounting and Finance, etc. The banking and finance diploma course is one of the most popular diploma courses for a very long time.
Advantages of doing a Diploma Course in Banking
There are various advantages of doing a diploma course in the banking field since the finance sector of the country is booming. Let's look at the advantages of completing a banking diploma course:
Increasing job opportunities.
In-depth knowledge of the financial sector.
In-depth theoretical knowledge.
Practical applications.
Development of soft skills.
Increased understanding of economic markets and global financial system.
Development of cognitive skills.
Disadvantages of doing a Diploma Course in Banking
Just like every coin has two faces, there are certain disadvantages as well of doing a banking diploma course. Before making any decision let's look at the disadvantages that come with the course:
A bachelor's degree has a higher value than a diploma degree in banking.
It cannot guarantee your placement if you do not work very hard.
The quality of education might be not up to the mark depending upon the college.
There is a lot of competition between various courses of the banking sector.
Eligibility for a Professional Banking Courses in Diploma
Banking Diploma Courses after 12th: A diploma in banking is one of the most popular diploma courses students choose after class 12th. Students must qualify in their class 12th with a minimum of 50-55% marks. The admission is done on a merit basis.
Banking Diploma Courses after graduation: Students can go for a postgraduate banking diploma course after completing their graduation. Eligibility criteria for going for a postgraduate diploma in banking is that the candidate must obtain a minimum of 50% Marks and above from a recognized university.
Do Check:
Admission Process in Banking Diploma Courses
The candidates who want to get admitted to a banking course must fulfill the necessary criteria that is put forward by the college they want to get admitted in. Some students might want to pursue their diploma in banking after class 12th while others might want to do it after graduation. The rules for admission are different for different colleges.
The applicants can fill out the forms of colleges online as well as offline by going to the college.
Some colleges also take interviews before finalizing the admission.
Although the admission is done on a merit basis some colleges prefer taking an entrance test.
Important information regarding admission entrance exams results is displayed on the college websites or through the mail.
Banking Diploma Course Fees
The fee of a diploma course in banking varies from college to college since every college has a different fee structure. However, the average fee is INR 10,000 to INR 40,000 per year.
Top Colleges for Banking Diploma Course Admission in 2022
There are various colleges and institutes all across the country which provide top-quality education in banking Diploma Courses. Here are the top colleges for admission in diploma course in banking in 2022:
NMIMS, Navi Mumbai
Geenway Institute of Management Studies, Dehradun
National Postgraduate College, Lucknow
MIT College of Management, Pune
New Arts, Commerce, and Science College, Ahmednagar
Career paths for a Diploma Course in Banking Student
There are a number of job options and positions available in the finance sector. A student with a diploma degree in banking can go for the following job profiles:
Credit Manager
Risk Manager
Store Manager
Internal Auditor
Financial Analyst
Market Analyst
Administrative Assistant
Loan Officer
Bank Collection Agent
Process Analyst
Bank Manager
Following are places and sectors where candidates can get job opportunities in the above-mentioned roles:
Government Banks
Private Banks
Financial Companies
Financial Consultancy
Insurance Firm
Risk Management Firm
MNCs
PSUs
Government job positions for banking in diploma course graduates:
Chief Financial Officer
Deputy Director
Officer, Regional Rural Banks
Officer, Public Sector Banks
Data Entry Operator
Assistant Manager of Class
Chief Risk Officers
Bank Assistant
Junior Assistant
Clerk Assistant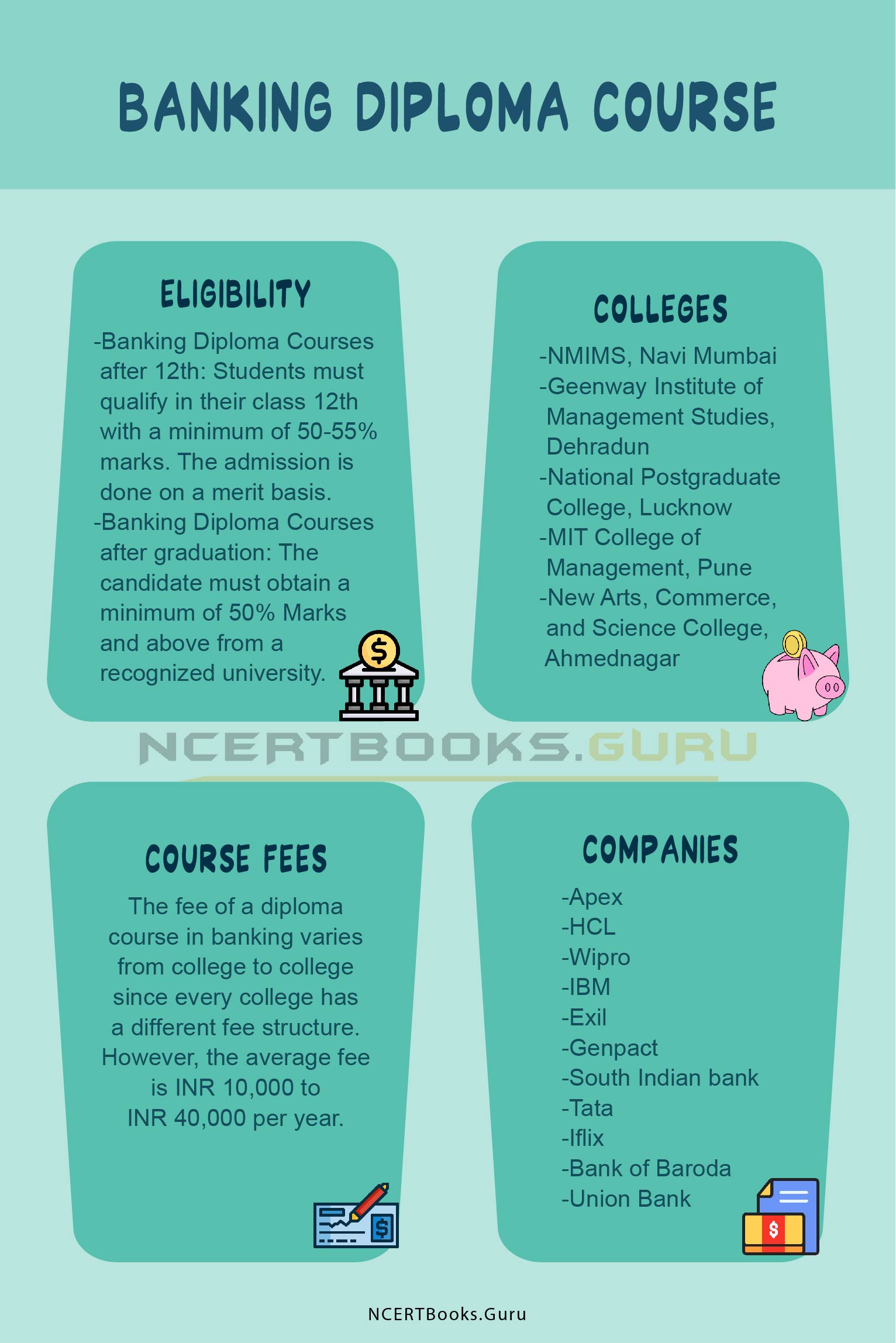 Top Companies that hire Diploma Holders in Banking
Diploma holders in banking can opt for working in the private or government sector and work with great companies. Top recruiting companies for Candidates with a diploma degree in banking are:
Apex
HCL
Wipro
IBM
Exil
Genpact
South Indian bank
Tata
Iflix
Bank of Baroda
Union Bank
Birla Sun Life insurance
TCS, and many more……
Salary after a Diploma in Banking
The salary of a candidate after a banking diploma course may be anywhere between INR 2,00,000 to INR 8,00,000. As a fresher, the average salary for a diploma holder in banking is INR 3,00,000 per annum. The salary keeps on increasing as the experience of an individual keeps on increasing in the field.
FAQ's on Diploma Courses in Banking
1. Can I do a diploma in banking after class 12th?
Yes, a banking diploma course is one of the most popular courses for a diploma after class 12th. You must have completed your class 12th with a minimum of 50% to be eligible for admission in a diploma course in banking.
2. Is a diploma in banking a good career option?
With the rapid growth of the financial sector of the country having knowledge of the banking sector will open up various career paths for an individual. Hence, doing a diploma in banking might be a very good career option for you.
3. What is the fees for a banking diploma course?
The fee for a banking diploma course is between INR 10,000 to INR 40,000 per annum. The fee depends upon the college to which you want to take admission.
4. Can I pursue a diploma in banking through correspondence,
Yes, you can definitely pursue this course in a variety of ways such as in online mode, through correspondence, or in a regular mode.
Conclusion
We hope that this article was able to provide you with all the information regarding banking in the diploma course. Knowing all the aspects of the banking diploma course will help you make a better decision for yourself whether to go for a diploma in banking course or not. Meanwhile, bookmark our site ncertbooks.guru and check out all other course details and how to become career articles for choosing a better career path.