How to Become a Bank Manager in India?: A lot of career opportunities open up once you crack the basics of how to become a Bank Manager in India. That is to say in terms of prospects, pay, promotions, and a lot more! We are in the year 2021 and a lot of areas in the career domain have taken a drastic turn. The youth of today does not blindly want to run behind a career or a field of education that gives a lot of uncertainties.
The need for quick and well-paying jobs is increasing every other day. A very dominant field that is being taken up now is banking – which comes with a wide variety of posts, job descriptions, financial security and has immense scope for promotions.
But the important thing that a lot of people miss out on is to know all about the steps to become a bank manager in a country like India with ever-growing opportunities. This article here will guide you through the details on how to become a Bank Manager in India with the eligibility conditions, the scope of career, salary, and the road ahead! Keep scrolling further to find out more!
Refer to Course Details to know more about related courses and find details like Admission Process, Eligibility Criteria, etc.
How to Become a Bank Manager?
When deciding upon any profession, the doubt that naturally arises is what should be the main reason for choosing a particular field. That is to say, why become a Bank Manager in India? There is a bundle of reasons in terms of the job role, suitability of job profile, respect, quality and standards of work, high salaries with other added benefits, stability, and a lot to look forward to in terms of more prospects.
The other important facts to know while talking about the details of how to become a Bank Manager in India, are the job responsibilities that you are going to have in the position as a Bank Manager. This particularly includes:
Managing the central working and functioning pertaining to the system
Handling different levels of operation and recruitment of new employees
Monitor the development and marketing of bank services, products, and establishments
Handling various databases related to the bank and its smooth functioning
Dealing with customers on a one to one basis to be the top tier that deals with their complaints and solves their doubts
Planning and maintaining a suitable budget for the bank annually and making sure it is pertained to
Developing good relationships with the big companies, assets, and locals around the bank can broaden the business base
Top Courses To Help You Become a Bank Manager in India
BBA (Bachelor of Business Administration)
Eligibility criteria: This may vary depending on the college but the minimum marks required in 10+2 will be 50 to 60 %. There is also an age limit of 22 years for candidates from the general category and 24 years for the reserved people.
Course: The course duration is 3 years like any other Bachelor's degree and it provides students with a strategic education in the basics to the advances of business, commerce, and administration. There are different specializations that one can take up and specifically for Bank Manager BBA in Taxation and Finance and BBA in Finance are popular and profitable courses.
Scope: A lot of opportunities will open with job positions as a sales executive, business executive, business consultant executive, manager, and a lot of other options in both government and private sectors.
M.Com in Finance
Eligibility: The one common requirement is to have a Bachelor's degree in Commerce with around 50% aggregate marks. Some universities do accept degrees in Accounting, Finance, Economics, Business Studies, and other Commerce domains.
Course: It is a 2-year course divided into 4 semesters with each semester offering exposure and theoretical aspects to make you career-ready right after you graduate.
Scope: With the education base that this course can give, the job positions open are investments analyst, business & corporate analyst, executive assistant, financial analyst & manager, assistant accountant, investment banker & market analyst, marketing & money manager, accounts assistant, senior accountant, operations manager, the personal finance consultant.
Read Similar: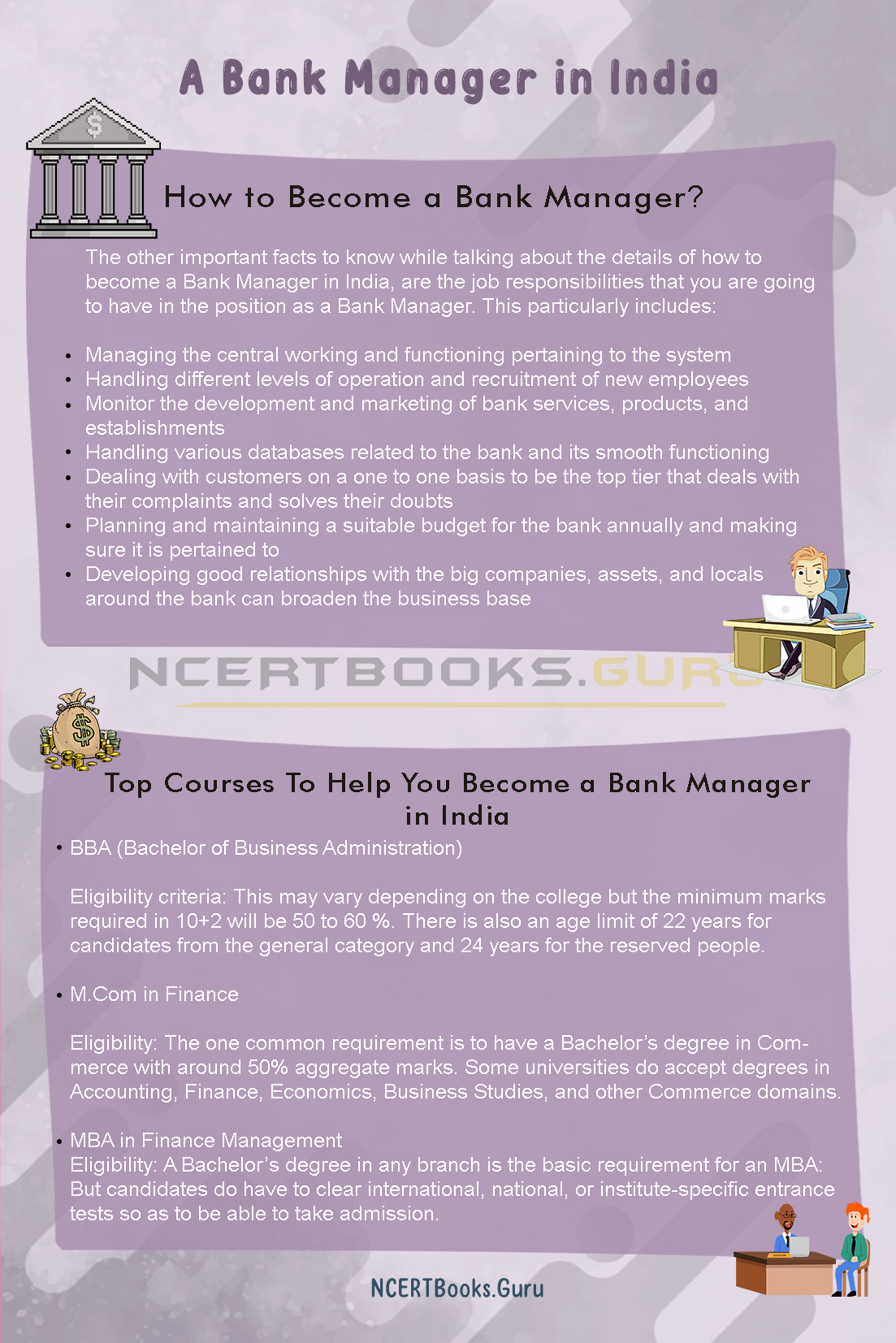 MBA in Finance Management
Eligibility: A Bachelor's degree in any branch is the basic requirement for an MBA: But candidates do have to clear international, national, or institute-specific entrance tests so as to be able to take admission.
Course: This is again a 2-year course with 4 semesters and includes a mix of theory and practical as well as a lot of work experience is provided. This is the major requirement for placement in any Bank manager position or other areas.
Scope: Basically every company needs or prefers people with this degree but the job roles suited are account manager business analyst finance officer finance manager research analyst equity research analyst accounts officer finance executive assistant manager.
Bank Manager in India Fees
The fee required for any course you opt for in order to become a Bank Manager in India will vary depending on the course you choose and other institutional considerations. It may vary from thousands to a few lakhs to about seven to twenty lakhs.
If the process on how to become a Bank Manager in India is clear, we will discuss some FAQs here.
FAQ's on How to Become a Bank Manager in India?
Question 1.
What is job security?
Answer:
A Bank manager will have a high level of financial and job security.
Question 2.
Will the work hours be flexible?
Answer:
There usually will be fixed work hours with a hectic schedule within a corporate system.
Question 3.
How likely is the promotion option?
Answer:
There will always be an option to climb up the hierarchy ladder with dedication and suitable performance.