Bachelor of Banking & Insurance (BBI) Course: Are you confused about making the right career choice? And Yes! The confusion is natural when there are thousands of courses available to choose from. Finding a stream to take, subject with interest, and a satisfying course to select is challenging. And to go about finding a perfect job option is all based upon the early first step. Before choosing the ideal career option, one must know his interest, soft skills, and aptitude with personality type. If your interest falls in the field of finance, banking, accounting, insurance law, insurance regulation, then go for the Bachelor of Banking and Insurance BBI course.
The course covers class presentations, projects, tests, class participation, and attendance. Also, it covers the performance of students in classroom discussions, debates, and role play.
Get to Know More about other types of Course Details in Streamwise, and Category wise.
About Bachelor of Banking & Insurance (BBI) Course
BBI is a three-year course that comes in the undergraduate course division into six-semester systems. It is to make sure that students will learn and theory and could apply that knowledge to the real world. The course not only covers the subject related to banking but also expands the knowledge about communication skills. Also, it covers the field of commerce. The course trains students such that candidates prefer to handle the technologies used in the field of banking and insurance. It updates students with each formed market reform, banking policies, rules, and regulations.
Highlights of Bachelor of Banking & Insurance BBI Course
| | |
| --- | --- |
| Name of the course | BBI |
| BBI Course Full-Form | Bachelor of Banking and Insurance |
| Duration | 3- years |
| Type of course | Undergraduate |
| Eligibility | Passed in 10 +2 |
| Fee Paid | Rs 14,000- 5,00,000/- |
| BBI Course Job Opportunities | Bank Manager, Finance Officer, Insurance Manager, Consultant, Treasurer, Risk manager, KPO Executive, Credit and cash managers. |
| BBI Course Salary offered | Rs 1,20,000/- to Rs 5,00,000/- |
Subject and Concepts of Bachelor of Banking and Insurance (BBI) Course
BBI course is all about preparing the candidates to explore different opportunities. These options are added to banking due to globalization, privatization, and liberalization. The basic skill set that students need to have under the course includes:
Build the confidence of candidates and make them self employed.
Benefit industries by providing them with a trained person for the banking and insurance department
Training is given by industrial visits, summer placements, practical approach, using modern technology for teaching students.
Soft skills training.
Motivational and personality development
Stress management workshop.
Talent mapping, counselling sessions
Bachelor of Banking & Insurance BBI Admission Process
The admission process is all upon the type of universities the candidates are interested in. These can be governmental or private universities. Some universities give preference to the score secured in the entrance exam. They conduct their examination. Students appear for group discussion and personal interview round for the selection process.
But some private universities offer direct admission that is completely based upon the candidate's marks in the qualifying exam.
Given below is the list of some BBI Entrance Exams
Chandigarh University Entrance Exam
St. Paul's College (SPC) Ulhasnagar
D.K. College, Buxar
B.N.N. College (BNNC), Thane
Naree Monjee College of Commerce and Economics Entrance Exam
Mumbai University Entrance Test and more than 50 colleges in Mumbai offer the course.
BBI Course Duration
Being an aspirant in the BBI course after completing the 12th standard, then the interested candidate has to spend three years in an undergraduate course. The candidate may pursue masters and other further studies in the future.
Bachelor of Banking & Insurance (BBI) Course Eligibility Criteria
To take admission, one must fulfill the given below requirements for a Bachelor of Banking and Insurance:
One must be qualified with the 12th standard with commerce as mainstream from any recognized board of education.
The minimum aggregate should be between 50% to 60%. But passing % can vary from college/universities.
Can also be applied on the provisional basis in case waiting for the examination of the 12th standard.
Candidates must present all necessary original documents, mark sheets, and certification during the process of admission.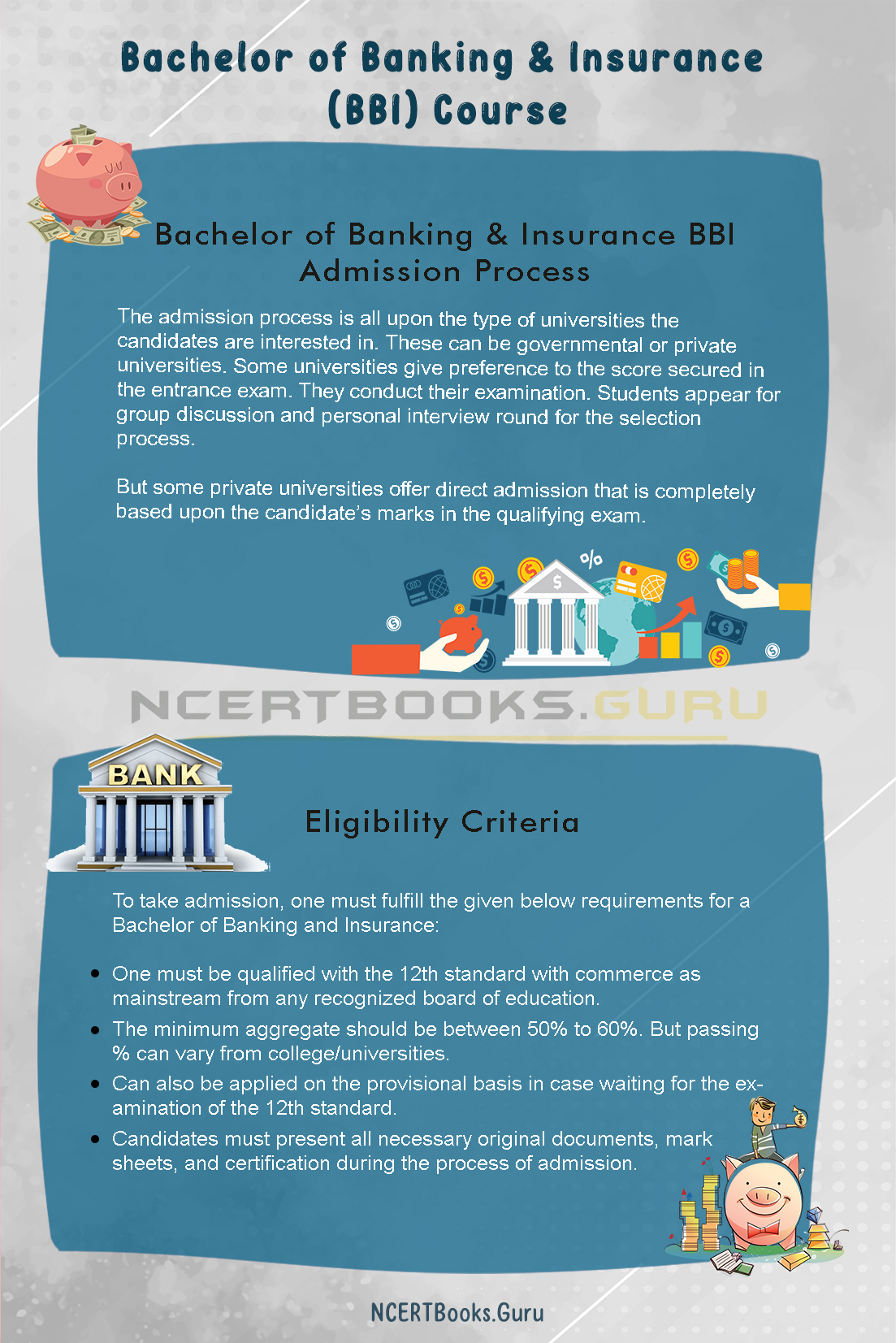 BBI Course Syllabus
Normally the syllabus structure for BBI varies from one college to another. But the basic topic that is covered under the BBI course as mentioned:
First Year
| | | |
| --- | --- | --- |
| Principles of Management | Micro Economics 1 | Effective Communication 1 & 2 |
| Management of Financial Services | Financial Accounting | Macro Economics 1 |
| Effective Communication 1 | Effective Communication 2 | Quantitative Methods 1 |
| Business Law | Introduction to Computer Systems | Principles of Banking & Insurance |
Second Year
Financial Management 1
Universal Banking
Management Accounting
Customer Relationship
Financial Market
Entrepreneurship Management
Taxation of Financial
Services
Cost accounting,
Insurance and Banking
Financial Reporting and Analysis
Third Year
| | | |
| --- | --- | --- |
| Central Banking | Auditing | International Business |
| International Banking | Portfolio Management | Business Ethics |
| Banking Project | Strategic Management | Turnaround Management |
BBI Course Fee Structure
The entire average fee for the BBI course depends upon the institute chosen by the candidate. If you are interested in pursuing this course, then the average annual fee in India ranges from Rs 14,000 to 10,00,000/- in the three years for the course.
Do Check
Career Options, Job Profile, and Other Employment Opportunities
Many fields are opened for the candidate that completed Bachelors of Banking and Insurance like insurance, financing, auditing, and accounting sector as per their interests.
A candidate is eligible for certification such as CFP, CA, CS after gaining some professional experience in the respective field.
The starting salary offered to the graduated candidate is around Rs 3 lakh to 4 lakh annually.
Can join any nationalized banks, MNCs, finance sector for better employment opportunities.
So, the scope after gaining complete knowledge in the BBI course is very vast and demanding. Students can enjoy a secure future ahead.
BBI Course Salary
The average salary offered to a BBI professionalism ranges between Rs. 1,20,000 to Rs. 5,00,000. However, rest it depends upon your experience and knowledge in the subject. Also, the Salary varies with time according to your position in the job. There will be an increment in your salary with your experience level and the working capabilities with time.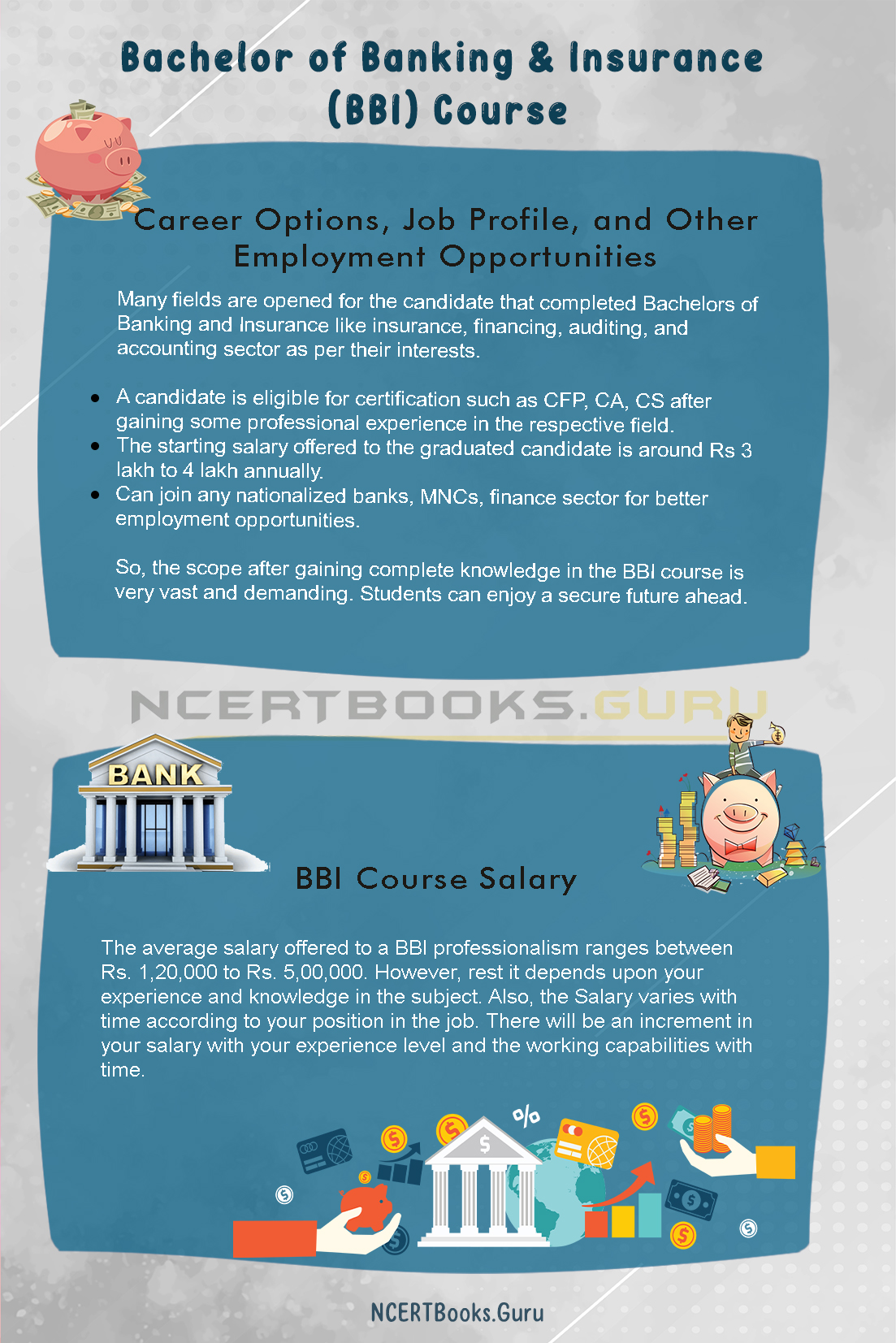 FAQ's on Bachelor of Banking & Insurance (BBI) Course
Question 1.
Is there any entrance exam for the BBI course?
Answer:
Some universities have entrance exams like Delhi University Arts, Delhi University Science. You need to clear and meet their eligibility criteria.
Question 2.
Top colleges for offering Bachelor of Banking and Insurance (BBI) in India?
Answer:
The list of top college is given below: St. Xaviers College (Mumbai), Ethiraj college for women (Chennai), St. Andrew College of Arts Science and Commerce(Mumbai), Lady Shri Ram College for Women (Delhi), Indraprastha College for Women (New Delhi), etc.
Question 3.
How much time does it take to complete the degree?
Answer:
Bachelor of Banking and Insurance Course After 12th is a three-year course. Hence, students can efficiently spend their time on it. They have a good option available with them for excess time to master in the course.
Question 4.
Number of the total subject in BBI?
Answer:
There is a maximum of 38 subjects. Hence it would help if you mastered them for a secure future. Also, the total subjects might change according to the university and college you get admitted to.
Question 5.
Is BBI tough or easy to study?
Answer:
Nothing is difficult if pursued by interest. It depends upon your learning capabilities. All subjects are easy in them if you better understand their concepts.
Question 6.
What is the total fee for the Bachelor of Banking and Insurance (BBI) course?
Answer:
In India, the average fee for a Bachelor of Banking and Insurance (BBI) course is 14,000 per year.
Question 7.
What are the benefits of the Bachelor of Banking and Insurance (BBI) course?
Answer:
After getting into the Bachelor of Banking and Insurance (BBI) course, the candidate gets specialization for banking and insurance, CAD & CAM, tourism management.
Question 8.
What is the various training provided under the Bachelor of Banking and Insurance (BBI) course?
Answer:
This course provides training in the field of finance, banking, accounting, insurance, insurance regulation and others.
Summary of Bachelor of Banking & Insurance BBI Course
Hopefully, you must have gained the entire information that is necessary for you to know for BBI Course. We have compiled the entire data required for you in career opportunities, Salary, duration, eligibility, syllabus to cover, and much more.