Investment Banking Course: Investment banking is a specific division of banking related to the creation of capital for other companies, governments, and other entities. Investment banks underwrite new debt and equity securities for all types of corporations, aid in the sale of securities, and facilitate mergers and acquisitions, reorganizations, and broker trades for both institutions and private investors. Investment banks also guide issuers regarding the issue and placement of stock.
Many large investment banking systems are affiliated with or subsidiaries of larger banking institutions. Many have become household names, the largest being Goldman Sachs, Morgan Stanley, JPMorgan Chase, Bank of America Merrill Lynch and Deutsche Bank. Investment banks assist in large, complicated financial transactions. They may provide advice on how much a company is worth and how best to structure a deal if the investment banker's client considers an acquisition, merger, or sale. It may also include issuing securities as a means of raising money for the client groups and creating the Securities and Exchange Commission documentation necessary for a company to go public.
Investment Banking Course Eligibility Criteria
Interested candidates must have passed 10+2 from a recognised board to get eligible for investment banking courses in India. To become an Investment Banker in India, it is not mandatory to take up any particular course or stream. Any person who has a good understanding of financial assets and investing can potentially become an Investment Banker. The field of Investment Banking is highly competitive, and having completed a professional program in a related stream does make a student an ideal candidate for a job.
The following courses are helpful for a candidate to get into entry-level positions in the field
Bachelor of Commerce (B.Com) Hons.
Bachelor of Arts (BA) in Finance / Economics
Bachelor of Business Administration (BBA) in Finance
Chartered Financial Analyst (CFA) Programme
CFA is a program dedicated to training professionals in the field of investment and finances and is one of the best ways to go into this field. Many top recruiting companies hire Investment Banking professionals who have completed a CFA course.
With undergraduate-level qualifications, a professional can get entry into the industry and gain some valuable experience. After 2 – 3 years of experience, it becomes essential for a candidate to go for a postgraduate-level course such as MBA Finance to grow in the field.
CFA is said to be the most recognized way of becoming an Investment Banker
Chartered Financial Analyst Overview
CFA Institute was established in 1947. Over these 70+ years, The CFA® Program has emerged as the benchmark qualification for the investment industry. It has grown to over 150,000 charter holders around the world in more than 165 countries. Today's charter holders work as Portfolio Managers, Equity Research Analysts, Fund Managers, Wealth Managers, CFOs, and Risk Consultants.
Completing The Program confirms mastery over the rigorous curriculum, as can be evidence by you. Clearing all the three levels of the exam is the main requirement for earning the CFA® charter. It covers content required for investment industry segments like Equity, Fixed Income, Private Equity, Derivatives, and Real Estate.
This program is split up into three levels
Level I:
Introduction to asset classes-Equity, Fixed Income, Alternatives, etc
Detailed learning of tools like financial reporting & analysis, Quants, Economics, etc
High regard to Ethics
Level II:
Higher dive into the valuation of assets- like Equity- Fixed Income- Derivatives
Detailed learning of Tools- Financial statement analysis
Level III:
Perspective change into Portfolio management of the assets
More than 50% weight to Portfolio Management and Wealth Planning
Investment Banking Course Syllabus
The CFA Programs Topic wise weightage
Topic Area
Level I
Level II
Level III
Ethical And Professional Standards
15%
10-15%
10-15%
Quantitative Methods
10%
5-10%
0
Economics
10%
5-10%
5-10%
Financial Reporting And Analysis
15%
10-15%
0
Corporate Finance
10%
5-10%
0
Equity Investments
11%
10-15%
10-15%
Fixed Income
11%
10-15%
15- 20%
Derivatives
6%
5-10%
5-10%
Alternative Investments
6%
5-10%
5-10%
Portfolio Management
6%
5-15%
35 -40%
Total
100%
100%
100%
Fees of CFA Programme
One-Time Enrolment Fee is $450
There is a one-time enrolment fee when you register for CFA Program and the Level 1 exam. This fee will not be applied to subsequent exams. All fees must be paid in US dollars.
Exam fees range between $ 700 to $ 1450 for each level. The price difference is based on the time of enrolment. The later your enroll, the more you have to pay.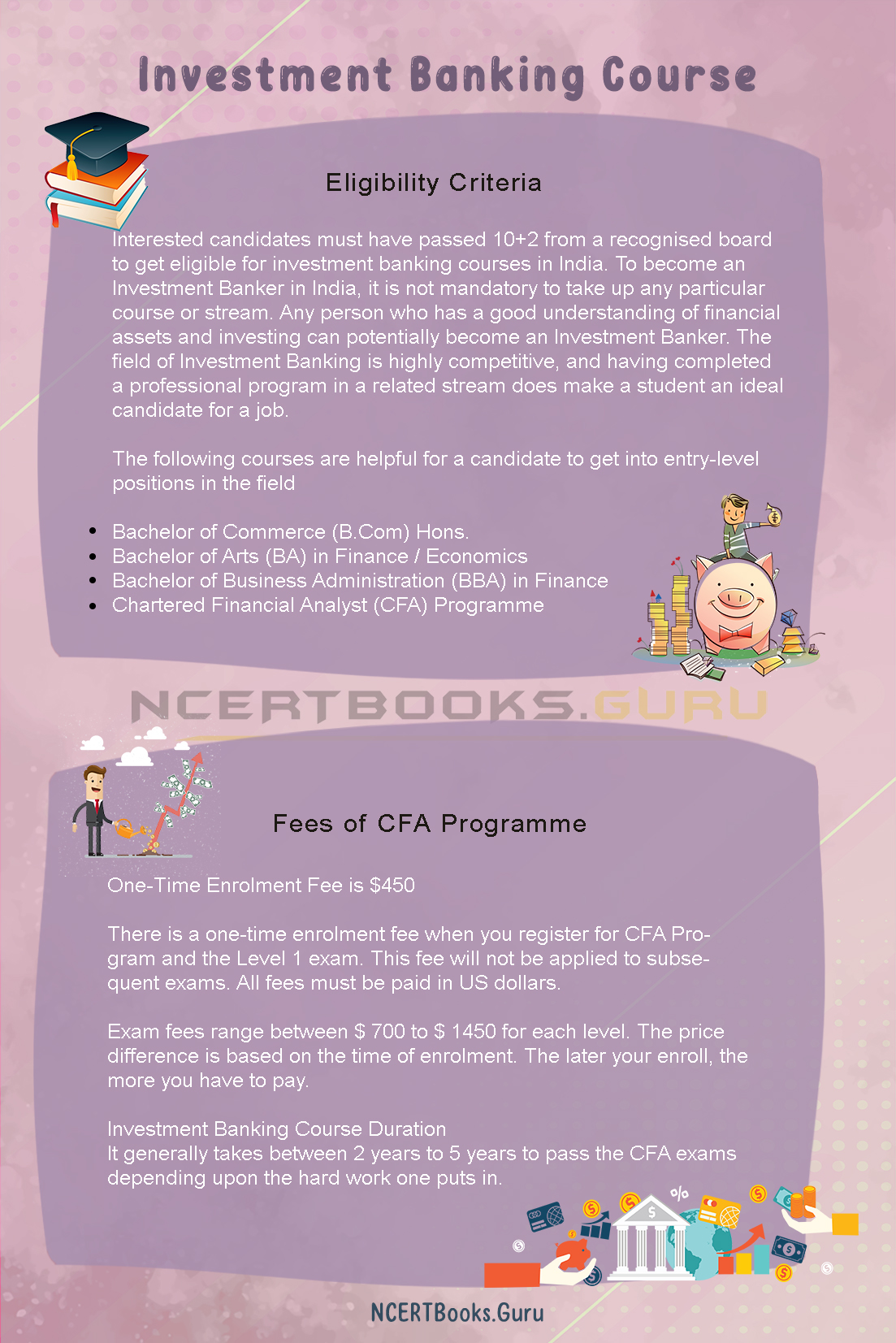 Investment Banking Course Duration
It generally takes between 2 years to 5 years to pass the CFA exams depending upon the hard work one puts in.
Types of Job Roles for Investment Banking
Since experience counts supreme in investment banking, the job roles of a candidate in this industry are very structured and hierarchical. Before being given a permanent position in the industry, candidates must intern in an investment banking firm. The experience earned is precious not only at the intern level but also at senior-level positions. Given below are some of the roles that an Investment Banker can take up.
Analyst / Junior Analyst: Entry-level position requires a candidate to have 1 – 2 years of experience in the field. Graduates are mostly hired for this role. The job requires a candidate to perform essential duties such as creating presentations, analyzing primary financial data, etc.
Associate / Senior Analyst: After 3 – 4 years of experience, candidates may be promoted to associate or senior analyst roles. Associates usually are responsible for pitching ideas, which helps in finding investors and getting clients on board. An MBA degree is beneficial for any candidate who wishes to take up an associate-level position in the field.
Leadership Roles: With further experience in the field, Investment Bankers can take up leading roles such as Vice Presidents, Managing Director, etc. in Investment Banking firms. These are well-paid positions but require candidates to have a thorough knowledge and experience in the field.
Employment Sector/Industry for Investment Banker
Investment banking professionals can look for career opportunities in several regions of the market. Depending upon the skill and interests of a candidate, they can either choose a specific domain or work in multiple domains, depending on their industry or firm's requirement. Some of the significant sectors of employment for an Investment Banker include:
Mergers and Acquisitions (M&A)
Sales and Trading
Capital Markets
Private Equity etc.
Also, Check:
Top Recruiting Companies for Investment Bankers
Given below are the top recruiters for Investment Banking professionals in India:
Goldman Sachs
Citigroup
Bank of America Merrill Lynch
Morgan Stanley
JP Morgan
HSBC
Wells Fargo
Accenture
Citi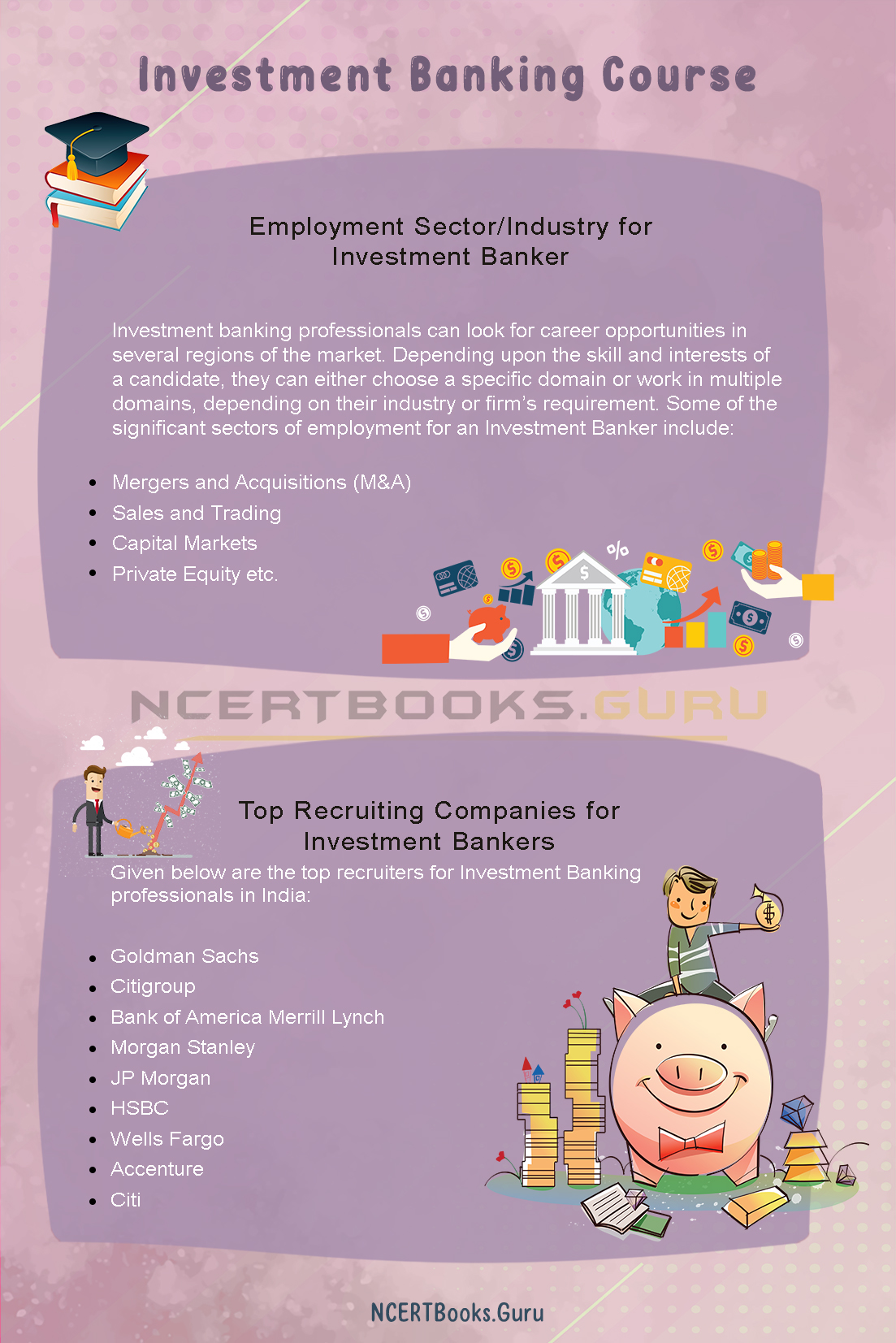 Salary of Investment Banking Holders
Salary of an experienced Investment Banker can range anything between 15 LPA to 30 LPA.
Question 1.
Are there other ways of becoming an investment banker other than CFA?
Answer:
Yes, there are other ways to be an investment banker. But being a CFA holder is the most recognized and respected way.
Question 2.
Can the examination fees be higher than 14500 dollars?
Answer:
No, 1450 is the highest fee for the examination.
Question 3.
Will CFA give me everything I need to know about finance?
Answer:
No, you can learn more about risk management in FRM.
Question 4.
Can I get a job in the states after getting into investment banking?
Answer:
Yes, a CFA holder investment banker can get a job anywhere in the world.
Conclusion
In this ultra-modern world where the general public is beco9ming aware of investment and people are leaning towards start-up, there is going to be a surge in need of Capital for business and thus for Investment bankers.