Pre Medical Courses in India: Medicine has way more lot to discover than we think. To date, we have always heard about becoming a doctor if choosing medicine. But now there are various courses available for students in the medical field. If you like biology but do not want to become a doctor then don't worry the stage is yours. You still have ample opportunities.
Pre-Medical Courses are one such example that provides you with the knowledge about the medical degree in advance. It may also provide you with the prerequisite information related to admission to the graduate pre med degree in medical school.
If this Pre Med word is new for you then you can definitely go for the latest information on the Pre Medical courses in this below article.
What are Pre Medical Courses?
Pre-Medical courses are generally known as Pre-Med courses. These courses are pursued by Indian students in the USA before becoming medical students. Pre Med courses taught students before working in the medical department such as course framework, volunteering activities, research, basic clinic experience, and more such activities.
You can use the term pre-med before appearing in the course. Even if you use this term it will provide an idea to the people that you are going to prepare for medicine in your better future. There might be some opportunities where you can get a job in the medical field if inform the interviewer that you are a pre-med student.
How many years is Pre Med Course?
The Pre Medical courses duration is 4 years. But some students choose MD/MS courses in the combine, it helps them complete the pre med course in just 3 years time span.
Pre Med Requirements
You must be aware that requirements for admission to each college vary according to their own guidelines. But the basic requirements stay the same. Thus, if you are planning to opt for the pre-medical course then you must fulfill the following requirements for the classes:
One year of biology in the lab
One year of general chemistry in the lab
At least one semester of biochemistry
One year of organic chemistry in the lab
One year of physics in the lab
Mathematics requirements. It has been observed that some schools accept calculus, some require statistics, and some require both
One year of English
These are just the basic requirements for the pre-medical courses. You must showcase your amazing skills during the course and learn to the fullest so that when you look for further studies then you have immense knowledge about the subject.
Eligibility for Pre Medical Courses Online
The basic eligibility differs for each college. The students must be aware that they are going to pursue the course after class 12th. However, for those students who had already completed their bachelor's in India the Pre-med course waiver is off for them. The basic eligibility criteria go as
A student must have completed class 12th degree with amazing grades and hold Physics, Chemistry, Biology, and English as their major subjects
They might also hold a diploma degree
They must clear the interview
Some universities may also conduct medical entrance exams
The education must be completed on the regular basis
Also, a good MCAT score must be valid.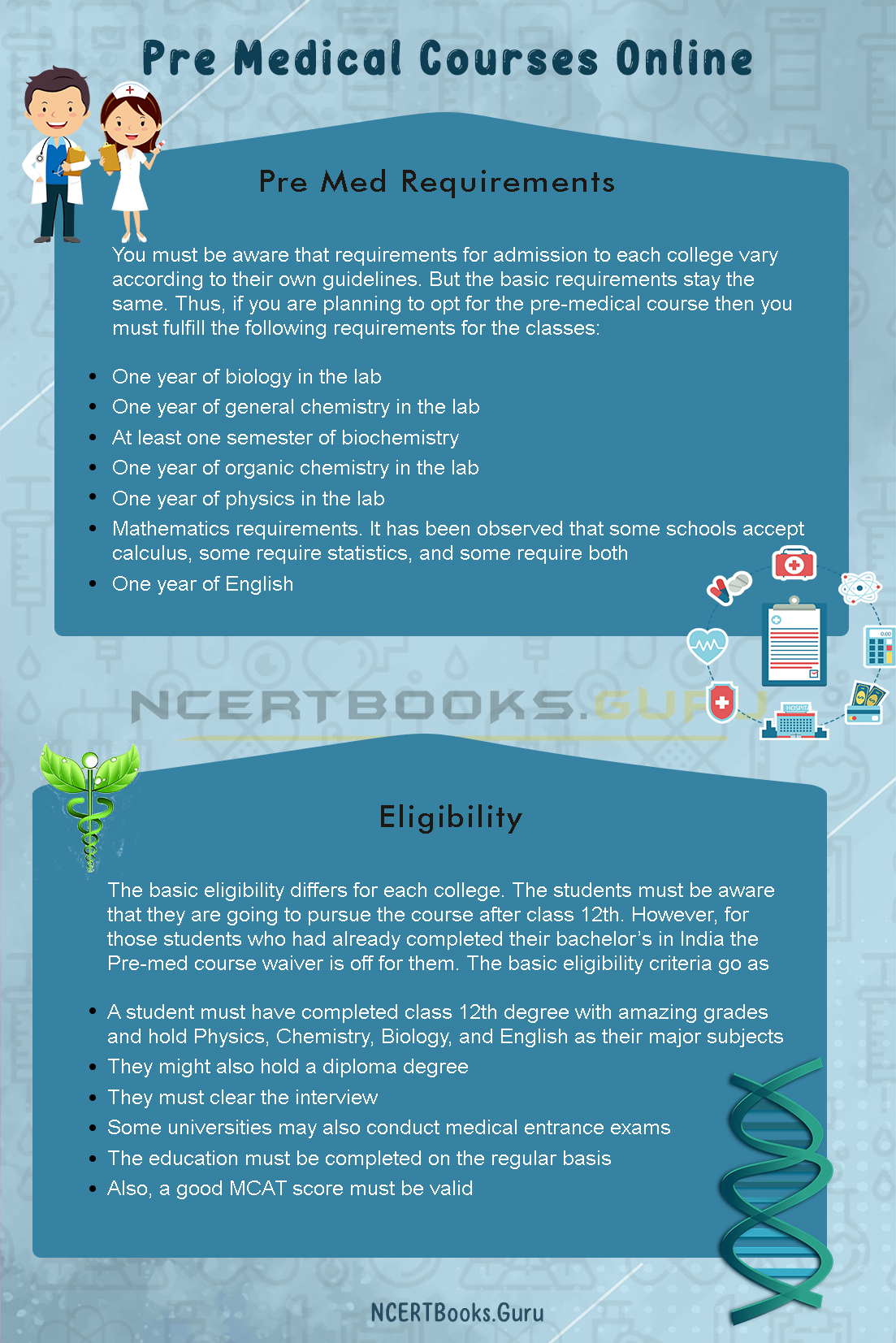 Top Colleges for Pre Medical Courses in India and Abroad
The term, Pre Med might be new in India but all over the world, it is a basic concept. However, in India, the course is at its developing stage. But there are colleges that are offering courses in India.
List of Indian Pre Medical Colleges
The colleges available in India are linked with Xavier University. The university has affiliated 4 colleges for the education of Pre-Medical Courses. These are
Nehru Group of Institutions, Tamil Nadu
Paavai Institutions, Tamil Nadu
St.Francis College For Women, Telangana
HAMSA Homeopathy Medical College Hospital & Research Center, Telangana
It is expected that soon various other colleges in India will provide this course.
Also, Check
List of Pre Med Colleges in Abroad
As the course is already at its peak in India. There are various top-ranking colleges that are offering this specific course. The list may as follows:
Harvard University
Johns Hopkins University
Duke University
University of Pennsylvania
Columbia University
Washington University in St. Louis
The University of North Carolina at Chapel Hill
Cornell University
Rice University
Stanford University
Northwestern University
Brown University
Amherst College
Case Western Reserve University
Georgetown University
Skills Required for Pre Med Online Courses
Even before pursuing medical courses, there are few skills that you are required to command. But with the passage of the course, you will be taught various skills which will help you to get easy admission and handling of subjects in Medical Courses. The skills which you must hold include:
Leadership Development
Effective Communication
Integrity
Team Work
Activeness
Career Scope for Pre Medical Certificated Holders
Even if you are a pre-med student you gain various job opportunities in the medical sector. As this will provide you with on-site training on the subject and you will be able to train your mind in a practical manner.
However, there may be some roles that ask you to complete a little bit of certification degree before looking for a job. But you can still get a reputable career. These healthcare opportunities created a good career scope for the students.
Certified medical assistant (CMA)
Certified nursing assistant (CNA)
Emergency medical technician
Home health aide
Medical receptionist
Medical scribe
Medical secretary
Pharmacy technician
Phlebotomist
Research assistant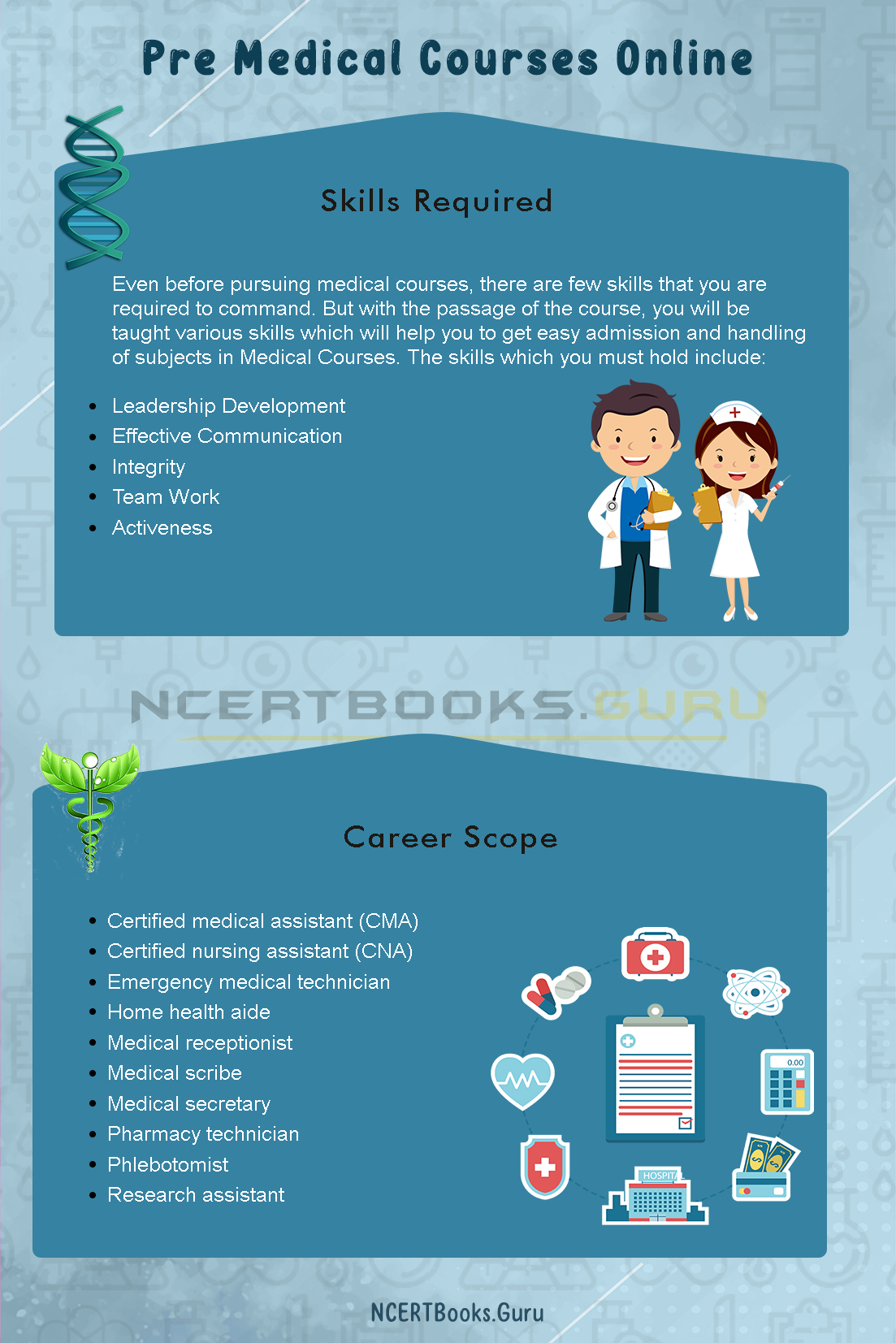 Salary After Pre Medical Courses
With these amazing job opportunities, the salary provided was Rs 25,000 to Rs 2,00,000 approximately.
Pre Medical Degree Courses Syllabus & Subjects
The syllabus for all the colleges is not the same. But they take up a few common topics which are taught accordingly in the semesters. Here, you can review the basic subjects which are taught in the Pre Med Course.
Main Subjects 
Physiology-I
Physiology-II
Neuro Anatomy – II
Biochemistry – I
Biochemistry – II
Microbiology – II
Anatomy – I
Anatomy – II
Pathology – I
Doc-Patients relationship
Neuro Anatomy I
Pharmacology – I
Clinical Medicine – I
Public Health & Epidemiology
Physical Diagnosis & Clinic Visits
Histology
Microbiology – I
Behavioural Science – I
Medical Terminology
Metabolism – I
Metabolism – II
Basic Physiology
Physiology
Basic Pharmacology
Basic Biochemistry
Bio-Molecules
Basic Pathology
Basic Anatomy
Molecular Biology
Genetics
Microbiology
Nutrition
Pathology – II
Basic Histology
Protein Biochem
Pharmacology – II
Communications Skills
Clinical Medicine – II
Behavioural Science – II
Essentials of Clinical Sc.
Elective Courses
Anesthesiology
Urology
Geriatric Medicine
Emergency Med & Trauma
Neuro Surgery
Dermatology
Opthalmology
Pathology
Otorhinolaryngology
Family Medicine
Orthopaedic Surgery
Paediatrics
Pediatrics Surgery
Forensic Medicine
Plastic Surgery
Gynaecology
Thoracic Surgery
Internal Medicine
Vascular Surgery
Neurology
FAQs on Pre Med Degree Courses in India
1. What is the duration of Pre-Medical Courses?
Pre Medical Courses After 12th is a 4-year undergraduate program. The course can be completed in a maximum of 5 years of time span. But some students choose MD/BS courses in the combine, it helps them complete the course in just 3 years time span.
2. How many subjects are there in Pre Medical Courses?
On average there are 6 main subjects and 3 elective subjects available in pre med course. But it totally depends on the colleges the way they are taking up those subjects in each semester.
3. What are some top colleges available in India for Pre Medical Degree?
Colleges such as Nehru Group of Institutions; Tamil Nadu, Paavai Institutions; Tamil Nadu, HAMSA Homeopathy Medical College Hospital & Research Center; Telangana, and St.Francis College For Women; Telangana are available for Pre med courses in India.
4. Can I do nursing as a pre med course?
Nursing is a professional course that prepares students for the professional practitioner. But Pre medical courses in USA are the steps toward the medical courses.
Conclusion
We have included the complete information on Pre Medical Courses in India. If you have any queries feel free to ask in the comments section below, we will provide you with a reliable solution to your problem. Also, discover more medical courses after 10th details from our web portal along with other course details and career articles for free to make the perfect career decisions.