Medical Line Courses: In India, the Medical field is in its boom period. If you pursue bachelors in the same you can be as successful as you want to be in life. But studying medicine is not a child's play you think. There are various courses such as Diploma, PG Diploma, Undergraduate, and Post Graduate courses available for the students who are interested in developing their knowledge in medicine.
There are a few entrance exams that you need to clear for medicine. Along with a promising career medical jobs are a sort of service which you need to provide faithfully. The medical courses are available in various specializations including pharmacy, homoeopathy, ayurvedic, biomedical, nursing, lab technology, and more.
Are you looking for detailed information on Medical Line Courses after 10th, 12th, and Graduation? Don't worry you are at the right place. Here, you can get complete information on the best Medical line courses in India.
Get to Know More about other types of Course Details Streamwise, and Category wise.
All Medical Line Courses List
The List of medical courses is never-ending. As medicine is still in the developing stage and the addition of courses is still a continuous process. But here you can find the list for Diploma, PG Diploma, Bachelors, and Masters degree courses for Medical Sciences.
Diploma in Medical Line
These courses can be pursued after classes 10th and 12th. This is the first degree that you can opt for after the completion of your class 10th. They have a period of 1 year to 3 years. The course will provide you with more practical knowledge than the theoretical one. After this, you can quickly get a job. Check Medical Diploma Courses After 12th.
Diploma in X-Ray Technology
Diploma In Radiology Therapy [DMRT]
Diploma in Radiological Technology
Diploma in Physiotherapy
Diploma In Otorhinolaryngology [DLO]
Diploma In Operation Theatre Technology
Diploma In Operation Theatre Techniques
Diploma in O.T. Technician
Diploma in Nutrition and Dietetics
Diploma In Nursing
Diploma In Medical Radio-Diagnosis [DMRD]
Diploma in Medical Nursing Assistant
Diploma In Medical Laboratory Technology [DMLT]
Diploma In Dialysis Techniques
Diploma In Clinical Pathology [DCP]
Diploma in Child Health
Diploma in Audiology and Speech Therapy
Diploma In Anaesthesia [DA]
PG Diploma Medical Line Courses
These courses provide you with a master's degree but in the diploma field. As their duration is of 1-3 years so they lie under the diploma domain but the degree will be post-graduate only. Check the below table for PG Diploma Courses in Medical Line.
Postgraduate Diploma In Otorhinolaryngology
Postgraduate Diploma In Medical Radio-Diagnosis
Post Graduate Diploma In Yoga Therapy
Post Graduate Diploma In Yoga
Post Graduate Diploma In T.B. & Chest
Post Graduate Diploma In Radio-diagnosis
Post Graduate Diploma In Orthopaedics
Post Graduate Diploma In Ophthalmology
Post Graduate Diploma In Obstetrics & Gynaecology
Post Graduate Diploma In Medical Laboratory Technology
Post Graduate Diploma In Clinical Pathology
Post Graduate Diploma In Anaesthesia
Under Graduate Courses in Medical Line
The UG courses in Medicine can be completed in 5-5.5 years. Check the below table to get the latest top UG Medical Courses.
BDS – Bachelor of Dental Surgery
BYNS- Bachelor of Yoga and Naturopathy Sciences
B.V.Sc & AH- Bachelor of Veterinary Sciences and Animal Husbandry
BHMS – Bachelor of Homeopathy Medicine and Surgery
MBBS – Bachelor of Medicine and Bachelor of Surgery
BAMS – Bachelor of Ayurvedic Medicine and Surgery
Post Graduate Courses in Medical Line
The PG degree courses in medicine included MD and MS degree. MD is for Doctor in Medicine and MS is for Master of Surgery. Thus, the PG degree can be completed in 3 years. Get the latest list of top MD and MS Courses.
MD Courses

Community medicine
Biophysics
Anesthesiology
Biochemistry
Anatomy
Psychiatry
Physiology
Physical Medicine & Rehabilitation
Pharmacology
Medical Genetics
Marine Medicine
Hospital Administration
Health Administration
Geriatrics
Radio diagnosis
Tropical Medicine
Infectious Diseases
Pathology
Respiratory Medicine
Radiotherapy

MS Courses

Traumatology & Surgery
Otorhinolaryngology
Orthopaedics
Ophthalmology
Obstetrics & Gynaecology
General Surgery
ENT
Ph.D. Courses in Medical Line
Ph.D. courses will provide you doctorate. It is the highest degree that one can attain. However, it takes 3 years for completion. But some colleges allow you to take 5 years to complete this specific course.
Ph. D – Anatomy
Ph. D – Dermatology & Venereology
Ph. D – ENT
Ph. D – Forensic Medicine
Ph. D – Lab Medicine
Ph. D – Nephrology
Ph. D – Neuro Surgery
Ph. D – Neurology
Ph. D – Paediatric
Ph. D – Paediatric Surgery
Ph. D – Pathology
Ph. D – Pharmacology
Ph. D – Psychiatry
Ph. D – Surgery
Ph. D – Urology
You must be wondering about the reasons to study medical courses. Here, is a detailed list of reasons which will motivate you to study medicine.
Diversification in choosing career opportunities.
Hundreds of jobs available in India as well as abroad
Chance to work for the ill people and so some services for the country
Doctors are required and needed everywhere in this world.
Amazing salaries and high profile jobs
The eligibility criteria are different for bachelor's, master's, and PG medical degrees. Even some colleges have their eligibility criteria related to age, documentation, degree, and more. Here, you can find the latest list of minimum eligibility criteria for medical courses
| | |
| --- | --- |
| Diploma | You must clear class 10 or 10+2 with a minimum aggregate of 50%. |
| Undergraduate Courses  | The candidate must hold a class 12th mark sheet with a minimum of 50% of marks. |
| Post Graduate Courses  | Must have studied MBBS or equivalent degree in bachelors |
| Ph.D. Course  | Must have completed MD or MS with a minimum 55% aggregate from a recognized institution |
Medical Line Courses Without NEET
To get admission into the Bachelor's Medical courses the students must clear the NEET entrance exam. It is one of the toughest entrance exams conducted in India. If you wish to pursue medical courses without preparing for NEET Exam then, it is possible to go for it.
There are courses available that provide great working opportunities for you after class 12th even if you do not appear for NEET Exam.
Bachelor of Technology in Biomedical Engineering
Bachelor of Science in Nutrition and Dietetics
Bachelor of Science in Microbiology (Non-Clinical)
Bachelor of Science in Genetics
Bachelor of Science in Cardiac / Cardiovascular Technology
Bachelor of Science in Biotechnology
Bachelor of Respiratory Therapy
Bachelor of Perfusion Technology or Bachelor of Science in Cardio-PulmonaryPerfusion Technology
Bachelor of Occupational Therapy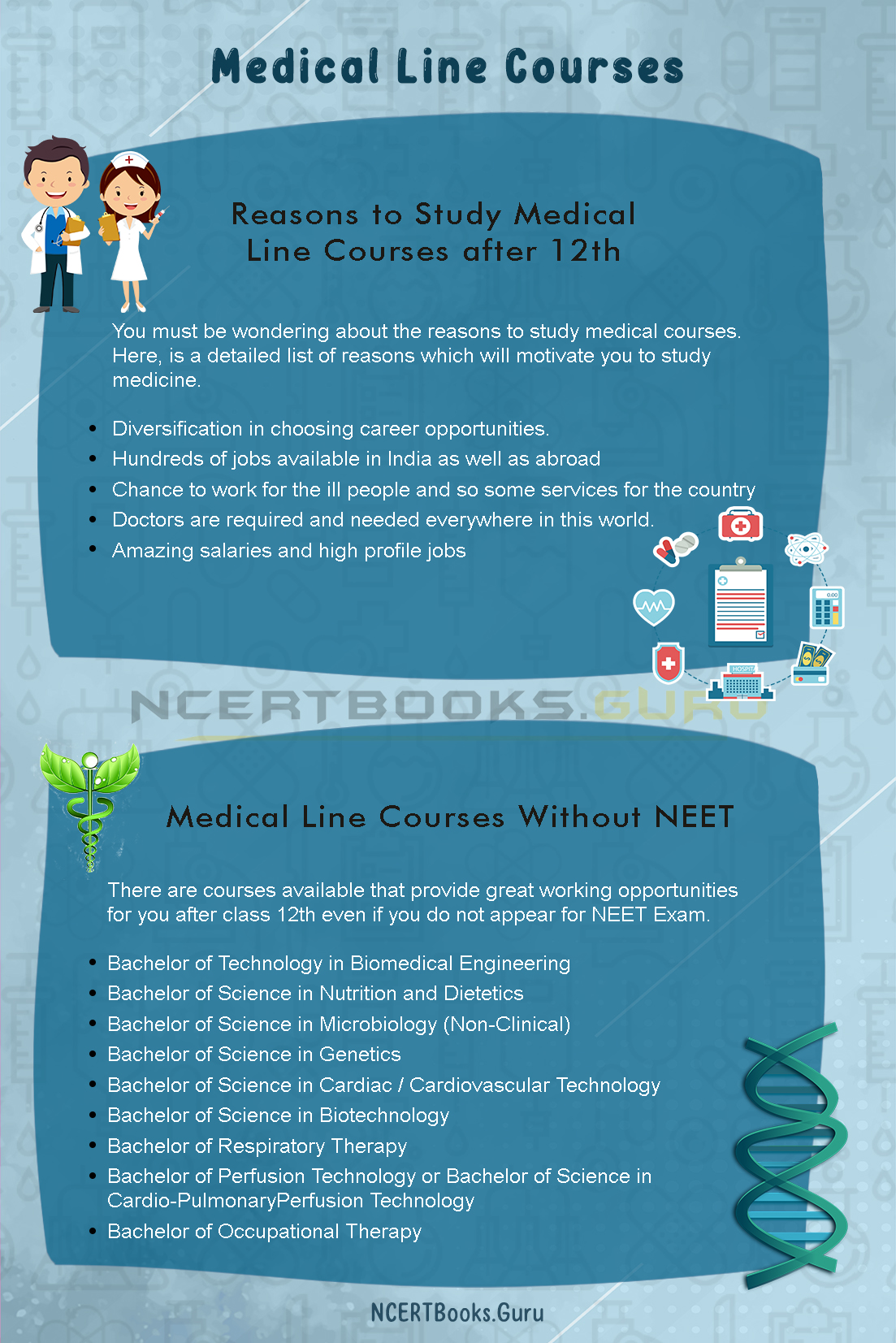 Top Medical Line Courses Colleges in India
There are hundreds of Medical colleges opened in India for medicine. But getting into these top 10 medical colleges is a big task. To get admission here, you are required to work very hard. The admission process is also not so easy.
Thus, the list below will provide you with an idea about which colleges we are talking about.
AIIMS Delhi – All India Institute of Medical Sciences New
Postgraduate Institute of Medical Education and Research in Chandigarh
CMC Vellore – Christian Medical College
Jawaharlal Institute of Postgraduate Medical Education and Research
NIMHANS Bangalore – National Institute of Mental Health and Neuro Sciences
SGPGIMS Lucknow – Sanjay Gandhi Postgraduate Institute of Medical Sciences
Amrita Vishwa Vidyapeetham, Coimbatore
BHU Varanasi – Banaras Hindu University
KGMU Lucknow – King George's Medical University
KMC Manipal – Kasturba Medical College
In order to work in the medical health care sector you must hold a few skills. Even if you are pursuing a diploma then you must hold skills to work professionally.
Lab Technology Knowledge
Knowledge of medicines
Politeness
Patience
Good Communication
Team Work
Also, Check
Career Scope of Medical Line Courses
After the completion of medical courses whether it is a diploma, Post-graduation, or bachelor's there is a high chance that you will get a job with a high salary. But if you are not money-minded then being a doctor you can work a lot for the welfare of citizens.
There are various career options that you can choose in the Medical Line. You can land in the following medical line job prospects:
Anaesthetist
Clinical radiologist
General practice doctor
Pathologist
Cardiologist
Neurologist
Ophthalmologist
Psychiatrist
Surgeon
Hospital doctor
Professor
Physician associate
Research scientist (life sciences)
Science writer
Not only this you can also look for the options to open your lab, hospital, nursing home with the required degree for them.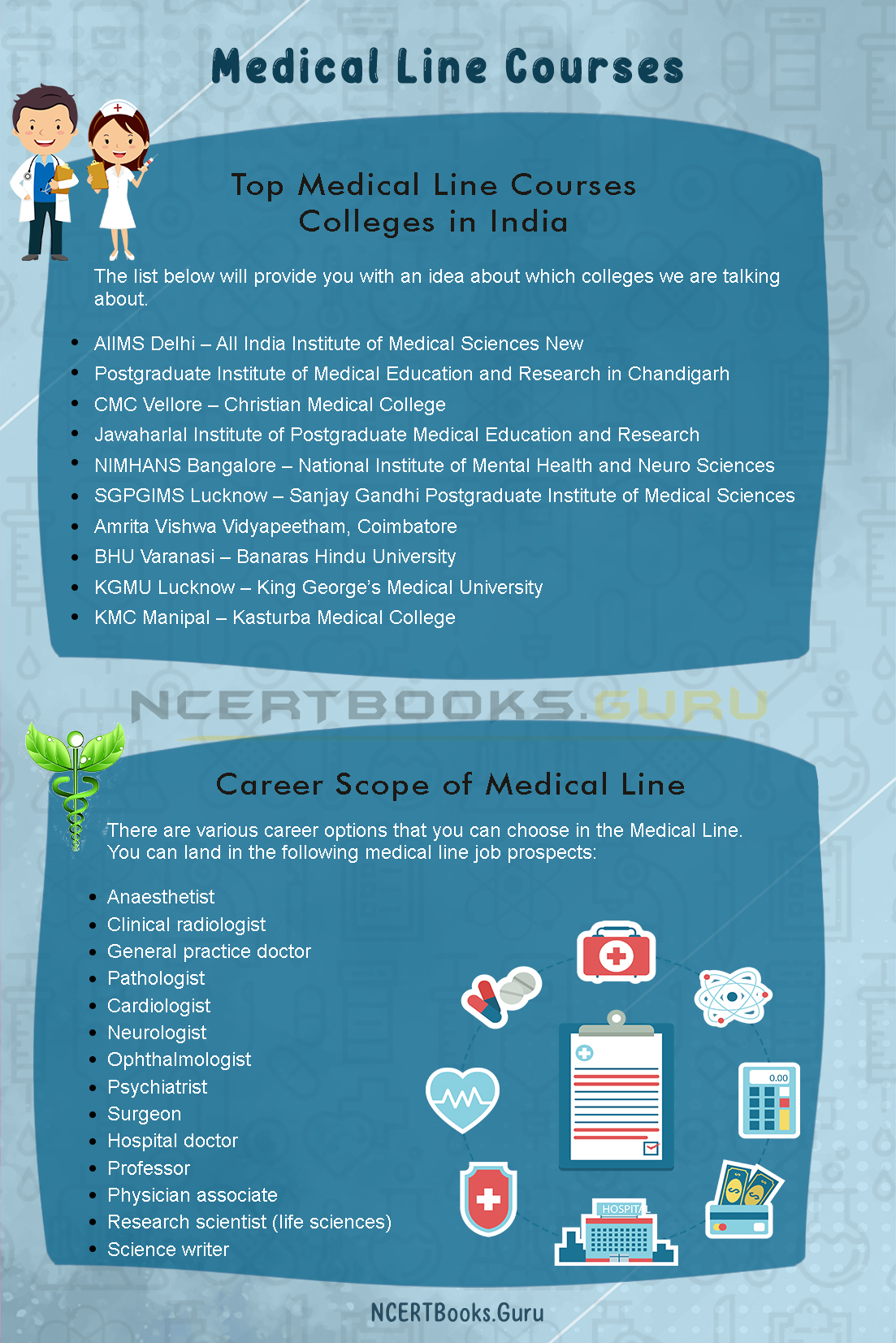 Medical Line Courses Salary Structure
The highest salary a person receives in the medical field is a surgeon. The surgeon has most responsibilities than any other person thus she or he gets the reward for the same.
The average Medical Line Course salary which a person can earn after the completion of, medical line courses can be from Rs 10,000 to Rs 4,00,000. It all depends on which degree you have been awarded and the type of specialization you have chosen.
FAQs on Medical Line Courses After Graduation
1. Which is the best course in medical line? 
The best medical line courses should be chosen based on your interest. Bit when it comes to salary then surgeons receive high salaries than MDs. So, if you are choosing the best course in terms of income then go for an MS degree.
2. What are compulsory subjects for a bachelor's degree in medicine? 
If you are willing to pursue a bachelor's degree in medicine then you must study Physics, Chemistry, and Biology in your class 12th. Also, chose one more subject which is considered optional.
3. Are there any PhD courses in the medical line? 
Yes, there are PhD courses in the medical line field. You can choose the specializations in Forensic Medicine, Lab Medicine, Nephrology, Neuro Surgery, Neurology, Paediatric, Paediatric Surgery, Pathology, and more.
Conclusion
The Medical Line Courses provide great opportunities and a never-ending list of specializations in the degree courses. We have already included the complete list of Medical courses for more reference you can visit our official website Ncertbooks.guru. If you face any difficulty while choosing the right career path you may ask your doubts in the comment section below.