Free Online Medical Courses with Certificates in India by Government: With the digitalization of the entire world, online education is gaining more and more popularity day by day. People are leaning towards short courses to get knowledge about specific topics. These online short certification courses are available in almost all categories of education such as engineering, humanities, arts, etc.
In these cases, certification courses have a lot of value and even more value if they are provided by the Government of India. There are various platforms available that provide different certification courses for people to enroll in.
Looking for some certification medical courses? What would be better than getting a certificate for a medical course from the Government of India! There are a lot of online medical courses free with certificates provided by the government.
Let's look at some of the free online certification medical courses that are available to people in India which are provided with certificates by the government of India.
About Online Certification Medical Courses by Government of India
To get the certification people will have to take an assessment test to truly know if they have gained the knowledge that was intended for them in the entire course. After completing the assessment the people will receive their certificates.
The Government of India provides certificates through these medical courses that are available on their platforms which are of high value. People can choose the stream in which they want to get a certification and then pursue that medical course. These medical certificates add a lot to the resume of a student and can prove to be of great importance if the student is a fresher looking for jobs.
Why go for Medical Certification Courses?
If there is one thing that is the most important thing for all working-class people, that thing is "skill-set". Skill is something that can make or break someone's career. And the best thing about skill is that it can be learned. If you look at the most successful people in their respective work fields they are the people who are constantly improving and constantly working on themselves and building their skills.
Now there are many ways to build skills and one of them is through learning different courses. In this case, certification courses are the best option. Completing short online medical courses free with certificates will help you in gaining knowledge and will add something to your skillset.
Do Check: 6 month Medical Courses After 12th
What are the Medical Courses Available with Certificates in India by the Government?
Following are some of the most popular free online certificate courses for doctors in India in the medical field:
Introduction to caregiving
Elderly care and caring for the disabled
CPR, AED, and First Aid
Supporting individuals with intellectual disabilities and mental illness
Diploma in nursing and patient care
Advanced cardiac life support
Diploma in health studies
Nursing studies – the nurse as a team leader and teacher
Bloodborne pathogens
pediatric advanced life support
Diploma in mental health
Human health – diet and nutrition
Global health initiative – diabetes awareness
Risk management application on medical devices
Nursing studies – the physical examination
Diploma in nursing – leadership and care management
Understanding bipolar disorder
Global health initiative – hypertension awareness
Clinical governance
Pharmacy assistant, and many more.
Where Can I Find Free Online Courses with Certificates in India by Government 2022
When we want to take a step ahead in our journey common go for certification courses. Now, the common question comes to mind is where to find them? Following are the top portals where you can find free online certification courses in India by Government:
All India Council for Technical Education (AICTE) – The All India Council for technical education has its own online training platform where that provides free online courses for different backgrounds on a single platform. The courses here are curated by tech companies such as simply great learning, etc. The All India Council for technical education is actually a platform that aggregates content and not a platform that originates the content.
National Program on Technology Enhanced Learning (NPTEL) – The national program on technology-enhanced learning has been providing 4 to 12 weeks of free online courses on its portal since the year 2013. A wide range of topics from humanities to science and art to mathematics is covered in different courses and the enrollment in these courses is absolutely free.
National Council of Educational Research and Training (NCERT) – The NCERT also collaborates with various universities NGOs add educational institutions to work on more creative and interactive projects. hence, it provides free online certification courses for engineers, doctors, etc in India.
Indira Gandhi National Open University (IGNOU) – The IGNOU is the national coordinator for facilitating the development of certification and diploma courses under various disciplines.
Consortium for Educational (CEC) Communication for Undergraduate Education – The CEC platform provides 8 to 12 weeks long courses that engage the students through assessments, material video lectures, discussion forums emails, etc. The swim platform by the Government of India helps students to attend digital higher education courses in a virtual manner.
Also See: 
How to Enroll in an Indian Government free online courses with certificates?
In order to enroll in a free online certification program, you have to follow the following steps:
The first step is to visit the official website or the portal from which you want to do your certification course.
After that, navigate through all the courses and select the course that you want to enroll in.
There will be an option to register by entering your email ID and some information.
After registering, you will receive an email and then you will be able to access the contents of the course.
In order to get the certificate, you will have to take an assessment. After successfully completing the assessment you will get the certificate on your registered email ID.
Most courses will allow multiple attempts on the assessment test since only one attempt is generally not enough and after completing an attempt, you can revisit the course lectures in order to get more clarity on the subject.
Do Check: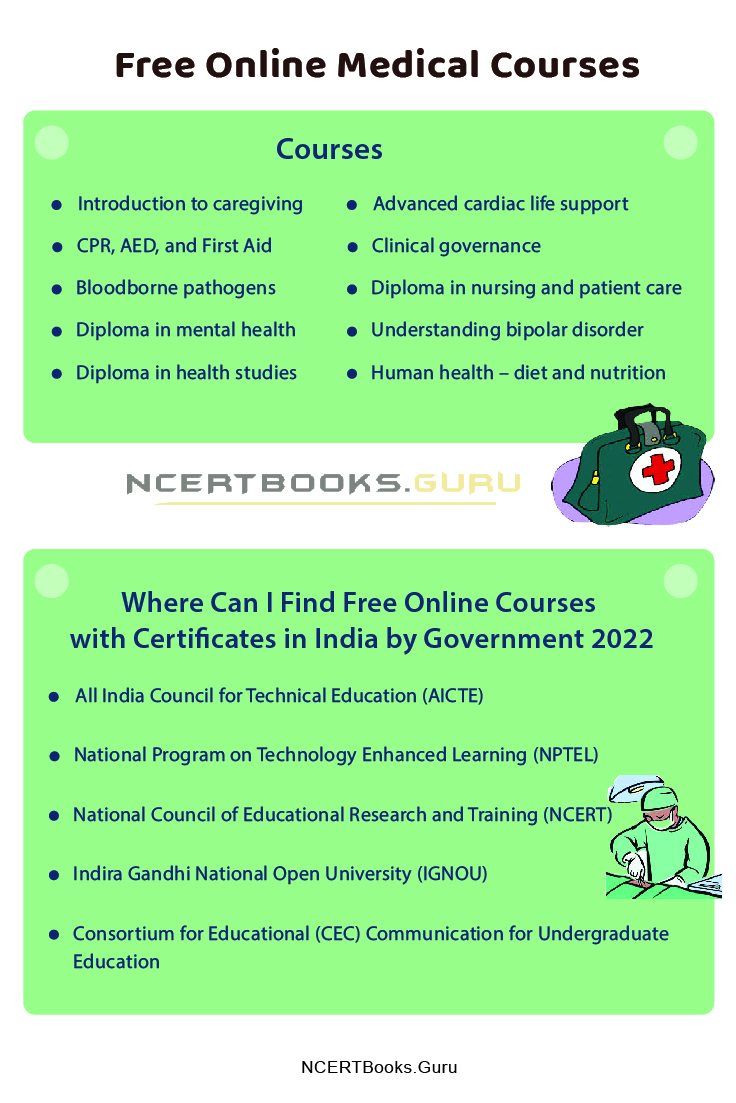 FAQs on Free Online Medical Courses with Certificates in India by Government
1. Are Medical certification courses worth it?
Definitely, medical certification courses can provide you with a lot of information on the subject in a lesser amount of time along with a certificate as well. A certificate from the Government of India is extremely valuable for a person's resume.
2. How can I get a free government certificate in the medical field?
There are various portals that are available online that have different courses in the medical field with certification. One can choose their interested medical course and enroll in the government available certification portal to get started the course and achieve the free online medical course with a certificate. For more info, do check our page.
3. Are all the medical certification courses free?
No, all medical certification courses are definitely not free. However, most government certification courses are free and you can access them through different online portals which are all illustrated in the above article.
Conclusion
We hope that you found out the information that you were looking for regarding free online certification medical courses by the Government of India. Do let us know what you felt about this article ie., Free Online Medical Courses with Certificates in India by Government in the comments below and also suggest what you would like to see from us in the future. Keep following us for more education-related content & Course Details.