6-month Medical Courses After 12th: Choosing the right career path after 12th is not an easy task. Especially when you wanted to hold specialization in medicine. If you are willing to pursue medical courses after 12 in a short period then you must go for the certificate courses.
As the name suggests they are for 6 months and after the completion of these courses you can easily get a job with a sound salary. They are available at a minimal fee and all over India. If you are worried to find out which course suits you the best. Don't worry here we are providing you with the latest Course details on 6-month Medical Courses After Class 12th.
List of 6 Months Medical Courses After 12th Class
There are various courses available in the medical field after class 12. As you can pursue them just after your 10+2 completion. You can find the complete list of courses below:
Certificate in Clinical Psychology.
Certificate in Naturopathy & Yoga Science.
Hospital Store Assistant
Certificate course in Medical Laboratory Technology
Certificate in Dental care assistant
6 Month Certificate in Echocardiography and Ultrasound
Certificate in General Duty Assistance
Certificate in Geriatric Care Assistance
Six Month Certificate in HIV and Family Education
Certificate in Hospital Store Assistant
Certificate in Pain Management
6 Month Certificate in Phlebotomy Assistance
The admission process varies for every college. But the most basic concern for the colleges is to admit students either through the merit-based or entrance-based exams. Here, are the few points which you need to keep in mind for the admission procedure of certificate courses.
In the beginning, visit the official website and then submit the application form.
Some colleges conduct interviews with the students after the announcement of the list of selected candidates.
Some institutes ask you to have some relevant experience in the medical field.
In the end, if you are selected then you have to pay the required fees.
6-months Courses After 12th Science: Eligibility
The Eligibility Criteria differ according to the courses which are opting for and the college which you want to choose. For 6 months of medical courses after the 12th, the eligibility criteria are as follows:
You must have cleared 10+2 from a recognized institution.
Few courses may also ask you to have biology in class 12th.
The certificate courses after class 12th may vary for colleges. But the average fee charged by the institutions ranges between INR 6,000 and INR 45,000. However, the colleges offering certificate medical courses are available throughout India. You can easily get admission to colleges without any difficulty.
Here is the fee structure and the list of a few colleges that provide certificate medical courses.
| | |
| --- | --- |
| College Names | Fee Structure |
| Behala Institute of Allied Health Science, Kolkata | INR 20,000-INR 30,000 |
| IGNOU | INR 6500 |
| VIVO Health care | INR 25,000 |
| SRM Medical College Hospital and Research Centre | INR 25,000 |
| Tech Mahindra Smart Academy for Healthcare, Mumbai | INR 10000 |
| Vananchal Educational and Welfare Trust, Jharkhand | INR 56,000 |
| Susrut Eye Foundation & Research Centre, Kolkata | INR 15,000 |
Skills Required for Short Term Medical Courses with High Salary After 12th Science
Pursuing any degree in the medical field is not an easy task. You are required to have some amazing and unique skills to build your career in the same. Here, is the list of skills which you need to have for certificate medical courses.
Stress Management
Communication Skills
Receptive attitude
Developing and Mounting Dental Radiographs
Understanding of Medical Record
Stress Management
Attentiveness
Adaptively
Knowledge of Medical Terminology
Knowledge of Lab Equipments
Flexibility
Time Management
Patience
Interpersonal Communication Skills
Understanding of Healthcare Procedures and Regulations
Manual Dexterity
Knowledge of ICD – 9 codes and procedures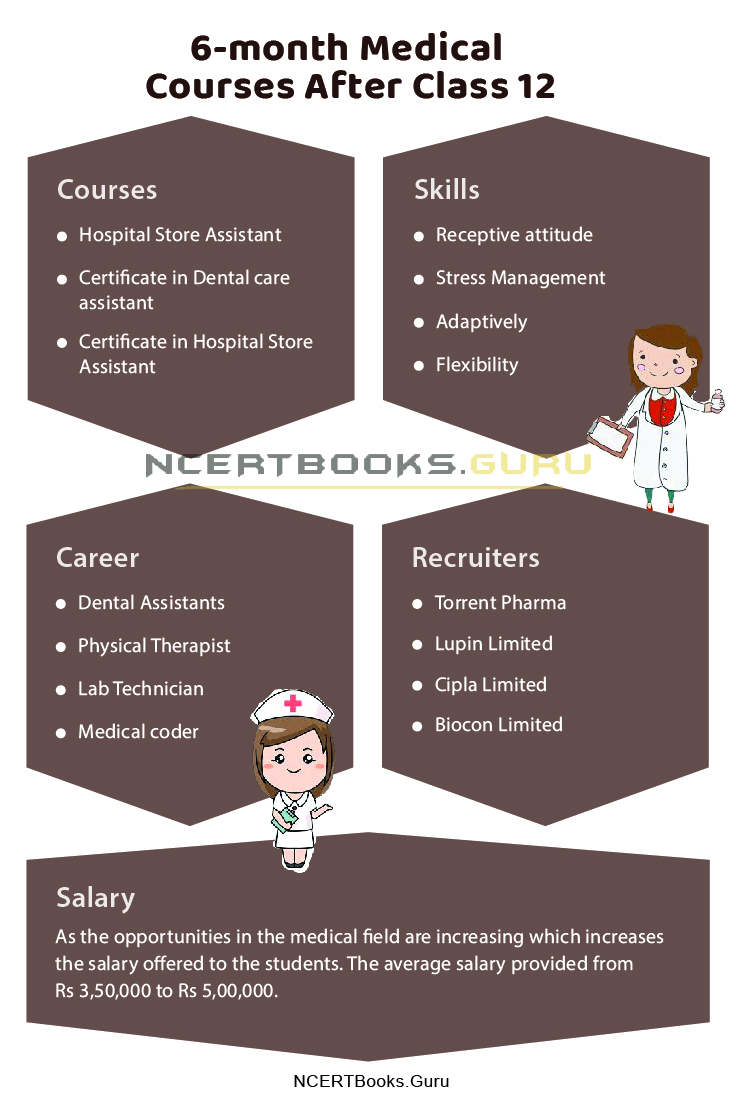 Career Scope After Certificate Medical Courses After XII
After the completion of medical courses, you have ample opportunities to build your life in the medical sector. As the course can be completed in just 6 months so you can easily start earning for your expenses. You can work in both the private and government sectors. Here are the few domains which you can choose.
Dental Assistants
Hospital Administrator
Physical Therapist
Medical coder
Lab Technician
Salary After 6 Month Certificate Medical Courses in India
As the opportunities in the medical field are increasing which increases the salary offered to the students. The average salary provided from Rs 3,50,000 to Rs 5,00,000.
Top Recruiters in Medical Field
There are various medical recruiting firms for students even who had cleared their certificate courses. Companies such as
Torrent Pharma
Sun Pharmaceutical Industries
Piramal Enterprises Limited
Mankind Pharma Limited
Lupin Limited
Intas Pharmaceuticals Limited
Innovexia Life Sciences Pvt. Ltd.
Glenmark Pharma Limited
Emcure Pharmaceuticals
Dr. Reddy's Laboratories
Cipla Limited
Cadila Healthcare Limited
Biocon Limited
Abbott India Ltd.
Also Check: 
FAQs on Six Months Certificate Medical Courses After 12th
1. What are the average fees for certificate courses in medical after the 12th? 
Ans. Various colleges offer 6 months of medical courses after 10+2. The average fees which they charge are minimal as it ranges from Rs 6,000 to Rs 45,000.
2. Who are the top recruiters for certificate courses in medicine? 
Ans. The top recruiters for medical students after certificate courses are Ranbaxy, Abbott, Cipla, Zydus Cadila, Apollo Hospital Enterprise, Max Healthcare, and more.
3. Is choosing 6-month Medical Courses After 12th the right choice? 
Ans. Yes, the choice completely depends on which course suits you the best. After the completion of 6 months duration courses in the medical field, you have ample opportunities to build your career. You can pursue further studies or you can look up to jobs.
4. What are the jobs positions for which I can apply after the completion of certificate courses in medicine After the 12th? 
Ans. There are various jobs positions available in both government and private sectors. You can apply for the post of dental assistant, X-Ray technician, junior nutritionist, therapist, and more.
Final Words
6-month Medical Courses After 12th is an amazing opportunity for students who want to build their career in the medical field in a short period. However, you can go ahead to build your future in medical courses, and if find any queries feel free to ask in the comments section below. You may also visit our official website Ncertbooks.guru to know more about the medical courses.