Medical Courses After 12th: Are you surfing for the best medical colleges after completion of your class 12th. Do you want the details about the best medical courses after class 12th, entrance exams to get admission, and more? Not to worry as we have covered all the required things in the below article.
Class 12 is an important class and choosing the right subjects for your dream career is essential. If you want to pursue your career in Medicine then you must study Biology, Chemistry, and Physics in your class 12 as the main subjects.
Here, Ncertbook.guru expert team has provided you with the complete list of top medical courses after 12th class and colleges and the ways to get into the best colleges.
Medicine is one of the highest recommended courses after 12th for the students who had chosen PCB as their main subjects. Medical courses are in high demand these days. One of the most popular courses is MBBS.
But, if you did not have biology as the main subject you can still opt for various courses in the medical field such as Biomedical Engineering, BSc in radiography, Pharmacy, Biotechnology. Numerous Paramedical Courses are job-oriented courses.
1 Year Medical Courses After Class 12th Eligibility
The foremost eligibility for the class 12th student is to clear NEET exam if he/she wants to get into the medicine field.
The another tghing which you need to keep in mind is that you must have scored 12th with 50% marks in PCB
Except NEET there are few other entrance exams which students can opt to build their career in medical field.
Entrance Exam for Medical After 12th
NEET is one of the most popular exam after class 12. As there are few other niversities which consuctes their own entrance exam sto give admission to the students.
| | | |
| --- | --- | --- |
| Exam  | Conducting Body | Level  |
| NEET | NTA (National Testing Agency) | National level |
| JIPMER MBBS | JIPMER, Puducherry | National level |
| AFMC | Armed Forces Medical College | National level |
| PGIMER | PGIMER, Chandigarh | National level |
| CMC Vellore Entrance Exam | CMC Vellore | University level |
| BVP CET | Bharati Vidyapeeth Deemed-to-be University | University level |
| MU OET/ MET | Manipal University | University level |
| KIITEE Exam | KIITEE | University level |
Do See:
List of Best Medical Courses After 12th
MBBS is the prior choice for the students after class 12th. After class 12th PCB, you have ample opportunities to get into your chosen course if you have amazing marks. Thus, for your reference, we have provided the list for the after-class 12th medical courses. You can also lookup the fee structure for the courses.
Top Medical Courses After 12th Without NEET
There are numerous colleges that admit students without NEET. But here is the top medical courses list without neet which you can pursue without qualifying NEET Examination after the 12th.
| | | |
| --- | --- | --- |
| Course  | Duration | Fees  |
| BSc Clinical Research | 3 years | INR 25,000 – 1,50,000 |
| Bachelor of Science | 3 Years | INR 1,000 – 60,000 |
| Bachelor of Veterinary Science | 5.5 years | INR 10,000 – 4,00,000 |
| BSc Optometry | 3 years | INR 10,000 – 1,00,000 |
| BSc Psychology | 3 years | INR 20,000 – 2,50,000 |
| BSc Agriculture Subjects | 4 years | INR 6,000 – 1,50,000 |
| BTech Food Engineering | 4 years | INR 19,600 – 1,00,000 |
| B Pharmacy | 4 years | INR 15,000 – 3,00,000 |
Do Check: Best Medical Engineering Courses
6 Month Medical Courses After 12th
The diploma in medicine has a duration of a minimum of 6 months. If you want to build up your career in medicine and hold a degree in a short span of time then the diploma is our cup of tea.
Also See: Diploma courses after 10th
There are various opportunities for the students who pursue diplomas in medicine in Government Hospitals, Medical Content Writing, Medical Labs, and other sectors. You can check the fees for the diploma courses after class 12 in medicine in the below table.
| | | |
| --- | --- | --- |
| Name Of The Course | Duration | Average Course Fee |
| Certificate course in Medical Laboratory Technology | 6 months | – |
| Certificate in Dental care assistant | 6 months | 22,000 |
| Certificate in Echocardiography and Ultrasound | 6 months | 10,560 |
| Certificate in Food and Nutrition | 6 months | 5100 |
| Certificate in General Duty Assistance | 6 months | 11000 |
| Certificate in Geriatric Care Assistance | 6 months | 8500 |
| Certificate in HIV and Family Education | 6months | 5,500 |
| Certificate in Hospital Store Assistant | 6 months | 12,000 – 15,000 |
| Certificate in Pain Management | 6 months | 15000 |
| Certificate in Phlebotomy Assistance | 6 months | 9500 |
Top Colleges for Medical Course in India with City Names
| | |
| --- | --- |
| College | City |
| All India Institute of Medical Sciences (AIIMS) | Delhi |
| Christian Medical College (CMC), Vellore | Vellore |
| Armed Forces Medical College (AFMC) | Pune |
| JIPMER College | Puducherry |
| Maulana Azad Medical College (MAMC) | Delhi |
| Lady Hardinge Medical College (LHMC) | Delhi |
| Madras Medical College | Chennai |
| Grant Medical College | Mumbai |
| Kasturba Medical College (KMC) | Manipal |
| Sri Ramachandra Medical College and Research Institute | Chennai |
| Post Graduate Institute of Medical Education and Research (PGIMER) | Chandigarh |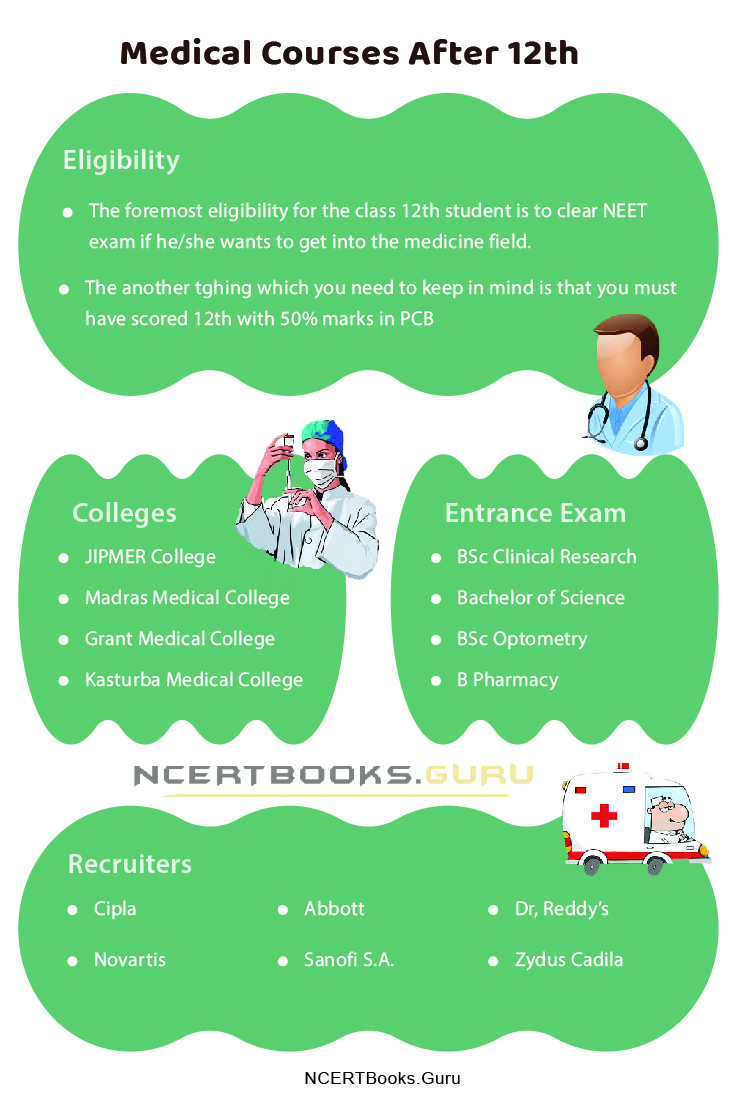 Top Recruiters In Medicine
When you have completed your degree in medicine either you can opt for your personal practice or can choose to work with various firms. However, in the market, there are a number of firms that recruit medical students. Here is the list for a few.
GlaxoSmithKline (GSK)
Sun Pharmaceuticals Industries Inc.
Cipla
Abbott
Dr, Reddy's
Novartis
Sanofi S.A.
Zydus Cadila
Mankind Pharma
In addition to the private firms, students can opt for government sector jobs.
FAQs on Medical Courses After 12th Without NEET with High Salary
1. Is it necessary to clear NEET for MBBS? 
Ans. Yes, it is compulsory for the students to clear the NEET exam before pursuing the MBBS degree in India or even abroad. However, there are various courses in medicine that you can pursue without NEET.
2. Is the NEET Exam difficult? 
Ans. Yes, NEET is considered one of the toughest exams. As the competition is too much and the syllabus is vast for the exam. Also, the seats available for the students are limited in nature which makes the NEET exam difficult.
3. Is Medicine a good career? 
Ans. Yes, medicine is one of the highest value-providing careers in India. But the path is a little difficult as the course has a vast syllabus. However, it has been observed that medicine is not just a career option to earn a good amount of money but a service that is provided to the people.
4. Which profession in medical provides the highest salary? 
Ans. Physicians and Surgeons received the highest salary. The annual salary which they earn is Rs. 40,000- Rs. 90,000 per month. Some of them also earn ₹ 390 per hour.
Conclusion
Choosing the right course, the right college in the right field is important. So the above article-medical courses after 12 will help you out in this. Thus, if you want to build your career in the MBBS field you must start preparing for the entrance exams. Need more information and assistance to clear all your queries then comment to us below. Also, visit our official website Ncertbooks.guru for more course details and career decisions.