Medical Diploma Courses After 12th: The medical field covers various aspects such as diagnosis of diseases, prevention of diseases, treatment of the existing diseases, medicinal research, and various other aspects of health and Wellness. Medical courses produce doctors nurses, and various health care specialists. Different courses related to medicine aim in promoting and maintain health and wellbeing.
To know more about diploma medical courses after class 12th keep reading the following article. All the details regarding the eligibility criteria for the course, admission process, entrance exams, fee structure of the entire course, top colleges, salary after a medical diploma course if students start to work, the future scope of a student with a diploma degree in the medical field are provided under various headings throughout the article.
About Diploma Courses After Class 12 in the Medical Field
There are multiple medical courses available for students after they have completed their class 12th in various medical disciplines. The duration of these courses ranges from a few months to 5 or 6 years. The most popular diploma courses after class 12th in a shorter duration of time are the one-year diploma courses details that are provided in various disciplines such as home nursing, pharmaceutics, etc. Following is a list of top one-year diploma courses after class 12th for students in different fields.
Diploma in medical terminology
Postgraduate diploma in geriatric medicine
Diploma in medical transcriptionist course
Diploma in first aid medical care and emergency
Postgraduate diploma in pharmaceutical management
Diploma in clinical research Newland diploma in emergency medicine, and many more.
All these courses are of a duration of one year and completing these courses will reward the students with a diploma degree in the respective fields.
Medicine Diploma Courses After 12th Eligibility Criteria
Students must have completed class 12th from a recognized Board of Education with a minimum of 50% marks.
Age should be below 17 years.
Medical Diploma Courses After class 12 Admission Process
Admission to diploma courses after class 12th in medical field is done on the basis of entrance examinations. The detailed admission procedure of the diploma in medicine course after class 12th is below:
The students must take either one or more of the entrance examinations that are required to get admitted to medical diploma courses. The list of those entrance examinations is provided further in the article.
The students must visit the official website of the conducting body of those entrance examinations and register themselves for it.
The students must pay the examination fee. Once the admit card is released, download it and attend the exam.
After the examination, the result is declared. The students who have cleared their examination will be called in for the counselling process. During the counselling process, the students will be allotted colleges based on their marks obtained.
The students must then submit an amount of the fee to resolve their seats in the respective college. After this, the students must visit the College with the required documents to complete the further application process.
The students have to check the entrance examination board's official website to know the details of the entrance examination.
Entrance Exams to get Admission to Medical Diploma Courses
Following is a list of top entrance examinations that the students can take if they want to get admitted to the top colleges for their diploma courses after completing their class 12 in the medical field:
NEET, Conducted by the National Testing Agency
AFMC, Conducted by the Armed Forces Medical College
JIPMER MBBS, Conducted by the JIPMER, Puducherry
CMC Vellore entrance exam, Conducted by the CMC Vellore
PGIMER, Conducted by the PGIMER, Chandigarh
BVP CET, Conducted by the Bharati Vidyapeeth deemed-to-be university
KIITEE Examination, Conducted by the KIITEE
MU OET/MET, Conducted by the Manipal University
Also, Refer
Fee Structure of Medical Diploma Courses After 12th
The fee for a one-year diploma course after class 12th can range from somewhere between INR 25,000 to INR 6,00,000 depending upon the courts and the type of college that the student is admitted to.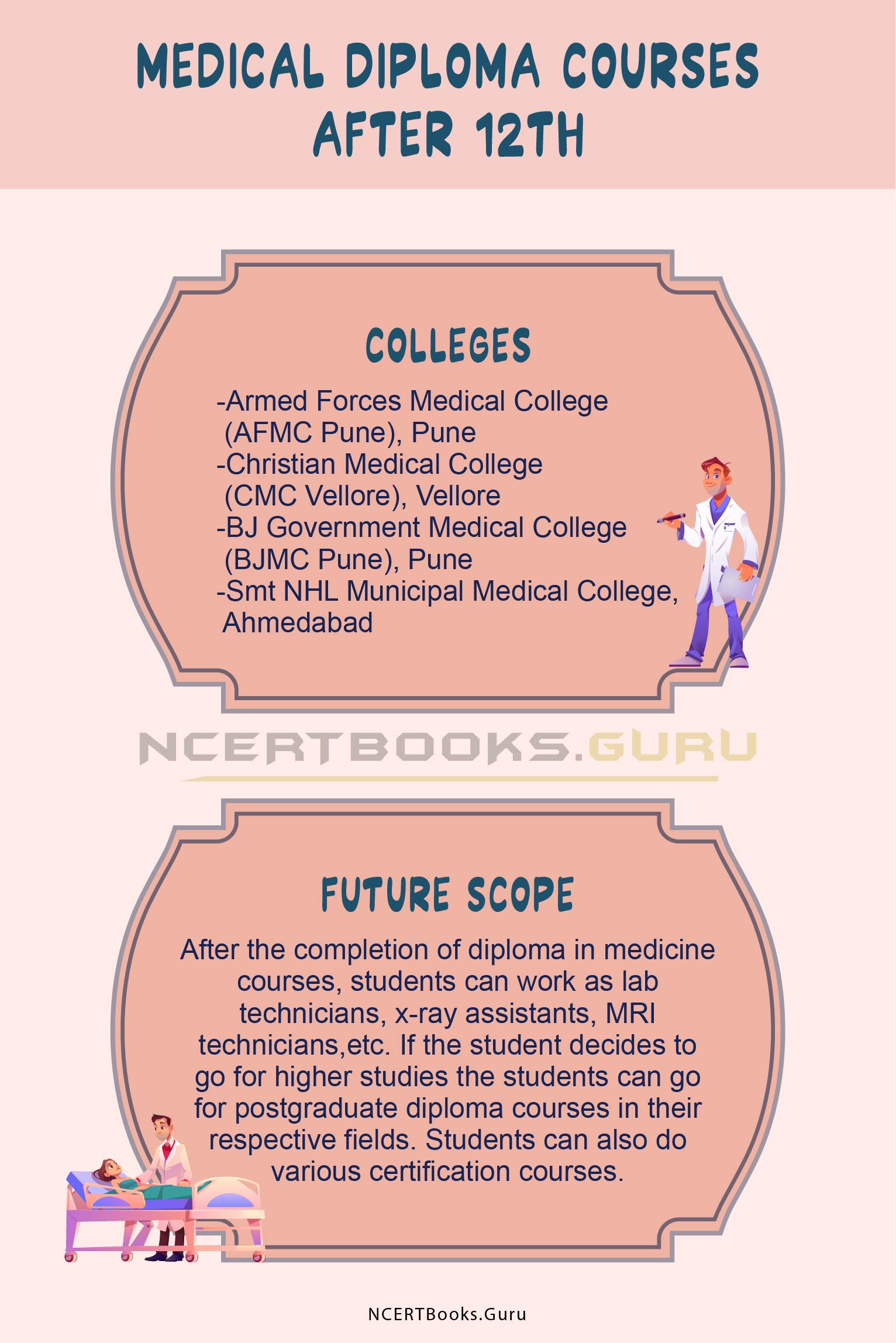 Medical Diploma Courses Top Colleges
There are various institutes all across the country that provide good quality education under various medical disciplines.
Armed Forces Medical College (AFMC Pune), Pune
Christian Medical College (CMC Vellore), Vellore
Bangalore Medical College and Research Institute (BMCRI Bangalore), Bangalore
Humdard Institute of Medical Sciences and Research (HIMSR New Delhi), New Delhi
BJ Government Medical College (BJMC Pune), Pune
Shree Guru Gobind Singh Tricentenary University, Gurgaon
BJ Medical College (BJMC Ahmedabad), Ahmedabad
King George's Medical University (KGMU Lucknow), Lucknow
Smt NHL Municipal Medical College, Ahmedabad
Jawaharlal Nehru Institute of Postgraduate Medical Education and Research (JIPMER Puducherry), Puducherry
Institute of Postgraduate Medical Education and Research (IPGMER Kolkata), Kolkata
All India Institute of Physical Medicine and Rehabilitation (AIIPMR Mumbai), Mumbai
All India Institute of Medical Sciences (AIIMS Rishikesh), Rishikesh
Topiwala National Medical College and BYL Nair Charitable Hospital (TNMC Mumbai), Mumbai
Government Medical College, Surat
Future Scope After Diploma in Medicine After 12th
Doing a medical diploma right after class 12th opens up multiple doors for the students when it comes to their career options and future scope. After the completion of diploma in medicine courses, students can work as lab technicians, x-ray assistants, MRI technicians, nursing care technicians, operation theatre assistants, CT scan technicians, medical laboratory assistants, dialysis technicians, ophthalmic assistants, home nursing assistants, etc.
If the student decides to go for higher studies the students can go for postgraduate diploma courses in their respective fields. Students can also do various certification courses.
Medical Diploma Courses Salary
After completing diploma courses after class 12th the students can expect a salary of somewhere between INR 10,000 per month to INR 50,000 per month. Completing higher degrees after the diploma course will help the students to get a much higher salary.
In the medical field, experience and degree have great importance. Hence, the students with a higher degree such as MBBS, and postgraduate courses are paid much larger as compared to the students who have a diploma degree.
FAQ's on Medical Diploma Courses After 12th
1. Can I enrol in medical courses in online mode after completing class 12th?
Yes, you can enrol in different certification courses in different fields of medical science online mode after you have completed your class 12th. However, for an actual degree course, you will have to attend a college or university.
2. What is the cost of a medical course for a student who has completed class 12?
The fee for a medical course after class 12th is different for different courses. The fee for diploma courses after class 12th of a duration of one year is somewhere around INR 25,000 to INR 6,00,000. The type of institution also matters when we talk about the fees. The government colleges charge way less for courses as compared to the private colleges. That is the reason that all the students want to enrol in government colleges.
3. Is it worth pursuing a medical course after class 12?
The worth of a course completely depends upon the student pursuing the course. If you have zeal, passion, and dedication for the medical field and want to build a career in it and help people, you will definitely prove to be an asset to the medical community, You will enjoy doing a medical course right after your class 12. However, if you are not sure about whether you want to step into the medical field or not you might want to wait it out and then decide whether to go for a medical course or not.
Conclusion
We hope that this article was able to provide you with all the information that you are looking for regarding medical diploma courses after class 12th. You can write to us through the comment section to clear doubts regarding the diploma in the medicine course.