Pharmacy is not just about drugs one can choose research and development of medicine for their career. There are plenty of opportunities that Pharmacy provides. In Order to enroll in Pharma Courses one needs to fulfill the eligibility criteria, appear and clear the admission process. For the sake of your convenience, we have listed the Entrance Exams, Fee Structure, Course Duration, Scope, Career Options, Job Opportunities. Refer to the Pharmacy Courses at different levels such as Diploma, UG, PG, Doctorate.
List of Pharmacy Courses
Candidates can have a look at the Pharmacy Courses ranging from Diploma to Doctorate Level. They are given in the following sections and you can access them by simply tapping on them. Get Complete details related to the particular course and clear your concerns.
Pharmacy Eligibility Criteria
To get Admission into Pharmacy Courses one needs to fulfill the required eligibility for the course. They are as follows
Diploma in Pharmacy (D. Pharm): Candidates should have completed their 10+2 with science subjects i.e. Physics, Chemistry, Biology and Mathematics as background from recognized board or college.
Bachelor in Pharmacy (B. Pharm): Candidates need to complete their higher secondary education from a recognized college. However, candidates should have 17 years of age.
Master of Pharmacy (M. Pharm): Students need to finish their B.Pharm from a recognized college with a minimum aggregate from a Pharmacy College approved by Pharmacy Council of India (PCI).
Doctor of Pharmacy (Pharm. D): Candidates who have finished their higher secondary education or diploma in Pharmacy are eligible for pursuing the Pharm. D Course. However, Candidates should have an age of 17 years.
Pharmacy Courses Admission Procedure
Candidates will be given admission into Pharmacy Colleges both on a merit basis and through scores in Entrance Exams. However, certain colleges will conduct their own entrance tests and gives admission to those who meet the eligibility criteria.
Pharmacy Course Duration
Course Duration for Pharmacy Courses varies depending on the level. In Pharmacy, you will have courses ranging from Diploma Level to Doctorate Level. Check out the Pharmacy Courses Duration for Diploma, UG, PG, Doctorate Levels. They are as such
Diploma Courses
Diploma in Pharmacy (D.Pharm) – 2 years
Undergraduate Courses
Bachelor of Pharmacy (B.Pharm) – 4 years
Bachelor of Pharmacy (B.Pharm) Lateral Entry – 3 years
Pharm (Hons.) – 4 years
Bachelor of Pharmacy (Ayurveda) – 4 years
Postgraduate Courses
Master of Pharmacy (M.Pharm) – 2 years
Pharm.D (Post Baccalaureate) – 3 years
Doctor of Pharmacy (Pharm.D) – 6 years
Doctoral Courses
Ph.D. in Pharmaceutical Sciences – 3 years
Pharmacy Entrance Exams in India
Most of the Colleges conduct Entrance Tests to provide admission to candidates. Entrance Tests are a shortcut to test your caliber. Some of the Popular Pharmacy Entrance Exams held across the country is given below. They are as follows
West Bengal Joint Entrance Exam
Maharashtra State Common Entrance Test
Karnataka Common Entrance Test
UPSEE
GUJCET
AP EAMCET
TS EAMCET
BITSAT
ITM NEST
Central Universities Common Entrance Test
BITS Higher Degree Admission Test
West Bengal University of Technology Post Graduate Entrance Test
NIPER Joint Entrance Exam
Graduate Pharmacy Aptitude Test
Dayananda Sagar University Admission Test
Goenka Aptitude Test for Admission
DHSG University Post Graduate Entrance Test
Andhra Pradesh Post-Graduate Common Entrance Test
GLA University Entrance Test (GLAET)
Jaipur National University Combined Entrance Test
Bharati Vidyapeeth Common Entrance Test
Uttarakhand State Entrance Exam
OJEE Post Graduate Admission Test
Integral University Entrance Test
Himachal Pradesh Common Entrance Test
Manipal University Online Entrance Test
Pharmacy Fee Structure
Fee Structure for Pharmacy Courses differs from institute to institute and course to course. Check out the college's portal and confirm the fees of the particular course. Fees usually depends on the reputation of the college, the infrastructure provided, placement offers provided.
Top Pharmacy Colleges in India
There are several colleges across the country that offer Pharmacy Courses. To help you out in this we have provided the famous colleges for Pharmacy all in one place. They are in the following fashion
National Institute of Pharmaceutical Education and Research(NIPER), Mohali
Manipal College of Pharmaceutical Sciences, Manipal
Poona College of Pharmacy, Pune
LM College of Pharmacy, Ahmedabad
Goa College of Pharmacy, Panji
Jamia Hamdard
Geetanjali University
JSS College of Pharmacy
Dayananda Sagar University
Krupanidhi College of Pharmacy
Best Pharmacy Books & Study Materials
If you ever need help on the Pharmacy Subjects then have a look at the Pharmacy Books given to you after extensive research. You can score better grades in the exams by referring to the best study materials on Pharmacy.
Pharmacy Practice by David A. Holdford, Thomas R. Brown
Drug Store and Business Management by V.N. Raje
Introduction to General Pharmacy by Gaurav Agarwal
Clinical Pharmacy: Symptoms, Diagnosis, and Treatment by Paul Rutter
Introduction to Pharmaceutical Calculations by Judith A. Rees, Ian Smith, Jennie Watson
Physical Pharmacy by S.P. Agarwal, Rajesh Khanna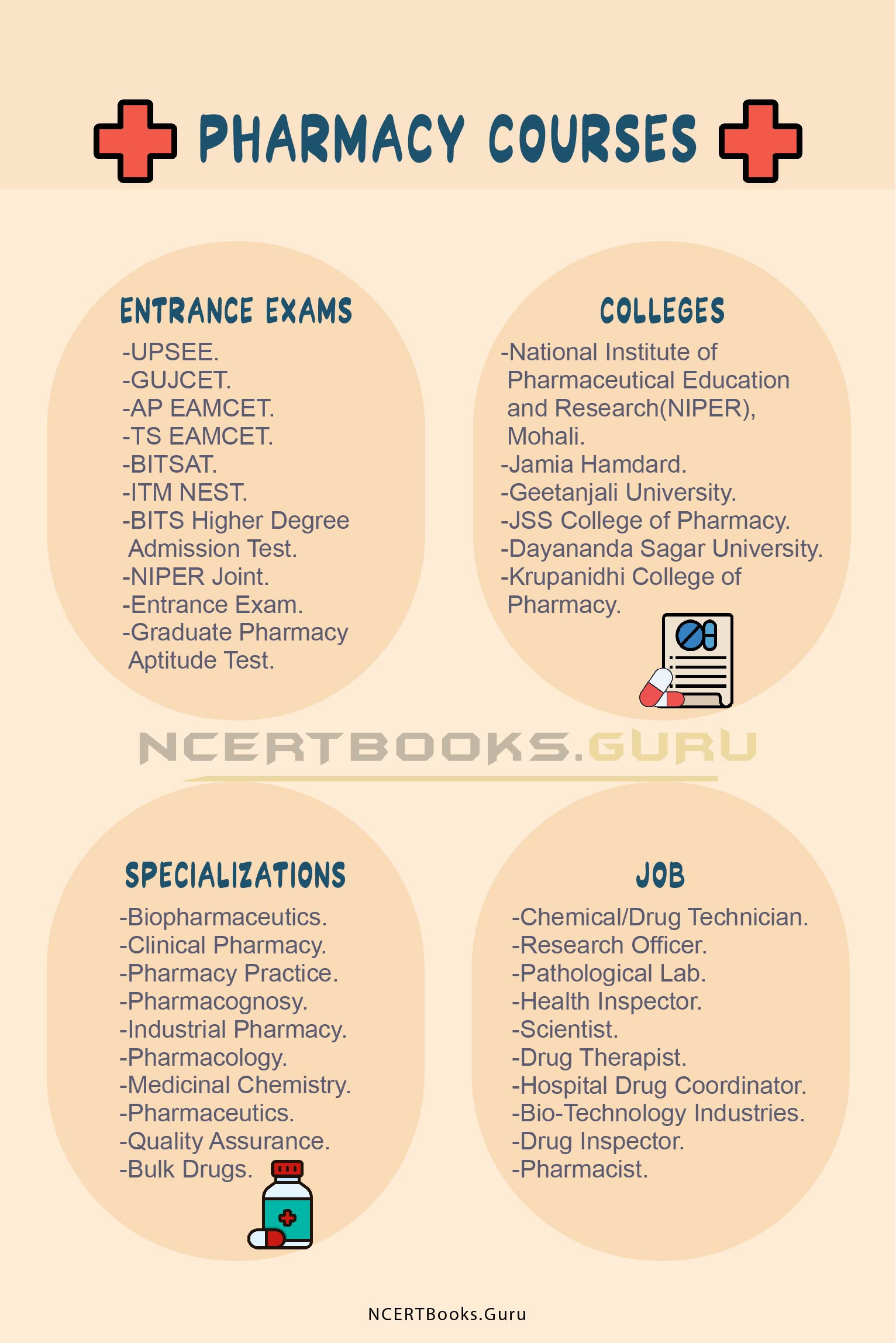 Pharmacy Specializations
There are many specializations in Pharmacy and if you are eager to know about them check out the listed ones below. Select the specializations you want to opt for as per your individual interest and join them accordingly.
Pharmaceutical Chemistry
Pharmaceutical Technology
Biopharmaceutics
Pharmaceutical Analysis and Quality Assurance
Clinical Pharmacy
Pharmacy Practice
Pharmacognosy
Industrial Pharmacy
Pharmacology
Medicinal Chemistry
Pharmaceutics
Pharmaceutical Marketing Management
Quality Assurance
Phytopharmaceuticals and Natural products
Bulk Drugs
Drug Regulatory Affairs
Drug Discovery and Development
Read More:
Required Skillset for Pharmacy Courses
Apart from the regular Educational Qualification, you need to have the following additional skills in order to be good at Pharmacy Courses. They are along the lines
Communication skills and interpersonal skills
Medicinal and scientific research skills
Medical writing and ethics
Determinant and consistency skills
Adaptation ability to dynamic situations
Sharp memory and knowledge
Therapeutic and counseling skills
Curiosity and persuasive skills
Business skills like marketing, organizing
Technical skills
Job Opportunities after Pharmacy Courses
Candidates can have plenty of career options after pursuing the Pharmacy Courses. For the sake of your convenience, we have listed some of them in the below sections. They are in the following fashion
Chemical/Drug Technician
Research Officer
Pathological Lab
Health Inspector
Scientist
Drug Therapist
Hospital Drug Coordinator
Bio-Technology Industries
Drug Inspector
Pharmacist
Average Salary in Pharmacy Career
Unlike other industries, the more experience a candidate acquires in the pharmacy field the payscale depends. Average Salary depends on several factors such as qualifications, place of employment, area of specialization, skills and training received, etc. Pharmacists can acquire an average salary of 4.5 LPA – 7 LPA.
FAQs on Pharmacy Courses
1. What is the Qualification for Pharmacy?
Candidates should have completed their 10+2 or higher secondary education from a recognized college or university with a minimum aggregate in order to pursue a Pharmacy Course.
2. Is Pharmacy Easy to Study?
Pharmacy is one of the toughest subjects as it contains almost all parts of science. Put enough effort and clear the Pharmacy Courses easily.
3. Is Pharmacy a Good Career?
Pharmacy is a good career option as it provides ample opportunities and you can earn pretty good salaries.
Conclusion
Hope the knowledge shared regarding the Pharmacy Courses has helped you clear your concerns. If you need any help regarding Course Details you can always comment us so that our experts will guide you. Stay in touch with our site and avail latest updates in a matter of seconds.