M.Pharm Course Details: For students, who wish to do post-graduation studies in the Pharmacy field, they are on the right website. Get to know the best books for M.Pharmacy recommended by subject experts to make your preparation effective. Get detailed information about M.Pharm courses related information like M.Pharm Full Form, Eligibility Criteria, Admission Procedures, and names of Colleges offering M.Pharm Course. In addition, the information provided on this site will clear all your ambiguities like Job and Career Prospects, M.Pharm Syllabus, Subjects, Salary Offered.
Get to Know More about other types of Course Details in Stream wise, and Category wise
About M.Pharmacy Courses
Master of Pharmacy is a post-graduate degree in Pharmaceuticals Science related fields. It is a two years degree program distributed in four semesters. The post-graduate Pharmacy course is structured to provide knowledge regarding the entire theoretical, technical, practical, and researched aspects of the subjects.
The M.Pharm degree offers students several high post job opportunities in the healthcare industry. The post-graduation course of Pharmacy equips students with the necessary skills to work in drug research, manufacturing, and sales.
M.Pharmacy Course Details
| | |
| --- | --- |
| Course | M.Pharm |
| M. Pharm Full form | Master of Pharmacy |
| Eligibility & Requirement | 50% or equivalent CGPA in B.Pharm |
| Duration | 2 years |
| M. Pharm Course Course Fee | 30K- 1.75 Lakh Per Annum |
| Course Type | Advance |
| Starting Salary Offered | 4-7 Lakh Per Annum |
| Expert Courses | PhD |
| Employment Opportunities | Senior Pharmacist, Manager, Scientist |
Mater of Pharmacy Admission Process
The admission process is based on the candidate's performance in the Entrance Examinations. However, some colleges offer direct admission, i.e., candidates can get admission to Master of Pharmacy in some private universities without having to appear in any entrance exams.
M.Pharm Course Eligibility Criteria
A student must be a graduate of B.Pharm Courses with a minimum of 50% CGPA or equivalent marks to be eligible for the post-graduate program. The eligibility criteria might differ slightly from one college to another based on their cut-offs.
M.Pharmacy Course Duration
The M.Pharm post-graduation course span includes a total of four semesters. Each semester lasts for about six months in which the candidates will be provided both theoretical and practical knowledge.
Fee Structure of M.Pharm Courses
Average Fee Structure for M.Pharmacy Course lies somewhere in between 30K to 1.75 Lakh Per Annum based on the college standards. The entrance exam taken by the candidate to get admission will also be a factor in the fees deviation.
M.Pharm Course Syllabus
The Course Syllabus followed in most universities and colleges for the Master of Pharmacy Curriculum, remains the same. However, there can be a minor change in the syllabus from one college to another. Refer to the Master of Pharmacy Syllabus and get to know the concepts you can start learning and preparing for in advance. Learning concepts in advance will give students a headstart advantage. Check the M.Pharm Subjects provided below as per the Semesters so that you can plan your preparation accordingly.
Semester I
Modern Analytical Techniques
Advance in Pharmaceutical Sciences
Pharmaceutical Quality Assurance
Chemistry of Medical Natural Product
Pathophysiology and Pharmacotherapeutics I
Organic Chemistry
Pharmaceutical Formulation Design and Development
Pharmacokinetic and Formulation Design
Cellular and Molecular Pharmacology
Semester II
Standardization and Stabilization Method of Drugs
Standardization and Stabilization Method of Herbal Formulation
Biopharmaceutics and Pharmacokinetics
Organic Chemistry II
Advance in Pharmaceutical Technology
Advance Systematic Pharmacology
Special Techniques in Drug Analysis
Evaluation of Herbal Drugs and Formulations
Pathophysiology and Pharmacotherapeutics II
Pharmaceutical Chemistry I
Design and Development of Novel Drug Delivering System
Pharmacometrics and Evaluation of Drugs
Validation & cGMP
Biotechnology and Cultivation of Medicinal Plants
Clinical Research and Approval of New Drugs
Pharmaceutics Chemistry II
Clinical Pharmacotherapeutics and Toxicology
Semester III
Seminar of Recent Subject in Pharmaceutical Sciences
Seminar on Dissertation (Introduction)
Semester IV
List of Colleges Offering M. Pharm Course
Pharm Course is available in many colleges across the country. These are some famous colleges that provide the Master of Pharmacy Course, which can help you choose easily. The list includes:
Jawaharlal Nehru Technological University, Kakinada
Institute of Pharmaceutical Sciences and Research, Delhi
University Institute of Pharmaceutical Sciences, Chandigarh
Al Shifa College of Pharmacy, Perinthalmanna
Acharya and BM Reddy College of Pharmacy, Bangalore
Aditya Bangalore Institute of Education and Research, Bangalore
AKS University, Madhya Pradesh
AM Reddy Memorial College of Pharmacy, Andhra Pradesh
Anurag Pharmacy College, Andhra Pradesh
Birla Institute of Technology, Ranchi
Babaria Institute of Pharmacy, Gujarat
Bapuji Pharmacy College, Karnataka
Bhupal Nobles College of Pharmacy, Udaipur
Chaudhary Bansi Lal University, Bhiwani
CMR College of Pharmacy, Hyderabad
M. Pharm Subjects
Core subjects that are in the Master of Pharmacy course are listed below. Except for slight variations based on some colleges, most subjects remain constant.
Drug Regulatory Affairs
Pharmaceutics
Biological Evaluation
Product Development and Formulation
Novel Drug Delivery Systems
Biopharmaceutics and Pharmacokinetics
Pharmacy Entrance Exams
The cut-off marks for the application in M. Pharm varies from institute to institute. Some of the entrance exams that occur for the college entrance of M. Pharm in India are listed below:
Graduate Pharmacy Aptitude Test (GPAT)
Andhra Pradesh for Post Graduate Engineering Common entrance test (AP PGECET)
Tamil Nadu Common Entrance Test (TANCET)
Telangana State for Post Graduate Engineering Common Entrance Test (TS PGECET)
Orissa Joint Entrance Examination (OJEE)
Himachal Pradesh Common Entrance Test (HPCET)
Birla Institute of Technological Science entrance test (BITS HD)
NIPER Joint Entrance Exam (NIPER JEE)
Pharmacy Specialization Courses
These are some of the specialization courses that you can choose:
Pharmaceutics
Industrial Pharmacy
Pharmaceutical Chemistry
Pharmaceutical Analysis
Pharmaceutical Quality Assurance
Regulatory Affairs
Pharmaceutical Biotechnology
Pharmacy Practice
Pharmacology
Pharmacognosy
Pharmacy Jobs and Career Prospects
Master of Pharmacy offers excellent job prospects and options for the career to the deserving students. These are some of the employment opportunities in various companies and industries of employment:
Medical Representatives
Clinical Researchers
Drug Control Director
Oncology Research
Candidates can also check Pharm.D Courses Details.
Required Skillset for M. Pharmacy Course Details
| | |
| --- | --- |
| Communication skills and Interpersonal skills | Persuasive and curiosity skills |
| Science wizard and technical skills | Counselling and therapeutic skills |
| Consistency and determinant skills | Medicinal and scientific research skills |
| Business skills including marketing and organizing | Sharp memory and wicked knowledge |
| Ethics and medical writing | Adaptation ability for dynamic situations |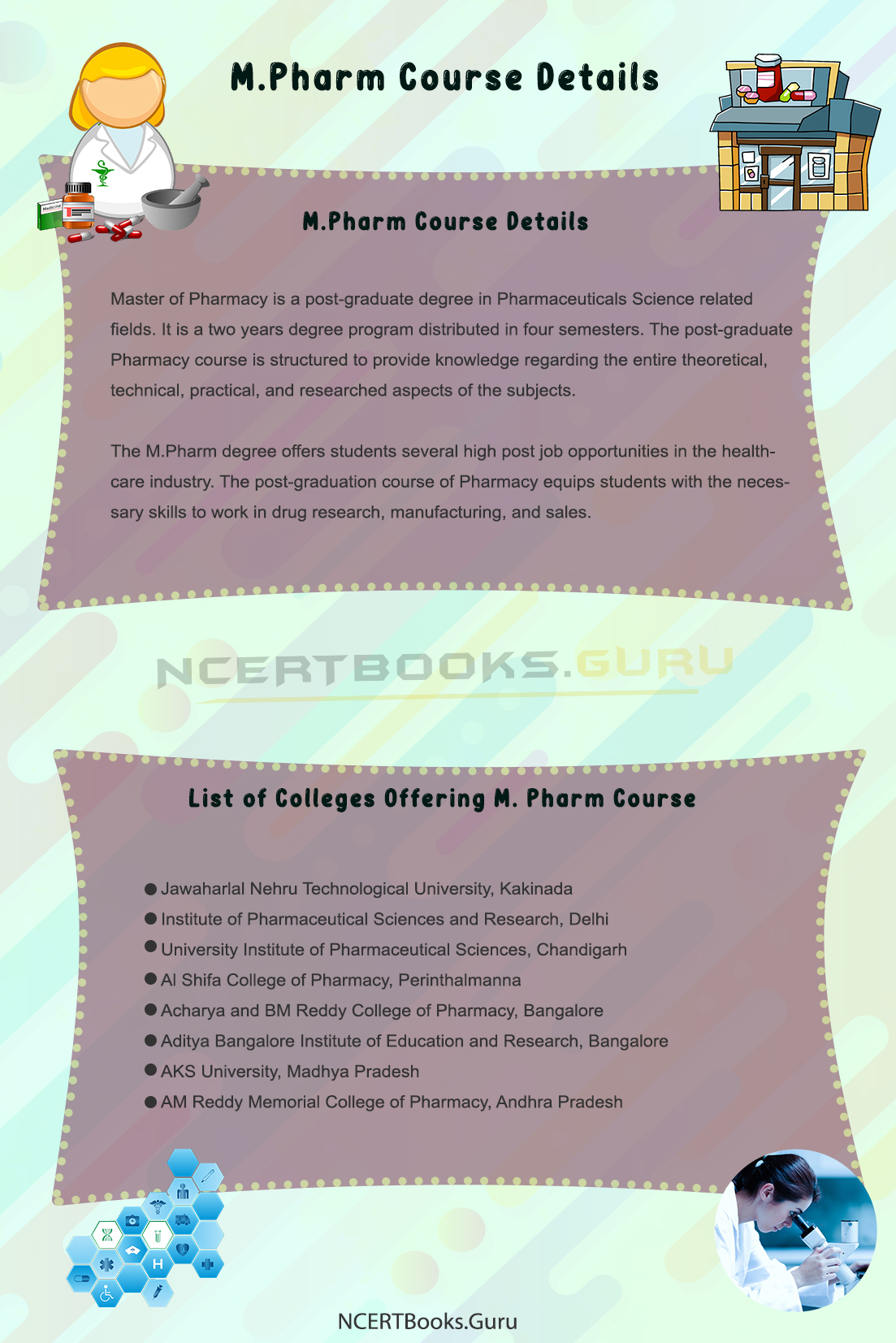 M.Pharmacy Salary
The salary varies from firm to firm, which is offered to the M. Pharmacy Candidates. On an average, a pharmacist can earn up to INR 2.5 Lakhs per Annum; a medical representative generally earns INR 3 lakh per annum, a clinical researcher can earn INR 3.5 lakh per annum, a drug control director can earn INR 6 lakh per annum. The salary for the Oncology researcher varies according to Government standards.
Also, Check
FAQ's on M.Pharm Course Details
Question 1.
What are the branches of M. Pharm, which is most opted?
Answer:
All the M. Pharm branches and the different specializations have respectable prospects for each student in the Pharmacy field. However, the best M. Pharm specialization depends on the interest of the student. There are many specializations in India in the field of M. Pharm, mainly Pharmaceutics, Pharmacology, Quality Analysis, or even pharmacovigilance.
Question 2.
Which are the top National level exams for M. Pharm in India?
Answer:
GPAT (Graduate Pharmacy Aptitude Test) and the NIPER JEE are considered to be the most popular and essential entrance exams for M. Pharm held at the national level. National Testing Agency (NTA) conducts the GPAT exam. The GPAT scores are accepted by most of the institutes all over India, which are All India Council of Technical Education (AICTE) approved.
Question 3.
What is the eligibility for admission in the M. Pharm course?
Answer:
An M. Pharm aspirant should be a B. Pharm degree holder from an institute validated by the PCI, also known as Pharmacy Council of India and All India Council of Technical Education (AICTE). The aspirants should have score minimum of 50% for the general candidates and 45% for the reserved category candidates.
Question 4.
What is the M. Pharm course duration?
Answer:
The course duration for M. Pharm is for two years, divided into four semesters. The last two semesters include a dissertation work presentation.
Question 5.
Is the entrance exam appearance necessary for the M. Pharm course?
Answer:
Most of the institutes of Pharmaceutical in India accept candidates who have passed the entrance exams and have a GPAT score. If you want to pursue M. Pharm from a reputed Institute, the entrance exam is a must. NIPER JEE is also a vital entrance exam for the M. Pharm course applicants in various branches across seven institutes in India.
Final Words of M.Pharm Course Details
We hope that the data provided was useful in clearing your doubts regarding M.Pharm course details. In case of any further queries, drop a comment in the comment section, and our team will try to revert as earliest as possible. It is suggested to bookmaker our website for more information on Study Material, Notes, Books, etc.