Medical Courses after Bsc: Medical courses are one of the highest-paying career options. As medicine is required everywhere and no cap that doctors and its related people ae needed. If you have completed B.Sc in Medical Courses then to gain more knowledge and become an expert you must look for further career opportunities.
After the completion of b.sc medical courses, you can go for masters such as M.Sc, MBBS, Pharms Courses, hospital management, and more. To get more information on the medical courses after B.Sc you can refer to the below article. Here, we are providing the complete course list of Medical Courses after B.Sc.
Get to Know More about other types of Course Details in Streamwise, and Category wise.
List of Courses After B.Sc Medical Science
There are numerous opportunities available for the students for medical courses after Bsc. Here is the list of courses which you can opt for your bright future.
BHMS, BAMS Course, BPT Course
Business Administration
Clinical Research
Hospital Administration
Hospitality Management
International Business Management
M.Sc
Masters in Clinical Psychology
MLT-Medical Lab Technology Course
Nuclear Medicine Technology
Ophthalmic Technology
Radiotherapy/Radiodiagnosis
Eligibility For Medical Courses after Bsc
There are various courses available after Bsc medical science. It depends on you which course you are choosing.
Course
Duration
Eligibility
Masters (MSc)
2 years

Must clear bachelor's degree in relevant discipline
Must hold a minimum 50% aggregate in bachelor

Certificate Course
6 months
Postgraduate Medical Courses After Bsc
Postgraduate courses do not only mean master's in science. But it also included various PG Diploma courses and MBA courses. You can complete these courses in a short period and start working to earn money easily as now you have a professional degree.
Master of Business Administration in Biotechnology
Master of Philosophy in Plant Biology
Master of Philosophy in Plant Biotechnology
Master of Science in Applied Biology
Master of Science in Biological Sciences
Master of Science in Computational Biology
Master of Science in Conservation
Master of Science in Environmental Microbiology
Postgraduate Diploma in Computational Biology
Do Check
6 Months Medical Courses After Bsc
Not only a masters in science and MBA, but you can also pursue certificate medical courses after Bsc too as it is one of the most popular domains in medical courses. Here, is the list of certificate medical courses after BSc.
Certificate course for OT Technicians
Ophthalmic technician course
Certificate course in Radiography
Plaster technician certificate course in Orthopaedics
Certificate in Dialysis technology
Certificate in Medical records management
EEG-ENMG technician course certificate
CSSD technician course
Certificate in Pulmonary function testing & Polysomnography
Hospital aides certificate course
Certificate course in ECG
Certificate in Clinical pastoral education
Postgraduate certificate course in health care administration
Operation Theatre Courses for Medical Science After Bsc
These courses are available in the MSc and diploma domains. You can choose whichever suits you the best. After the completion of BSc Operation Theatre, you can opt for this course. The courses which you can pursue are listed here.
M.Sc. operation theatre techniques
M.Sc. Bioinformatics
M.Sc. / Diploma X-Ray technology
M.Sc./Diploma Medical transcription.
Colleges Offering Medical Courses after BSc
There are number of colleges available for bachelors and masters in medical science. But there are few which offer certificate courses too. The colleges are available throughout India in which you can take admission easily.
All India Institute of Medical Sciences (AIIMS), New Delhi.
Armed Forces Medical College, Pune.
Christian Medical College (CMC), Vellore, Tamil Nadu.
Grant Medical College (GMC), Mumbai.
Kasturba Medical College (KMC), Mangalore, Karnataka
Maulana Azad Medical College (MAMC), New Delhi
Seth GS Medical College, Mumbai.
SMS Medical College, Jaipur.
Career Options After B.Sc Medical Science
After the completion of a BSc, you can opt for various career opportunities. Either you can start pursuing a degree in any medical field or you can look for job opportunities. A few career options which can choose for medical courses after Bsc is;
You can pursue master's such as MSc, MBA, and more.
You can pursue jobs in the private or government sector.
There are various job positions in which you can be recruited such as
Biochemist
Pharmacist
Lab technician
Research assistant
Laboratory Manager
Mycologists
Nurse
Nutritionists
Teacher
Professor
NOTE: However, some jobs will only be awarded if you have a specialization in a specific field.
Top Recruiters for Medical Course After B.Sc
If you have completed your BSc in medical and you are looking for some good companies to build up your career. Then you can apply to these few listed companies' for your amazing job offer.
Tata Consultancy Services (TCS)
Wipro
Capgemini
Yahoo!
Larsen & Toubro Infotech
Ranbaxy
Cipla
HCL Technologies
Reliance Industries Limited
International Business Machine (IBM)
Johnson & Johnson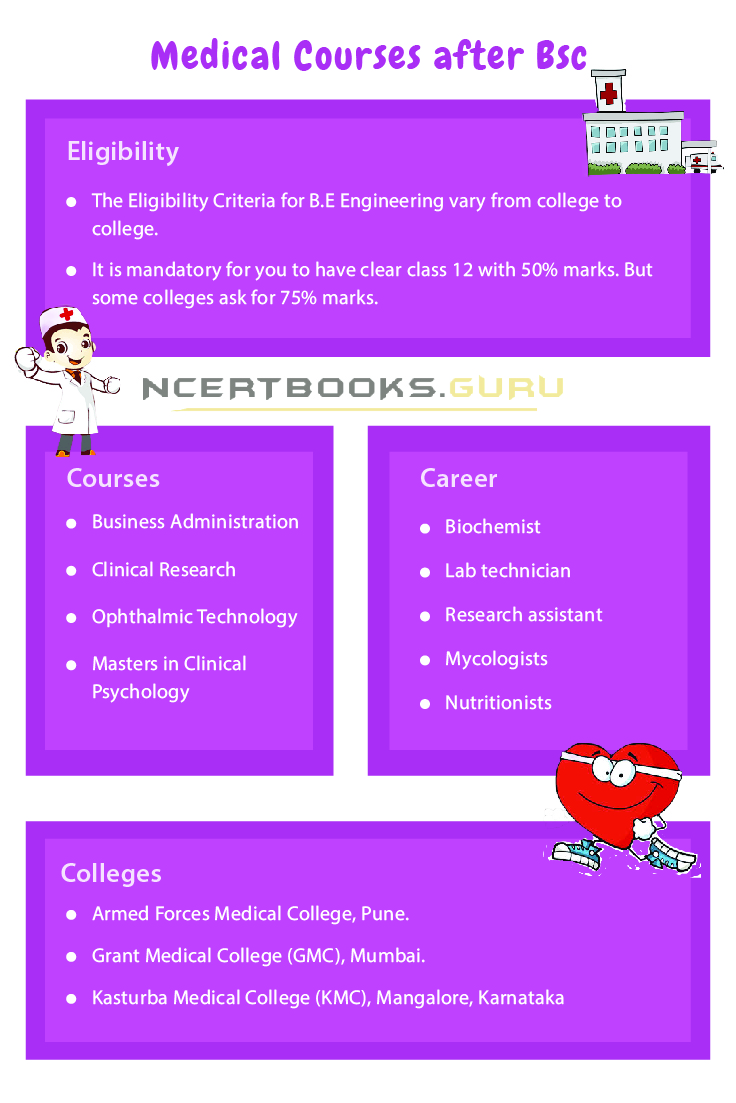 FAQs on Medicine Courses After B.Sc
1. What are the available options for medical courses after Bsc Biology?
Ans. There are numerous opportunities available for medical courses after Bsc Biology. You can go for MSc in Biology, Biological Sciences, Applied Biology, Conservation Biology, Computational Biology, and many more.
2. Can I become a doctor after my BSc?
Ans. Yes, you can become a doctor after Bsc. For that, you are required to get admission to the MBBS course. It is easy to pursue MBBS after Bsc from a recognized institution.
3. In which medical profession I can receive the highest salary in India?
Ans. If you become a doctor/physician then you can receive the highest salary in the medical profession. The average salary which doctors earn is INR 6 to 7 LPA.
4. Which entrance exam is required to clear for Msc in the medical course?
Ans. For MSc you are required to clear GATE, IIT JAM, NEST, JEST, and other exams are recommended by the university. Few universities conduct their entrance exams except the national level entrance exams.
Final Words
We have included the details information on Medical Courses after Bsc. It is one of the topmost choices for students who have completed their bachelor's in science in any domain. These days not the only private sector but the government sector is offering jobs to medical students. You can have detailed information about the Medical Courses from our official website Ncertbooks.guru. Also, you can ask any questions in the comments section below.