Courses After B.Sc Zoology: Do you love to enjoy studying about animals? Do you remember your school trip to the zoo where you were amused to know how the animals live and survive? That's why you had picked the B.sc Zoology course, and now you're at the point where you do not understand how you can make a career in this field, right? If you are really enthusiastic about this subject, you must study further for a great career in animal biology.
Zoology is a scientific study about the animal planet's classification, habitat, behavior, and physiology structure. It is a bachelor's degree in science that opens the door to many career options. The exciting fact is that it does not force you to sit back and invites you to explore the world. You're free to outsource the world and do your research to make a successful career in the field. Good research is what always follows the Best Courses After B.Sc Zoology.
B.Sc Zoology Overview
Bachelors of Science in zoology is a professional under graduated Course related to animal biology. It is three years degree course compromises six semesters and helps you study animal biodiversity, biochemistry, Molecular Biology, Ecology, and environment management. After studying technical knowledge, it will open the successful door to post-graduation degrees such as Food Science Technology, toxicology, biotechnology, and more.
If you have already done this, you can consider the courses like M.S. in zoology or M.Sc. in ecology. If you want to take your career as a teacher forward, you must consider a Master's in Zoology, Ecology, and other relevant fields. Several universities provide this Course in India like Manipal University, Hyderabad University, Pondicherry University, etc.
If you would like to join such courses, the eligibility criteria to pursue these Courses are a minimum of 55% off marks in zoology or botany from the recognized University.
List of Courses After B.Sc Zoology
Forensic Science & Toxicology Course
Food Science & Nutrition Course
IFS (Indian Forest Service) Course
Research Scientist Course
Wildlife Photography Course
Forensic Science & Toxicology Course
These courses are enthralling for those who are highly interested in knowing about the scientific skills day by day. These studies are based on crime-solving because nowadays, there is an increment in animal crimes. This is why there is an increase in jobs and career opportunities.
Not just as a Criminal officer, a trained scientist may get hired by The Central Bureau of Investigation and Intelligence Bureau, where forensic Sciences are specialized in getting a higher payout for their work. Even they can work as a forensic scientist. A range of colleges provides post-graduation courses related to this, especially in cities like Aurangabad, Gujarat, Delhi, and Bundelkhand.
Get to Know More about other types of Course Details Streamwise, and Category wise
Food Science & Nutrition Course
Another course you can consider for setting your career in the field is pursuing M.Sc in Food Science and Nutrition. This two-year post-graduation course allows candidates to know about food production, development, and quality. if you're more interested in making healthy plans or working as a dietician, the Nutrition course is a one-year diploma available in India. By doing such courses, you will develop your career as a Lifestyle expert or nutrition experts in government authorities, hospitals, and even Run your own company to earn much better.
On the other hand, the quality of jobs is enlisted, such as food quality control experts, quality testing experts, and food scientists.
Also, See:
IFS (Indian Forest Service) Course
The Indian Forest Service is one of India's best courses for the enthusiastic about learning animal husbandry, veterans services, etc. It is a perfect job for people who are highly interested in handling the forest and maintaining or preserving the animal's species. With this course, you will get to know the environmental stability and ecological balance. Pursuing this course promises a successful career.
Research Scientist Course
If you are highly interested in taking your zoology career to the next level, then contributing as a research scientist can be the best career option for you. After this course, you can apply for a number of vacancies as a technical consultant in laboratories, hospitals, research institutes, and many other places. By doing this Course, you can also get a chance to conduct experiments and do observations to help forests and wild animals.
Wildlife Photography Course
If you are passionate about clicking pictures of animals and their lives, then wildlife photography can be the best career option for you. There are several universities offering courses related to photography in the form of specific diplomas, which can be done after a bachelor's degree in Zoology. If you would like to start your career as a Wildlife photographer, you can go ahead even while pursuing B.Sc. in Zoology.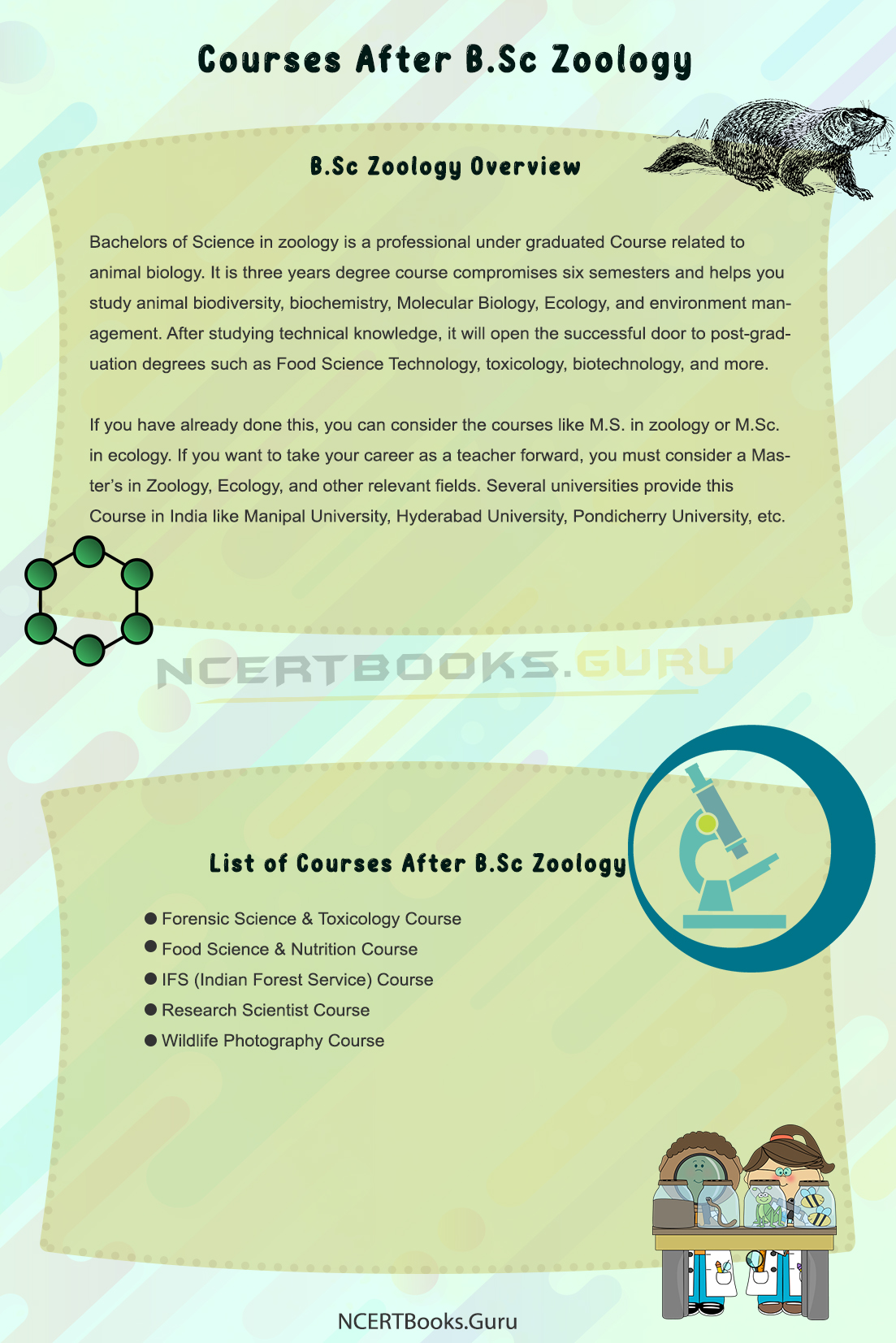 High Salary Jobs After B.Sc Zoology | Government Jobs
Zoology Teacher
Medical Coding
Operations Executive
Conservationist
Wildlife Biologist
Lab Assistant
The salary packages for B.Sc Zoology Course completed students range from INR 3 Lakhs to 3.5 Lakhs.
FAQ's on Short Term Courses After B.Sc Zoology
Question 1.
Is zoology a good career option?
Answer:
More than 13% of jobs are increased in various sectors of animal husbandry. Therefore, studying zoology and other related courses can be the best option for a successful career.
Answer:
If you're planning to do further zoology studies, you need to study species, animal reproduction, animal diseases, etc. Studying these subjects can be exciting but quite challenging as well.
Question 3.
How much does it cost to pursue other degree programs?
Answer:
The average fees begin at INR 30,000 to 70,000 per semester. However, the charges depend on the Course and university you have opted for.