B.Sc Forensic Science Course Details: B.Sc Forensic Science Courses After 12th is a professional graduate degree that gives your career a big push to the world of crime study and human anatomy. If you are someone who is always curious to learn about how crime labs work, and how forensic labs help police to find criminals, it is one of the best career options for you.
Forensic science is an extensively exciting and interesting subject that most students are now interested in. It is a study of crime investigation, forensic labs, technology, and criminal justice. To know about forensic courses in detail continue reading this article.
In this post, we have shared every detail related to this course from its importance to career options and fees as well. We hope this article will prove helpful to you.
B.Sc Forensic Science Course Overview
B.Sc Forensic science course is a professional 3-year graduate science course related to scientific knowledge for the investigation of crime. The graduate students in this profession use their science knowledge to evaluate and find the testimony in a crime.
The professional can analyze anything from the crime scene from an object to soil, body marks, blood, fingerprints, blood groups, with the help of Computers and research. Moreover, this course also helps you become a technology expert as this provides knowledge related to recovering lost data in computers, DNA tests, and researching new technology. In the study of a B.Sc Course, you will find a number of subjects such as forensic pathology, psychology, forensic medicines, etc.
B.Sc Forensic Science Eligibility Criteria
A candidate must have completed 10+2 with the minimum required marks percentage from a recognized board to get admission in a forensic science degree. The admission can depend on the candidate's marks and merit list as well.
B.Sc Forensic Science Course Benefits
Get a repudiated job.
Easy to set your future.
Get both government & private jobs.
Can open your own clinic.
Rising career opportunities.
B.Sc Forensic Science Course Admission Process
To get admission to study B. Sc Forensic Science Course, there are two major ways. One can do via the merit list, depending upon the cutoff this year, and also passing out the entrance exam. Let us consider both the admission process in little details.
Entrance Exam Admission
If you want to take admission to big universities, you have to pass the entrance exam, which is conducted by them. You need to fill in the entrance exam details and after cleared and get the cut-off list given by the University. They will call for counseling for verification. After that, you can pay your fee and begin the course as per the starting dates.
Merit Admission
If you have obtained great marks in 10+2 board examinations and the institutes do not hold an entrance exam of their own, all you need to do is fill up the application form and send the details required. The B.Sc Forensic Science college is free to release its cut off list to fetch the best candidates. Well, the admission process for the shortlisted candidate is they receive an offer letter from them and enjoy a secure place to gain the best future.
B.Sc Forensic Science Colleges
The list of top B.Sc Forensic Courses After 12th Class colleges and institutions are along the lines:
Bundelkhand University
Dr. Hari Singh Gour University Sagar
Galgotias University
Dr. Bhim Rao Ambedkar University
Osmania University
Gujarat Forensic Sciences University
Panjab University
B.Sc Forensic Science Syllabus
B.Sc Forensic Science Subjects details are mentioned here:
Crime and Investigative Techniques
DNA isolation
DNA profiling
Forensic ballistics
Fingerprints and Impressions
Read More Articles:
B.Sc. Forensic Course Scope and Careers Opportunities, Jobs & Salaries
In the near future, there are huge job opportunities that will be available from a different perspective. You can choose your careers as becoming the following:
Teacher
Forensic and crime investigation expert.
Forensic engineer
Handwriting expert
Forensic photographer
Forensic Scientist
Fingerprint, postmortem expert
It is a field that requires a lot of talent and focuses on an individual, hence the Government provides a good pay scale to the forensic expert. The Average B.Sc in Forensic Science salary package can expect is 3 lakh to 5 lakh per annum and if you have done a Master's, you can get 8 lakhs per annum.
Get to Know More about other types of Course Details Streamwise, and Category wise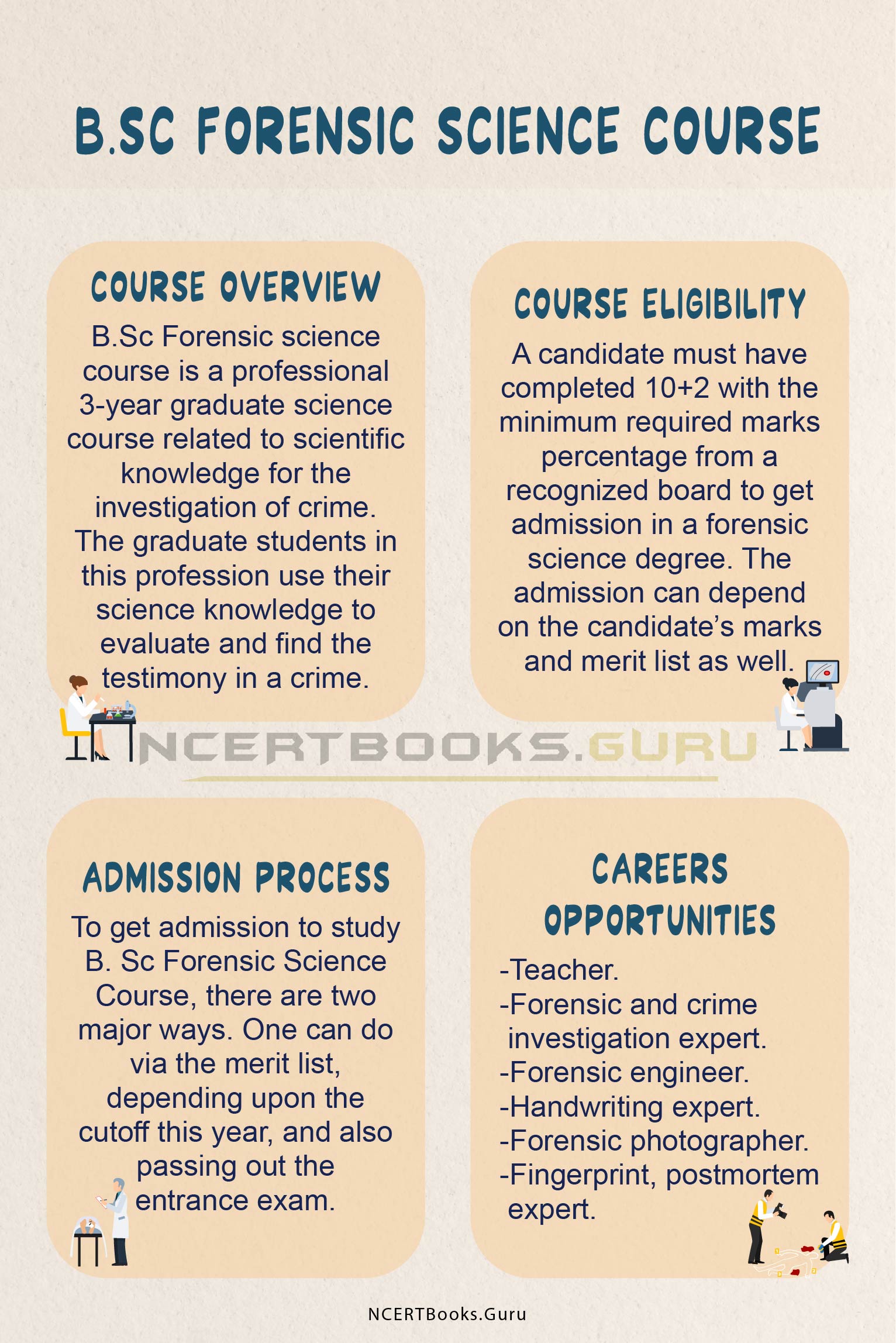 FAQ's on B.Sc. Forensic Science Course Details
Question 1.
Is forensic science a good career option?
Answer:
With the increase in crime statistics in the nation, going through a profession that is highly required can be a great career option. When you work for the government as a criminal expert or a forensic lab Expert, you will get paid well, and also you will receive a great reputation in your field.
Question 2.
What are the types of forensic science?
Answer:
There are various types of forensic science courses available such as forensic accounting, computer or cyber forensic, forensic dentistry, forensic entomology, forensic graphology, Crime Scene forensic, forensic archaeology, and forensic pathology.
Question 3.
What are the fees for forensic courses?
Answer:
Usually, the B.Sc Forensic Science fees vary from place to place, universities as well as colleges. For the 3-year bachelor's degree course, the average fee starts from Rs. 30, 000 to 2,00,000 per year.
Question 4.
Is forensic science difficult?
Answer:
Yes! It is a course that is most difficult that requires skills and focus to learn all biological evidence, how DNA works, and various methods to analyze the crime that seems to detect justice. The syllabus of forensic science is divided into 6 semesters in which you can learn about everything related to botany, zoology, economics, psychology, biometry, and many more.