IT Engineering Courses in India: IT Engineering Full Form is Information Technology in Engineering. IT is a new and popular degree course that has numerous job opportunities with high packages. The main agenda is to use technology in various organizational and business applications that use computers, storage systems, network tools, security testing and other technical hardware as well as software infrastructures in dealing with, correcting and manipulating information structure. IT Engineering is the new future in disciplines like AI (Artificial Technology), Robotics, ML (Machine Learning), IoT (Internet of Things), etc.
In this article, we will share with you a basic knowledge of IT Engineering Courses and other undergraduates as well as post-graduate specializations based on that. This article will cover the basic course details, eligibility, subjects to study, best colleges to opt for, fee structure, career prospects & job roles, salary and the latest trends in this field, to help you make a decision and choose the best course for yourself.
About IT Engineering Courses in India
Engineering in Information Technology is a 4-year undergraduate degree program divided into 8 semesters of 6 months each. Each semester has a series of both theoretical and practical lab subjects. IT Specialists are skilled professionals who examine designing, configuring, installing, maintaining, testing, troubleshooting, training staff, managing projects and other hardware, software and networking jobs.
Main topics that IT engineering covers include software engineering, computer science engineering, scripting, web development, information security, information management, security checks, etc. The main responsibility is a combination of policy, information and other process-related systems that are used to ensure the effective functioning of organizational needs, maintenance, device management and tech support.
Who Should Opt for the IT Courses and Why?
IT Engineering has a variety of career options that ensure top job roles with handsome pay cheques. Some of the career options are Web Technology, Internet of Things, Database Management, and Security Examination.
It helps students in developing practical knowledge that helps them get good placements in emerging industries, teaches creative thinking, hands-on learning, a strong informational foundation, field excellence, helps them in learning not just technical experiences but also information patents, dictatorship, company awards and remote learning.
Set of Skills Required To Join IT Engineering Courses After 12th
The skills required for an interested candidate to join or complete the IT Engineer course are as follows:
Work pressure management
Computer programming skills
Computer hardware skills
Analytical abilities
Communication and teamwork
Resourcefulness
Creativity and attention to detail
Problem-solving skills along with a keen learning attitude.
List of IT Engineering Courses in India
The undergraduate IT engineering courses like BE and B.Tech have a duration of a maximum of 3 to 4 years divided into 8 semesters of 6 months each. Whereas the postgraduate specialization courses like Mtech, ME range from 2-3 years depending upon your specialization discipline. The various courses and their duration are mentioned in the below table.
| | |
| --- | --- |
| Course Name | IT Engineering Course Duration |
| Diploma in IT Course | 3 years |
| Bachelor of Technology in IT (B tech)/Bachelor of Engineering in IT (BE ) | 4 years |
| Bachelor of Sciences in IT (BSc ) | 3 years |
| Bachelor in computer architecture in IT (BCA) | 3 years |
| Masters of Technology in IT (ME) | 2 years |
| Master of Technology in IT (M.Tech) | 2 years |
| Master of Sciences IT (MSc) | 2 years |
| Master of computer architecture IT (MCA) | 2 years |
Eligibility Criteria for IT Engineering Courses
The minimum eligibility criteria for undergraduate courses, as set by AICTE is 50% aggregate (45% for reserved category students) in 10 +2 board examinations with a basic background of PCM (physics, chemistry, mathematics) / PCMB (physics, chemistry, mathematics, biology) or Commerce for BCA only, and passing the cut off percentage marks in the general entrance examinations. Here is the list of engineering courses for MPC students.
For postgraduate degree courses, the student needs to have a bachelor's degree in BE / BCA/ BSc/ B.Tech of minimum 3 years with subject disciplines of Information Technology or computer science along with mathematics as a subject at 10 + 2 board exam level.
IT Courses Entrance Examinations & Admission Process
Apart from having a PCM / PCMB as background and completing 10+2 exams with a minimum aggregate of 55%, the admission process requires students also to qualify the basic entrance examinations by passing the cut-off marks in order to get admitted in various colleges for their preferred course. The basic entrance merit examinations to get admission in IT engineering courses are as follows:
GATE (Graduate Aptitude Test in Engineering)
All India JEE Main and Advanced (Joint Entrance Examination)
WBJEE (West Bengal Joint Entrance Examination)
TANCET (Tamil Nadu Common Entrance Test)
IPUCET (Indra Prastha University Common Entrance Test)
AP PGECET
OJEE (Orissa Joint Entrance Examination)
The admission documentation requires you basic ID proofs (Aadhar, voter, etc.), mark sheets and admit cards of 10 & 12 boards, and rank cards of any of the entrance exams mentioned above. Students can check best distance engineering courses on this page.
Top Colleges Offering Information Technology Engineering Courses
The top 15 best colleges in IT engineering to opt for are as listed below:
Delhi Technological University, DTU Delhi
IIEST Shibpur, Indian Institute of engineering science and technology, West Bengal
SRM University, Chennai
Vellore Institute of Technology, VIT Vellore
Manipal Institute of Technology, MIT Manipal
Indian Institute of Technology, IIT Delhi
Jadavpur University, West Bengal
Heritage Institute of Technology, HIT Kolkata, West Bengal
Indian Institute of Technology, IIT Kharagpur
Institute of Engineering and Management, IEM Kolkata
Birla Institute of Technology, BIT Mesra
Madras Institute of Technology, MIT Chennai
 Manipal University, Jaipur
 Christ University, Bangalore
Acharya Institute of Technology, AIT Bangalore
IT Engineering Course Fees
The course fees for undergraduate Information Technology courses range from 6.65 L to 50.66 L INR in private colleges and 6k to 15 L INR in government colleges.
Below is a table of the various IT engineering courses along with their course fee structure.
| | |
| --- | --- |
| IT Engineering Course Name | IT Course Fees Structure |
| Bachelor of Technology in IT (BTech) | 30K to 8L INR |
| Bachelor of Engineering in IT (BE) | 5.5K to 4.25L INR |
| Bachelor of Sciences in IT (BSc) | 90K to 4.3L INR |
| Bachelor in Computer Architecture in IT (BCA) | 3.75L to 5L INR |
| Masters of Technology IT in (ME) | INR 47,000 to 2LPA |
| Master of Technology in IT (Mtech) | INR 50,000 to 3 LPA |
| Master of Sciences in IT (MSc) | INR 80,000 to 3 LPA |
| Master of Computer Architecture in IT (MCA) | INR 30,000 to 2.4 LPA |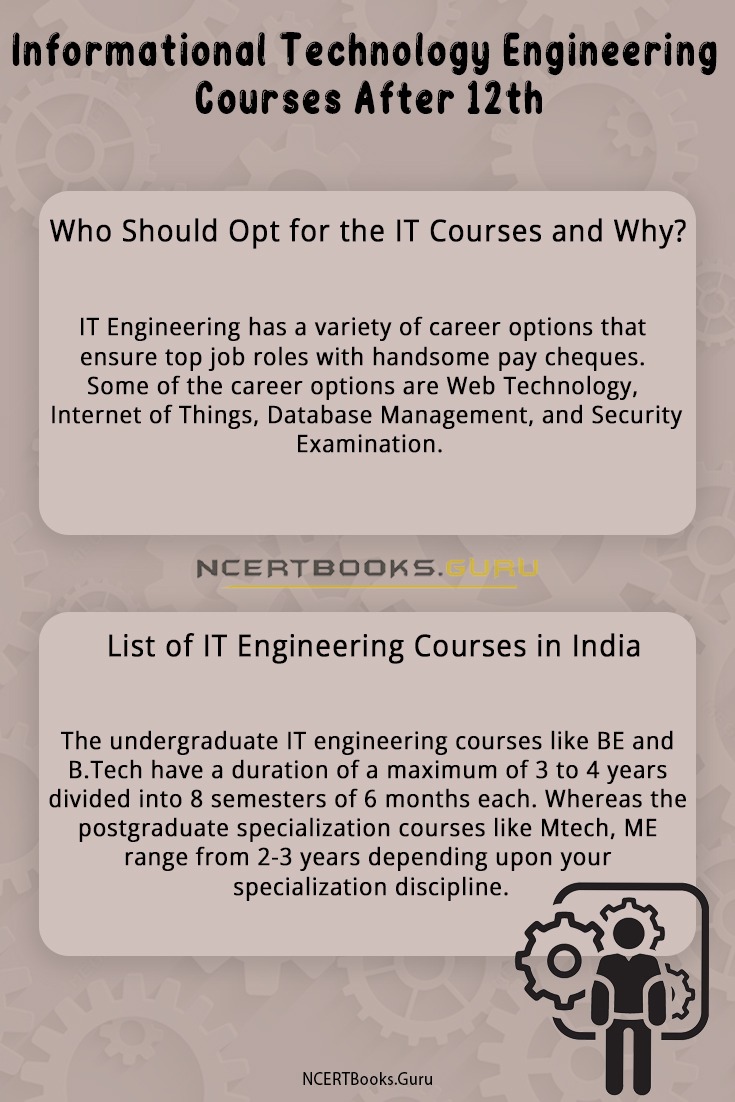 Semester Wise IT Engineering Syllabus of Undergraduate Courses
Undergraduate IT Engineering Courses are divided into 8 semesters. From 1st year to final year, all the subject arrangements aim to increase your theoretical as well as practical technical knowledge step by step from beginner to a professional level. Following is the UG sem-wise Information technology engineering syllabus:
BE in IT engineering-
BE Engineering Course in Information Technology is a 4 year undergraduate degree program that deals with the study of complex networking, software programming, processing, computer training, protecting and transmitting information, text, image and multimedia.
The basic IT Engineering subjects Semester wise are:
1st Semester: Electrical circuits, Introduction to Programming, Mathematics, Basic Electronics and Practical lab
2nd Semester: Communicative, English, Electrical Measurements, Mathematics 2, Digital Logic and circuits, Data Structure and algorithm for the practical lab.
3rd Semester: Computer Graphics, DBMS, Object-Oriented Programming, Computer Architecture, Principles of Communication, Practical lab.
4th Semester: Microprocessors, Mathematics 4, Numerical Methods and Optimisation techniques, Software Engineering, Computer Networks, OOPs, Practical lab.
5th Semester: Operating systems, Graph theory, Wireless networks, Multimedia, Coding and Communications, Principles of Computer design, Web technology, Practical lab
6th Semester: Design and Analysis algorithm in Cryptography, Network Security, Distributed system, Algorithms design, analysis algorithms, Elective I, Web technologies, practical lab
7th Semester: Elective II, Elective III, Minor project, Image processing, Practical lab.
8th Semester: Management, Digital Signal Processing, Elective IV, Distributed system and applications, Project and Viva-voce, Practical lab.
The Other elective subjects include Computer networks, Computational Mathematics, Applied Mathematics, Digital systems, Design, Database management system, Electronic devices and Circuits, Internet programming, Information technology for the management of Enterprise programs, Design and Development Software, Quality management, Telecommunication systems, Visual programming, etc.
BCA in IT engineering-
BCA or Bachelors in Computer Application in Information Technology is an undergraduate 3-year degree program that is considered equivalent to the B tech engineering course. You can opt for the master's degree named MSc after completion of this course. This is one of the most demanded qualifications for placement in various reputable IT Industries across India and globally.
The basic course curriculum includes :
1st Semester: Creative English, Statistics 1, Introduction to C, Foundation Mathematics, Hardware lab
2nd Semester: Operating Systems, Case Tools Lab, Communicative English, Data Structures, Basics discrete mathematics, Visual programming lab
3rd Semester: Introductory algebra, Object-oriented programming, Using C ++, Software Engineering, Database management systems, Financial Accounting, Oracle lab, Domain lab.
4th Semester: Professional English, Programming in Java, Financial management, DBMS, Projects Lab, Computer Networks, Web Technology, Language lab.
5th Semester: OOAD using UML, Unix Programming, Lab graphics and Animation, Business Intelligence, Python Programming lab, Web Designing project, User Interface, Designing, Business intelligence lab
6th Semester: Client-Server, Computing design, Analysis of algorithms, Introduction to Software Computing, Computer Architecture, Advanced database management system, cloud computing.
B.Tech IT Engineering Syllabus
B.Tech course or Bachelor of Technology in Information Technology is a 4-year undergraduate engineering course that dominantly deals with the basic topics of Network Education, Information Security, Software development, Web development, Business management, Database Management etc.
The basic course curriculum includes:
1st Semester: Engineering Mathematics 1, Engineering Physics, Communication skills, Dimension of Information Technology.
2nd Semester: Computer languages, Application of MS Windows, Computer Organisation, General engineering, Engineering mathematics 2
3rd Semester: Data structures through C, Operating systems, Visual basic, Electrical measurement and Measuring instruments, Digital electronics
4th Semester: Introduction to Web Technology, Computer communication, Network, Business application of IT, Computer oriented numerical methods, Object-oriented programming, C ++
5th Semester: Java programming, Management of Information, Systems introduction to the microprocessor, Concepts of the database.
6th Semester: E-Commerce, Applications of Microprocessor, RDBMS, Software project management, Project 1.
7th Semester: Compiler design, Computer graphics and Simulation visual, C++ programming Tools and techniques, Artificial Intelligence.
8th Semester: Distributed databases, Data Mining, Network Security and Cryptography
Post Graduate IT Engineering Syllabus
Masters of engineering (ME) in Information Technology is a 2 year semester based postgraduate specialization course that deals with pictorial, vocal, textual and multimedia based dissemination, processing storage, numerically based microelectronics, etc.
The main IT subjects include advanced OS, applied algorithm, net centric computing, advanced database system trends and elective subjects like Software architecture, Bioinformatics, Network programming, Internet and web Technology, User interface design, Internet routing, and High-performance Computer networks, etc.
The basic eligibility, a student needs to complete is a BE/ B Tech degree in Electronics/ Instrumentation/ ECE / IT. Entrance examinations include GATE and IPU CET.
Latest Trends in Information Technology Engineering Courses in India
The emerging trends that are getting associated with IT engineering are turning it to a whole new level globally. Some of them include:
AI or Artificial Intelligence-  Almost every electronic thing in today's world is working on Artificial Intelligence. It is cost-effective, helps improve customer interaction and satisfaction, is insurance proof and assures huge potential business growth.
Blockchain-  Blockchain is another increasingly popular and on-demand technology that helps in a financial application, incorporating complete company transparency, allowing better record management and business growth.
Internet of Things or IoT- IoT is a digitalised technology that works on cloud computing. It can store a huge amount of information without being device-centric and ensures clarity and understanding between customers.
Cyber security-  Cyber security is one of the longest staying and most popular IT trends that is very crucial for companies for better privacy and transparency. Cybersecurity assures data security, business agenda protection and safe business operations.
More Related Articles
IT Engineering Careers | Information Technology Course Jobs
The career prospects for IT engineers are progressively high in India as well as abroad. IT professionals are mainly recruited in fields dealing with organization, HR, security, administration logistics, bedrock, finance, operations, etc. with job roles like administrator, client-server, system manager, data analyst, C programmer, Blockchain specialist, Data security officer, project manager, software developer, database manager, team leader. Each Information Technology course has a varied of job roles namely:
| | |
| --- | --- |
| Bachelor of Technology in IT (BTech) | IT Coordinator, software developer, applications developer, IT technical content, testing engineer |
| Bachelor of Engineering in IT (BE) | Project leader, Java developer, associate software engineer, software engineer, system analyst, system engineer, system administrator, web developer, database administrator, technical trainer |
| Bachelor of Sciences in IT (BSc) | Network engineer, quality assurance analyst, IT consultant, system analyst |
| Bachelor in Computer Architecture in IT (BCA) | Web designer, software developer, technical associate, customer support, technician |
| Masters of Technology IT (ME) | Database administrator, Information Technology manager, software developer, IT specialist |
| Master of Technology in IT (Mtech) | PHP developer, Technology engineer, technical consultant, quality analyst, SQL developer |
| Master of Sciences in IT (MSc) | IT analyst, maintenance engineer, technical operation analyst, network planning manager, voice team leader, technical debugger |
| Master of Computer Architecture in IT (MCA) | Software programmer, mobile app developer, hardware engineer, technical writer, system analyst |
IT Engineers Salary Structure
The average salary structure that you get as a fresher will obviously increase eventually depending upon your role, experience and work impression. This is true that if you have graduated from a well reputed IT Engineering College you will get hired by better companies with higher pay structures.
In general, the average salary ranges from 20k to 40k INR per month for an IT Engineer. Below is a table of the various IT engineering job roles and their respective salaries:
| | |
| --- | --- |
| Job Roles | Average Salary (INR) |
| Software Developer | 2.28 – 2.92 LPA |
| IT System Engineer | 2.4 – 2.9 LPA |
| Project Leader | 3.5 – 4 LPA |
| Network Administrator | 2.4 – 7 LPA |
| Mobile App Developer | 4.4 – 14 LPA |
| Web Developer | 3 – 10 LPA |
| Voiceting Leader Technician | 4.5 LPA |
| Technical Operation Analyst | 3 – 4 LPA |
| Network Planning Manager | 5 LPA |
| App Decoder | 6 LPA |
| Computer Support Specialist | 3 LPA |
| Technical Associate | 2.5 LPA |
Top Recruiters That Hire IT Engineering Holders
The top recruiting companies that hire Information Technology graduates are enlisted here for your reference:
IBM
Cognizant
Intel
Robert Bosch
L&T Infotech
Google
Flipkart
PCS
Amazon
Infosys
Deloitte
Microsoft
Accenture
Syntel
Dell
Wipro
Oracle
Hexaware Technologies
HCL
Tech Mahindra
Sapient
VSNL
Qualcomm
Vodafone
Asus
HP
FAQs on Information Technology Engineering Courses in India
1. What are the IT engineering courses after 12th?
The undergraduate IT Engineering courses include Bachelor of Technology (BTech), Bachelor of Engineering (BE), Bachelor of Science (BSc) and Bachelor of Computer Architecture (BCA). Follow our article IT Engineering Courses to get detailed information.
2. What are the best IT systems engineering courses?
The best IT System Engineering Course has undergraduate courses namely, WBS, MCSE (Microsoft Certified Systems Engineer), B.Tech Computer Science And System Engineering, diploma courses like Diploma in Computer Science Technician, B.Tech Electronics Control System Engineering, and postgraduate courses namely M.Tech Power System Engineering, M.Tech System Engineering And Operation Research.
3. What are the IT engineering subjects for 1st year?
The IT Engineering course has two semesters in the 1st year. The 1st semester subjects are Electrical Circuits, Computer Networks, Mathematics I, Engineering Physics, Technical Communication, Creative English and the 2nd-semester subjects are Mathematics II, Data structures, Digital Logic and circuits, Bioinformatics, Web programming and scripting, etc.
4. What does an IT Engineer do?
IT professionals work in the fields of HR, security, administration logistics, finance, bedrock, business operations, etc. They work as C/ C++/ C#/ Java coders, Blockchain specialists, system analysts, software and web developers, project managers, database managers, client servers and team leaders.
Summary
We hope we have given details of all the best IT engineering courses and its related fields. For more such informative courses and other academic articles make sure to follow our website NCERTbooks.guru where we provide an array of course details articles like genetic engineering courses after 12th, etc. and other academic books related articles. See you next time make sure to study well.