Engineering Courses for MPC Students: What to do after completing class 12th with maths, physics, and chemistry as your main subjects? If you're thinking of engineering, you are choosing one of the most popular courses for students with maths, physics, and chemistry as their subjects in class 12th in India.
Engineering is one of the most well-respected learning disciplines for decades and to this day, it is considered a secure career among the youth. There are multiple disciplines in which the student can pursue their engineering in graduation such as computer science engineering, electronics and communication engineering, mechanical engineering, civil engineering, electrical engineering, chemical engineering, etc.
To know more about B Tech Courses for MPC Students, simply go through this article and find out the complete course details of engineering courses after 12th for maths physics chemistry students like eligibility criteria, the admission process, entrance exams, skills required to pursue engineering course, top colleges, fee structure, job profiles for engineers, top recruiters for engineers, salary after completing B Tech Courses and many more.
About Engineering Courses for MPC Students
In India, the most popular field study in the last few decades has been engineering. The bachelor of technology undergraduate course sees several admissions each year simply because of the wonderful opportunity is that the candidates get after completing the course.
For the students who have taken maths, chemistry, and physics one of the best options if they want to go for technical education is doing engineering courses such as a bachelor of technology undergraduate course.
In today's time, people often ask the question "is it even worth it to become an engineer?" well, people who are passionate about technical education and are willing to work in the field of creating optimum infeasible solutions for real-world problems will definitely make great engineers and will provide the world with their exceptional vision and skills which will help in the development of the world in a better way.
Why Opt for B Tech Courses for MPC Students?
In a nutshell, the students who are passionate about learning about various disciplines of engineering must go for this course. On the other hand, one of the most important reasons behind choosing a course or a field of study is the amount of money that people can earn out of it.
So engineers make a really good amount of money in today's world which can be another good reason for students to opt for engineering courses. It opens a lot of opportunities and career switching is also easy in the field of engineering.
For MPC students there are various options to choose for their higher graduation as well as career. A few top B.E. OR B.TECH Engineering Courses After 12th MPC Group List is as follows:
IT Engineering
EC Engineering
Electronics Engineering
Electrical Engineering
Electronics and Telecommunication Engineering
Petroleum Engineering
Chemical Engineering
IC Engineering
Above Engineering Courses for PCM Group Students includes various specializations. Based on your chosen b tech course, you can come to know numerous streams or branches.
Do Check:
Eligibility Criteria for MPC Engineering Courses After 12th
The minimum eligibility criteria required to pursue engineering courses is that the student must have completed their 12th class examinations with an aggregate of 50 to 70% which is different for different colleges. Some institutes also have an age barrier for candidates who want to get admitted to engineering courses.
The age limit is of 24 years which is counted from the date of examination the candidate must be either equal to or younger than 24 years to be eligible for admission to engineering courses.
Engineering Courses in India for MPC Candidates Admission Process
The admission process for engineering courses in India is on the basis of entrance examinations and direct admissions. Following is a detailed step by step admission process for Btech engineering courses in India for MPC Students:
The students must take the required entrance examination either on the national level or the university level if they want to study the engineering courses. The students must register for the exam, download their admit card, and take the examination as per the rules and regulations.
For the students who clear the entrance examination, a counseling session is done according to their rank and reservation rules that are laid out by the Government of India the students are given different colleges first.
Later on, students have to visit their college in order to go through the further application process. Students are then required to submit an installment of the fee in order to reserve their seats in that college.
Entrance Exams to Enroll in Bachelor of Technology(B.Tech) Courses After Intermediate in MPC Stream
Following is a list of the top entrance examinations that the students undertake in order to get admission to the best engineering colleges in India:
JEE Main
JEE Advanced
SRMJEEE
BITSAT
VITEEE
Do Check:
Skills Required by MPC Students To Take Up Engineering Courses
There are some basic skills that are required by the students who want to pursue engineering courses so that they can grasp the knowledge very well and apply it to solve real-world problems. Following are the most important skills that students must possess if they want to become an engineer:
Attention to detail: The students must be very attentive to detail as engineering is a field that involves a lot of precision. Small things can make a big difference when it comes to engineering.
Problem-solving skills: An engineer is someone who provides solutions. Hence, problem-solving skills must be one of the most strong skills among an individual if they want to become a successful engineer
Teamwork: In any project, there are multiple people involved. An engineer must know how to manage people and resources in order to get the best out of the resources that they have and create a healthy work environment for everyone.
Working under pressure: In today's generation, the work culture has become really all about the hustle. Hence, it brings a lot of pressure upon the working class a person must know how to manage the pressure and turn it into some productive work in order to be successful in their career.
Time management: Time is money they say. An engineer must know very well how to manage their time according to the work that they have and the quality that they need to provide in the work.
Leadership: When we talk about a team, the leader automatically comes to our mind. A leader is someone who knows how to get things done whilst maintaining a healthy environment among the team members. A leader is very important for projects and managing the workforce.
Software skills: In today's era of computerized work software skills are of extreme importance and hence software engineers are already in great demand across industries.
Top Colleges for Engineering Courses list for MPC Students in India
Both private and government colleges see a huge number of students opting for engineering courses. Following is a list of the top private and government colleges in India that the students dream to get admitted to:
Top Private Bachelor of Engineering/ BTech Colleges in India:
BITS Pilani – KK Birla Goa Campus, Goa
Lovely Professional University (LPU), Phagwara
Motilal Nehru National Institute of Technology (MNNIT), Allahabad
Birla Institute of Technology and Science (BITS Pilani), Pilani
Institute of Chemical Technology (ITC), Mumbai
College of Technology (COT), Udham Singh Nagar
Birla Institute of Technology (BIT MESRA)
Vels Institute of Science Technology and Advanced Studies (VELS University), Chennai
Netaji Subhash Institute of Technology (NSIT), New Delhi
College of Engineering (COE), Pune
Amity University, Punjab
Faculty Council of Engineering and Technology Jadavpur University (FCET), Kolkata
Top Government Engineering Colleges for MPC Students in India:
Indian Institute of Technology (IIT ROORKEE), Roorkee
Indian Institute of Technology (IIT BHU), Varanasi
National Institute of Technology (NIT WARANGAL), Warangal
Indian Institute of Technology (IITB), Mumbai
Indian Institute of Technology (IIT GUWAHATI), Guwahati
International Institute of Information Technology (IIIT), Hyderabad
Indian Institute of Technology (IIT JODHPUR), Jodhpur
Indian School of Mines (IITISM), Dhanbad
National Institute of Technology Trichy (NIT TRICHY), Tiruchirapalli
Indian Institute of Information Technology (IIIT ALLAHABAD), Allahabad
Indian Institute of Technology (IIT PATNA), Patna
Fee Structure for Engineering Stream After MPC Intermediate Course
The fee for an engineering course is somewhere between INR 20,000 per annum to INR 5,00,000 or more per annum depending upon the college. The fee for government colleges is much lesser as compared to the private colleges for engineering courses.
The reserved category students also get an additional reduction in fees. There are scholarship examinations that the students can undertake in order to get scholarships and hence reduce their fees for the engineering courses that they want to get admitted to. Students also get a reduction in fees according to their family's financial background for which they have to provide proof.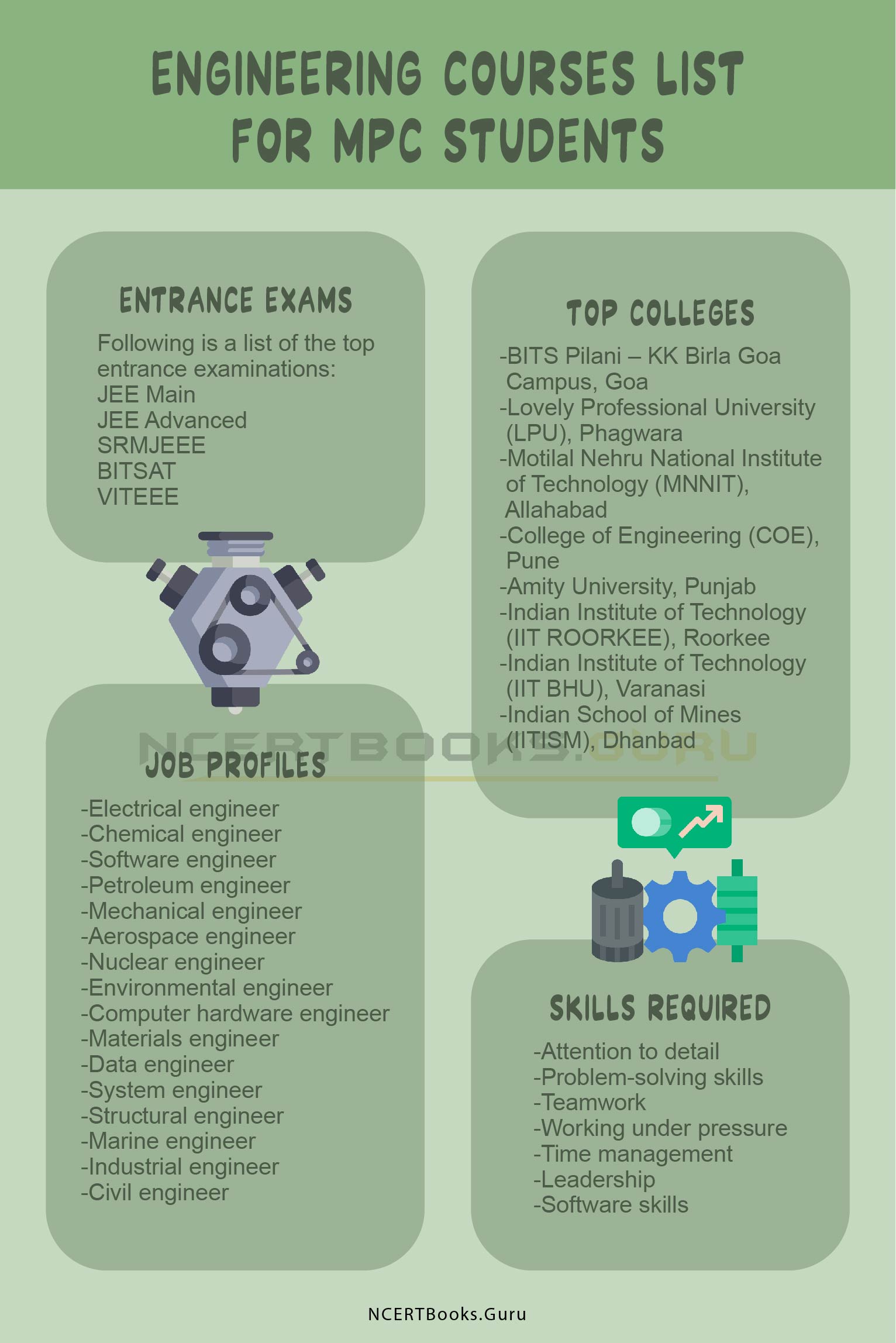 Job Profiles for MPC Aspirants After Engineering Courses in India
Engineering courses open numerous doors for students to step into and build their careers. Following is a list of the top job profiles for engineers to start off in the engineering field. These are the highest-paying jobs for engineers. Students can pursue these jobs according to the discipline in which they have completed their engineering.
For example, only a student with an electrical engineering degree can become an electrical engineer. Let's look at the highest paying disciplines in engineering:
Electrical engineer
Chemical engineer
Software engineer
Petroleum engineer
Mechanical engineer
Aerospace engineer
Nuclear engineer
Environmental engineer
Computer hardware engineer
Materials engineer
Data engineer
System engineer
Structural engineer
Marine engineer
Industrial engineer
Civil engineer
Top Recruiters To Hire MPC Students with Engineering Degree
Multiple companies all across the globe look for engineers who have the relevant skills and knowledge so that they can prove to be an asset to their company. Following are the top companies that hire engineers:
Google
Accenture
Apple
Microsoft
Intel corporation
IBM
Boeing
Ford Motor Company
Lockheed Martin
Cisco Systems
Oracle Corporation
Simon's
Dell, and many more.
Best Salary for Engineering Students After Completing 12th MPC
The average salary of a fresher after they've completed their engineering courses is somewhere between 15,000 to INR 40,000 per annum. Salary depends upon the experience of the individual as the experience of an individual keeps on increasing, their salary and their job profiles keep on upgrading. Experienced engineers earn huge sums of money from INR 20,00,000 per annum to INR 50,00,000 per annum or more.
Must See: 
FAQs on Online Engineering Certificate Courses for MPC Students
1. What are the best engineering courses for PCM students?
Following is a list of the Best Engineering Courses in India that the students can opt for after completing their class 12th with physics, chemistry, and maths as their subjects:
Computer science engineering
Bachelor of architecture
Mechanical engineering
Civil engineering
Electrical engineering
Biochemical engineering
Petroleum engineering
Nuclear engineering
Aerospace engineering
2. Can I do engineering courses after class 12?
Yes, you can definitely pursue engineering courses after class 12th. The eligibility criteria for enrolling in engineering courses is that the student must have passed their class 12 from a recognized Board of Education with a minimum of 50% marks. Students must have physics, chemistry, and maths as their compulsory subjects in class 12.
3. What is the average salary as a fresher after engineering?
As a fresher right out of engineering college with an undergraduate degree, you can expect a salary of somewhere between INR 15,000 to INR 40,000 in India. As you will gain experience in the industry, you will see an upgrade in your salary and you will get better job profiles. You might also want to switch your companies in order to get better salaries.
Conclusion
We hope that this article was able to help you decide if engineering is for you or not. We have tried to include all the points regarding engineering courses for MPC Students in India. This is pretty much everything that you need to know in order to decide whether to go for this course or not.
If you wanted to go for this course or you were here for just some knowledge, we hope that we were able to provide you with all the information that you are looking for. Do let us know if all of your queries were resolved or if you have any suggestions. Meanwhile, visit our website Ncertbooks.Guru for more course details and career articles.