B.Sc Courses after 12th Science: Science is one of the most popular courses which students like to pursue in their graduation after class XII. Earlier you people have also seen that engineering is the priority for the students if they had completed their class 12th in science. But now the scenario is changing day by day. There are various other domains too that are available for the students.
B.Sc is one of those popular courses which students can pursue after class 12th. B.Sc offers one of the best and most lucrative careers for students in all fields. As there are several specializations that students can pursue in the field of B.Sc.
To read about the B.Sc Course Details after 12th science you can refer to this below article. With the help of this article, you will get to know every single detail about the best BSc courses after 12th science PCB or PCMB.
About B.Sc Courses after 12th Science
B.Sc is a bachelor's degree which means bachelor of science. The course can be pursued by the students for 3 years. After the famous Engineering and Medical courses such as B.Tech and MBBS, B.Sc is the foremost choice of the students.
As the name suggests B.Sc people think that it is only related to the science students but there are few courses in B.Sc which can also be availed by the commerce and art students if they had studied that particular subjects in their class 12th. But here we will talk about the B.Sc courses after science specifically.
B.Sc science courses aim to provide a detailed description of the science courses which later helps the students to gain masters in the same domain. B.Sc courses are available in both academic and professional nature. It also prepares the students for real-world businesses.
Also See:
Complete List of B.Sc Courses after 12th Science Biology
The average duration for the B.Sc courses may vary according to the courses. But there are around 40+ courses that are available in B.Sc domains. Students can choose the best course according to them. Here is the list of top courses in B.Sc Biology/ BSc courses after 12th science PCB:
BSc Genetics
BSc Immunology
BSc Biology
BSc Horticulture
BSc Biomedical Science
BSc Agriculture
BSc Optometry
BSc Forestry
BSc Anesthesia
BSc Environmental Science
BSc Biotechnology
BSc (Bachelor in Fisheries Sciences)
BSc Occupational Therapy
BSc Food Technology
BSc Biological Science
BSc Forensic Science
BSc and AH – Veterinary Science
BSc Physiotherapy
BSc Medical Lab Technology
BSc Microbiology
BSc Home Science
BSc Bioinformatics
BSc Nutrition and Dietetics
BSc Physical Science
BSc Geology
BSc Radiology
BSc Nursing
BSc Anthropology
BSc Zoology
BSc Botany
BSc Cardiology
Do Check: Paramedical Courses after 12th Science
B.Sc Courses after 12th science PCM List
A list of B.Sc Courses after 12th science non-medical is given here. The PCM included physics, chemistry, and maths all the subjects in class 12th. Thus to profuse these science courses, you must have studied PCM in class 12th.
BSc Information Technology (IT)
BSc Chemistry
BSc Statistics
BSc in Data Science
BSc Polymer Science
BSc Physical Science
BSc Physics
BSc Nautical Science
BSc Computer Science
BSc Electronics
BSc Industrial Chemistry
BSc Geology
BSc Instrumentation
BSc Mathematics
BSc Aeronautical Science
BSc Actuarial Science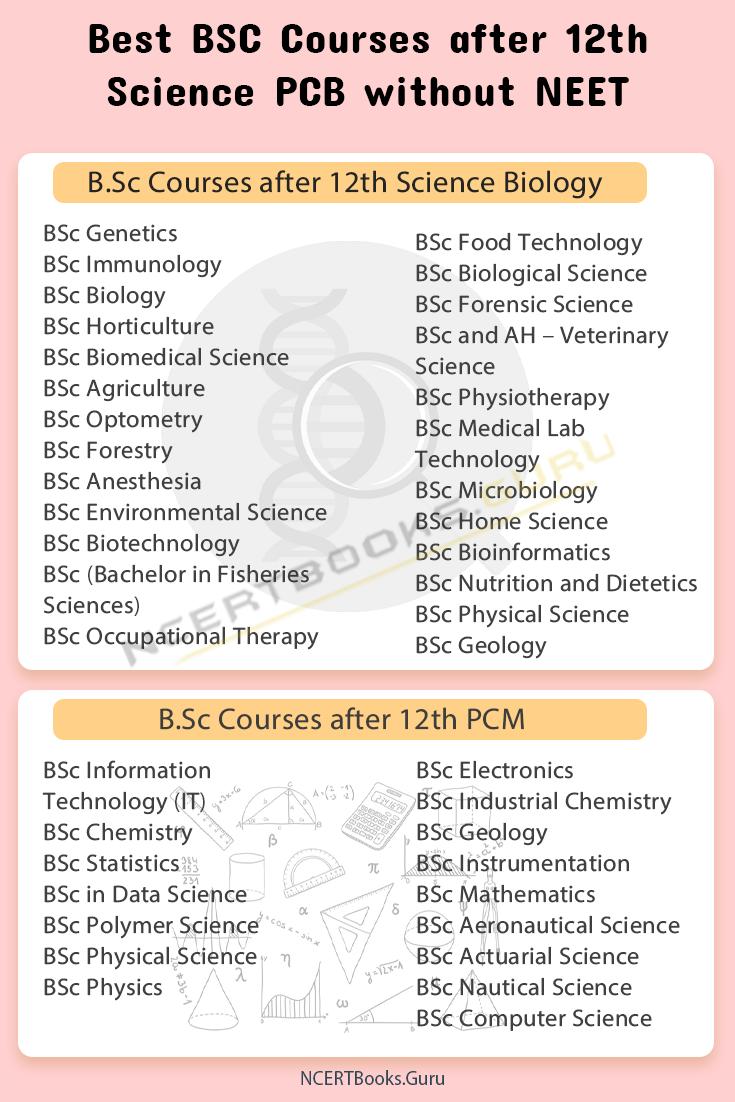 Few students had taken PCMB and then they want to pursue B.Sc courses. Thus, for them all the above-mentioned courses are available. They can pursue whichever course they feel like to build their career. But in addition to this, there are a few more courses that are available in B.Sc domains and are from a job perspective but students are not aware of them. Some of these courses are
BSc in Interior Design
BSc in Hospitality & Travel
BSc Fashion Designing
BSc in Design
BSc in Animation
BSc in Hotel Management
Eligibility For B.Sc Courses After 12th Science PCB, PCM, PCMB
Knowing eligibility is a must before you are going to apply for the colleges. However, there are certain criteria that vary according to the colleges. But the common eligibility factors are:
You must have studied Physics, Chemistry in class XII
Studying biology, maths, or both along with the above-mentioned subjects is a choice
Students must have secured at least 50% aggregate to get admission to good colleges.
Top Entrance Exams to Join B.Sc Courses for MPC Students
In general, the admission for the B.Sc courses is done on a merit basis. But some colleges may ask you to appear for the entrance exams. You can find the list of top entrance exams for the BSc course here:
All India Entrance Exam for Admission
NEST (National Entrance Screening Test)
NPAT
CUCET
BHU UET
Delhi University Entrance Test
Bachelor of Science Courses after 12th Science Fees
The B.Sc courses can be completed on budget. The fee structure also varies according to the private and government colleges. You may complete the bachelor's degree from Rs 20,000 to Rs 2,00,000.
Must See:
Skills Required for B.Sc Courses After Class XII in India
While pursuing B.Sc courses you need to focus on the fact that while hiding the degree you need to focus on your skills too. These skills will help you to apply your theoretical knowledge in a practical manner.
Logical Skills
Scientific Skills
Problem Solving Skills
Analytical Skills
Research Sills
Mathematical and computational skills
Observation Skills
Communication Skills
Top Colleges Offering Bachelor of Science Courses in India
Pursuing B.Sc in your chosen specialization after class 12th science is easy in India. As there is a number of colleges that are offering this degree. But you need to check whether they are offering which you want to pursue or not. There are top colleges from which you can pursue a B.Sc degree at a minimal cost. Some of these top 10 colleges are listed here:
Deen Dayal Upadhyay College, Delhi
Hans Raj College, Delhi
PSGR Krishnammal College for Women, Coimbatore
St. Stephen's College, Delhi
Lady Sriram College for Women, Delhi
St. Xavier's College, Kolkata
Sri Venkateswara College, Delhi
Hindu College, Delhi
Miranda House, Delhi
Ramkrishna Mission Vidyamandira, Howrah
Loyola College, Chennai
Atma Ram Sanatan Dharma College, Delhi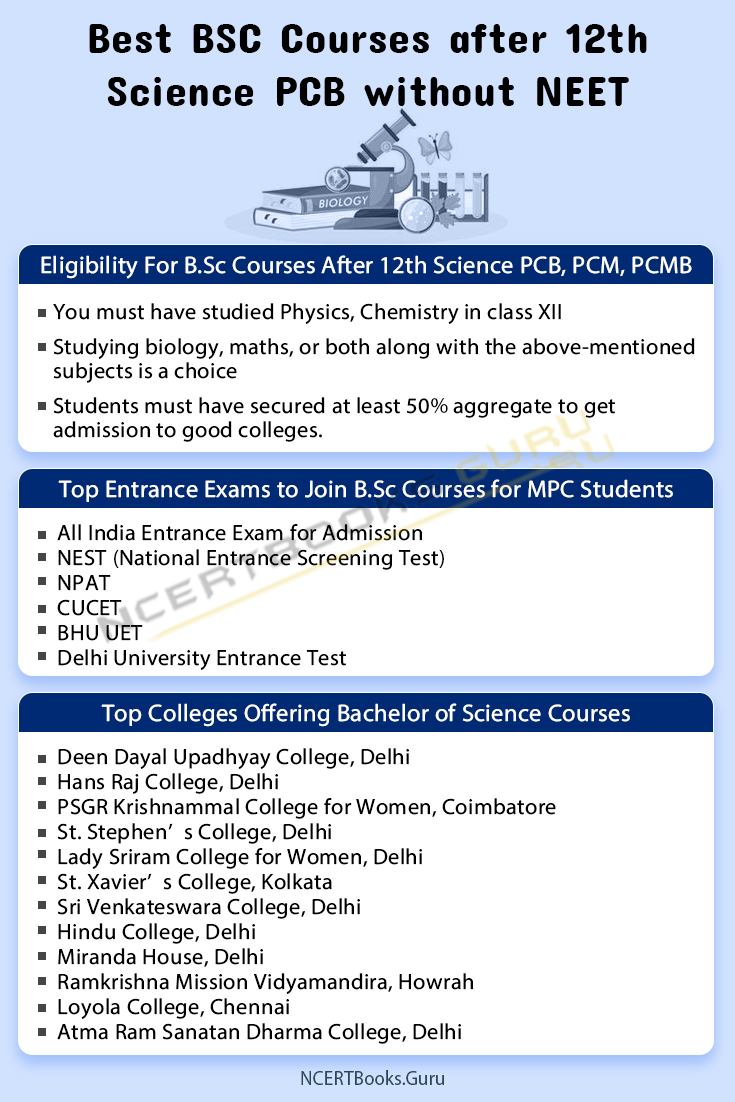 B.Sc Course After 12th Science Syllabus & Subjects
The syllabus varies for all the subjects and the specializations. Even it depends on the colleges that how they take up the curriculum in all the semesters. However, you can get a brief about the subjects which you will study in the few B.Sc courses.
Physics

Thermal Physics
Solid-state Physics
Mathematical Physics
Waves and Optics
Quantum Mechanics and application
Electromagnetic theory

Computer Science

Computer Organization
Linux
Python Programming
Data structures
HTML Programming
Operating system

Mathematics

Analysis
Vector Analysis
Probability Theory
Algebra
Linear programming and optimization
Calculus

Chemistry

Industrial Chemistry
Green chemistry
Polymer chemistry
Material Science and Nanotechnology
Pharmaceutical Chemistry
Energy and Fuel cells

Zoology

Cell Biology
Immunology
Animal Biology
Microbiology
Genetics
Biotechnology
Career Scope After Pursuing B.Sc Courses After Class 12 Science
With the advancements in science, Bachaloers in sciences is also gaining momentum. Thus, just like other engineering and medical courses B.Sc also offers a number of career opportunities for the students. If you want to change your field from science to commerce and arts after the completion of a B.Sc degree then it is absolutely possible.
Opportunities in both science and non-science domains are available. Not only in the private sector but students can look for government sector opportunities too. Here are a few job profiles in which you can work.
Scientific Assistant
Technical Writer/Editor
Consultant
Lecturers/Teachers
Biostatistician
Research analyst
Enumerators
Chemist
Scientist
Clinical Research Manager
Employment Areas for Graduate Candidates in B.Sc Courses after 12th Science PCMB, PCM, PCB
B.Sc courses offer a wide range in specialization just in the same manner there are wide employment areas too which are open for the students who want to work after the completion of their graduation. Some of these areas are
Drug Safety Associate
Pharmacovigilance expert
Biotechnology Firms
Agriculture Industry
Hospitals
Quality Control Associate
Testing Labs
Educational Institutions
Data Analyst
Pharmaceuticals & Biotechnology Industry
Assistant Research Scientist
Drug Development Associates
Healthcare Providers
Research Firms
Quality Analyst
Clinical Trial Analyst
BSC Courses after 12th science with high salary
The salary structure is entirely dependent on the job profile which you are choosing. It also depends on your knowledge, skills, and experience. Thus, a B.Sc fresher can easily earn Rs 15,000 to Rs 30,000 per month. But with the great experience, they can also earn Rs 60K to Rs 80K easily. In addition to this various perks and allowances are provided to the students.
Do Check:
FAQs on Top 10 BSc courses list after 12th science
1. How can I get admission into the top B.Sc colleges?
The colleges have their criteria for the selection of students. The admission process can be done based on merit lists and the entrance exams. Thus, some of the famous entrance exams are DUET, AIEEA, BHU UET, and more.
2. Who are the top recruiters for B.Sc students? 
The companies are offering jobs to the B.Sc students in India as well as abroad. The companies are the tycoon in their respective fields. Some of these famous companies are Google, Yahoo, IBM, TCS, Infosys, Wipro, Capgemini, Cipla, and more.
3. Which B.Sc course offers a great opportunity? 
Most of the courses in B.Sc specialization offer great opportunities for the students. Even the companies are offering lucrative salaries too for the B.Sc students. Some of these top courses are nutrition, Forestry, Nautical Science, Geology, Cardiology, Aviation, and more.
4. Is there any age criteria for B.Sc courses after 12th science admission? 
For the B.Sc courses after 12th science, some colleges set the eligibility criteria. They say that students must be of 18 years of age or above. Also, you must have studied important subjects like Maths, Physics or Biology, and Chemistry in XII.
Conclusion
Thus, we have provided the latest information on the B.Sc courses after 12th science like b.sc agriculture courses after 12th science, medical courses after 12th Bsc science in the above article. B.Sc offers great career opportunities for the students and companies are eagerly waiting for science aspirants. You can build a great career after your B.Sc degree.
If you are worried about the admission process, eligibility, top colleges, and many such questions for any specific course details then Ncertbooks.guru is there to help you. You can ping your doubts and we will resolve them quickly.