Paramedical Courses after 12th Science: Do you find great joy in helping others? Do you want to become part of a noble service? Among various options, healthcare is one such sector. But, you don't always need to be a doctor; you can work in the medical field in other roles.
There are various paramedical courses you can apply to after class 12. These are job-oriented medical training courses. Paramedics assist the doctors in diagnosis, documentation, treatment, and providing first aid to ill patients, to name a few. Let's dive into the details to know more about the paramedical courses.
Why Pursue Paramedical Courses?
Paramedical courses are a very popular alternative to MBBS. The employment rate for paramedics follows an exponential curve. Thus, the scope in today's world is huge for paramedics. Moreover, the rise in the number of hospitals and nursing homes across India has made a huge demand for paramedics.
The duration of these courses ranges from 6 months to 3 years. Thus, as you can see, it requires less time and also a nominal fee, unlike other medical courses. After you complete the paramedical courses, you will be skilled enough to deal with emergency medical services.
There are three types of medical courses one can take up after 12th Science. These are certificate programs, diploma courses, and bachelor's degrees in paramedical sciences. The duration of each of these programs is different. Let us explore the various types of paramedical courses along with the eligibility criteria and admission procedure.
Paramedical Courses after 12th Science Eligibility
To study paramedical courses, students must be eligible. Eligibility criteria are as follows:
Candidates must be from the science stream.
They must pass the class 12 examinations with a minimum of 50%.
Paramedical Courses after 12th Science Admission Procedure
Applications to paramedical courses begin in July or August every year. To apply, candidates need to visit the official website of the respective college or university and fill out the online application form.
Some colleges accept only offline applications where you need to visit the college to submit the form along with the fees. Many colleges conduct their own entrance examinations. Then they prepare a final merit list based on the score in the examination along with academic grades of class 12.
Paramedical Courses After 12th Science Bachelor's Degree
B.Sc in Operation Theater Technology
Bachelor of Physiotherapy
B.Sc in Radiotherapy
B.Sc in Dialysis Therapy
B.Sc in Radiography
B.Sc in Medical Lab Technology
B.Sc in Critical Care Technology
B.Sc in Nuclear Medicine
B.Sc in Audiology and Speech Therapy
B.Sc in Allied Health Services
BSc in Optometry
Bachelor in Radiation Imaging Technology
BSc in Medical Record Technology
BSc in Anesthesia Technology
Bachelor of Occupational Therapy
The duration of these courses is 3 to 4 years.
Diploma Paramedical Courses After 12th Science
Diploma in Dialysis Technology
Diploma in Nursing Care Assistant
Diploma in Physiotherapy
Diploma in Anesthesia
Diploma in Medical Laboratory Technology
Diploma in OT Technician
Diploma in Hospital Administration-DHA
Diploma in X-ray Technology
Diploma in Hear Language and Speech
Diploma in Rural Health Care
The duration of the diploma courses varies between 1 to 2 years.
Certificate Paramedical Courses After 12th Science
Certificate in dialysis technician
Certificate in nursing care assistant
Certificate in medical laboratory Technology
Certificate in Dental Assistant
Certificate in Home Based Health Care
Certificate in ECG and CT Scan Technician
Certificate in X-Ray Technician
Certificate in HIV and Family Education
The duration of these certificate medical courses ranges from 6 months to 2 years
Top Colleges to pursue Paramedical Courses After 12th Science
All India Institute of Medical Sciences (AIIMS)- New Delhi
CMC Vellore
JIPMER Pondicherry
SGPGIMS Lucknow
KGMU, Lucknow.
Armed Forces Medical College, Pune
Entrance Exams for Paramedical Courses After 12th Science
AIIMS- It conducts its own medical entrance test in May, the application of which starts in February.
MHT-CET- This is a state-level entrance examination. Paramedical courses like BSc Nursing and Bachelor of Occupational Therapy can be pursued in Maharashtra after clearing this exam.
NEET UG- This is for entrance to the top medical colleges in India for pursuing paramedical courses.
Also, Read:
Top Recruiters for Paramedical Courses After 12th Science
There is a need for paramedical experts in the healthcare industry. Some of the top recruiters are:
Hospitals
Nursing homes
Forensic labs
Blood banks
NGOs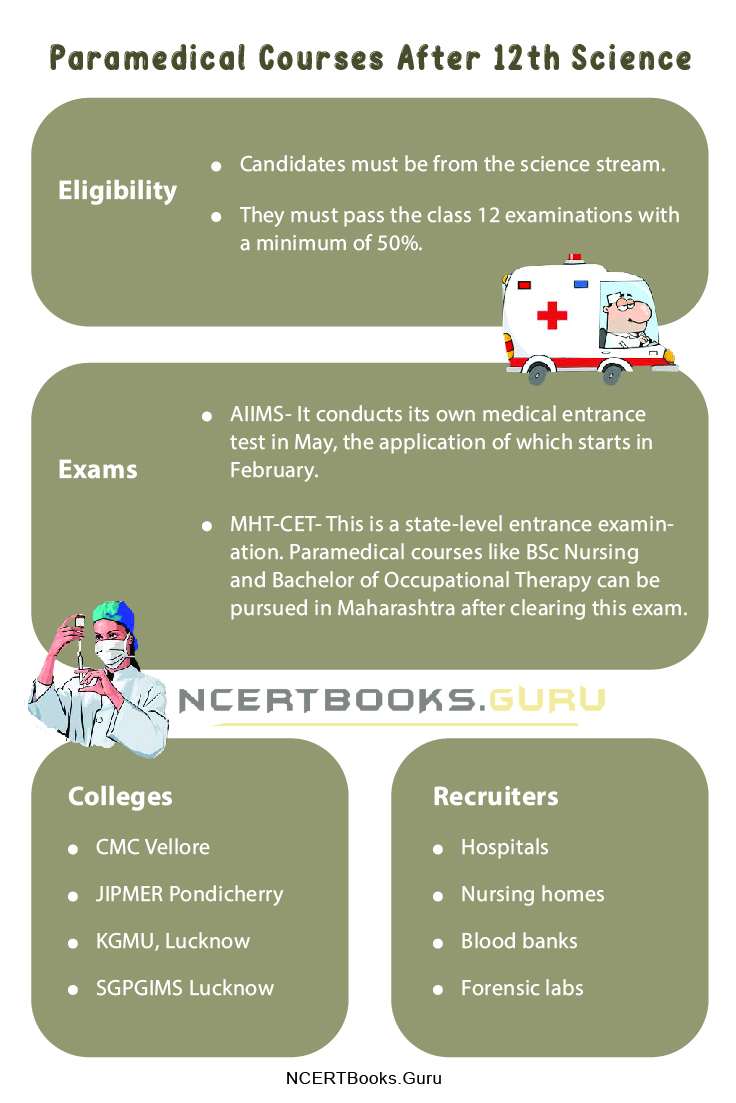 Paramedical Courses After 12th Science Jobs
The healthcare industry is one of the fastest-growing industries. There is a lot of room for opportunities in both the public and private sectors. Some best jobs in this field are:
Physiotherapist
Radiotherapist
Nurse
Audiologist and Speech Therapist
Occupational Therapist
Paramedical Courses After 12th Science Salary
In India, the average salary after paramedical courses ranges from Rs 18,000 per month to Rs 50,000 per month. The salary increases with experience in due years.
FAQs on Paramedical Courses
1. Is there a scope for paramedical courses in India?
Due to the rise in hospitals and other healthcare units, the demand for paramedics has grown rapidly. Moreover, the pandemic has also created a huge demand for paramedics.
2. Which is the best course in paramedical after 12th?
Depending on your choice and interest, you can choose from the numerous paramedical courses offered by various colleges/universities. They include bachelor's degrees, diploma courses as well as certification programs.
3. Is paramedical a good career?
Paramedics is a very promising and rewarding career in India today. There is a rising need for paramedics in the healthcare industry today. Also, it requires much less money and time as compared to MBBS.
Conclusion
The pandemic situation has further increased the demand for paramedics. The need for trained and skilled paramedics is the need of the hour. A degree in paramedics will serve as a gateway to lucrative opportunities. Decide the best course for you! Happy reading.