Easy Courses after 12th Science: Science in class 12th is considered one of the toughest choices for students. Even the degree choices after 12th science are PCM or PCB. But some students lose interest in these tough courses, for them also there are various easy courses available.
Easy courses also offer amazing job opportunities for the students. Even the salary offered is quite good. For both biology and math backgrounds students also easy courses after class 12 are available in India. Here in this article, we will guide you about the Easy Courses after 12th Science which is also related to your interest.
About Easy Courses After 12th Science PCM / PCB
The Science stream includes physics, biology, math, and other subjects too. But many of these subjects are not known to students. Most of them just know that they can pursue B.Sc or B.Tech after the completion of class 12th science.
Even the guardians also guide them to become engineers. However, these courses offer amazing career scope but some students are not eager to pursue these degrees. Then the scope for easy courses arises. These courses are not so different from the science field but the pattern and syllabus they follow are quite easy. These easy courses can be completed in a short span of time.
Easy Unique Courses after 12th Science Eligibility Criteria
The eligibility criteria for these short & easy courses after class 12 science vary. Some colleges may ask you to study math in class 12th and some may ask you to study biology. It completely depends on the course you are choosing. But the few important points which you need to keep in mind are:
You must have studied class 12th from a recognized university or relevant institution.
Should have secured at least 50% aggregate in XII.
You can also be called for the interview process by some universities.
List of Easy Courses after Class 12th Science
These short-term courses are easy in nature. You can have a never list for easy courses after the 12th. However, it has been advised that you must choose these courses according to your interest as your interests will help you a lot while you will be practicing them in real life.
Dental Assistant
Nursing Care
Food and Nutrition
Community and Rural Healthcare
App Development
Animation and Graphic Design
MS Office Proficiency
Web Designing
Digital Marketing
Information Technology
VFX and Animation
A career in Foreign languages
Job Oriented Best and Easy Courses After 12th Science List
These courses can be completed in a few weeks or hours. But they are extremely useful for your better career. You can pursue these courses after the completion of class 12th. After the compilation of these courses, you will be provided a certificate that helps you to build your resume. These can be known as non-scholastic courses after the 12th.
Java Development
Big Data and Hadoop
Data Visualization
Business Analytics
Data Mining
Machine Learning
Fees Structure for Easy Degree Courses After 12th Science PCMB
The Fees structure is not similar for all the courses. As these courses demand different ways of learning, the fees demanded are based on the types of equipment used by the college. The fee for free courses is described here in the below table:
| | |
| --- | --- |
| Dental Assistant | Rs 1.5 lacs to Rs 3 lacs |
| Machine Learning | Rs 40,000 to Rs 60,000 |
| Digital Marketing | Rs. 36,000 |
| Food and Nutrition | Rs. 30,000 – RS. 2 lacs |
| Data Visualization | Rs 36,000 to Rs 60,000 |
| Web Designing | Rs 40,000 to Rs 15 lacs |
Top Colleges That Offer Easy Courses after 12th Class Science
The colleges for the short-term courses after the 12th are available all over India. Even few websites are offering these courses online. These colleges are:
Delhi University
Mumbai University
MAAC (Mumbai)
Indira Gandhi National Open University (Delhi)
Institute of Marketing Communications India (Delhi)
NIFT
NIIT
IIDE
Tata Institute of Social Sciences (Kolkata)
Career Scope in Easy & Professional Courses after 12th Science
As we have defined, easy courses are available in data science, nursing, food and nutrition, Animation, and more. Thus the companies such as MNCs want their employees to hold degrees in such courses. They are ready to pay a high amount of salary to their employees.
Even after the completion of these courses, you can further your bachelor's or master's degree in the relevant domain. You will have a fabricating future and this will help you to stand out among all the employees at the time of recruitment. Not only in India companies abroad also want employees to hold such types of easy courses.
Do Check: Diploma in Data Science Course
Job Opportunities After Easy Courses in Science
various companies are recruiting students in demand for these easy courses for the profile of
Junior Data Analyst
Web designer
Animation
Digital Marketer
Junior App Developer
Nurse
Dental Assistant
Business Analyst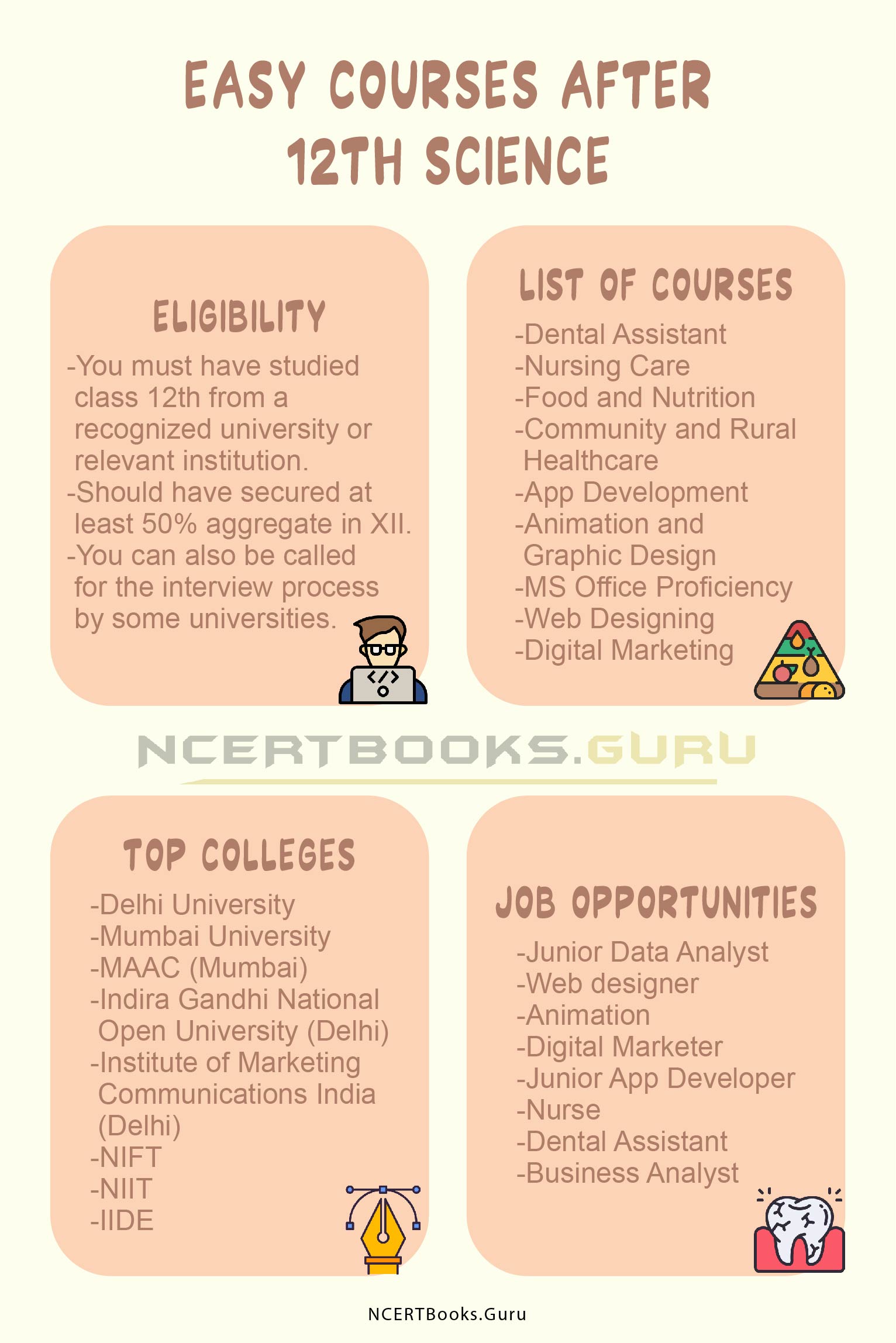 Easy Courses After 12th Science with High Salary
The easy courses offer high salaries. But this salary depends on your job profile and the course you had chosen while studying. You are also required to maintain your skills and knowledge to earn high, But on average, you can earn Rs 20,000 to Rs 50K with the help of these easy courses. Later with experience, your salary could get increased.
FAQs on Easy Science Courses after 12th in India
1. Which are the easiest courses after class 12th science? 
You can go for the diploma and certificate courses as they can be completed in a short period and you do not need to study a lot. But in return, they will provide you with a high salary structure. The domains can be Digital Marketing, Web Designing, Hotel Management, Event Management, and more.
2. Are these easy courses after 12th science worthwhile? 
Yes, there are a lot of career opportunities that are waiting for you. These easy courses do not mean that you will not get any proof in return. You can pursue them in a diploma or certificate course domain which companies accept and provide great job profile opportunities.
3. What is the eligibility for these easy courses after 12th Science? 
You need to score at least 50% marks in class 12th. Also, you must have studied physics, chemistry, biology, math, and other relevant science subjects in your class 12th.
4. Do easy courses after the 12th science offer a good salary? 
Yes, the science courses offer a great salary. You can earn around Rs 20,000 to Rs 50K as a fresher after the completion of the degree, However, the salary structure is completely dependent on your skills and knowledge.
Related Articles: Data Science Courses
Conclusion
If you are ready to explore more and face challenges then there are a lot of opportunities that are waiting for you. Thus, with the trendy easy courses after 12th science NcertBooks.Guru is always there for you. We are also accepting suggestions and questions regarding various course details and career options which you may ask in the comment section below.