Data Science Diploma Course: Data science is the process by which various data or information is gathered, analyzed, and processed to extract actual solutions. Specifically, it involves the specialized knowledge required to understand a wide array of structured and unstructured data. Professionals with expertise in Data Science are the only ones qualified to perform these tasks.
Math, calculus, graphs, charts, algorithms, computer programs, and a variety of other scientific activities can be categorized under the heading of Data Science. It involves aspects of science that also require knowledge in business or commerce-related fields.
A data scientist can help professionals find information, insights, and solutions that would have been impossible to find from raw data alone. The big bulk data of businesses around the globe require professionals with special knowledge in this field to provide valuable insights, decisions, and solutions.
Diploma in Data Science Eligibility
The Data Science program is available as a specialization in Engineering, Computer Science, and Management. Students should have at least 50 percent marks in the aggregate of a bachelor's degree, preferably in Science or Computer Science, from a recognized university to qualify for the program.
Data Science Diploma Requirements
As a part of the application process for the PGD Data Science program you must meet the following requirements:
Bachelor's degree in computer programming and statistics knowledge (BE/B.Tech/MCA/M.Sc/DOEACC).
The application process is also open to candidates who have taken the final semester exam but are waiting for results. When the course is complete, they must submit proof of completing all semester exams and receiving their degree. No certificates will be issued otherwise.
When the candidate is admitted, the original mark lists for tests up to the last evaluation should be presented.
The admissions process at several institutes includes consideration of a candidate's work history.
Applicants to postgraduate programs in data science may also need letters of recommendation.
Diploma in Data Science Course Duration
There are several diploma course programs available in data science, including the PG Diploma Program in Data Science, which serves to teach the basics of data science at a short duration of 6-12 months, preparing the students for finding jobs right out of high school without taking full-time courses. Applicants should have a Bachelor's degree in Science, Engineering, or Business.
Data Science Diploma Course Fees
Fees for data science courses range between INR 1,00,000 and 4,00,000 for 2 – 3 year degrees and diplomas; for MBA data science courses, it is INR 12 – 14 lakhs. Udemy Data Science Courses in India with Placements offer some of the most affordable data science courses online with tuition ranging from INR 380 to INR 3000.
Learn about various course details all in one place and clear any doubts like whether the course you have opted is great or not for your future.
Data Science Diploma Course Colleges List
There are various data science courses after 12th grade; B.Tech, M.Tech, MBA, and PGDM data science in combination with artificial intelligence, machine learning, or data analytics are among the best. Among the top colleges offering data science certifications such as
IIT Madras
Loyola College
MAHE Manipal
VIT Vellore
Udemy
Coursera
Simplilearn
Scope of Diploma in Data Science
There are many career opportunities in Data Science after completing the postgraduate diploma. Working professionals can benefit from it if they desire to boost their compensation and improve their abilities. Following are some future benefits of a Postgraduate Diploma in Data Science:
In recent years, Analytics and Data Science have become the most sought-after subjects across the globe. To extract valuable information from business activities, data scientists should analyze them later. Companies from every industry need professionals who can manage, analyze, and provide useful solutions in every sector.
It enhances the quality of the resume, which may be helpful in securing a position with better prospects and a higher salary.
Any student who has successfully completed a Postgraduate Diploma in Data Science is eligible to pursue a Master's in Data Analytics or in Data Science.
In the transportation industry, data scientists are needed to analyze information generated by passenger counting systems, asset management, positioning systems, and fare collections.
Due to the high amount of data generated daily by the healthcare industry, data scientists are in high demand. In addition to patient medical records, hospital bills, and employees' personal histories, hospitals need to keep track of a variety of details. To improve data quality and safety, medical companies are employing data scientists.
Read More:
Job Profiles for Diploma Data Science Program
Data science professionals can boost their resumes and learn new skills by completing a part-time postgraduate diploma program in data science. For instance, most companies recruit employees for the following positions:
Data Scientist
Data Architect
Data Analyst
Data engineer
Database Administrator
Business Intelligence Analyst
Statistician
Students must pursue Data Scientist Courses to become Data Scientists easily.
Salary after Data Science Diploma Degree
Careers in data science are among the most promising. As per payscale reports, data scientists earn an average of INR 5.6 lakhs per year as freshers; within 5-9 years, they can expect to make INR 14 lakhs per year. Career prospects after graduation include a Statistician, Data Analyst, Machine Learning Engineer, and Data Engineer earning a minimum of INR 4 lakhs per year.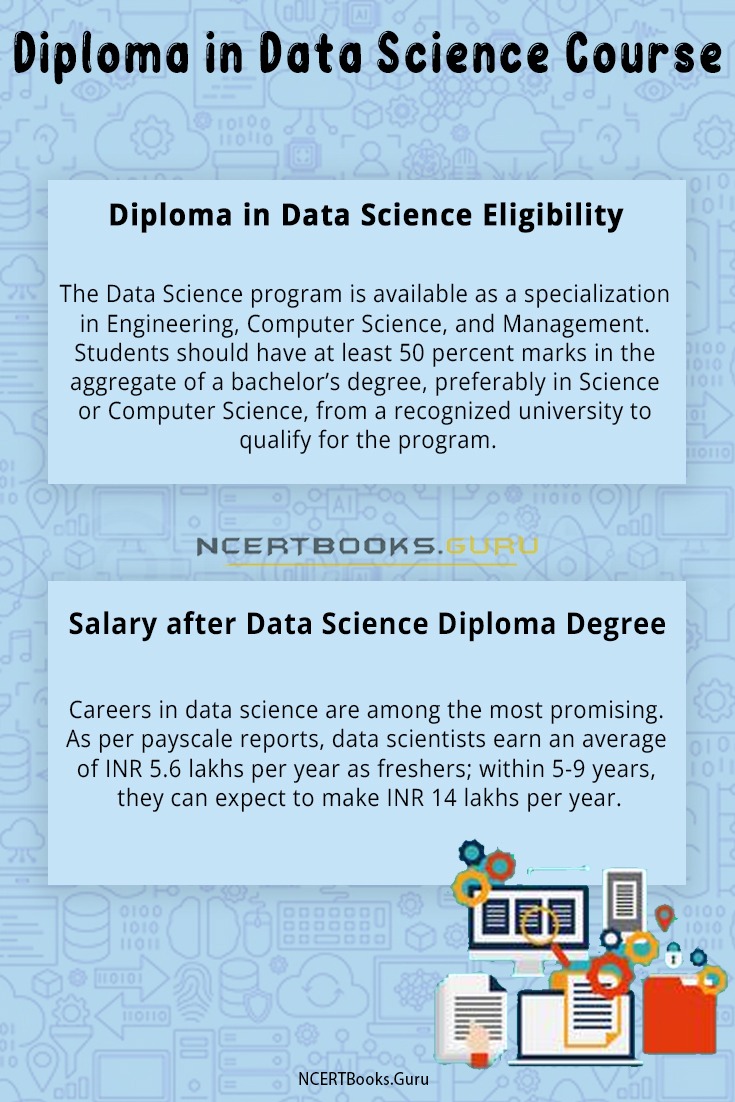 FAQs on Data Science Diploma Program
1. Can I become a Data scientist after Diploma?
On getting the Certificate of Data Science Diploma Course you can get a job as a data scientist.
2. What is the Eligibility Criteria to be met in order to enroll in Diploma in Data Science Program?
Candidates should have done specialization in Engineering, Computer Science, and Management with at least 50 percent marks in the aggregate of a bachelor's degree, preferably in Science or Computer Science, from a recognized university to qualify for the program.
3. Is data science a good career?
Yes, Data Science is a good career option as it opens up a plethora of job opportunities and you can have a bright future.
Conclusion
According to IBM, data scientists are one of the trendiest jobs of the 21st century because of their salary structure and increasing demand. In India, data science holds a great deal of potential due to the growth of the economy and the expansion of the business sector.
Additionally, the demand for professionals specializing in the field of data science is increasing rapidly around the world. Students who want to pursue a career in this field can become data scientists regardless of their background, which makes it the best option for them.