How To Become A Data Scientist In India?: Data science is the technology of the future, and if we carefully observe our surroundings, we will find that we are heavily dependent on data. Data science is the study of how to manage, store, process, and efficiently use data.
We are producing more and more data each year. The amount of data produced each year grows exponentially in comparison to the data produced in the year before.
Refer to Course Details to know more about related courses and find details like Admission Process, Eligibility Criteria, etc.
This article will cover all the significant aspects of data science and give you the information in detail on how to become a data scientist in India.
Who Is A Data Scientist?
A data scientist is a person that is capable of dealing with and handling vast amounts of data. This data can be of two types structured or unstructured.
Structures Data:- This is the data that is arranged in some form and order. You can also say that this type of data has a sequence. For instance, you can call your telephone directory as an example of structured data.
Unstructured Data:- This type of data is not arranged in any order or sequence, and you can say that this type of data is in random order. For example, you can consider mixed pieces of a puzzle as a collection of unstructured data.
A data scientist collects, organizes, and then analyzes this type of data. Data scientists can predict the trends of the market using such data and information.
If you want to be a successful data scientist in India, you should be strong in science, mathematics, and statistics. Companies use the prediction from the data scientists to create their plan of action and strategies.
Courses Available In India
Data scientists are generally people who have studied a lot, as most data scientists in India have completed their master's degrees. In contrast, the rest of them have either a bachelor's degree or a PhD in data science.
Some of the bachelor's courses that you can opt for in Data science are Bsc in data science, BCA data science, and bachelor of data science.
Then the master's courses available in data science are MSc in Data Science, MBA in data science, and analytics. You can even do an M.Tech in data science.
Apart from these professional courses or degrees, you can also opt for special certificate and diploma courses in data science. Mainly the duration for these courses is between six to twelve months. Diploma courses are very cost-effective and are of short duration as well.
See More:
Eligibility Criteria for Data Scientist
You can be eligible for a professional degree course in data science if you belong to a science stream in your class 12th. You must have at least 50% marks in your class 12 exams. You should have also completed your schooling from a recognized board by the government.
To take admission in a bachelor's degree in data science, you can give some entrance exams. Based on your marks in these exams, you will be eligible to participate in the colleges' interviews. Usually, a bachelor's degree course is either three years long or four years long.
If you further want to pursue data science, you can also do a master's degree in data science. The duration of a master's degree course is about two years. You will require to again participate in entrance exams to get admission to a college.
If you don't want to pursue a professional degree, you can also go for a diploma or a certificate course in data science.
Skills Required for Data Scientist
Critical Thinking:- Critical thinking is an essential aspect of data scientists. Managing vast chunks of data is not an easy task. You are very likely to face situations and problems that require you to think outside the box. Critical thinkers have the ability and capability to outsmart others, and they always have a different approach and perspective towards the challenges. You would need to critically think and understand which data is helpful to you and which data is irrelevant for you.
Leadership:- Data scientists usually work in a team. Due to this reason, a good data scientist must be a leader. To become a leader, it is not necessary that you must have that designation. You can also be a leader through your actions and work. As a data scientist, you can stand out in your team by setting up examples. If you are given the position of a team leader, you should delegate the work properly by understanding all the attributes of your team members.
Effective Communication:- Effective communication is an essential part of any job role. As a data scientist, you would require communication with your team members and seniors. To become a successful data scientist in India, you must convey your feelings precisely to your fellow teammates. If you cannot have effective communication, then your project or work will most likely fail.
Analytical:- Analytical skills are essential if you want to pursue data science. The whole objective of data science is to collect, organize and analyze data. Based on this analysis, companies and organizations take serious business decisions.
Teamwork: Like leadership, teamwork is also an essential quality that a good data scientist must possess. Without proper teamwork and coordination, you will not achieve your goals and meet your targets. To build a proper team, you need to be connected with your teammates, and there should be a certain level of trust and understanding within your team. To get the best results in a team, you must delegate the work among your teammates according to their skills and attributes. If you try to involve every team member, then there is a positive sense of involvement and attachment. By this method, you can effectively increase the working efficiency of your team.
Why Choose Data Science?
It would help if you chose data science as a subject or your field of specialization because of its infinite applications and scope. The scope of data science is very high all over the world. In India, we can also expect to see this trend as most Indian scientists are highly skilled.
The Indian education system trains and develops the children so that they have a sharper mind and better problem-solving skills.
Top Job Profiles for Data Scientist
Data science is a rapidly growing field, and it also has various divisions. You cannot master this vast field entirely, so there are several specializations or profiles in the field of data science. The top 10 job profiles related to data science are:-
Data Scientist:- A data scientist knows briefly about every other topic present under the branch of data science. If you want to continue as a data scientist, you must have a strong background in science, maths, and statistics.
Data Analyst:- It is the second most known. These job profiles are well known. They mainly deal with data visualization, transformation, and manipulation. These people are also in charge of creating a visual representation of the data.
Data Architect:- Work of a data engineer is similar to that of a data architect, and both job profiles also share massive responsibilities. They must design and develop new database systems.
Data Engineer:- These data scientists are responsible for constructing and maintaining data pipelines. Storing the data efficiently is also a major priority of a data engineer.
Machine learning:- A machine learning data scientist mainly deals with forming new ways and data algorithms to complete any given task efficiently. They have to strongly coordinate with the research and development team to innovate and create new things.
Data Storyteller:- A data storyteller is responsible for identifying and narrating the story created by the data you are analyzing.
Business intelligence developer:- In this job profile, you are required to operate with businesses and help them grow. These developers use data to formulate an effective growth strategy and plan.
Machine learning engineer:- A machine learning engineer is a person that has an excellent statistical and coding background. This type of data scientist mainly deals with the classification and construction of new machines. Some specific languages help these data scientists to code the machines so that they can perform specific tasks.
Database administrator:- A database administrator is a person that creates the database of an organization. This person is also responsible for maintaining and correcting this database.
Technology specialized:- These are the people that work on specific technologies only, such as artificial intelligence, machine learning, and so on. Since all these technologies are relatively new, we don't have specific job profiles for them.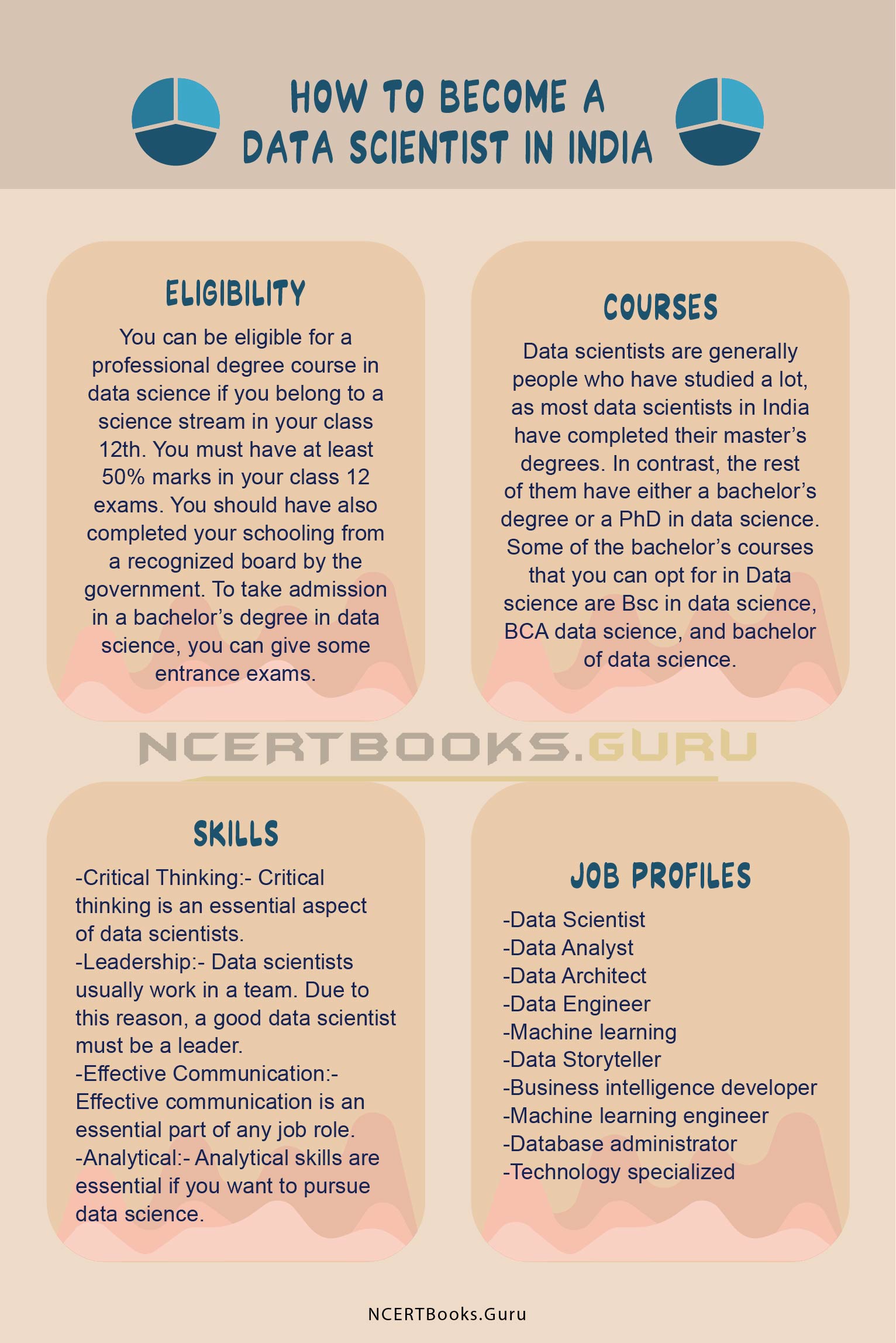 Conclusion on How To Become A Data Scientist In India?
Data science is a field of work that is growing exponentially, and it is a field of work for the future as well. In the future, we can quickly expect the amount of data generated to increase as well. Due to these reasons, we will require more data scientists.
Data scientists can make anything easier with the help of data. If you are interested in science, maths, and data, then data science is the correct job profile for you.
This article covers all the significant aspects related to data science and how to become a data scientist in India.