India is a great place to get software jobs. Before applying for the jobs candidates must know how to become a software architect in India. For a decade more than 1 million candidates have joined as software architects to make it the largest software exporter. There are many reasons to choose software jobs because they are highest paid, career growth, and job security.
If you work hard from your college days you will be placed in the government sector or private sector. Students who decided to become software architects are suggested to go through this article to get information like course details, educational qualifications, duties, skills required, and payscale for a software architect in India.
What Does a Software Architect do?
A software architect is an Information Technology professional who is an expert in software development. He/She is the one who communicates with the clients to know the requirements and also to explain to them the design and budget of the project. Their duty is to design by using software tools.
Duties and Tasks of a Software Architect
Some of the roles and responsibilities of a software architect in India are as follows,
Leading the team to design
Collaborating with clients
Identifying and understanding the requirements of the clients.
Completing the project within the budget.
Working with different developer teams
Completing the project within time.
Eligibility Criteria to become a Software Architect
To apply for any job it is necessary for the applicants to check the eligibility criteria.
You must have passed Class 12 from any recognized board with subjects maths, physics, and chemistry with a minimum of 60% marks.
They have to clear undergraduate courses like B.Arch/Diploma with at least 65% marks from any university or institution. The duration of the bachelor of architecture course is 5 years.
If you are interested to go for postgraduation then you have to write the GATE exam. You need to score at least 50% in Master of Technology to be eligible to apply for your dream job.
Age Limit: There is no age limitation to applying for software architect jobs in India.
Steps to Become a Software Architect in India
Go through the below steps to know how to become a software architect in India.
Step 1: Should have passed 10+2 with an aggregate of 65% of marks from any recognized board.
Step 2: Should have possessed Bachelor's or Master's Degree in Computer Science or Information Technology.
Step 3: Should have knowledge of programming languages and frameworks.
Step 4: Have knowledge of System Design, Development Operations, etc.
Step 5: Valid Certification Course – ISAQB Software Architecture, CITA-P, Axelos, and so on.
Step 6: Complete the selection process like GD, personal interview.
Entrance Exams for applying for Software Engineering Courses
Candidates who wish to join engineering must appear for the entrance exams conducted by the state and central government. Based on the rank scored in the entrance exams students can choose the colleges. We have enlisted the UG level and PG level entrance exams below.
UG Level Entrance Exams:
EAMCET
JEE Mains
JEE Advanced
VITEEE
SRMJEEE
BITSAT
MHTCET
PG Level Entrance Exams:
Course Duration to Complete Architect Course
Duration of Bachelor's Degree Course in Computer Science is 4 years
Duration of Bachelor's Degree Course in Architecture is 5 years
Duration of Master's Degree Course in Computer Science is 2 years.
Read More:
Top Colleges in India to become a Software Architect (UG & PG Course)
To become a software architect candidates have to complete the graduation course. Here is the list of the top colleges or institutions to become software architects in India.
Alagappa University, Karaikui
SRM Engineering College
Bharati Vidyapeeth Deemed University
St. Xavier's College
Sri Ramakrishna Engineering College
National Institute of Technology, Calicut
Indian Institute of Technology, New Delhi
National Institute of Technology, Calicut
National Institute of Technology, Durgapur
Amity University
College of Computer Science and Information Technology
Delhi Technologies
Indian Institute of Technology, Kharagpur
Ramanujan College, New Delhi
Indian Institute of Technology, Roorkee
Indian Institute of Technology, Bombay
Kerala University, Thiruvananthapuram
Indian Institute of Technology, Mumbai
Vellore Institute of Technology
Satyabhama University
What to learn to become a Software Architect in India
Design and architecture of software systems
Internet of Things
Software Engineering for the Cloud
Developing for Blockchain
Syllabus For to become Software Architect Sem-wise
Sem-I:
Architectural Design I
Visual Arts and Basic Design I
Computer Applications I
Building Construction I
Theory of Structures I
Environmental Studies
Model making and Workshop
Human Settl. & Vernacular Arch.
Professional Communications I
Sem-II:
Architectural Design II
Visual Arts and Basic Design II
Computer Applications II
Building Construction II
Theory of Structures II
Climate-responsive Design
History of Architecture I
Sociology and Culture
Professional Communications II
Sem-III:
Architectural Design III
Visual Arts and Basic Design III
Computer Applications III
Building Construction III
Theory of Structures III
Water, Waste, and Sanitation
Site Planning and Landscape Studies
History of Architecture II
Art and Architectural Appreciation I
Research Elective I
Sem IV:
Architectural Design IV
Visual Arts and Basic Design IV
Computer Applications IV
Building Construction IV
Theory of Structures IV
Electrification, Lighting & Acoustics
Solar Active and Passive Systems
History of Architecture III
Art and Architectural Appreciation II
Research Elective II
Sem V:
Architectural Design V
Building Construction V
Theory of Structures V
HVAC Mech Mobility & Fire Safety
Energy System & Renewables
History of Architecture IV
Design Methodology II
Art and Architectural Appreciation III
Research Elective III
Research Elective IV
Sem VI:
Architectural Design VI
Building Construction VI
Theory of Structure & Design II
Green Systems Integration
Sustainable Urban Habitats
Specifications & Contracts
Contemporary Architecture
Architectural Theories
Art & Architectural Appreciation IV
Sem VII:
Architectural Design VII
Working Drawings
Project Management
Architectural Appreciation IV
Arch. Research Seminar
Arch. Research- Elective V
Arch. Research- Elective VI
Sem VIII:
Sem IX:
Architectural Design IX
Professional Practice
Urban Design Studies
Arch. Research Dissertation/ Art Thesis
Arch. Research- Elective VII
Arch. Research- Elective VIII
Sem X:
Architectural Design Thesis
Thesis Design Research
Professional Practice
Reference Books to study for Software Architect
Here are some preferred books to become a software architect.
101 Things I Learned in Architecture School by Matthew Frederick
Architecture: Form, Space, & Order by Francis D.K. Ching
A Pattern Language: Towns, Buildings, Construction by Christopher Alexander, Sara Ishikawa
Yes is More. An Archicomic on Architectural Evolution by Bjarke Ingels.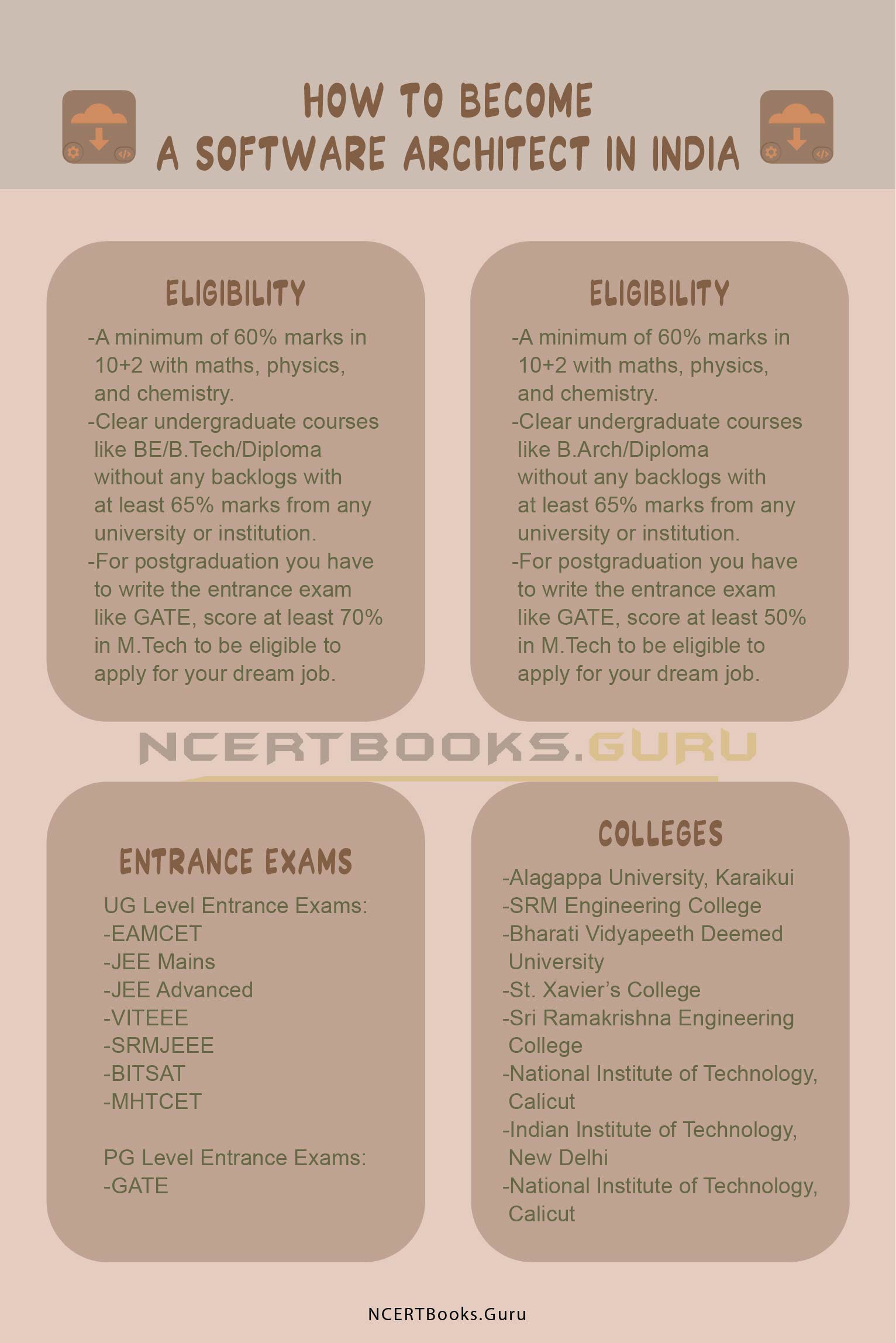 Skills Required for a Software Architect
To get shortlisted for a software architect job the aspirants must meet the skills that are expected from the recruiters of the company or organization.
Fundamentals of software architecture
Good Communication Skills to collaborate with clients
Problem Solving Skills
Time Management
Leadership qualities
Teamwork
Software Architecture in Practice
Architectural Design Software List
Drawing is the primary work of an architect. There are different needs in each architectural software design
SketchUp
Revit
3D Studio Max
Cedreo
AutoCAD
V-Ray
Photoshop
InDesign
Software Architect Salary in India
Candidates can expect a high salary while working as software architects. The pay scale depends on your performance and experience. The salary of a software architect in the initial period is Rs. 10 to 15 lakhs per annum. If you have experience of more than 4 years you can expect a high package of about Rs. 20 to 30 lakhs per year.
Pros and Cons of a Software Architect
Pros:
Good Salary
Flexible working hours
Work from home is available
Traveling opportunities
Cons:
FAQs on How to Become a Software Architect in India
What is the qualification for a software architect?
The students must have possessed Bachelor's degree or Master's degree in Computer Science or B.Arch.
How can I become a software architect after 12th?
Complete 12th from a recognized Board.
Complete the graduation program in Computer Science or Software Engineering.
Pursue the Software package, which an aspirant is interested in studying and working.
Become a Software Architect.
Does a software architect code?
No, a software architect does not need to write code.
Summary
All the details shared in this article regarding joining as a software architect is as per the expert suggestions. We hope these details help you to make sure that your choice is correct. To more about how to become a software architect in India you can contact us by posting the comments in the below-given comment section.