Hello!! Do you want to become a software developer in India after the 12th? If yes then we will explain the simple steps to know how to become a software developer in India. Actually choosing the software field is the best idea because they are the highest-paid employees. There is no gender discrimination for these software engineer jobs.
Candidates who have a goal to become a software engineer/developer must study the course related to the software field. So you must join the relevant courses in order to become a software developer. Get more information like eligibility criteria, course details, best colleges, pay structure, and so on from this page. In addition to that, the aspirants can also get career opportunities as software developers from here.
Software Developer
A software developer is recruited to make new designs, write and execute the code, test tools, and create apps. They are responsible to make new applications for mobiles and computers. There are different job roles for a software developer – Desktop developer, Graphics Developer, Game Developer, Web Developer, etc.
Eligibility Criteria of a Software Developer – Educational Qualifications
To apply for any job it is necessary for the applicants to check the eligibility criteria.
Candidates should have passed 12th class from any recognized board with subjects maths, physics, and chemistry with a minimum of 60% marks.
They have to clear undergraduate courses like BE/B.Tech/Diploma without any backlogs with at least 65% marks from any university or institution.
If you are interested to go for postgraduation then you have to write the entrance exam like GATE. You need to score at least 70% in M.Tech to be eligible to apply for your dream job.
Age Limit: There is no age barrier to applying for software developer/engineer jobs in India.
Entrance Exams for applying Software Engineering Courses
Candidates who wish to join engineering must appear for the entrance exams conducted by the state and central government. Based on the rank scored in the entrance exams students can choose the colleges. We have enlisted the UG level and PG level entrance exams below.
UG Level Entrance Exams:
EAMCET
JEE Mains
JEE Advanced
VITEEE
SRMJEEE
BITSAT
MHTCET
PG Level Entrance Exams:
Top Colleges in India to become a Software Developer (UG & PG Course)
Alagappa University, Karaikui
SRM Engineering College
Bharati Vidyapeeth Deemed University
St. Xavier's College
Sri Ramakrishna Engineering College
National Institute of Technology, Calicut
Indian Institute of Technology, New Delhi
National Institute of Technology, Calicut
National Institute of Technology, Durgapur
Amity University
College of Computer Science and Information Technology
Delhi Technologies
Indian Institute of Technology, Kharagpur
Ramanujan College, New Delhi
Indian Institute of Technology, Roorkee
Indian Institute of Technology, Bombay
Kerala University, Thiruvananthapuram
Indian Institute of Technology, Bombay
Vellore Institute of Technology
Satyabhama University
Syllabus For IT to become Software Developer
Introduction to IT
Artificial Intelligence and Application
Analysis
Programming and Data Structures
Operating Systems
DataBase management
Computer Communication Networks
Object-oriented Analysis
Programming
Network port System
Design and Implementation
Software Engineering
Mathematics:
Statistical computing
Optimization Techniques
Mathematical Foundations
Probability and Combinatorics
Business Management:
Introduction of Management Functions
Organizational Behaviour
Accounting and Management Control
Oral and Written Communication
Management Support and Systems
Software Developer Course Details
The course details to become a software developer with duration and estimated fee structure are shown in the below table.
| | | |
| --- | --- | --- |
| Course Type | Duration | Fee Structure per annum |
| Certificate Course | 2 years | Rs. 10,000 to 50,000 |
| Diploma | 6 months | Rs. 40,000 to 80,000 |
| Bachelor's Degree | 4 years | Rs. 1,00,000 to 3,00,000 |
| Master's Degree | 2 years | Rs. 2,00,000 to 4,00,000 |
| Ph.D | 3 years | Rs. 20,000 to 80,000 |
Roles and Responsibilities of a Software Developer
A software developer has a lot of responsibilities they are,
Training for new employees or freshers
Research, design, and use software program
Writing the code
Test and compile the code
Managing and Developing new applications
Working with different developers and designing new applications to meet business objectives.
Analyzing key requirements of the clients
Online Communities for every software developer are
Mozilla Developer Network
Developers Forum
Google plus communities
StackOverflow
GitHub
Toptal
Read Similar Articles:
Top Recruiting Companies for a Software Developer Job in India
The candidates who studied IT have a lot of job opportunities as software developers. Some of the top companies that recruits candidates as software developer are as follows
MNCs like Amazon, Google, Cognizant, TCS, Facebook, Apple, Oracle, Cisco, Microsoft, etc
IT Companies
Non-IT Companies
Insurance
Banking
Finance
Start-Ups
Types of Software Developers
There are different job roles in the software developers department. They are listed below
Embedded systems and API developer
Graphics developer
Desktop developer
Mobile developer
WordPress developer
Full-stack developer
Front-end and back-end developer
DevOps developer
CRM developer
Game developer
Web developer
Big data developer
Data scientist
Overview on how to become a software developer in India
| | |
| --- | --- |
| Name of the course | Information Technology |
| Eligibility | BE/B.Tech/B.Sc/M.E/M.Tech from any stream |
| Age limit | No age limit |
| Salary | 5 to 6 lakhs per year |
| Job Recruiters | Amazon, Google, Cognizant, Facebook, TCS, Oracle, etc. |
Skills Required to Become a Software Developer in India
Good Communication Skills
Basic Computer knowledge
Time management skills
Decision-making and problem-solving capabilities
Teamwork
Knowledge on writing and executing a code
Reference Books for Software Developer
The Pragmatic Programmer: From Journeyman to Master
The Mythical Man-Month: Essays on Software Engineering by Frederick P. Brooks
Cracking the coding Interview by Gayle Laakmann McDowell
A Philosophy of Software Design by John Ousterhout
Salary for Software Developers in India
We can expect a pay scale for a software developer based on the performance and experience of the candidate in the organization. Check out the below table to know the salary of the candidate as per the company and experience.
Name of the Company
Average Salary per year
DRDO
22 lakhs
Amazon
13 lakhs
Google
13 lakhs
Facebook
10 lakhs
Experience based salary
0 to 1 year
4.60 lakhs
1 to 4 years
5 lakhs
5 to 9 years
12 lakhs
+9 years
20 to 40 lakhs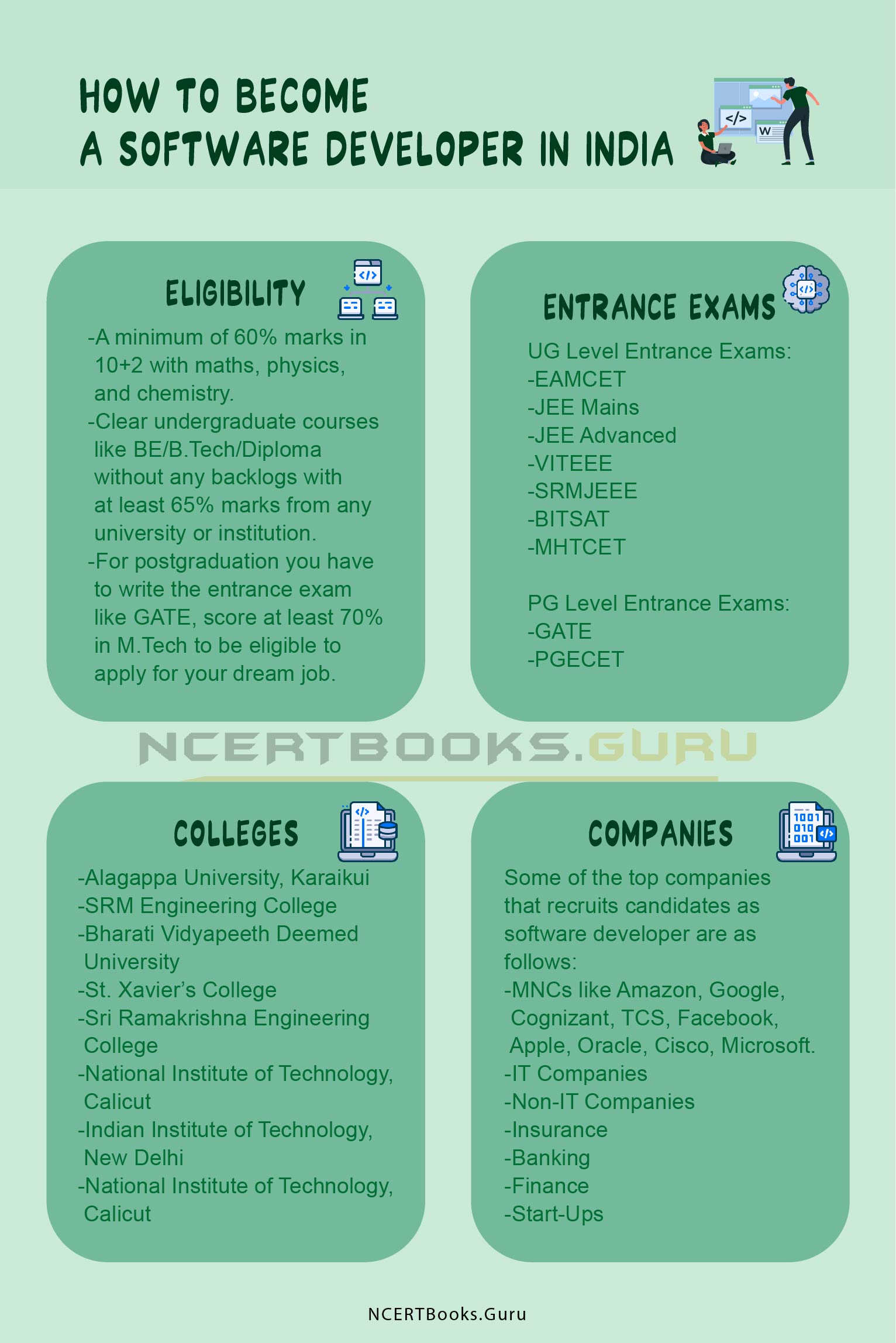 Advantages of becoming a Software Developer
The benefits of choosing the software developer post are as shown below,
Job Security
Good Salary
Experience
Career growth
FAQs Related to how to become a software developer in India
What are the roles related to a software developer in India?
The job roles that are related to the software developer are web designer, IT consultant, Information systems manager, Cybersecurity analyst, application developer, etc.
What is the salary of a software developer?
The salary for a software developer in the initial level is Rs. 4,00,000 to 5,00,000 per annum. If you have 2 to 3 experience then you can expect Rs. 7,00,000 per annum.
Is Jee compulsory for software engineering?
No, it is not mandatory to appear for the JEE mains to join the engineering course in India.
What are the highest paying jobs for a software developer?
The highest-paying jobs for a software developer are Information Technology Systems manager, Mobile developer, Cloud engineer, etc.
Summary
We wish the details seen in the above article are helpful for all the aspirants who wish to become software developers. Bookmark our site if you feel that this article is beneficial for you to become a software developer in India. Also, the students can get the latest information regarding all the Engineering jobs with complete guidance from our site.