How To Become A DevOps Developer In India: If you are interested in automation or maintaining the smooth functioning of the software, you are the right person to become a DevOps developer.
DevOps developer is not a very common job profile in India, but it is an essential part of a software's life cycle. This job profile combines both the development aspect of the software as well as the operational aspect.
Refer to Course Details to know more about related courses and find details like Admission Process, Eligibility Criteria, etc.
DevOps developers are very strong coders and critical thinkers as one of the essential parts of their job profile is to develop new ideas and features into the software.
In this article, we will talk in-depth about the entire process of how to become a DevOps developer in India.
Who Is A DevOps Developer?
A DevOps developer is an engineer that mainly deals with software and software development. DevOps development is an important stage in the life cycle of software development. A DevOps engineer is responsible for the introduction and processing of methodologies and tools.
Due to the introduction of these processes, the software can have a balanced life cycle from coding to deployment and from maintenance to updates.
A DevOps developer unifies and automates the processes in software. If you have a strong background in coding, then you can become a successful DevOps developer.
Courses Available To Become A DevOps Developer In India
If you want to become a DevOps developer in India, then you would have to do engineering. For a bachelor's degree, you do B.TECH in computer science and technology with DevOps and cloud computing as specialization.
Similarly, for a master's degree, you can do M.TECH in computer science and technology with cloud computing and DevOps as specializations.
There are also plenty of other courses like diplomas and certification courses specifically in DevOps development. You can do these courses to gain exceptional knowledge and insight on DevOps development.
Although a person who has done a bachelor's or master's degree in DevOps development would be preferred over a person with a diploma or a certificate, you can get a great job based on your knowledge and skills.
Eligibility Criteria for DevOps
If you want to take admission in a DevOps developer course or degree in India, you must have passed your class 12th examinations from a recognized government board.
The only condition is that you must have at least 50% marks in these examinations with physics and mathematics as the compulsory subjects. Along with these two, you can have anyone from biology, chemistry, biotechnology, or any other technical vocational subject.
After this step, you can take admission to a bachelor's of technology course in India. You will have to appear for various entrance exams such as JEE mains and JEE advance to get the best engineering colleges in India.
Colleges will select the students based on their ranks in these exams. A bachelor's in technology is a four-year course or program. After completing it with a minimum of 50% marks, you will be eligible for a master's degree.
A Master's degree in computer science is a two-year course. You would again have to give entrance exams to get admission to a reputed college. The GATE exam is among the most popular exams for admission in a Master's program.
Skills Required for DevOps Officer
Programming skills
Programming skills play a very vital role in deciding your scope and career as a DevOps developer. The primary function of a DevOps developer includes the development and operational aspects of a software's life cycle.
Due to this, you should be very good at programming and problem-solving since it is required that you have good programming knowledge, but it doesn't necessarily mean that you should know all the programming languages.
To excel as a DevOps developer, you can efficiently work if you know C, C++, Python, C#, Ruby and Java. You can master any of these programming languages to have a successful career as a software developer.
If you have the skill to write excellent code that doesn't require any debugging, then you will be a valuable asset to the organization as the project would then not bounce between different departments and people. Your work would seem more effective and efficient if you finished the entire project on your own.
System administrator
A system administrator has a lot of work to do, especially in an IT department. If you have some previous experience in an IT company, you would have a good idea about their work.
A system administrator is responsible for testing, deploying, debugging, and fixing the servers. A system administrator has to deal with such things daily. If you have the correct knowledge about servers and their issues, you can excel in this field.
Dealing with network and storage
A DevOps developer is dealing with different networks and storage facilities daily. Due to this reason, you must know basic networking knowledge.
Daily routine work such as checking all the connections, data, storage, and networks is crucial for the DevOps developer. The majority of the work of a DevOps developer related to networking is based on real-time applications.
Handling the traffic on the servers, checking protocols, and establishing the APIs is vital to a developer's work. You can start working on Linux and open stack to improve your skills and get better at your field.
Managing the infrastructure
Infrastructure is an essential part of the network, software, and servers. Without the infrastructure, you would not be able to perform many tasks. The infrastructure and setup on the software are very expensive and complex.
There is a constant cycle of innovation due to which new systems are being developed very frequently. You would have to constantly update your knowledge so that you can keep up with the changes.
The primary focus of a DevOps developer regarding infrastructure is to eliminate any possibilities of a complaint and to increase productivity by as much as possible.
If you are interested in removing any compliances and resolving issues related to infrastructure, then this is a perfect job profile for you.
Additional Skills required
There are also plenty of additional factors or skills that will help you excel as a developing engineer in India.
Skills such as leadership and good communication will enhance your personality. Using such skills, you are very likely to gain a promotion. Gaining a set promotion will also increase your pay, reputation, and social status.
Working on automation
You should also be able to work on an automation and other machines as a DevOps developer. The ultimate objective of a DevOps developer or engineer is to develop such software that it is self-sufficient and can operate automatically without any external help.
You can achieve this by automating some of the processes and then building on these processes to automate the work entirely.
Read More:
Why Choose Devops Developing?
You should choose a Devops developing course in India because of the scope in the future in this field. This field is related to software development as well as it also plays an essential role in the development and operation of a software's life cycle.
Another important reason why you should opt for DevOps development is because of the employability of this field. Due to this employability, people are attracted to this job profile.
You should be technically gifted in coding and mathematics to excel in the field of DevOps development.
Top Job Profiles for DevOps Officer
Linux Administrator:- Linux administrators are the people that work mainly on the coding aspect of the software development process. Along with coding, these people are also responsible for Looking over the databases.
Site Engineer:- Site engineers are the people that are responsible for the smooth functioning and operation of entire sites or plants.
Release Engineer:- A release engineer falls under the plethora of software engineering. These engineers are mainly responsible for the compilation, assembly and delivery of the source code. Release engineer produces the finished products and components.
Site Administrator:- A site administrator is a software engineer that has to maintain the service from the web servers. Generally, one site has a single site administrator. This is a senior post in the field of software engineering.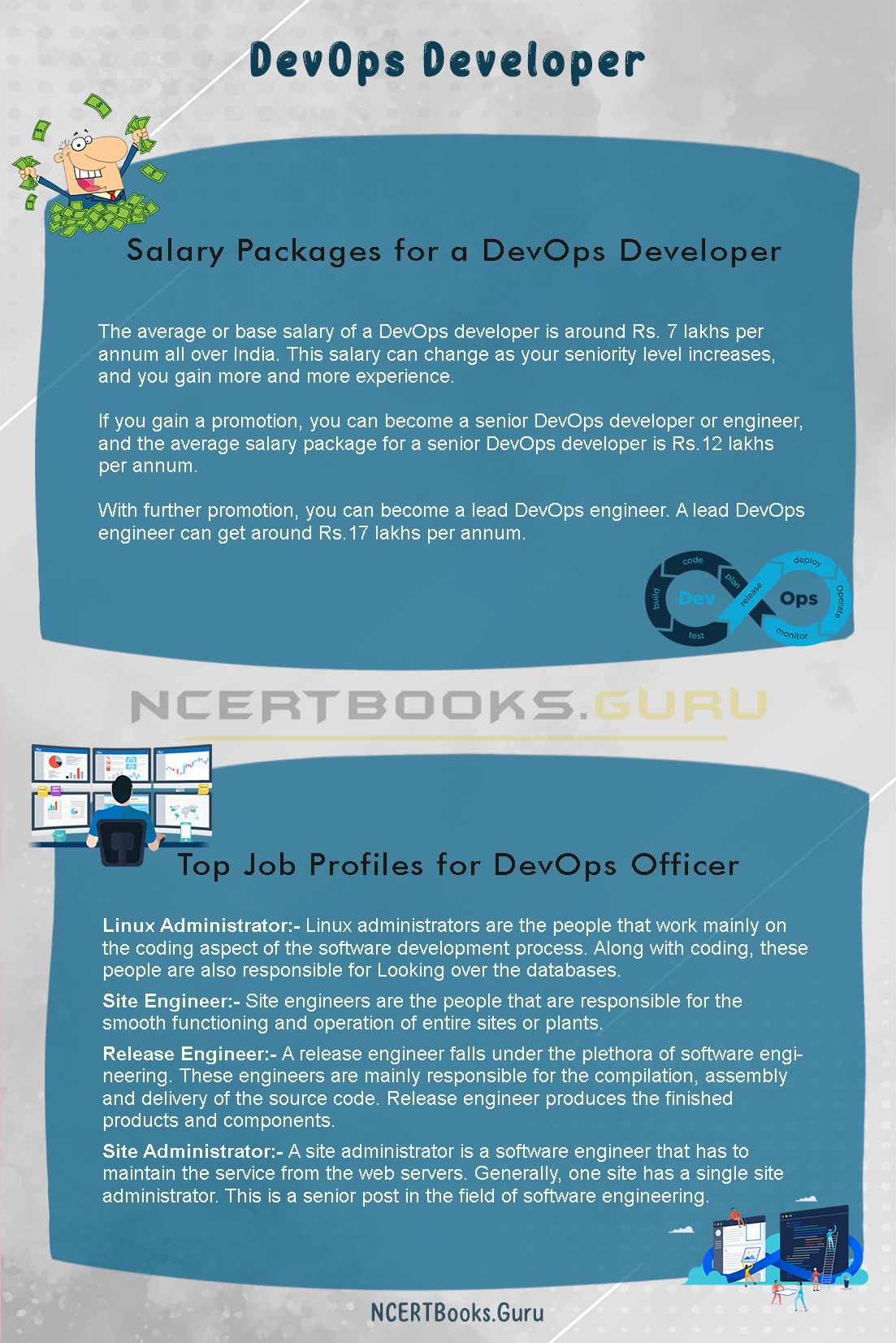 Salary Packages for a DevOps Developer
The average or base salary of a DevOps developer is around Rs. 7 lakhs per annum all over India. This salary can change as your seniority level increases, and you gain more and more experience.
If you gain a promotion, you can become a senior DevOps developer or engineer, and the average salary package for a senior DevOps developer is Rs.12 lakhs per annum.
With further promotion, you can become a lead DevOps engineer. A lead DevOps engineer can get around Rs.17 lakhs per annum.
Conclusion on How To Become A DevOps Developer In India?
This article is a well-structured and defined take on how to become a DevOps developer in India. You will have a piece of good knowledge about this topic once you go through this article.
This article is a well-discussed collection of information on how to become a DevOps developer in India. You can know about the necessary skills required to be a good and successful DevOps developer in India.