How To Become An App Developer In India?: Today everyone is using mobile phones, laptops, and gadgets that have multiple apps installed. There is one job that youngsters who have knowledge of iOS phones are getting fascinated to, is to become an app developer. It is not only an impressive profile, but it is a high-earned job too. Anyone who has basic knowledge of using a mobile phone and computer can start making apps and become an app developer in India.
If you want to learn and invest in computer apps, becoming an app developer is not challenging. With the changing times, mobile companies and software companies require people who can develop great apps that are different and interesting from those prevailing in the mobile and computers market.
Refer to Course Details to know more about related courses and find details like Admission Process, Eligibility Criteria, etc.
You can enroll in different courses to become one of the best app developers in India. With few essential skills and lots of patience, no one can stop you in this field. One must keep basic knowledge of the coding language. If you have an android phone, learning java is essential. Today Kotlin is more popular than Java. Before making an app, you need to develop an idea, choose the best platform to lay your design, then bring it into reality. Collaborating with either app developers or working for a software development company can help you design your app and bring it into reality.
Eligibility and Courses one Must Consider for App Developing
there is no specific eligibility for becoming an app developer, and you need to have knowledge about computers. It is essential to know coding skills. If you want to train from a reputed institute, you need to be a 10+2 student with at least 50% marks. In 10+2, the candidate must have opted for computer studies in their course.
There are different courses like
diploma in app development,
B.VOC network and mobile phone app development.
M.VOC is the same as mentioned above.
Knowledge of Java and coding skills.
Learn different usage about Android, Apple, Windows, and MAC Operating Systems,
Online development courses and computer knowledge
Take in a few marketing apps to understand the correct use of mobile apps.
Skills Required for Being An App Developer
Technical and soft skills are required to become a good software developer. Firstly you need to decide if you want to become a software developer for an Android or iOS app. Both the platforms are different, and you will have to understand things and then do them.
If you want to develop apps for an android device, there are certain things that you need to know.
Java, XML, and Kotlin- For understanding the language for developing android apps, it is essential to know Java, Kotlin, and XML. These languages help create functional android applications. Thus, it is necessary to understand different usage of conventional view containers, other components of an android app, and standard views for developing android apps.
Material designing: app developers need to know the guidelines of material designing that will further help you improve different skills while designing apps. Designing the content of the app is of utmost importance while making apps.
Data handling: all app developers need to store, update, and delete information on their android devices. Storing information locally is essential as you cannot depend on an API always. You can also use push notifications to let your customers feel special while using your app.
For iOS app development, you need to know:-
Swift and Objective-C: These are the main programming languages you need to know to become a successful app developer. The core language of app development is essential. This language is used to develop iOS apps, and you can quickly learn these apps, and it is fun and easy to understand.
UIKit has default components, animations, haptic touch, and gestures to control various iOS apps.
Xcode: this feature is helpful for developers to write apps. The website of an apple developer will make you understand Xcode and its functioning in a much better way.
Soft Skills Required for App Development
App developers need to be very attentive and careful while developing apps.
An app developer needs to have good communication skills to make it clear to the end-user too.
Creativity and innovation is the key to app development. The more creative you are, the better your app will be.
App developers need to be open to learning new concepts and must be ready to gain technical knowledge.
They need to be very adaptive to accept any changes that come in their way.
A positive attitude towards work will help you become the best in whatever you do.
How to Become An App Developer?
Choose a platform: as mentioned earlier, it is essential to choose a platform for developing apps. You can choose between multiple apps like iOS, Android, Windows 10, Blackberry RIM, and more. As we all know, iOS and Android have gained popularity, and Windows 10 is still growing but slowly. At first, you can choose one platform and then expand your horizons later after setting your hands on one.
Get proper training: training is essential when deciding to become an app developer. You can take up specific courses mainly designed for app development or take online and offline courses. If you are a beginner, take up courses listed above like Java, Kotlin, Swift, and more. There are a few paid and free courses that you can try as they provide proper training and study material for delivering training as an app developer.
Create a portfolio: to create an excellent first impression, it is essential to generate a portfolio of your work. This can only be done after taking proper training. A portfolio that you set needs to be highly impressive and attractive. It needs to be engaging so that it gets selected. Make sure that your first page or the landing page is attractive so that it attracts people. It is essential to write why people must choose you and what makes you unique. the projects you have undertaken must be written as it leaves a good impression and will make you stand out from your competitors. Your skills must be highlighted, and provide your contact details also at different portals.
Write an excellent resume– write a resume to make the client accept you and your skills as soon as he glances at it. A resume can make and break your job application. your technical skills, qualities, and desire to learn must be clear in your resume. This will help you to apply for an internship according to your skills. Write down the projects that you have worked on and highlight your achievements. Any special award you have got right down in the resume.
According to your qualification, apply for an internship: find out companies looking for new interns and new talent. This will be the platform for you to learn so much to expand your knowledge and brush up on your skills. Make sure that you fit in the company's job requirements.
After excelling in your internship, if you and your work are appreciated, then look for a permanent job: your internship can convert into a permanent job only if you impress your boss with your skills and qualities. The employer always accepts anyone who is hardworking and ready to learn. Thus, this is the best time to show that you have the qualities of becoming an app developer and will make your company gain good profits by designing new and outstanding apps. You will get many chances to learn from your seniors and colleagues; thus, do not miss it. This is the best time to expand your knowledge, so do not miss this.
Do Refer:
Is An App Developer A Well-Paid Job?
Did you know that India is one of the most growing markets for app developers? Android applications are the most demanding job profiles in India. India is also one of the fastest-growing markets. By 2022, the mobile market will grow by 14% more by a compound annual growth rate. You must have noticed that opting for working as an app developer can be one of the best jobs.
In India, an app developer can earn almost 500 rupees per hour. Per year it is almost up to ₹3,76,000. The per-hour salary can vary from 500 to 900 ₹ depending on the developer's skills and knowledge. Big companies like Accenture, Infosys, Tech Mahindra, Cisco are a few companies that pay the highest salaries to app developers. Salaries can range from 3lakh to 1 million. Yes, I know it is surprising, but it is true.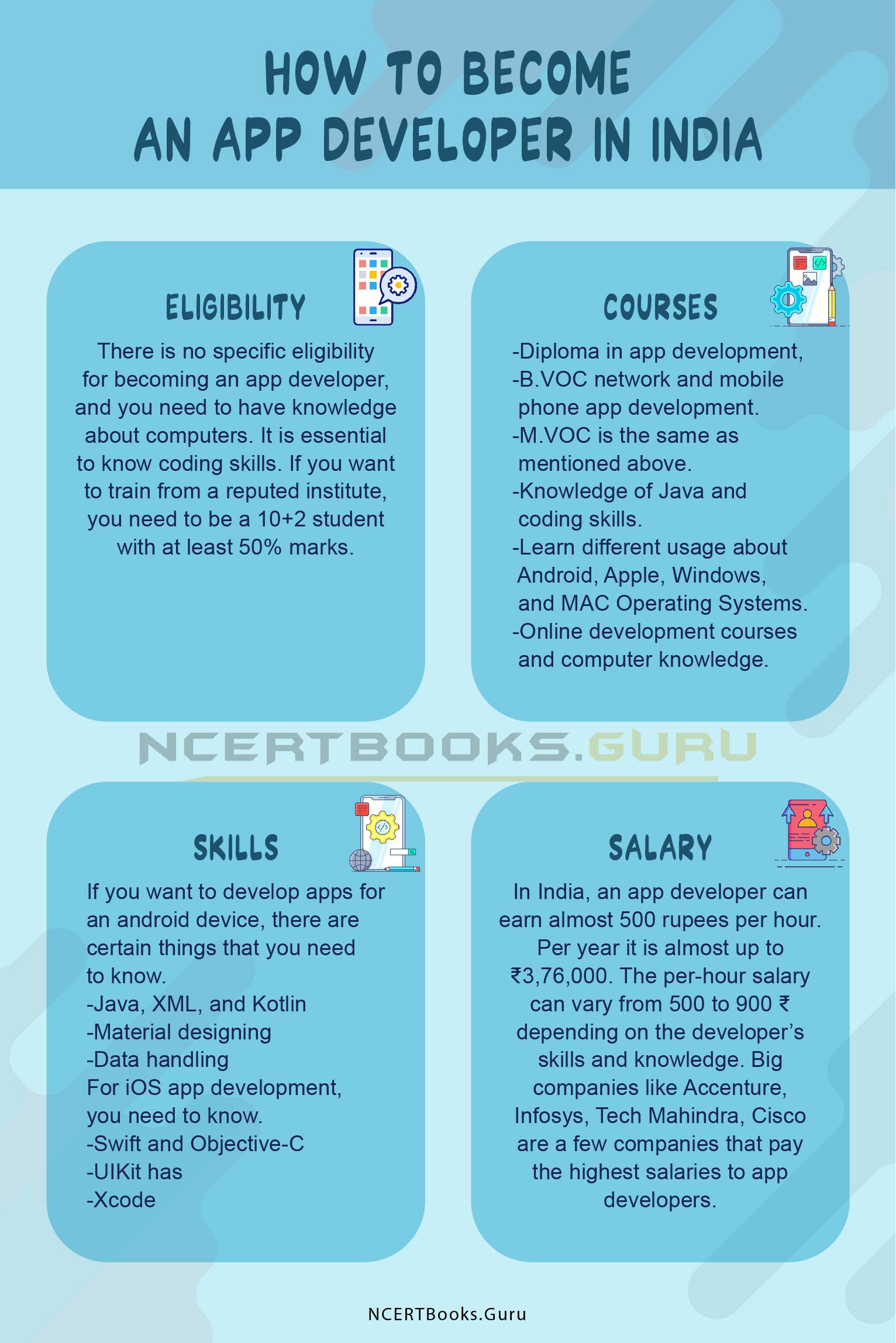 Conclusion
Those who want to become app developers must gain training in this field and look for internships in good companies. By brushing up your skills, you can do wonders with your job. Today mobiles are the best platforms to promote new apps. The market is still growing. India has almost 220 million smartphone users at present. Thus, the chances of growth are too high. Therefore, becoming an app developer will set your life and give you opportunities for growth in the near future.