How to Become an Ethical Hacker in India?: Are you in love with technology and feel excited about all the cyber networking stuff that has become an integral part of our lives these days. With every passing day, technologies are becoming advanced. In the current digital world, if you know how to control digital networking and systems, then there is no doubt that you will feel empowered. Nowadays, along with all other career options, you can also explore a career in ethical hacking. You might have a lot of questions in your mind related to a career in ethical hacking. In this article, we will discuss the career of an ethical hacker in detail and will also answer all the questions related to it.
Refer to Course Details to know more about related courses and find details like Admission Process, Eligibility Criteria, etc.
Who is an Ethical Hacker?
Nowadays, cyber frauds have increased a lot. Hackers break into the server and the database to cheat the users, and in most cases, they steal sensitive information and money from people. Ethical hackers find the flaws in the security system of a server or in a web platform to offer the users a safe internet experience.
Several people from across the world visit a website where data about the customer is often stored. Hackers mainly target this type of sensitive data, as we have mentioned earlier. The website owners hire an ethical hacker to prevent the hacking. The ethical hacker will find the loopholes in the system and will avoid any data leak. If you are not sure about the legitimacy of this career, then let us assure you that ethical hacking is legal.
What is the Job of an Ethical Hacker?
In this portion of the article, we will discuss the roles and responsibilities of ethical hackers. Unethical hackers who penetrate networking systems and gain access to private data about the users will be stopped by an ethical hacker. An ethical hacker will protect the server from any cyber attack. Generally, advanced software are used by ethical hackers to get into the system to find weak areas.
This is the same way by using which an unethical hacker gets into the system of a company. This advanced software will automatically identify any kind of vulnerabilities in the system that the intruders can exploit. But before doing that, an ethical hacker needs to understand how the company operates in order to assess the risks. This will help to take preventive measures.
Finally, the ethical hacker will identify all the areas in the software or the system where a security breach can occur, and they will then secure the sites of risk. In short, it can be said that an ethical hacker will make sure that a company's reputation is not damaged. The financial resources and information of the organization do not end up in the wrong hands.
Paths That You Can Choose to Become an Ethical Hacker in India
If you are an Indian Citizen and aimed to become an ethical hacker, you can choose any of the four paths that we will mention below.
After passing the higher secondary examination, you need to complete a bachelor's degree program in computer science. After that, you need to complete a course in ethical hacking. Furthermore, you can increase your qualification with CCNA, SCNS, and CPTE.
You can opt not to do the bachelor's degree course in computer science after completing class 12 within the science stream. After that, you can go for CCNA followed by SCNS, CPTE, and also CISSP.
An aspirant can go for a B.Tech degree in Electronics and Communication after completing the 12th standard. After this, they can complete a course on Ethical Hacking. The rest of the path is similar to the previously mentioned two paths that mean CCNA followed by SCNS, then CPTE, and finally CISSP.
Another way is that you can choose to complete the Bachelor's degree in Computer Application after passing the higher secondary examination with the science stream. They can choose to do CCNA, then SCNS, and finally CPTE and CISSP.
Skills Required to Become an Ethical Hacker
Along with passing the entrance examination and studying the field, you need to have a specific skill set to become an ethical hacker. The required skills are mentioned below.
They need to be aware of the most sensitive areas that hackers can exploit to penetrate an organization's database.
Knowledge about information technology, in short, I.T. is necessary to know about the risk to its security.
An ethical hacker should know about the network administration, and along with that, they also need to understand how to manage the spreading network of an organization.
Linux is nothing but an O.S. This operating system builds a network among all the software related to an organization associated with human resources. Knowing about open-source Linux will help an ethical hacker manage all the resources related to a computer, such as memory, CPU, and others along with the software.
Read More:
Job Opportunities in the Field of Ethical Hacking
Whenever we pursue a career, the first thing we look for is jobs that one can get after completing a course related to that field. In ethical hacking, you will have more than one job opportunity in multinational organizations with a high pay scale, which we will discuss more later in this article. You can join a company in the following posts.
As a security consultant, in this case, you will provide valuable inputs to make all the company's data more secure.
You can also become a network security manager in a company. If you hold this position in a company, you will improve the organization's security system by using a high level of data encryption.
If you love the role of an administrator more, you can choose to become a network security administrator.
Instead of repairing a system or finding the loopholes in the security of a system, you can also opt to build a system. Several companies across the world hire system architects.
Instead of joining any organization, you can also work on your own. With your skills, you can help people or organizations if you want in return for a decent amount of money.
Salary That You Can Expect as an Ethical Hacker
The demand for ethical hackers is increasing with the increasing threat every single year. you need not to worry about a paycheck at the end of the month as you will be paid a good amount of money for the work that you will be doing for an organization. When you join an organization right after completing a course in ethical hacking you can expect an approximate salary of 5 lakhs per annum.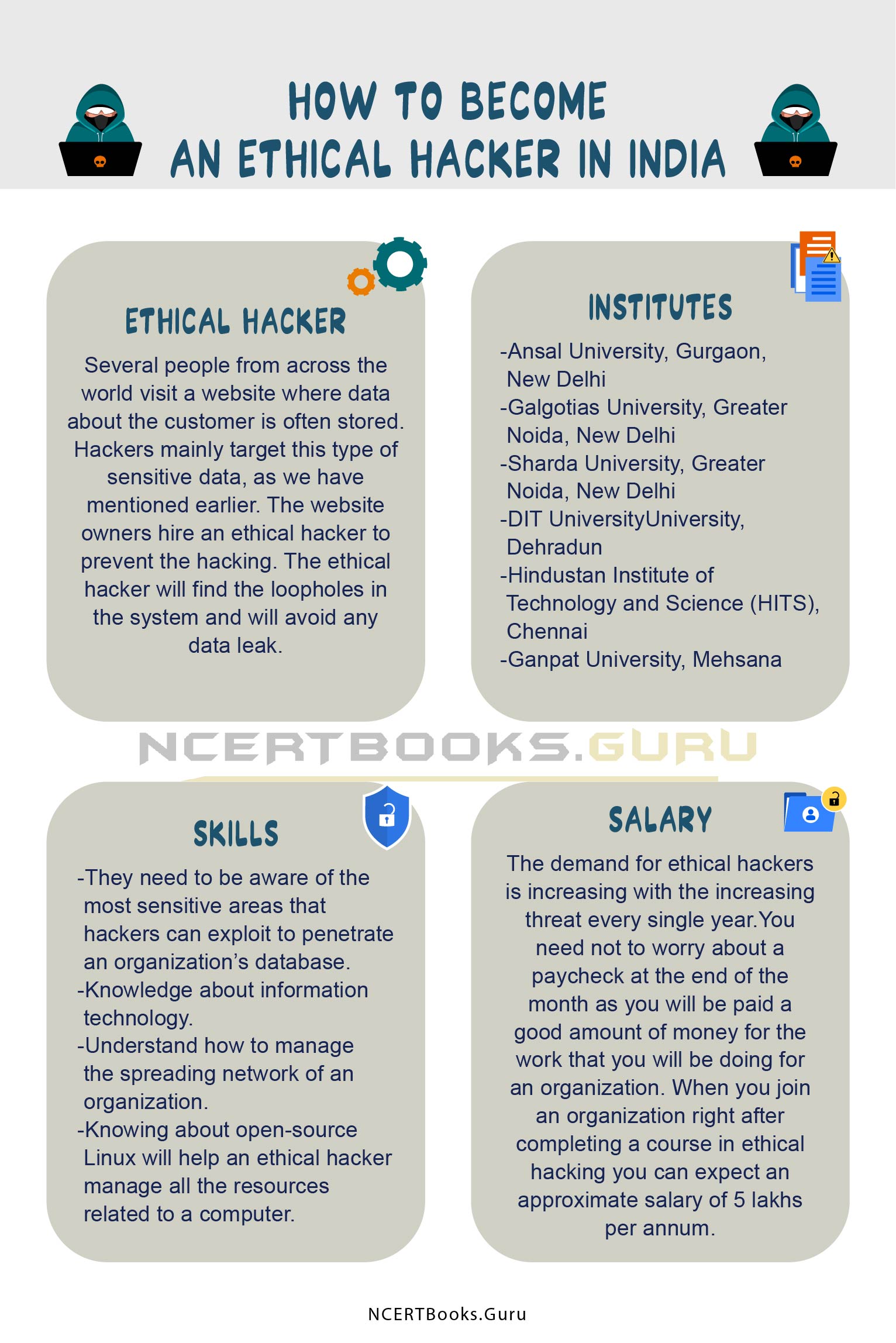 Best Institutes in India to Study Ethical Hacking in India
If you are thinking about how much you need to pay for the course, let us assure you that the course fees are affordable. You as a student need to spend approximately 3 to 4 lakhs INR for the whole course. With moderate preparation for 1 year, you can clear the entrance examination. Now let's look at some of the best institutions you can join to pursue a degree in ethical hacking.
To complete your graduation in ethical hacking right after completing 12th standard, the institutions that you can join are –
Ansal University, Gurgaon, New Delhi
Galgotias University, Greater Noida, New Delhi
Sharda University, Greater Noida, New Delhi
Manav Rachna International Institute of Research and Studies Studies, Faculty of Engineering and Technology, Faridabad.
G.L.A. Institute of Engineering and TechnologyTechnology (GLAIET), Mathura.
DIT UniversityUniversity, Dehradun
Hindustan Institute of Technology and Science (HITS), Chennai
Malabar College of Engineering and Technology (MCET), Thrissur.
Ganpat University, Mehsana
After completing graduation, if you want to complete your post-graduation, you can do that from any of the following colleges.
Indian Institute of Information Technology (IIIT), Allahabad
Jamia Hamdard University, New Delhi
Motilal Nehru National Institute of Technology (MNNIT), Allahabad
SRM Kanchipuram College, Kanchipuram
P.S.G. College of Technology (PSGCT), Coimbatore
Amrita School of Engineering (A.S.E.), Coimbatore
Amrita Vishwa Vidyapeetham Coimbatore Campus, Coimbatore
P.E.S. University, Bengaluru
Jawaharlal Nehru Technological University (JNTU), Kakinada
National Institute of Technology (N.I.T.), Kurukshetra
Final Words on How to Become an Ethical Hacker in India?
As we have concluded this article, we hope that you have gained clarity about a career in ethical hacking. So, pursue a career in this field, and you will be able to make a successful living out of this.